Happy Thanksgiving to you and your family! We are thankful for you reading Target Walleye/Ice — thank you! Hope you get some fishing in this weekend — be safe!
If you're receiving this Target Walleye/Ice email — covering the best of walleye fishing during open water and the best of ice fishing during hard water — for the first time, a friend probably signed you up! Target Walleye/Ice is brought to you by Al and Ron Lindner, Jim Kalkofen and other walleye and ice fishing nuts like you.

Today's Top 5


Rob H. still ownin' it on Quinte, ON. 11.7 lbs, caught on a #12 Jointed Deep Husky Jerk: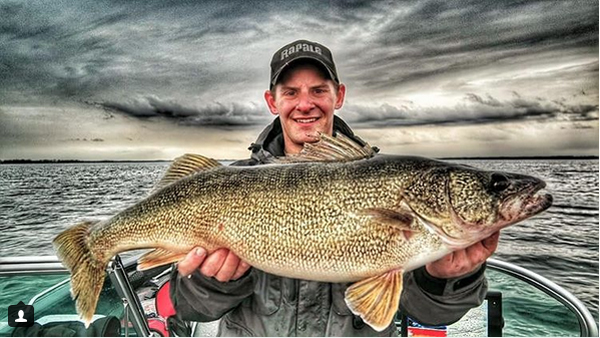 His buddy Rob G. got in on it too — wow guys!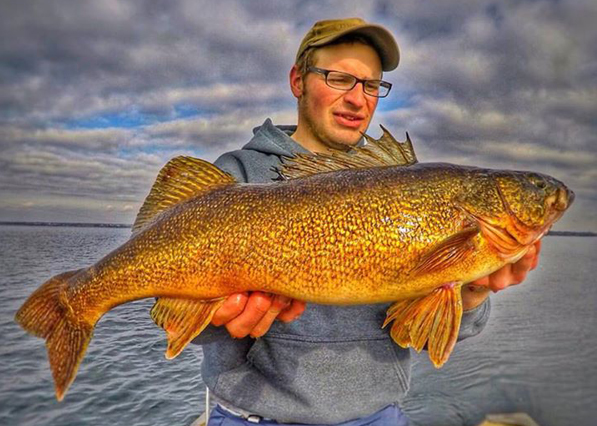 Fraser M.'s 34″ ON cold-water hog — live release near Sudbury: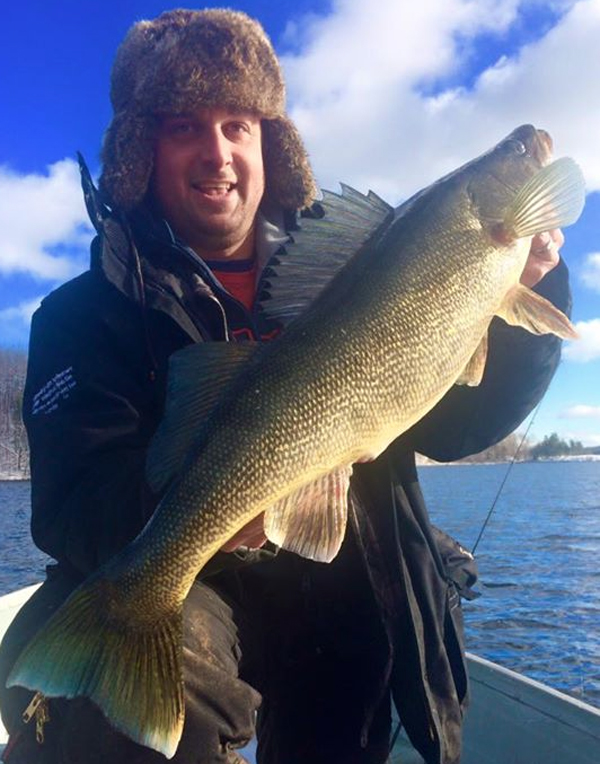 Walleye pro Jay Epping just got back home to Erie. Still wondering why he left!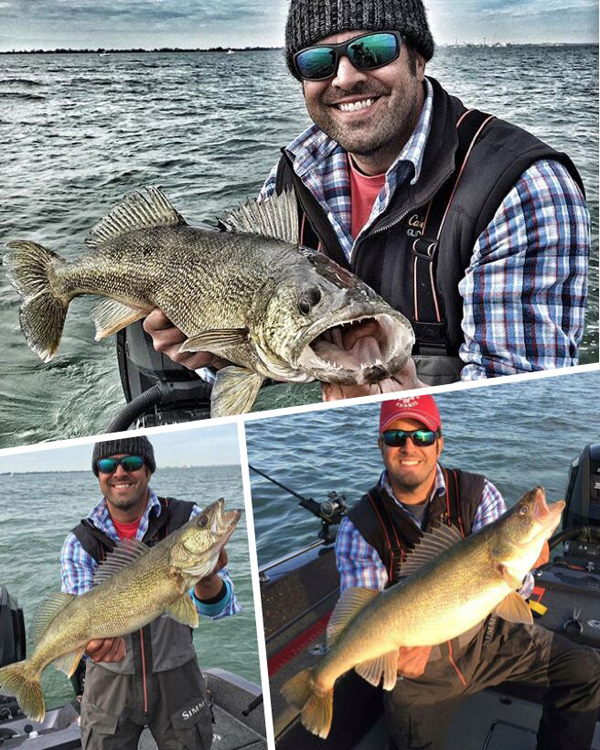 Here's what he texted us about his baits:
> We showed up in Huron just after the big blow, so finding clean water was the key. After a couple of days exploring from Kelly's Island all the way to Cleveland, we stumbled on the biomass of hawgs back in the Huron area. Depth range was 33-40′.
> Lure that performed best for us was a Rapala Deep Husky Jerk (custom paint jobs by Ron Racine at Skinnydipper Lures) anywhere from 70′-120′ back from the Off Shore boards, with an occasional fish hitting a high-flier 30′ back. Speed was 1.4-1.6 mph.
> Also caught a decent number of fish on Smithwick Perfect 10s used in tandem with Off Shore Tackle snap weights. The night bite wasn't quite as good as the day bite for us, but the fish caught were in 6′-12′.

Perm shack must-have: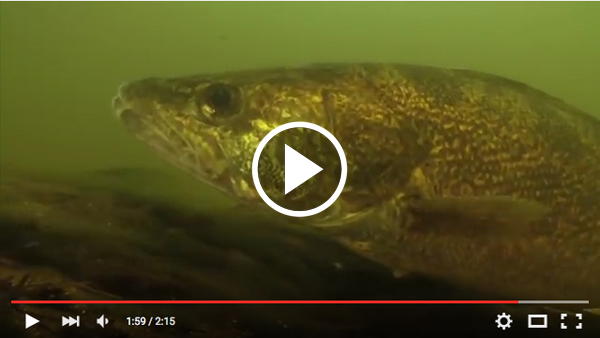 Aqua-Vu. Works with any HDMI-enabled sonar or TV/LCD monitor — 720p HD rez!
Now you just gotta decide if you want to watch the game or the fish — or both: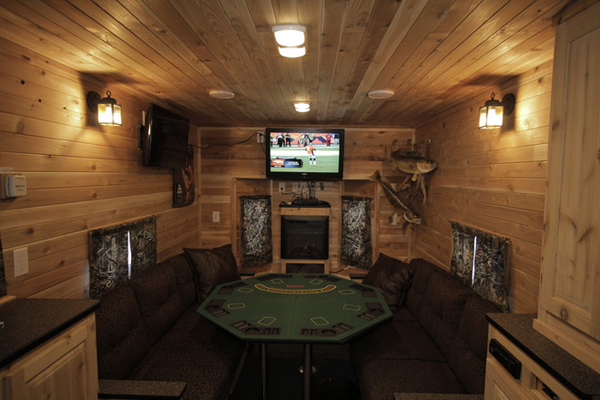 #roughingit

Fishable ice in SD's Black Hills!
Ice Team pro Craig Oyler found 4″ of ice and about 10x that of pike: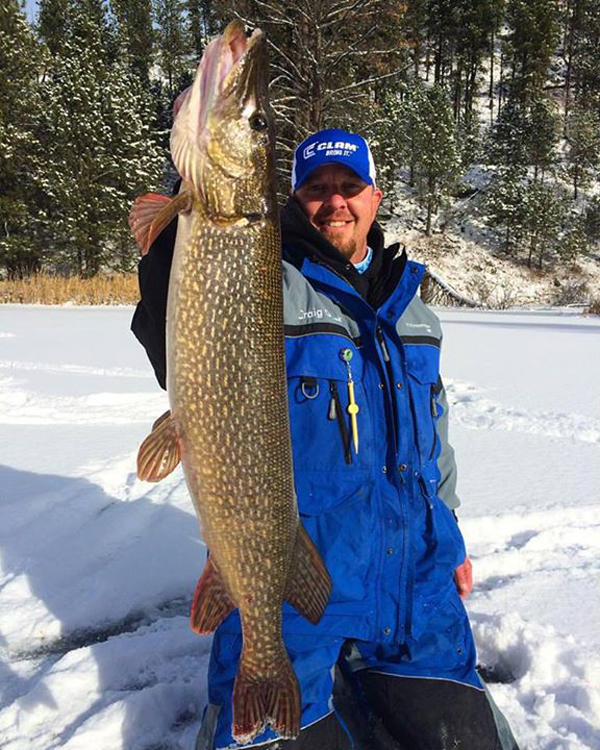 Deets: While targeting trout, he set a few Clam Arctic Warriors in hope of a big pike cooperating. After several break-offs, he was able to get that obese trout-eating machine landed.

Jigging Rap tweak for more hookups?
You might be a northern redneck if:
And how about this guy?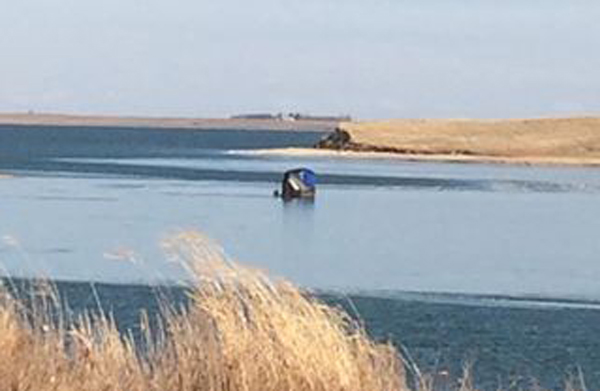 C'mon people. We're Jonesin' too, but be safe for cryin' out loud. Take a look at Northland's Ice Guide if you're unsure.

---

Ice Fishing

2. MN: LOTW ice fishing preview.
Ice fishing doesn't have to be difficult:
3. Brad Lee's open-water Marcum test.
> "We just couldn't wait for first ice to get out & try our new LX7's."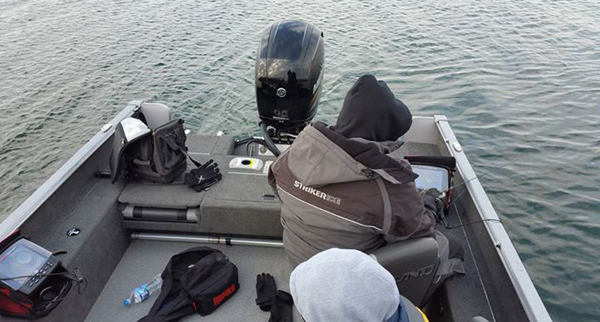 4. MN: New Mille Lacs pike winter regs.
5. How to pick the right size auger.
6. MN: Ice anglers got their fix at the Hardwater Expo.
7. MN: $150K Ice Fishing Extravaganza, Gull Lake.
Discounted tickets (40% off!) only available until Nov 30.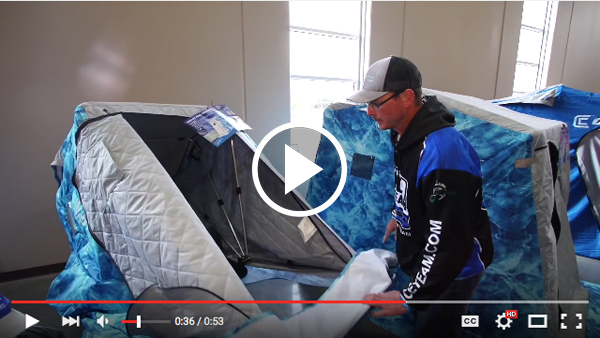 > Clam's Kenai Pro Thermal has 11 sq ft of fishable area yet still weighs less than a bag of salt. New sharp-looking thermal skin that retains heat and reduces moisture — keeping it up to 30 degrees warmer inside the shack with the same heat source.
10. Early ice 'eyes with Ron Anlauf.
11. Make sure your engines are ready for the cold.

News
1. New dive data for select Raps…
…from Precision Trolling Data. Scatter Rap, Tail Dancer and the Scatter Rap Crank Deep.
2. Giant 'eye video from Last Mountain, SK.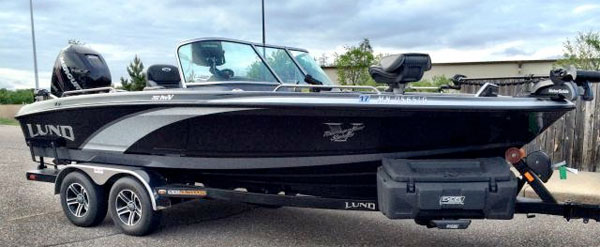 Loaded Lund 202 GL w/ 300 Merc Verado. Sweet.
4. Top 3 Ranger Boats execs resign.
Including 46-year vet CEO Randy Hopper. Wow. Remember Ranger was bought by Bass Pro Shops recently.
5. MT: Reward doubled for illegal walleye stocker.
Up to $20,000.
6. MN: New Red Lake regs clarified.
Effective Dec 1: 3 walleye, 1 over 17 inches. IF you find walkable ice prior to that: 2 walleye, 1 of which may be longer than 26″. All walleye 17-26″ must be immediately released.
7. Benefits of networking your GPS and sonar.
No longer gotta run up to the front of the boat to mark a waypoint on both units.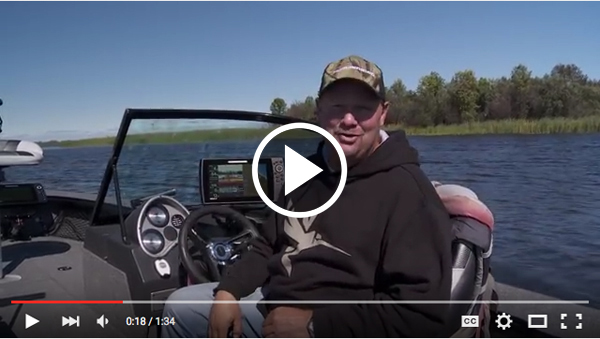 Pretty soon a captain's chair will look like this: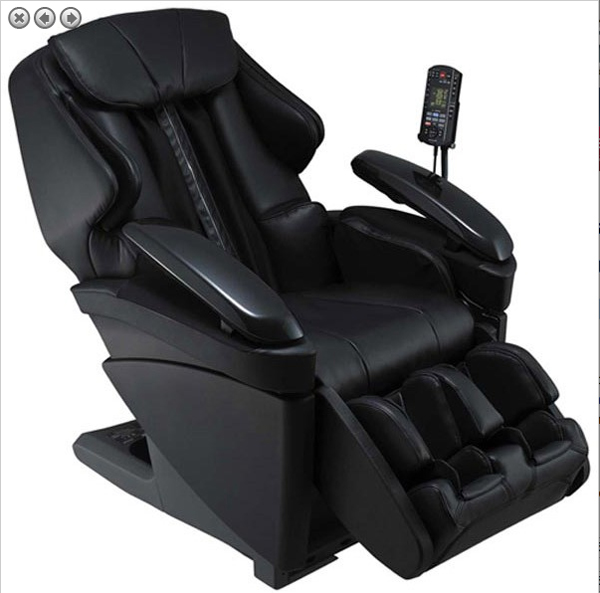 8. Unique Humminbird LakeMaster mapping features.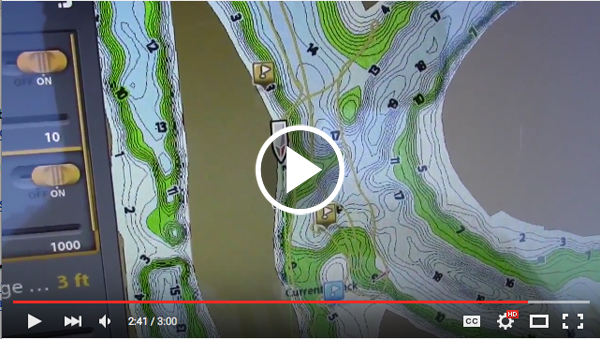 9. New Lindner's Angling Edge wear.
10. How to back up your waypoints.
11. Offshore Tackle Podcast – November edition.
_____

Events
1. MN: Reed's Ice Classic Nov 27-29.
All ice gear 10-50% off. Reeds will beat every "show deal" by $10 on houses, augers and ice electronics over $250! Call them right from the show at (800) 346-0019.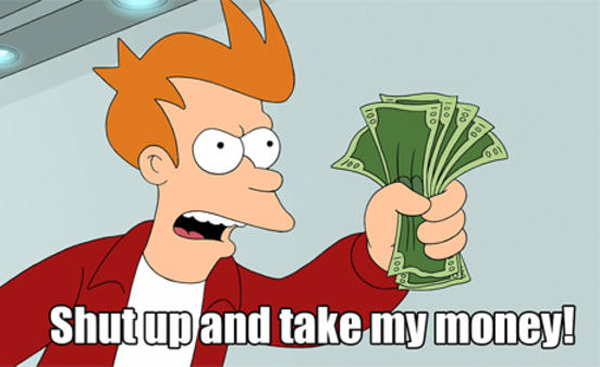 2.MN: St. Paul Ice Show Dec 4-6.
3. WI: Milwaukee Ice Show Dec 11-13.
4. NAIFC Series Championship Dec. 19-20.
Best panfish ice sticks in the country compete. Mille Lacs and Knife Lake. Tournament HQ = McQuoid's.
5. MB: KidFish Ice Derby Dec 27.
At Selkirk Float Plane Base.
7. MN: $150K Ice Extravaganza Jan 23.
Gull Lake near Nisswa.
---
Fishing Reports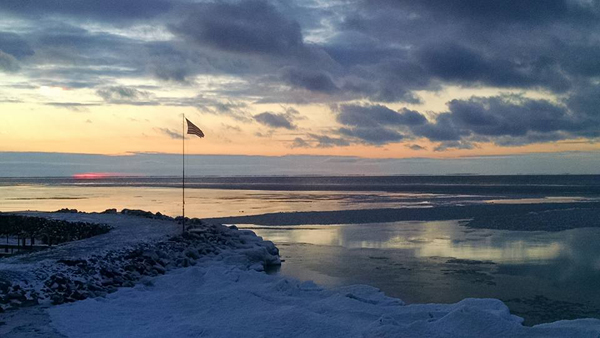 > Fishing remains good for the few anglers interested in the last remaining open water. Walleyes, saugers and some trophy walleyes are being caught in 14′-30′ of water in front of the Lighthouse Gap and Pine Island on the south end of the lake. Some ice forming in bays but still too thin to venture out on.
> On the Rainy River, walleye fishing remains good. With rain, more current this week. More walleyes and larger walleyes are showing up in the river. Good reports at various spots from Wheeler's Point to Frontier Access. The fish prefer jig and minnow still near bottom. Orange, and gold mixed with bright color the ticket tipped with minnow.
> Up at the NW Angle, not many fishing as ice is showing up in spots. A thin coat of ice this week in backwater areas. Resorts are ready for ice fishing. Walleye action in 15′-26′ jigging near Oak Island, Rabbit Ears, and Hay Island. On the Ontario side, areas with current adjacent to deep holes best. Muskie fishing going well trolling in 10-20′ adjacent rock walls.
Info on resorts and upcoming ice fishing at www.LakeoftheWoodsMN.com.
Check out the pre-ice fishing video!

---
Sign up a friend!
If you're forwarding Target Walleye/Ice to a friend or friends or would like your buddies to get these emails, just
send us
their email addresses and we'll take care of it! We of course will not sell the addresses, use them for spam, etc.
---

---
---
IF you "have to" get out on early ice (we are not endorsing that!), follow these Travis Sorokie tips:
> Everyone here is all gung-ho about getting out on the ice for what can arguably be some of the best ice fishing of the season. Some anglers (myself included) have been out on some questionable ice conditions at some point. It can be done, however you need to use extreme caution and be prepared for the 'what if'.
> Remember, no ice is safe. Ever. Conditions change daily, ALL season long. Be sure to check with a local bait shop or resort before venturing out if at all possible. And NEVER walk on or off a lake in the dark during early ice periods.
> Caution areas: River/creek inlet/outlet. Or places where your favorite lake 'narrows' create current areas with thinner ice typically.
> Always try to cross cracks at an angle to help disperse weight evenly. A crack or fracture is a weak spot. Look for ice discoloration and fractures close together. AVOID those areas, even if it means going out of your way.
> Cattails retain heat and keep the water warmer around them all year long. Rockpiles retain heat — yes, even shallow underwater rockpiles…. Snow patches or snow drifts: Snow is a great insulator, and often covers up danger areas.
> In my truck I always have a bag packed with spare clothes. Also in that same pack is a vacuum sealed bag with: flashlight, lighter, pocket knife, band aids, a bottle of hydrogen peroxide, and a small pill bottle with cotton balls that have been rolled in Vaseline (GREAT fire starter).
> I plan on getting out on the early ice, but I plan on using common sense and going with a friend or two. Be SAFE everyone — The fish will be there when you get there!
Standard Early-Ice Gear:
Ice picks around your wrist or neck for easy access.
25 ft of rope.
Ice cleats for walking safely on the ice:
> I've "Charlie Browned" myself more than once. It's dangerous. I've been lucky I didn't break anything besides the rod I was holding.
A chisel for checking the ice as you walk out:
> Walk slowly, and check the ice every 15 ft or so.
A life jacket.
A cell phone.
And a buddy or two, spaced out when you walk.
---

---
Quote of the Day
– Big-fish junkie Taro Murata reflecting back on this 16-10 golden goddess: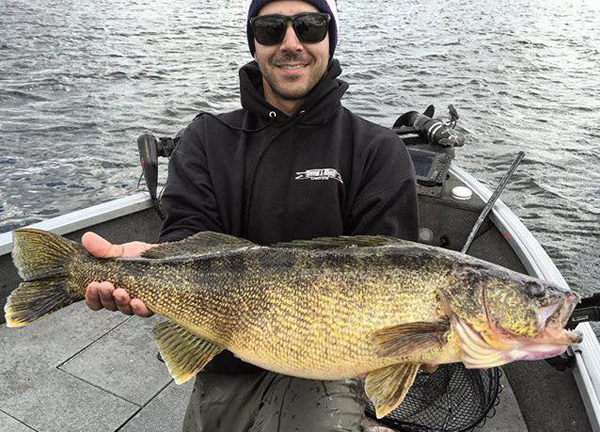 Said the fish was caught dragging a VMC Moon Eye Jig with a back-hooked minnow — in 50km (31 mph) wind using two drift socks to pull it all together! Safe to say that most would have stayed home on the couch that day….
---
Shot of the Day
Here's a 27″ PB caught in INDIANA [!!] on a 4″ Gulp! Minnow: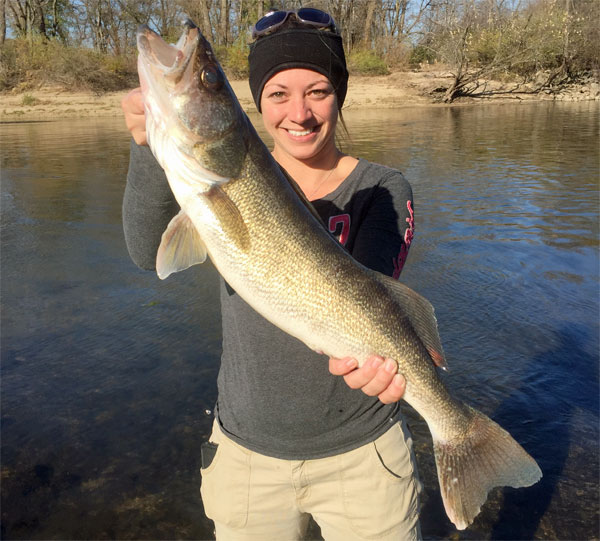 ---
You ready for ice?
---
Have you checked this stuff out yet?

---
About Target Walleye
Target Walleye
brings you the BEST walleye and ice fishing news, pics, tips and events year-round, and is brought to you by Al & Ron Lindner, Jim Kalkofen and other walleye nuts like you!
---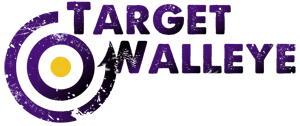 TargetWalleye.com | Rapala.com | IceForce.com