If you're receiving this Target Walleye/Ice email — covering the best of walleye fishing during open water and the best of ice fishing during hard water — for the first time, a friend probably signed you up! Target Walleye/Ice is brought to you by Al and Ron Lindner, Jim Kalkofen and other walleye and ice fishing nuts like you.

Today's Top 4

Snake-rigging walleyes
It's bottom-bouncer season! Here's how Jason Mitchell tweaks his spinner rigs to target the biggest, nastiest walleyes in the school: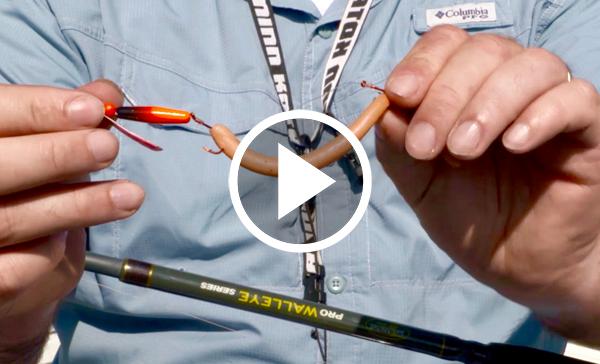 Good stuff Jason! You snake rig a little differently than the bass guys do, but those green carp will eat anything lol: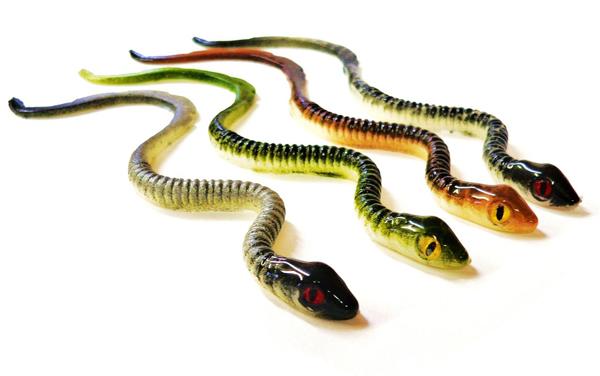 New walleye/ice stuff from ICAST.
We just got in the door from ICAST (fishing biz trade show in Orlando) where we got a sneak peek at all the new gear for 2017. It's a bass-heavy event, but there's more and more walleye doodads released each year. Check out some of the cool new stuff that caught our eye here on TargetWalleye.com.
Here's the look you'll get from Jimmy Lindner when you tell him that bass are easier to catch than walleyes: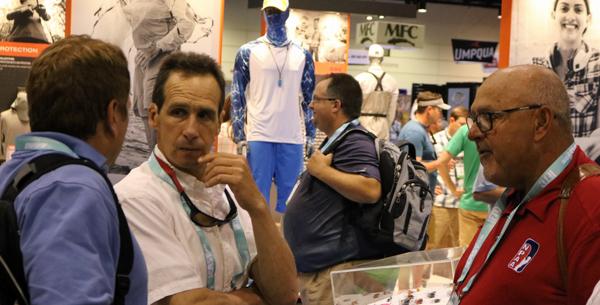 lol

Why you should be trolling downwind.
Tommy "breaks the mold" Skarlis likes to pull planer boards with the wind to his back — instead of trolling into it. Watch the vid for a few reasons why Tommy says he sticks more sowbellies when he's going with the flow:
Speaking of flow…the man-mane is on point, Tommy hahaha!

Pro walleye angler [and veterinarian] Jay Epping from MN made a new friend while fishing the GRAHA on Pokegama: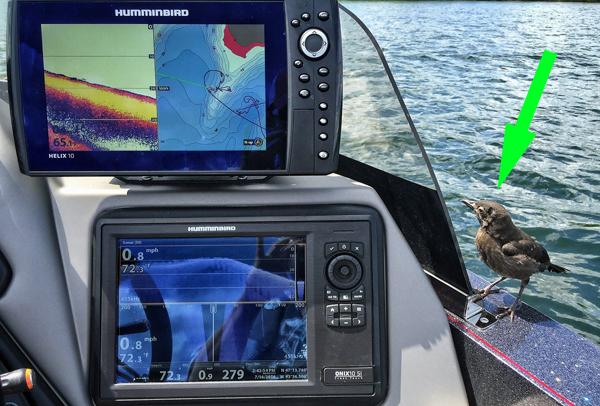 > "Saved this little guy twice from drowning. Then he ended up being our passenger for 5 hours! He had serious crush on the Helix unit!!"
Jay also said to not worry about that waypoint on the graph because it's not worth going back to. Suuuuuuuuuuure….

News
1. MN: Mille Lacs shutdown unlikely.
> "…Through June 30 just 6,950 lbs of walleyes have been harvested from Mille Lacs out of the year's 28,600-lb sport-fishing quota."
Not caught and kept but the DNR's best guess as to the number of 'eyes that have died after being released.
The state also approved a $3.6 million economic-relief package for Mille Lacs businesses. This could end up being one of the best 'worst bites' ever….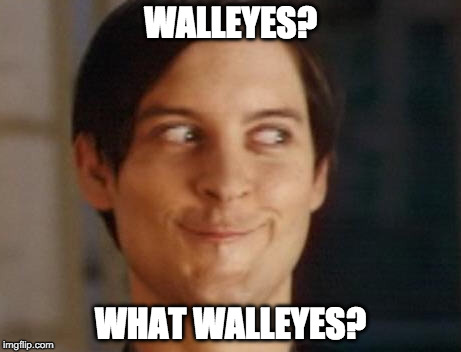 2. ND: Husband/wife win AIM Devils Lake.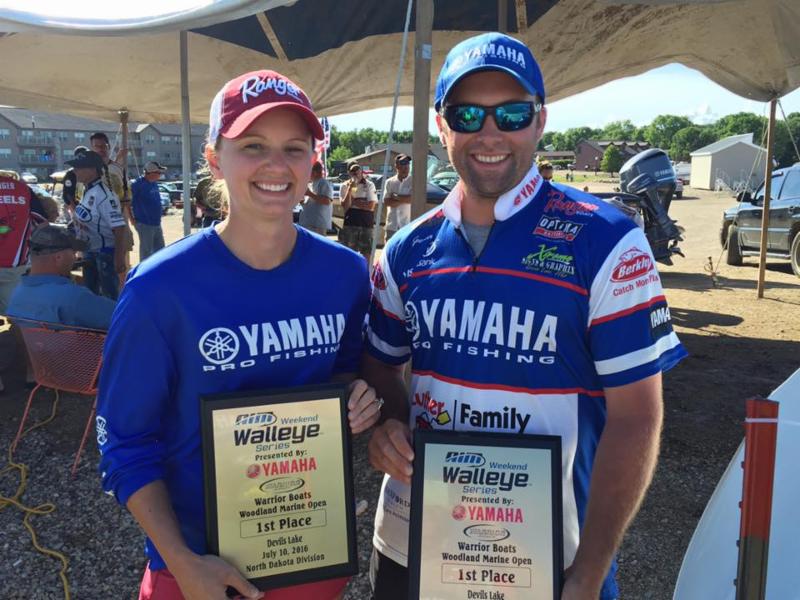 Spencer and Carly Deutz brought in 29.86 lbs to win the AIM Devils Lake event. They caught 'em using the biggest #9 Rapala Jigging Raps in the rocks. Nicely done!
3. MB: Father/son win Pinawa Lund Mania.
Alex "Kez" Keszler and his son Darrell put together a 37.40-lb bag for 1st place. Kez is one of the best multi-species anglers we've ever known. Congrats guys!
4. AB: Hughes/Yuschyshyn win Moose Lake Walleye Classic.
Jeff Hughes and Terrance Yuschyshyn took home the $$$. We messaged Terrance and got the scoop on how they did it:
> "Moose lake was the highest [water level] I've seen it in my life. Tons of perch and shiners were cruising the shallows and the walleye were in with them. The high water conditions had the weeds and moss thick in tight where all the good fish were.
> "After running our first couple spots with little luck we opted to pull out the bobber rods and target the 3-6′ range using 1/4- and 1/8-oz round-headed jigs tipped with a big leech."
#MakingMoves
5. Summer walleyes in the weeds.
> "During summer, most walleye anglers are fishing the dropoffs and deep water. But good numbers of walleyes can be found in the right weeds, and they're up shallow for one reason — to eat!"
6. Northland Tackle: New Rippin' Shad colors.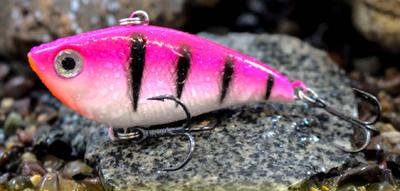 Six glow-in-the-dark color patterns and a pair of flashy metallic finishes.
7. Designing lures for a living (podcast).
Rapala's Mark Fisher talks about the designing process and how he got started. Interview starts at 6:16.
8. Lake of the Woods: Albino musky caught.

Even if you've already seen the shot, the background on how the fish was caught is worth the read, like:
> Twice he saw it in 2014. The following year, during one of his fishing trips from his current home in Scottsdale, AZ to a location where he's fished for two and a half decades, he saw the fish twice again. This year, he saw the fish again, in the same general location he'd seen it four times the past two years.
> During the first 2016 sighting, it followed a lure to Peterson's boat. The second time — finally — the fish bit.
9. Doctor Sonar's Minn Kota Ultrex review.
Read it! The Ultrex won 'Best of Show' at ICAST. It's the real deal.
10. More $$$ with Toyota Bonus Bucks.
> Only national tow-vehicle program that pays you to fish. Free and available to anglers who tow with a 2012 or newer Toyota Tundra, Sequoia, 4Runner, Tacoma or FJ Cruiser and fish in Bonus Bucks-supported events.
> You don't have to win your qualified "Bonus Bucks" walleye tournament to get the bonus cash — you simply have to be the highest-finishing eligible Bonus Bucks participant in your tournament.
Get registered here.
New e-book talks about what it really takes to pay the bills as a fishing promoter. Co-author is Target Walleye's Jim Kalkofen.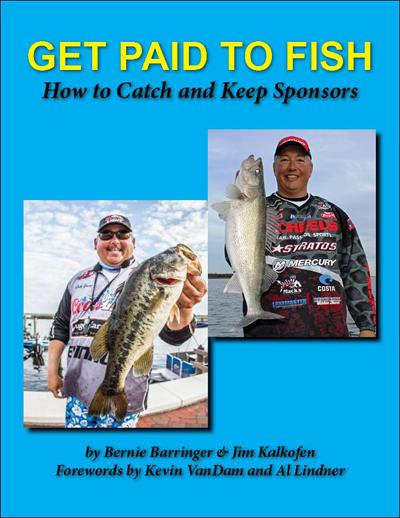 12. Cabela's being sold to Bass Pro…
…and Goldman Sachs, sounds like.

Events

1. WI: AIM state championship, Lake Winnebago, July 22-23.
2. WI: Free TESTRIDE event, Mississippi River, La Crosse, July 23.
Maybe your wife (ladies: or husband) will let you buy that dream boat after they get a free ride in it?
3. SD: NWT Championship, Lake Oahe, Mobridge, Aug 3-5.
4. MT: Camp Walleye, Tiber Reservoir, Aug 19-21.
They're now taking applications. 50 boys and girls from 11-15 will be accepted.
5. MI: Fishing Science Conference, Aug. 27-28.
Learn why fish do what they do.
Great places to catch 'em
Sign up another walleye-head!
If you're forwarding Target Walleye/Ice to a friend who loves to walleye-fish or want your fishing buddies to get these emails, just
send us
their email addresses and we'll take care of it! (We won't sell the addresses, use them for spam, etc.)

Summer fishing patterns are just about in full swing, and pulling spinners is a staple among walleye anglers [for good reason]. We tracked down Joel Nelson and he went over the ins and outs of trolling spinners for summertime 'eyes.
Full tip on TargetWalleye.com, few excerpts below: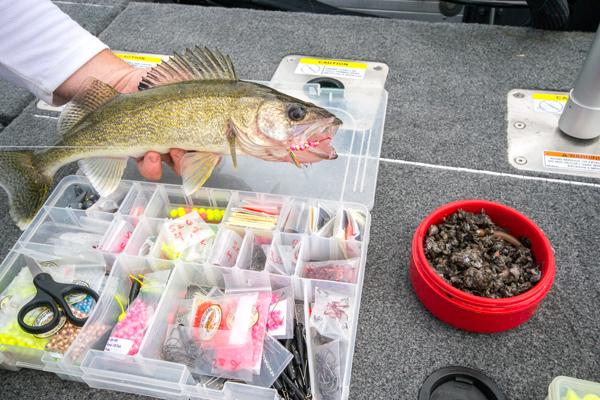 > "Your standard rig consists of a lead weight, 3′ snell or longer for clear water, a clevis, spinner, beads and hooks with bait. From there, it's a tinkerer's dream come true, with any and all components subject to change.
> "Quick change clevises these days allow you to continually swap blade colors, sizes and shapes, but I like to keep this simple where possible. #2 or #3 Colorado blades in gold, silver and perch colorings, and some browns to mimic larvae, are what you should look to stock up on first.
> "I like to pull them around 1.0 mph for the most part, and as fast as 1.8 mph, depending on what the fish are telling me to do. Experiment by driving over schools of fish at various speeds to see what they prefer.
> "Most anglers won't pull slower than 1 mile per hour, but I'll occasionally slow it down when I'm pulling through fish that are finicky. Your spinner blade may not travel a full revolution, but will wobble below the line and clevis at slower speeds. More importantly, that bait will drift closer to bottom without lift from the spinning blade."

Quote of the Day
Never leave fish to find fish.
– Robert Gwizdz talking about people making the mistake of second-guessing what they're doing, and leaving the fish they're on to chase swinging nets in the distance. #WouldaCouldaShoulda
Check this stuff out!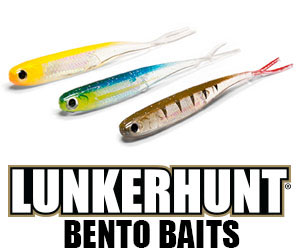 About Target Walleye
Target Walleye/Ice
brings you the BEST walleye and ice fishing news, pics, tips and events year-round, and is brought to you by Al & Ron Lindner, Jim Kalkofen and other walleye nuts like you!

TargetWalleye.com | Rapala.com | IceForce.com