If you're receiving this Target Walleye/Ice email — covering the best of walleye fishing during open water and the best of ice fishing during hard water — for the first time, a friend probably signed you up! Target Walleye/Ice is brought to you by Al and Ron Lindner, Jim Kalkofen, and other walleye and ice fishing nuts like you.

Today's Top 4


Pigs can't fly, but they can swim!
Rob A. wrangled up this 16.95-POUND hole-plugger in SK. Munched a Lindy Rattl'N Flyer Spoon, released to fly again!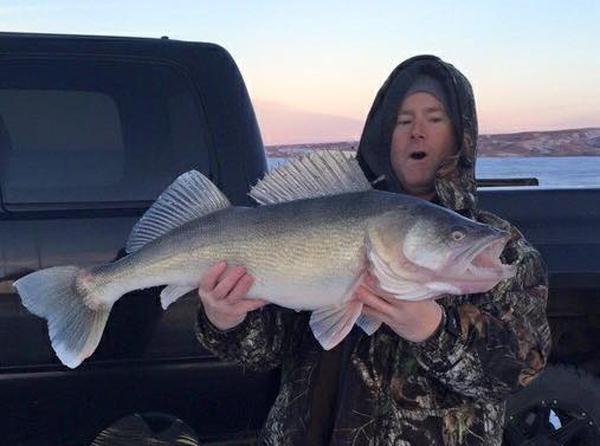 Wuuuuuuuut?? Hookset Millette checks in with an early a.m. donk. Dude, you're killin' us. From Bay de Noc (MI) on a Northland Puppet Minnow (glo white).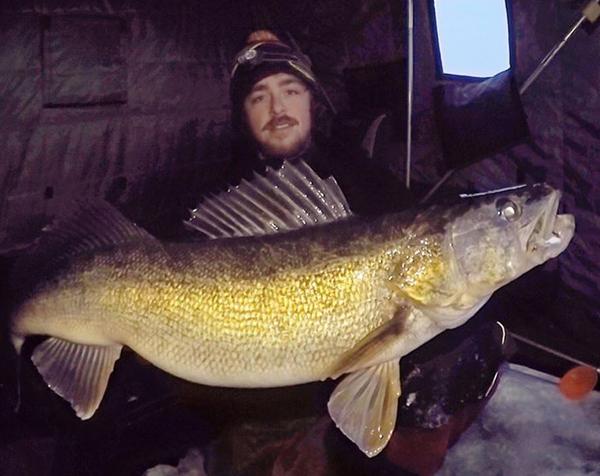 Cliff J. did some curls with this 32.5-incher, which was back-to-belly scrapin' a 10″ hole [!!]. Got it on a Salmo Chubby Darter (hot perch) in 20 feet.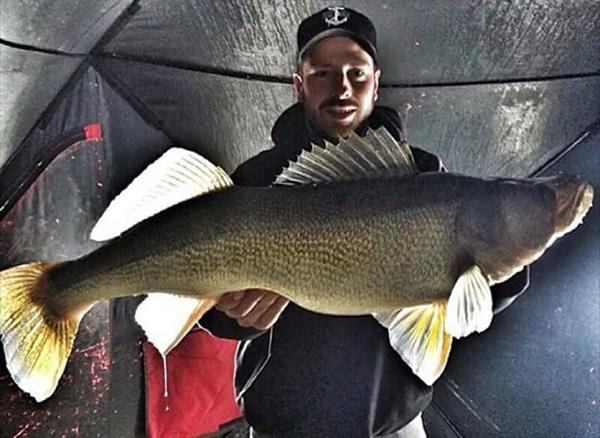 The Winnipeg Wildman emailed this one in: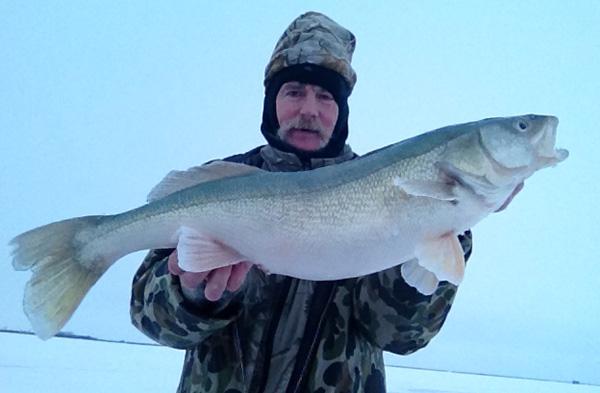 Rare golden crappie caught.
Ever seen one of these?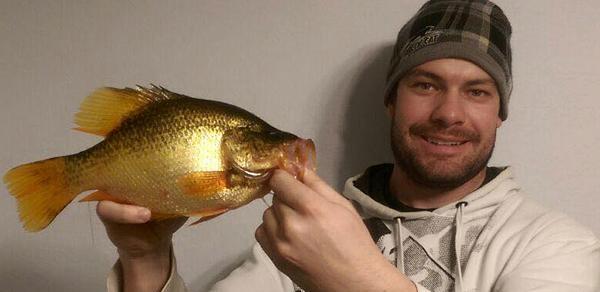 > Dustin Stiner was jigging a minnow near the bottom in about 16′ on Dairyland Flowage Sat., Jan 23 when he pulled a catch of a lifetime through a hole in the ice.
How? Why?
> "Several fisheries biologists have looked at this photo and the consensus is this is a genetic color mutation which may be a response to the dark color stain (naturally occurring organic acids) present in this river system."
Willy Wonka was rumored to be interested in the fish….

Dye your live bait. Seriously.
Don't forget open water near power plants. That warm-water effluent = great fishing all winter long. Here's Tom D. and a Mississippi R. stud he caught live-baiting with suckers: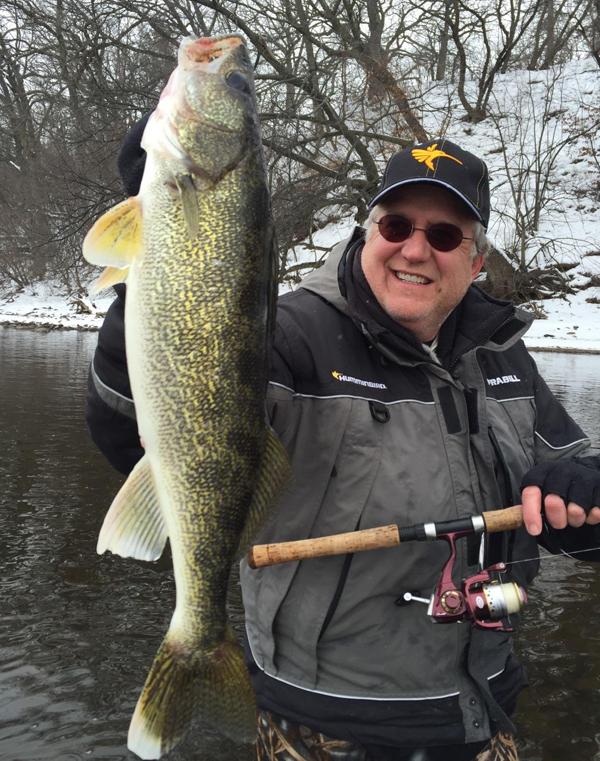 Ice Fishing
1. Ice Castle fulfills wish for sick boy.Awesome.
2. ID: State's first ever C&R record.
14.75″ perch, Lake Cascade: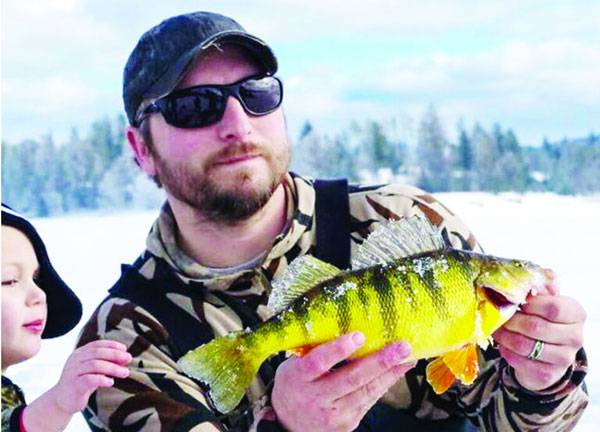 3. MB: 29″ greenback on video.
GoPro wide angle makes it look small but: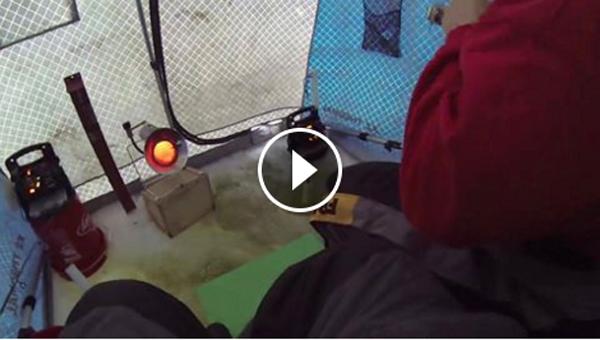 4. Lake Erie not looking too icy.
Here's the latest satellite imagery: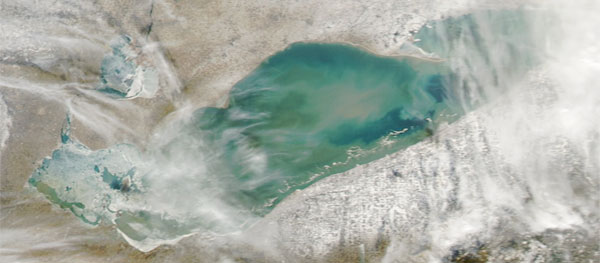 Unfortunately, ice-making weather isn't on the horizon.
5. QC: 3 vehicles towed out of St. Lawrence.
6. Soft-plastics catch more winter panfish.
7. High-probability walleye Ice Belt baits.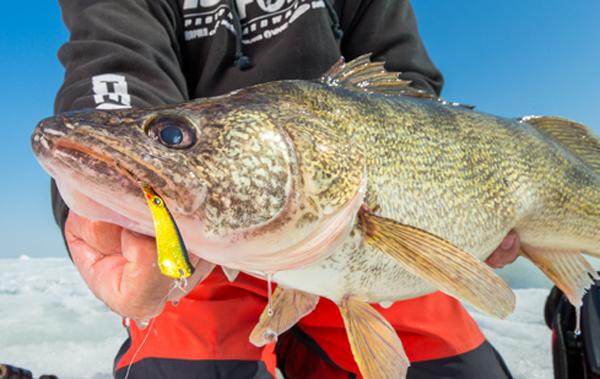 8. Don't take those ice accesses for granted.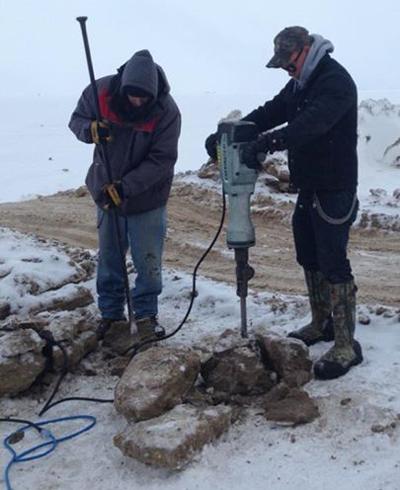 #giterdone
9. How to record footage with an Aqua-Vu Micro DVR.
10. Bro shares Buck-Shot Flutter Spoon tip.
11. Genz, godfather of ice fishing, is…in a boat!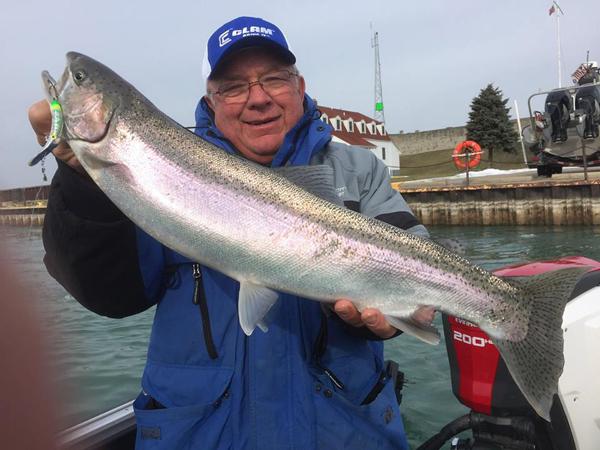 _____
Make sure you note the special code for Target Walleye/Ice subscribers!


Fishing/Ice Reports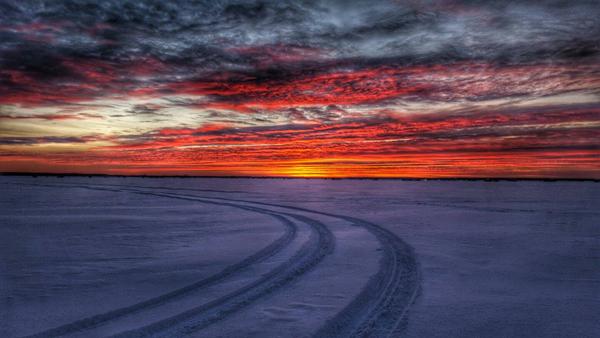 > As the weather warmed up, so did the ice fishing. Ice roads are allowing half-ton trucks onto the lake when not towing a trailer. Ice averages 14-17″.
> Fishing in 24-34′ seems to be the best. Glow colors remain hot and the two-way punch of jigging and dead stick remains the go to plan of attack. Ice electronics are key in catching more fish. Walleyes and saugers caught primarily in late morning with flurries in afternoon. Lots of nice saugers in the mix throughout the basin.
> The Rainy River is iced over and being fished in spots but mainly by locals who know the ice. For safety, work through resorts. Most anglers fishing the lake.
> Up at the NW Angle, fishing is hot. Ice is 22″ where resorts are traveling on MN side and 14″ on the ON side. Limits in 24-28′ adjacent or on reefs for walleyes and 30-34′ for saugers in the mud. Jumbo perch, pike, and eelpout in the mix. Large crappies (in 30-33′) and lake trout (via snowmobile and guide) being caught on ON side.
Check out this LOTW 30″ landed by Matt M. on a 10″ sucker tip-up: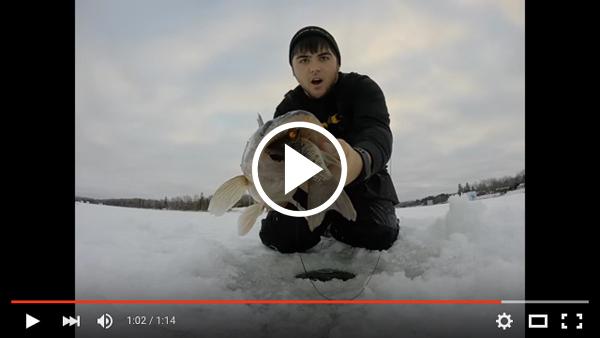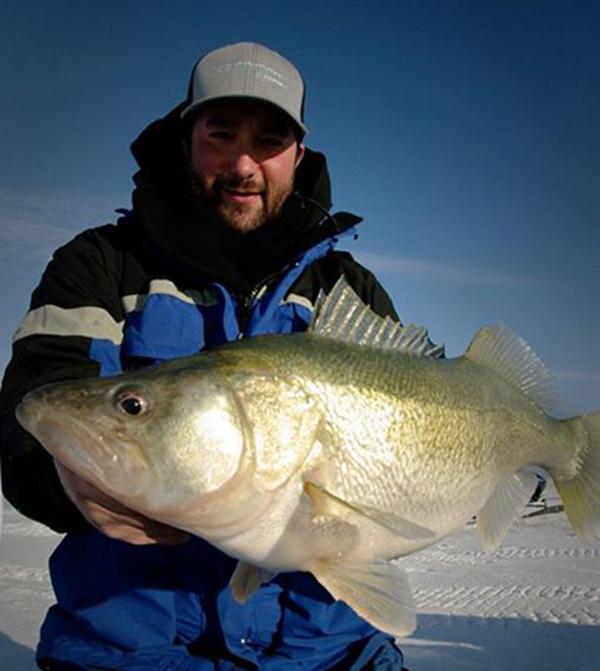 Matt Cornell of Bruin Outfitting and Guide Service:
> Although louder rattle baits still bring fish in, it seems the more subtle presentations with little noise (or even no noise) are triggering more fish to eat. We have been able to close on more fish when these baits are worked in combination with a larger-profile rattle bait.
> Keep both baits in the same general position of the water column so the fish can quickly move to one if it loses interest in the other. I also keep a lighter flutter spoon tipped with a shiner on hand as a last resort, ready to drop down if a big fish turns both options down.
> 12′ seems to be holding fish and bait with a lot of suspended fish coming in higher in the water column, some only a few feet below the bottom of the ice. That's 12′ below the ice, which would be showing 15′-16′ water depth on bathymetric charts. Lake travel is decent though some large ridges popped in recent days, isolating certain parts of the lake. Truck travel is not recommended.
---
Sign up another ice-head!
If you're forwarding Target Walleye/Ice to a friend who loves to ice- and/or walleye-fish or want your fishing buddies to get these emails, just
send us
their email addresses and we'll take care of it! (We won't sell the addresses, use them for spam, etc.)

Effective spoon tweaks for picky eaters, from Ice Force pros Brad Hawthorne and Joel Nelson:
> Spoons are a staple in any walleye angler's box, and constitute the bulk of ice walleye baits on the market, such that Brad's primary focus is manipulating all aspects of the way they fish.
> "I found pretty early on that by adding just one more split ring between the existing split ring and hook on most spoons, I could dramatically increase the number of fish I'd convert on my flasher when 'eyes were heavily keying in on bait. The action was just incredible, and the freedom that extra split ring gives the business end of your lure and bait are well worth the price of admission. This is a go-to for lethargic fish."
> With stamped metal spoons that flutter or wobble on the drop, the effect can be even more impressive. Hawthorne: "Most of these spoon types have a bend in them, creating that wiggle. Add another split ring to these baits, and you can still get that motion, but dropping on a tighter line causes the same bait to coast off past the edges of the hole, gliding like a manta ray and enticing fish that aren't directly below you."
> "I really like these baits when fishing new areas or scouting. Just multiply the extra couple of feet you cover off to the sides by the number of holes you cut in a day, and you're really getting at more fish in the same water."
> Even neutral to aggressive fish can be targeted more effectively with some spoon hacks. "By switching out factory hooks with some of these new glow-resin trebles out there, you can help to prevent fish from eating your spoon and not your hooks, a problem more prevalent than you might think."
> "Everyone knows that gold is a great color on Lake of the Woods, but it isn't as good early and then again late in the day. Adding a glow-resin treble to that same bait extends your bite window, making that same bait more effective for longer."
---

– All-world bass fisherman and MI resident Kevin VanDam. Not afraid to represent!
---
Let's go ice!
Check this stuff out!
---
About Target Walleye
Target Walleye
brings you the BEST walleye and ice fishing news, pics, tips and events year-round, and is brought to you by Al & Ron Lindner, Jim Kalkofen and other walleye nuts like you!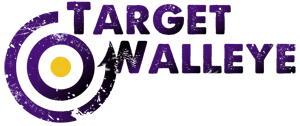 TargetWalleye.com | Rapala.com | IceForce.com