If you're receiving this Target Walleye/Ice email — covering the best of walleye fishing during open water and the best of ice fishing during hard water — for the first time, a friend probably signed you up! Target Walleye/Ice is brought to you by Al and Ron Lindner, Jim Kalkofen and other walleye and ice fishing nuts like you.
Today's Top 5


Do custom-painted crankbaits get bit more?
They're purrrrrtty, but do they actually help you catch more (or bigger) fish? Maybe.
Got to thinking about it after Christopher Langeman sent in this pic of a stout 9-lber from the Bay of Quinte that lunch-boxed his custom-painted Rapala. Love that golden-delicious color against the foggy backdrop: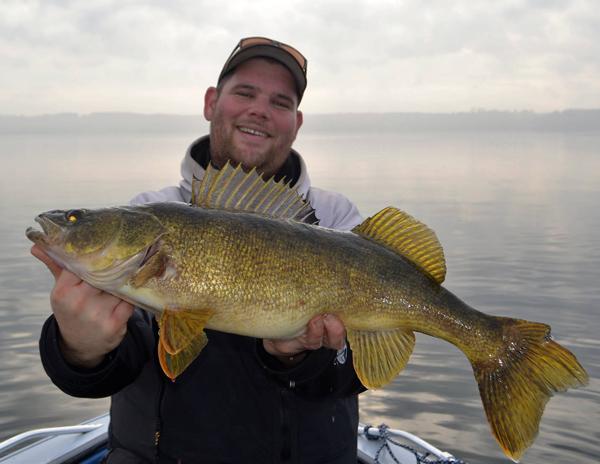 Chris said the best bites of the day came running custom-painted Rapala Down Deep Husky Jerks at 20-25′ (over 36-45′) behind Off Shore Tackle planer boards and DIY 1-oz snap weights.
Here's a look at the abstract painting with treble hooks he was pulling: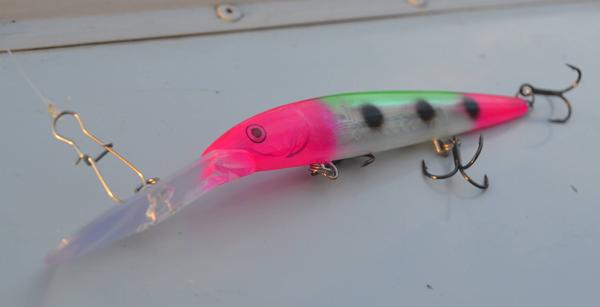 For sure looks tasty. Usually your best bet at fooling a biggun is by "matching the hatch," but sometimes you've got to show them something they haven't seen 1,000 times that week already.
FishUSA has their own line of Custom Color Down Deep Husky Jerks. They've got 10 different color patterns, but here's a few that caught our eye: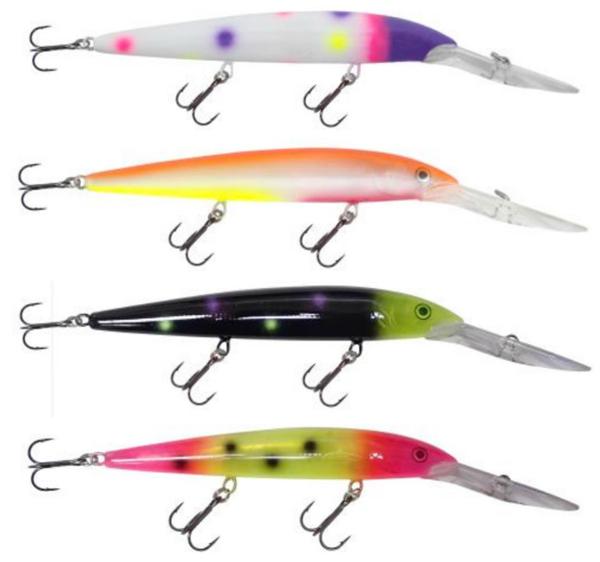 You can check 'em out right here or by clicking the pic above. Ultimately you've got to let the fish tell you what they want, but don't be afraid to switch things up and throw something that other aren't.

TW subscriber Sam Neumann cracked this pig throwing a Rapala Shadow Rap in a small ON river. Sam said, "I land a lot of big fish in the fall working jerkbaits slowly in rivers." Works great right up to ice-up: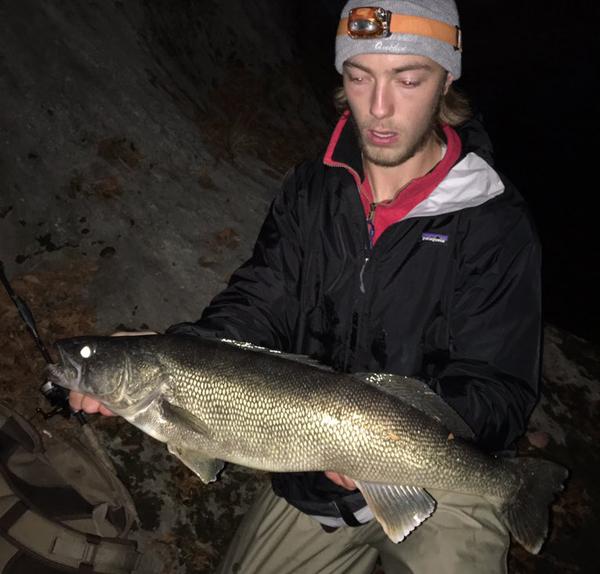 Eric Wample said he "took the boys out on Erie since football playoffs are over. Bandit crankbaits did the damage." Congrats on multiple new PBs guys! Check the gut on the pork-chop in the middle: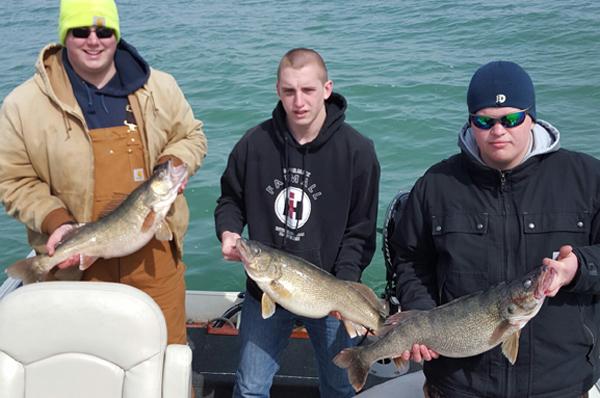 Speaking of Erie toads: Tyler Berthold stuck this 31.5″ slobeye running Bandit Walleye Deep Divers with Off Shore Tackle planer boards and snap weights: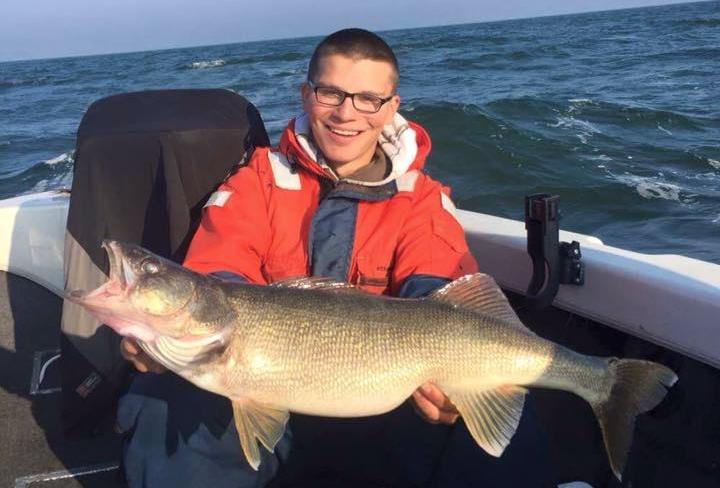 Justin Toll thwacked him some Mississippi River Pool 4 gold while pulling big creek chubs in 13-17′ behind traditional 3-way rigs: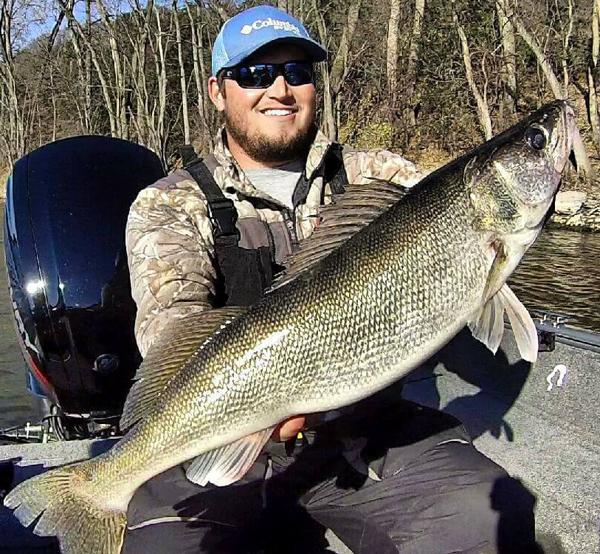 Is your jigging cadence scaring away panfish?
Chris Granrud of Rainydaze Guide Service goes over how he likes to call BIG panfish in from a distance, before changing up his jigging cadence to seal the deal. Works: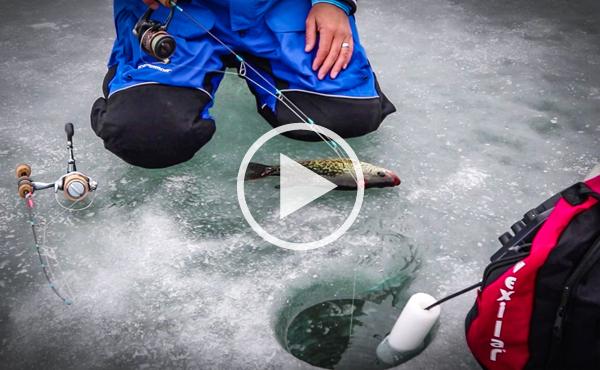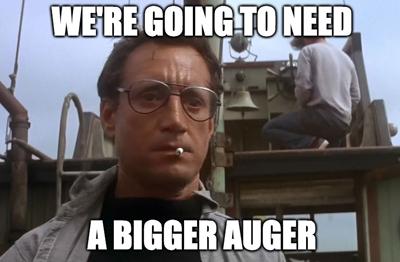 Overlooked jig for picky panfish.
The VMC Tungsten Fly Jig was new last year, but somehow flew under the radar most of the season. Probably because the guy a few holes over didn't want you using it too! It weighs the same as lead jigs twice its size and is a killer bait for first-ice panfish. Here 'tis in the color metallic rainbow: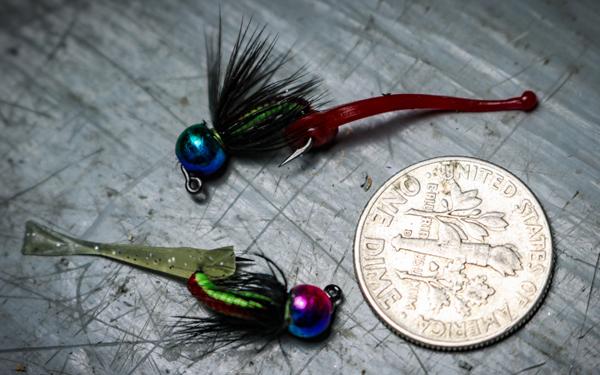 Check it out underwater when paired up with a Trigger X Minnow (glow) nipped in half. You can see that it'll dance no matter how still you try to hold your rod: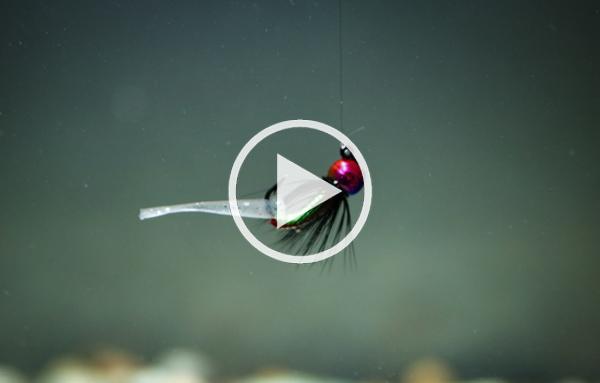 #DIBS

Dude, where's my car bike?
Found it: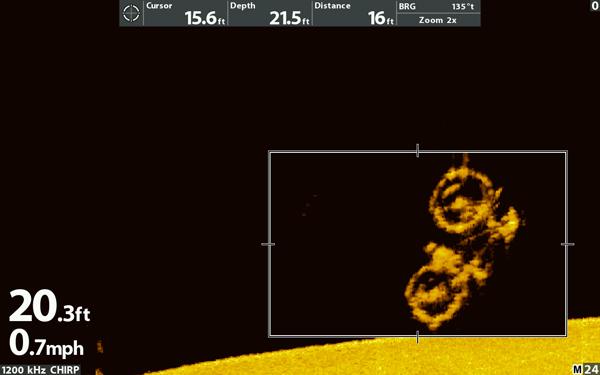 That's a screenshot from the new Humminbird HELIX G2N Units with MEGA Imaging. Crispy! Look closely you can see a cat-fish walking itself under this downed tree lol: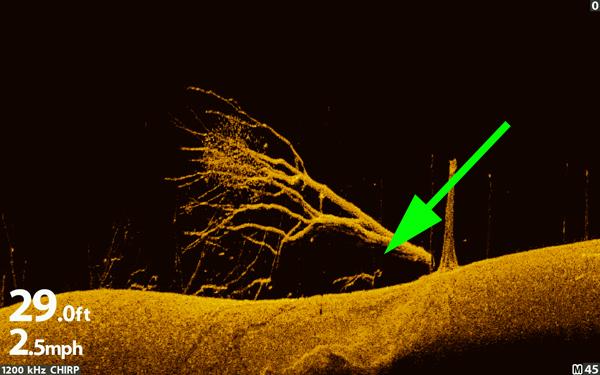 Word is they'll be available in the next couple months.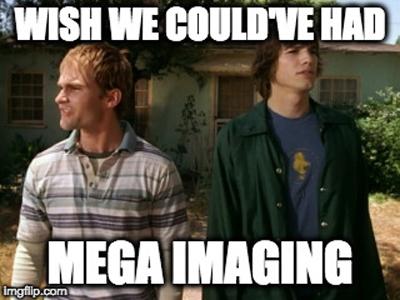 News
1. Why aren't zeebz a prob in CAN?
> "Shield lakes lack the water chemistry associated with limestone and marl (calcium) basins, which is necessary for mussels to grow their shells. Lakes with dissolved calcium levels less than 15 mg/l — which is basically all Shield lakes — are pretty much safe."
Pretty interesting article from Canada's most scientific angler, Gord Pyzer: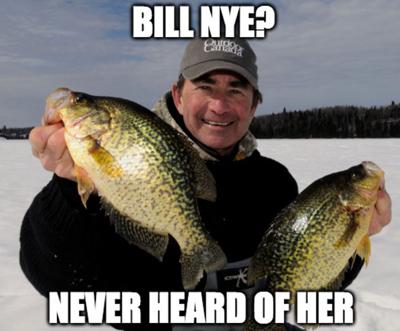 2. SD: Lake Sharpe tracking program.
> "Walleye in Lake Sharpe will be caught and tagged with a metal band on their jaws starting this spring. Anglers then will be asked to report any bands they find on the fish they catch."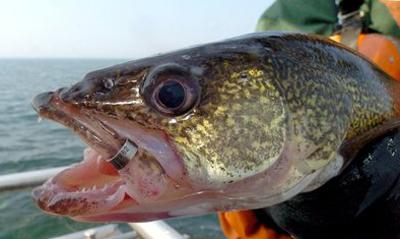 You kids and your piercings….
3. NPAA annual conference is coming up.
Jan 6-8 in Wisconsin Dells. That's the National Professional Anglers Association. There's no better way to learn about the business side of the sport than to network with pros who've had success on and off the water.
4. MN: Hard Water Ice Fishing Expo.
In Blaine. Happening right now and the rest of the weekend. Kicks off the ice-show season around these parts.
One rack that can carry your auger and a set of buckets. Looks pretty slick: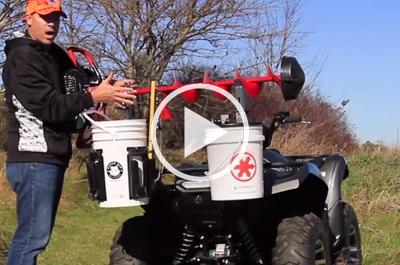 6. How to pick the right size jig.
It's easier said than done. Some great info from fish-head Jon Thelen on how he narrows it down on the water: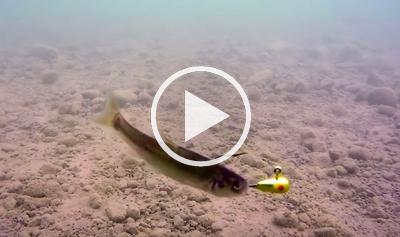 7. Benefits of running an electric auger.
Used to be that they were way too heavy, clunky and under-performed, but that's all changed now — they're looking like the way of the future:
Slush-flushing reverse (no more scooping!)
Drill through 1,600″ of ice on a single charge
Only weighs 22 lbs
Won't stink up your wheelhouse
Check 'em out here at FishUSA.
There's a reason the Custom Jigs & Spins Demon has been around since you were just tagging along with your grandaddy, it's a multi-species weapon. It works especially well on a deadstick or rattle reel no matter what you're fishing for: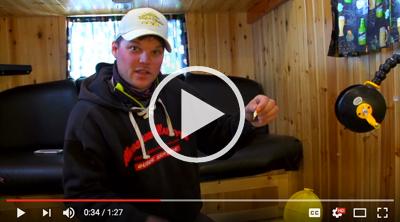 9. Win a fishing trip with Bro.
Just need to sign up for the Northland Newsletter. Are we eligible?!
_____

Fishing Reports
1. MN: Lake of the Woods.

> Fishing continues to be steady with some hog walleyes over 30″ being boated. There's lots of fish all along south shore from The Gap, to Morris Point, to Rocky Point. The best bite has been in 15-20′ — make sure to bring lots of bait!
> There's a ton of walleyes in the Rainy River and they definitely have the feedbag on. Shiners are still running and the walleyes aren't far behind. A brightly-colored or glow jig tipped with a shiner in 10-25′ has been best.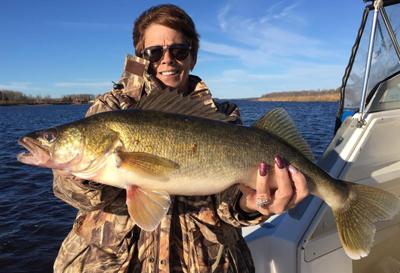 All good things must come to an end. The Channel A shore-fishing pier has been removed from the water for the season and the landings at the public ramps were all being taken out yesterday.
There's still fish to be caught if you're willing to bundle up and step away from the decoys! Early-ice is right around the corner and Devils Lake is THE place to be.
Great places to catch 'em
Sign up another fish-head!
If you're forwarding Target Walleye/Ice to a friend who loves to walleye-fish or want your fishing buddies to get these emails, just
send us
their email addresses and we'll take care of it! (We won't sell the addresses, use them for spam, etc.)

> "Because ice-fishing reels are so small, it's important to spool up fresh line before each new season. Small spools cause coils, and coils cost you bites.
> "What happens is that those coils are like a spring, and they absorb the precise movements you make with your rod tip, so none of that action makes it to your bait.
> "Not only are the edges of ice sharp, there's a million things in your ice house, sled and garage that could have grabbed, nicked and weakened your line between the start of last season and when you hung up your rods last spring
> "And for the same reason, periodically removing some line throughout the season is essential as well. You don't have to start from scratch and re-spool mid-season, but you do want to remove sections of line that get a lot of wear and tear
> "Simply peel off 25-30 yards every three or four outings, and then re-tie your baits.
> "To prevent line twist when re-spooling, lay your new spool label-side down, run the line through a big book to put little pressure on it, and then reel slowly, making sure the line is coming off the spool in a counter-clockwise direction.
> "For winter walleye, your best bet is 6- to 8-lb
Sufix Elite monofilament line
. For pike through the ice, use 8- to 10-lb Sufix Elite mono. Super strong, easy handling, and crazy-good knot strength.
> "Spooling up for panfish? Use 2- to 4-lb test Sufix Ice Magic line. Because panfish baits are so much smaller than walleye and pike baits, lighter line is needed to make them react correctly to subtle jigging strokes.
>
"Sufix Ice Magic
features special additives that deter water absorption that causes ice build-up. Additionally, it sinks fast for a more natural presentation."

Meme of the Day
Lund is going to have to start making boats with heaters: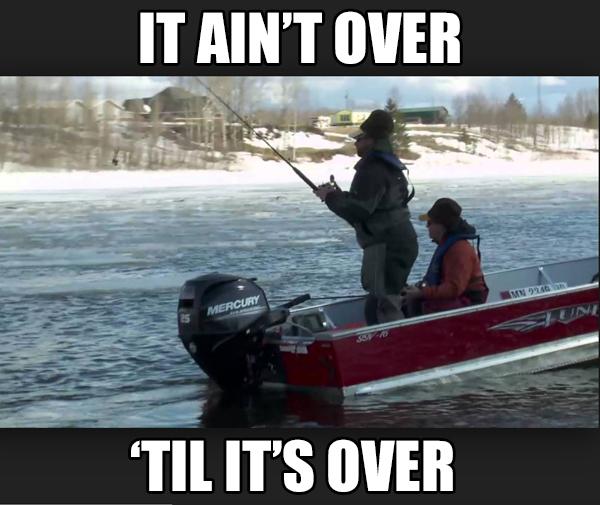 Today's 'Eye Candy
Some more Bay of Quinte gold. This one caught by Angelo while pulling Off Shore Tackle planer boards: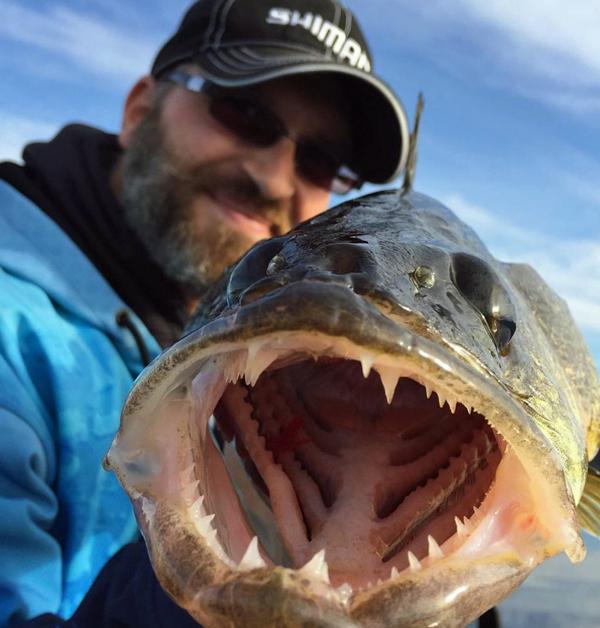 There's a reason it made the list as one of our top ice-fishing destinations this year.
Check this stuff out!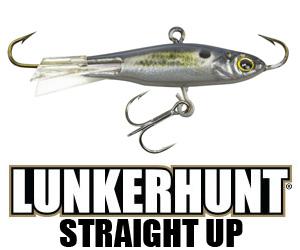 About Target Walleye
Target Walleye/Ice
brings you the BEST walleye and ice fishing news, pics, tips and events year-round, and is brought to you by Al & Ron Lindner, Jim Kalkofen and other walleye nuts like you!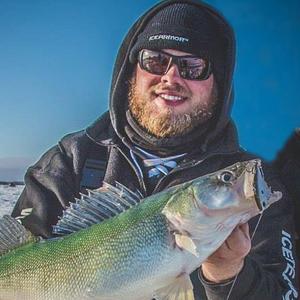 Brett McComas
is the main man for Target Walleye/Ice. He was plucked out of Brainerd, MN after years of wondering how in the heck people break into the fishing biz. He's in it now, but still can't answer that question. Brett is one of those guys who quit sports in high school because they were interfering with his fishing time…. Get him at
brett@targetwalleye.com

TargetWalleye.com | Rapala.com | IceForce.com