Hope your 2017 is off to a great start! Make sure to set some fishing goals or they won't happen — like losing adding a few inches onto your waist biggest walleye (lol). Thanks much for reading, and thanks to all the companies and people that make TWI possible.

Today's Top 5
Kelsy's favorite Christmas present was a stout 32″ PB walleye from the Red River: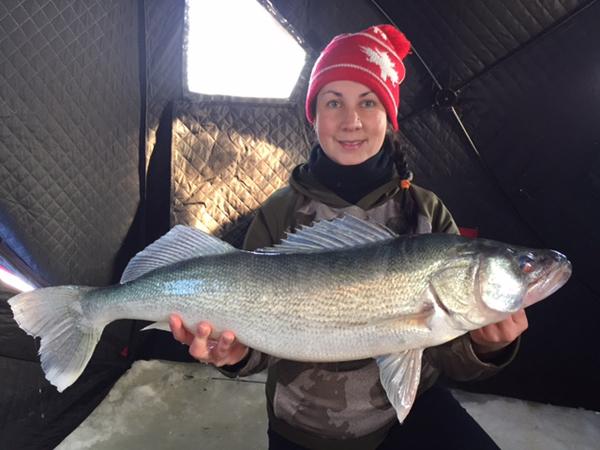 One BIG reason why people make the trip to Lake of the Woods: The incredible gold-mining opportunities. This 30-incher fell for John Strong's dead-stick rod — should always have one out: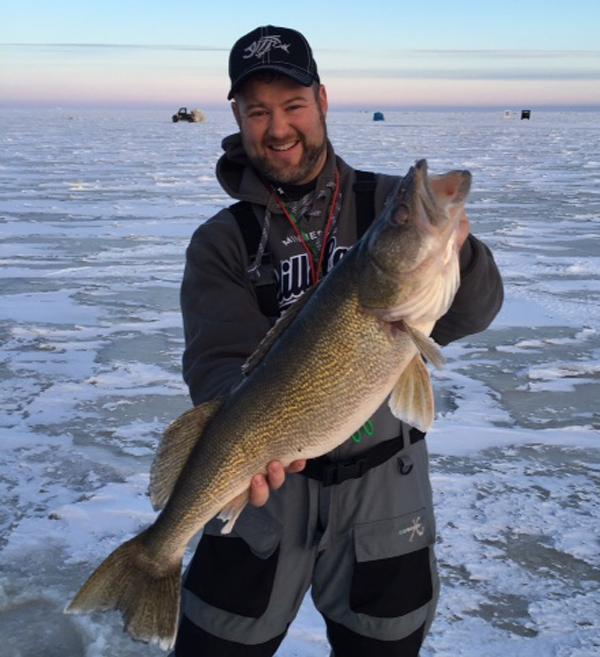 Clayton Schick wasn't on a smokin' hot bite, but he did manage to stick a biggun' for the camera: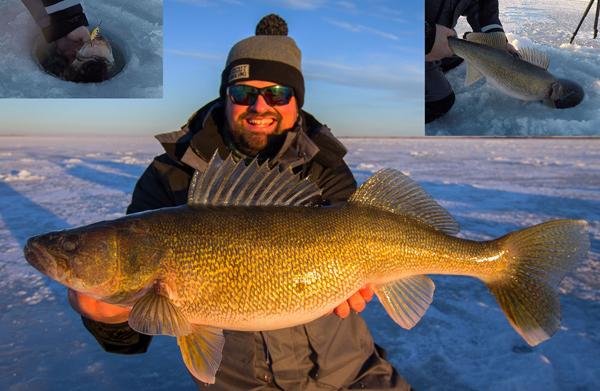 Michael York's Christmas ham had a rainbow sheen — usually not a great thing on hams but this is different: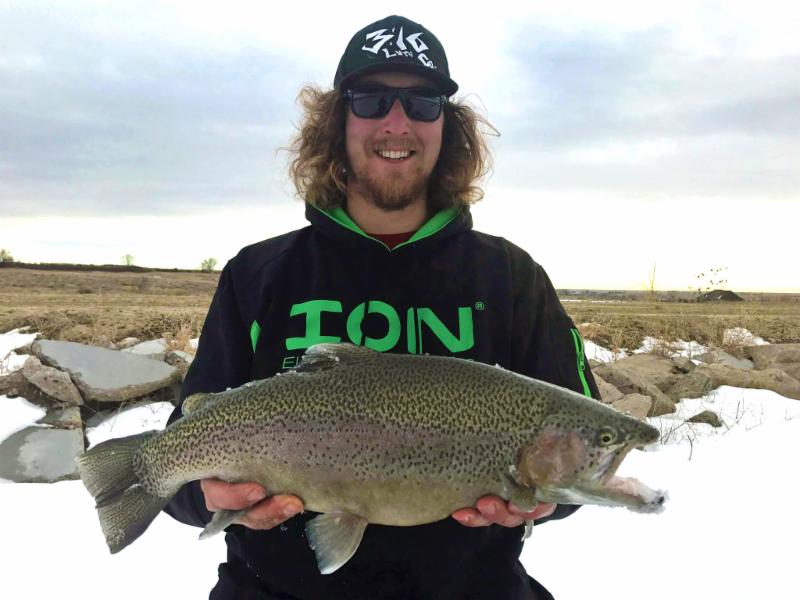 Next one is technically NOT ice fishing, but sure feels like it…. Looks like there's still some Great (Lakes) open-water fishing to be had — Off Shore Tackle Planer Boards with snap weights did the trick for the Legend Killer Charters crew:
Here's how the Lindner clan's Jeremy Smith goes about searching basins vs weedlines on new-to-him lakes: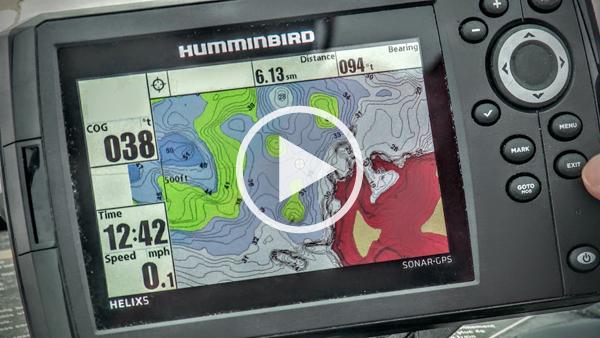 When Jeremy's fishing the basin, he likes using baits like the Rapala Slab Rap (left) to help pick off the bigger fish in the school — it's not a catch-and-release deal pullin' 'em up from that deep, so that way he's not killing dinks.
If the fish are fussy, he'll downsize to a VMC Tungsten Chandelier Jig (right). It's compact but lets you get down to 20-40′ super quick.

Probably just that they aren't a walleye. Here's what Brad Hawthorne said while hooked up with a Mille Lacs wally-saurus in episode 1 of Hooked on the Ice:
Spoiler alert: 'Twas no burbot: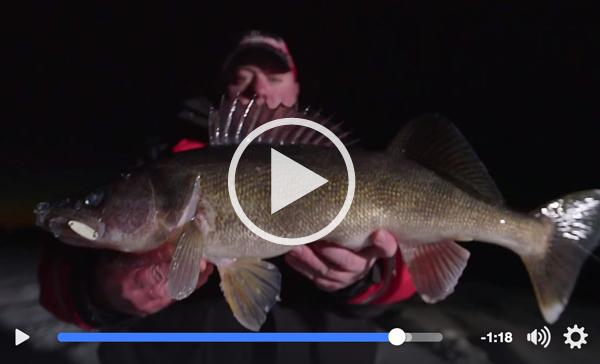 Cracked her on a VMC Tumbler Spoon (glow pink fire UV). Brad likes using gold (sometimes silver) Tumbler Spoons and Tingler Spoons during the day, and switches over to UV glow on the rocks at night.
MN got doused with a heavy rains the beginning of last week that quickly changed ice conditions. No one was hurt — aside from maybe an ego beating — but this Snobear was spotting making a den in central MN: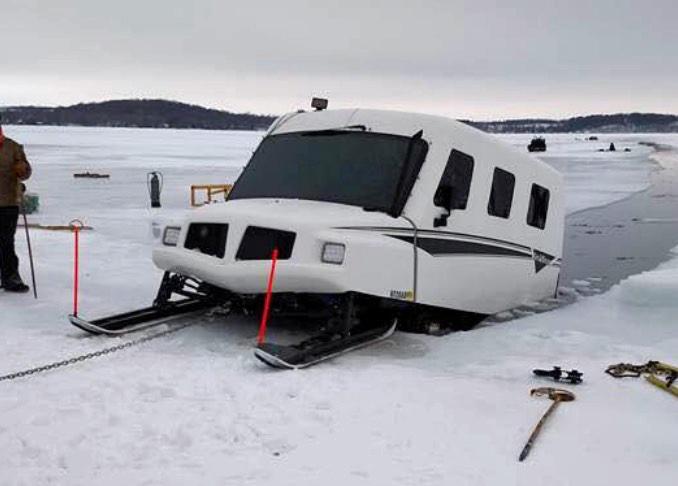 Made it pretty far on White Bear Lake considering there was only 5″ of ice at the time. Like Matt Milbrandt said: "I would've just used a camera to see under the ice." Lol: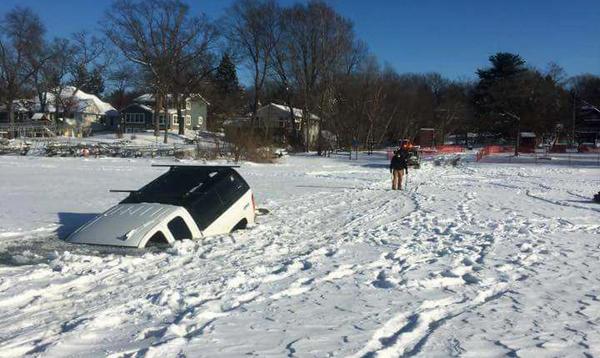 Houseboat spotting on South Lindstrom Lake:
Lake Wakonda decided to set up her own toll fees for crossing: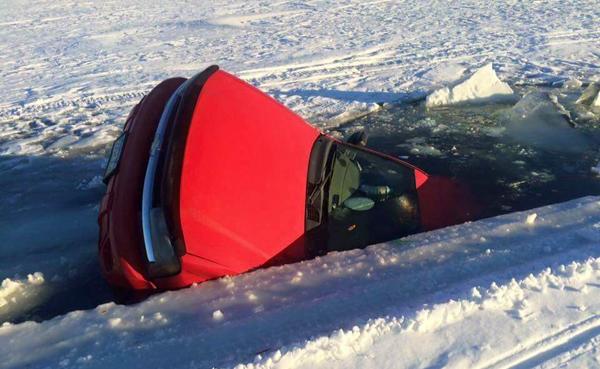 Funny looking parking spot on Big Pine Lake: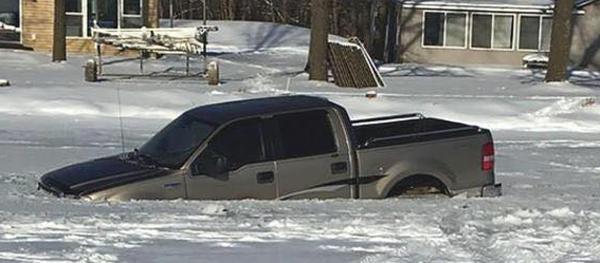 Hope everyone gets their stuff back okay. Good thing MN's supposed to have negative temps the rest of this week — are ice-nuts the only ones in the world who get excited to see a sub-zero forecast?
WI fishing guide Josh Teigen is a multi-species angler, but this for sure takes it to a new level…. Crappie eats Acme Rattlemaster — pike eats crappie: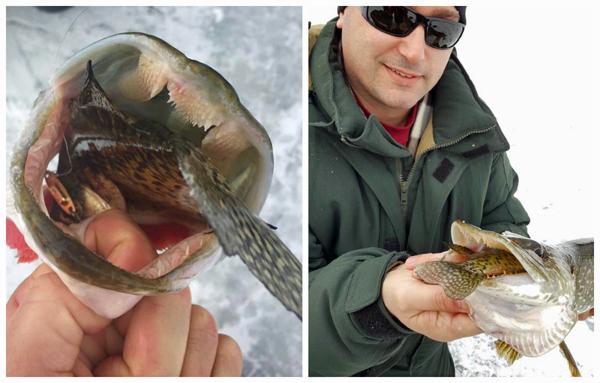 Great places to catch 'em