Today's Top 5

The 23rd annual Vanity Cup took place over the weekend in Nipawin, SK. In all there's over $300K paid out to the top teams — including a $100K check cut to 1st. This year, Ryan Wiebe and Cliff Warlow weighed in 36.7 lbs of Tobin Lake gold to take home the MASSIVE payday: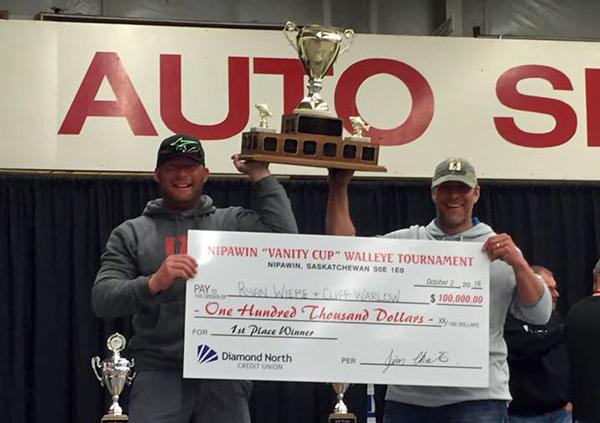 The water was high and dirty, but they were able to piece together the puzzle to get the right bites. Word is they caught their fish — including day 2's biggest at 11.55 lbs — rigging leeches.
Leeches this time of year because Saskatchewan doesn't allow fishing with live minnows…ever:
Imagine the bags those guys would haul in if they could drag around a big creek chub, redtail, or cisco! They'd somehow be lookin' even heavier than Mickey Trudeau's: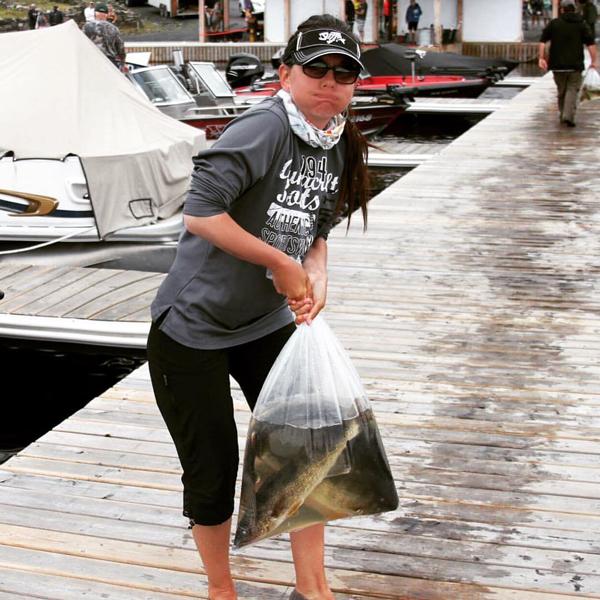 Must not allow cameras in SK either because we could only track down one actual fish pic from tourney day…but it's a good one. This is why anglers fish Tobin — Manny Milas with a double digit slaunch from day 2: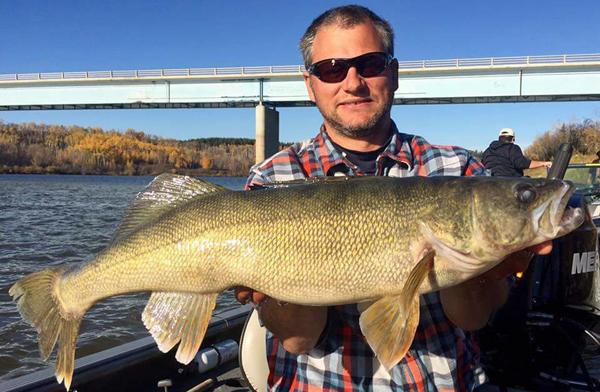 The 2nd and 3rd place teams each took home a shiny new Lund boat. Sounds like they do payouts right up yonder, eh?!
TW subscriber Mel Cochrane and her main net man Rob Henry have been putting on a DD clinic lately. Their last trip out was no different: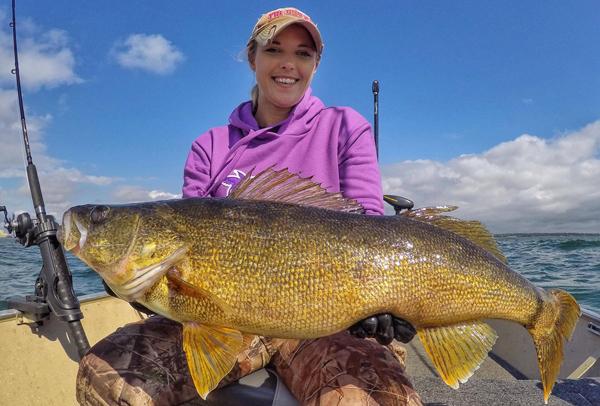 They got the end of the fight on video, along with Rob's ninja-like skills on the net job:
#RelationshipGoals
TONS of great fish were weighed in at the Fishing To End Hunger Walleyedan tournament on Gull Lake, MN. Father/son sticks Butch and Nate Blasing (great guys!) took home the 'W' with their 21.41-lb bag for a cool $10K payday: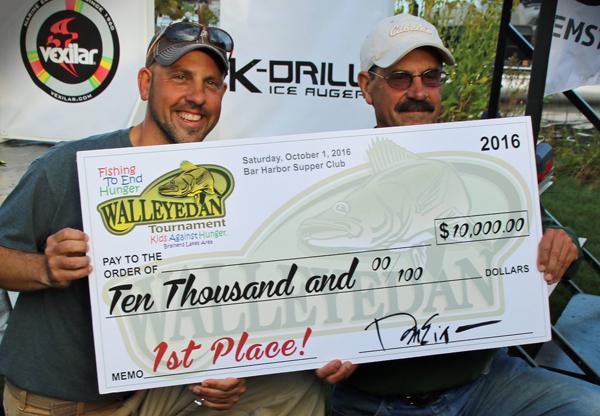 They caught their fish rigging big chubs but found they got more and bigger bites by tail hooking their minnows — versus dragging them pierced through the top lip:
Interesting because most use a 3/4-oz or better weight for dragging chubs to keep them down in the strike zone, but not going to question their decision since they "Didn't go more than 2 minutes all day without a fish." Congrats guys!
Local guides Nick Miltimore and Bruce Meinz were nipping at their heels with 20.42 lbs, cashing a $7.5K big-boy check:
> "Depending on the size of the chubs we used #2 all the way up to 2/0 octopus hooks. We were using 5-6′ snells with 1/2-oz walking sinkers. We experimented with longer snells up to 10′ as the day went on, but the 5-6′ proved to be the best for us. Also played with tail hooking, but all of the fish we weighed in came from a traditional lip hook.
> "Our key was having our fish found and getting them in the boat early. We knew the bite was going to get tougher as the day went on — when the fog/clouds lifted and the wind laid down…and it did."
Here's the part that makes tourney fishing a different kind of monster: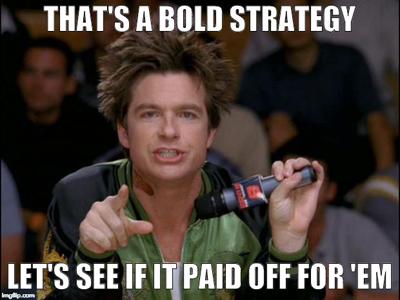 Yup, it did. Their bag was anchored by this 7.31-lb slob:
Nicely done fellas!
The top 20 teams weighed in 304-lbs of fish — which is a 16-lb average per bag! Gull Lake is one healthy looking creature. You can check out the full weigh-in results here.
While we were at the Gull Lake weigh-in, we couldn't help but notice that things are done a little differently in central MN — but in a totally awesome way. Here's a few of our favorite sights:
Weighmaster Mark Schutz took a break from the scales to shoot bow off the stage: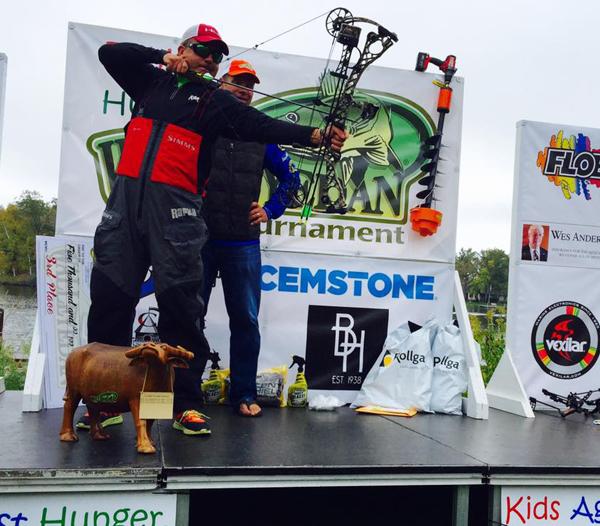 NPAA president Jimmy Bell did a little multi-tasking of his own: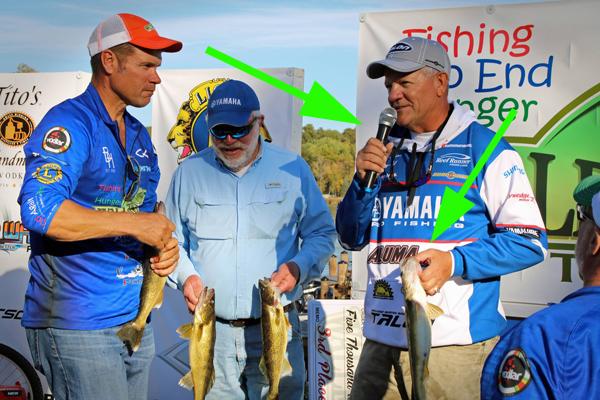 They drill through the ice…on stage…in sandals: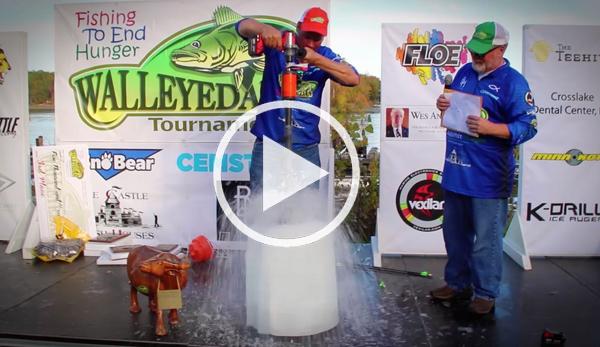 Their phone cases match their jerseys (you pull it off Stephen!):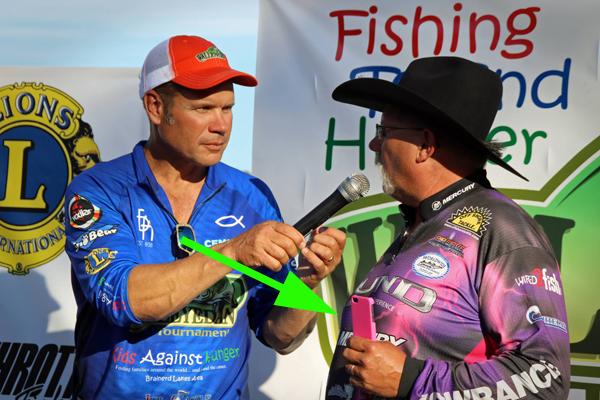 It's home to a traveling trophy called the 'waffalo' that's 50/50 walleye slime + water buffalo. Heavy little bugger too: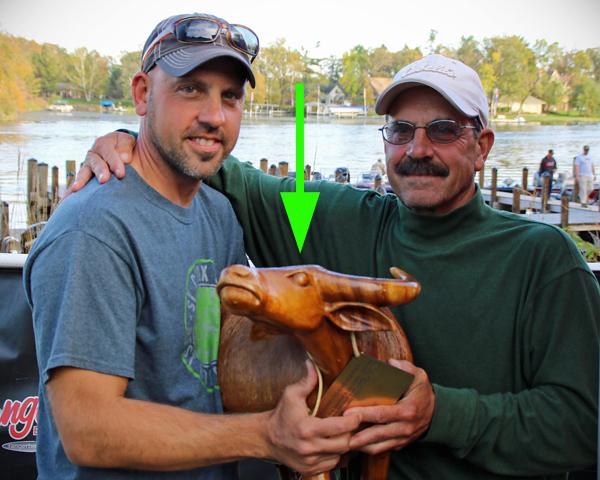 Side note: Butch has got to have one of the most impressive MN grown mustaches to have ever caught a walleye. Love it.
We all have those days…don't worry, it happens to the pros too. Fortunately MN fishing guide Jason Durham is pretty quick on his (dry) toes:
One of the few times being lazy — and not putting away gear after a guide trip — will work to your advantage. Right Jason?? #LaunchLikeThePros
Events

Sign up another fish-head!