Today's Top 5
'Nother Winnipeg wall-rus!
Who wants to go on a road trip…to SK = Saskatchewan! (Pic sent in by TW reader Tim…tx!)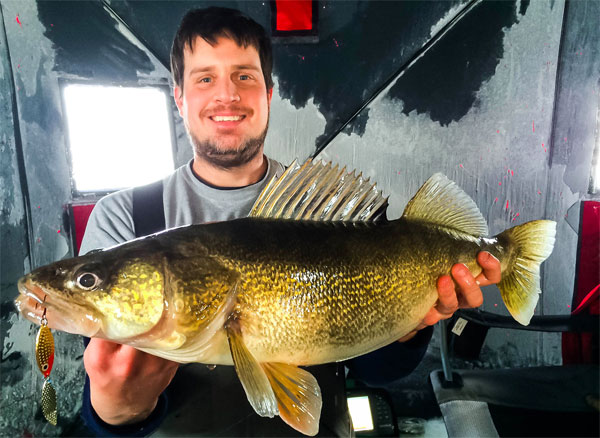 We've been releasing fish from 10 to 13 pounds multiple times a day for the past two and a half weeks.
– Brandon Oullette of of Quinte Hardwater Specialists talkin' a big game, but here's the proof: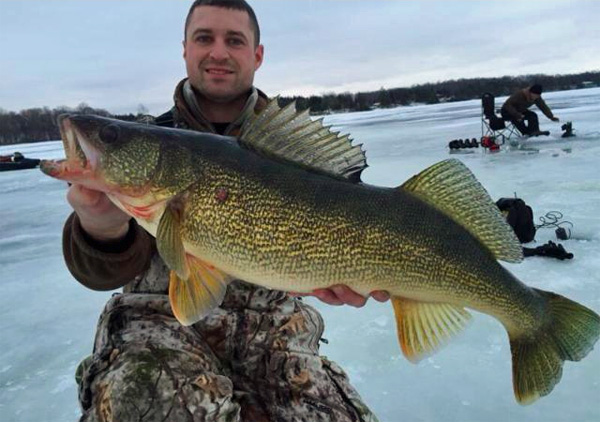 > "Using the Spilt Screen and Zoom features on our Vexilars, watching for walleye well off bottom has been the deal. Clients and I are rushing up to that level, then we start working them over with our jigging moves."
> "Jigging style is varying from day to day and even from fish to fish. Northland Buck-Shots, Live Target Bait Balls and Lindy Darters have all been chipping in: We're finding those higher fish move quick and you gotta get up there before they pass. Sniffing them out on the flashers at two separate levels helps us find and fish 'em that much faster.'
(Tx to JP Bushey.)
Got it too: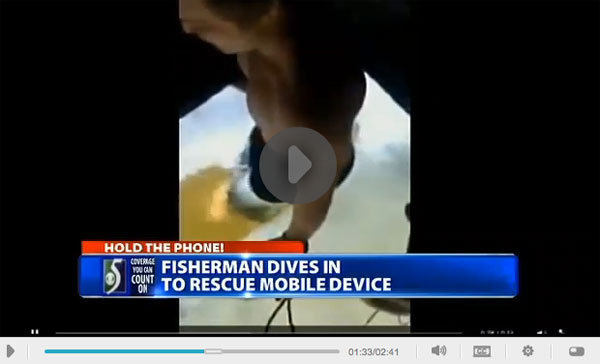 The best line was from his buddy:
> "As soon as it hit the water and started falling down, I started laughing at him."
Hahaha!
Ice News
3.6-lb walleye was leading it until last 15 mins. #dinks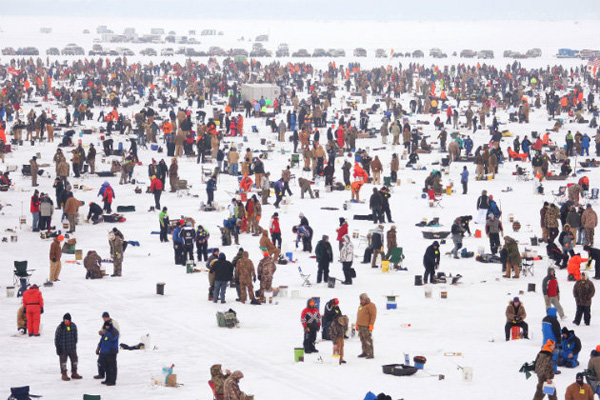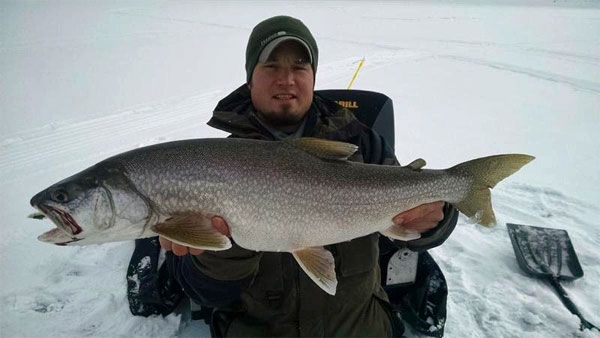 > The lake trout have been showing up in good numbers in 50 to 80 feet, and are usually hugging or relating to the bottom 10 feet. Tube jigs tipped with a piece of sucker meat…but spoons have been working too.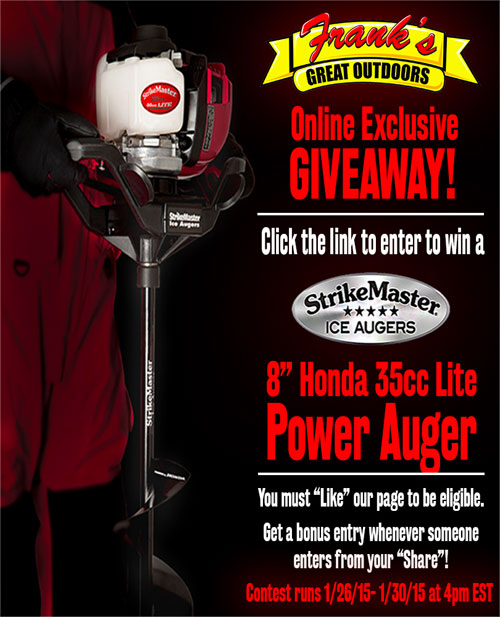 > South shore, in front of Pine Island, best reports from anglers headed out 15 miles or more. Good fishing this week, combo of walleyes and saugers.
> From Morris Point area to Zippel Bay, decent bite in 20-28′. Morning / evening bite in 15-18′. Long Point and Arnesen's still producing, with reefs and mud adjacent to reefs most consistent.
> On the Rainy River, frozen shiners in 16′ with orange or chartreuse….
> Up at the NW Angle good fishing continues on the edge of structure in 20-30'…gold and glow colors…. Jig one line, dead-stick second line…more walleyes than saugers. Some jumbo perch, pike and eelpout mixed in. Big crappies on Canadian side.
---
News
1. ON waste sliming Lake Erie.
Check out this algae bloom from last summer. It's huge — this is a satellite photo!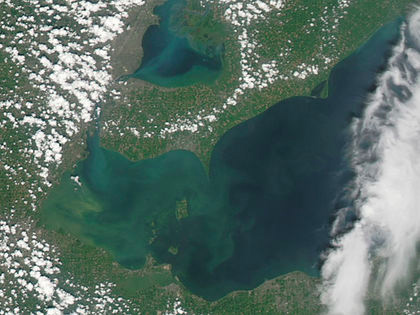 2. VT: Walleye benefit from lamprey control…
…in Champlain.
3. ON: Top muskie catches of 2014.
Here's one: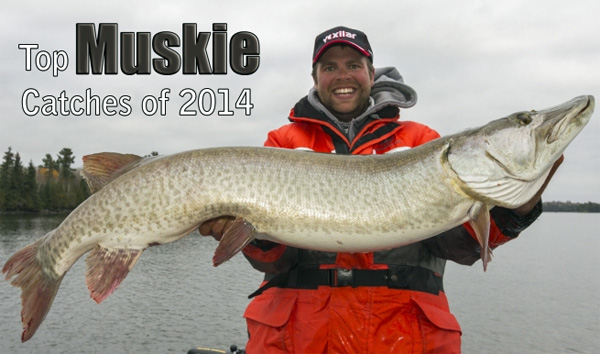 ---
'Eye Candy
For some reason we nickname this fish "buffalo:"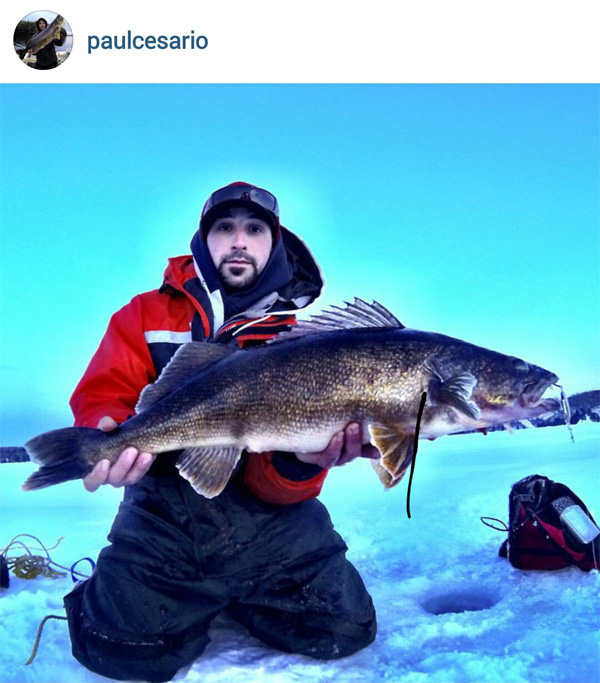 ---
When you get sick of catching panfish:
> …cruise shallow vegetation and be caught on tiny jigs intended for bluegills; however, they typically take up residence in the deepest portion of the lake and hold tight to the bottom. With the use of good electronics, like the Marcum LX-9, a combo sonar and underwater camera unit, these otherwise shy critters can be located with minimal effort.
> The camera on the LX-9 not only positively confirms that the marks on sonar are catfish, but also reveals their activity level. If cats all have their bellies on the bottom, it's time to find a different target species. But if some of them seem active, note their distance off bottom and travel direction. Catfish set up a perimeter and continually patrol this area in search of food. A few well-placed baits can intercept these fish on their next pass.
> …baits should appeal to their incredible sense of smell. Fresh chicken livers and Berkley Gulp! Dough are good choices. Keep presentations slow, with only subdued jigging motions to entice the fish. When cats come in on the sonar, keep the bait still or raise it slightly to get them to move up and take it.
> Cut at least 8-inch holes when targeting large channel catfish, as the head of a 15-pound catfish instantly makes a hole that size look small.
---

---
A custom-made rod will take into consideration an angler's own physique and peccadilloes….
– Not real sure what this guy is talking about, but we think it has something to do with olive loaf…maybe….
---
---
Gotta check this stuff out!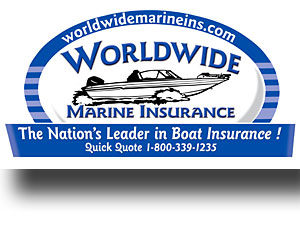 ---
About Us
Target Walleye
is brought to you by Al & Ron Lindner, Jim Kalkofen and other walleye nuts like you!
---
TargetWalleye.com | IceForce.com | Rapala.com