If you're receiving this Target Walleye/Ice email — covering the best of walleye fishing during open water and the best of ice fishing during hard water — for the first time, a friend probably signed you up! Target Walleye/Ice is brought to you by Al and Ron Lindner, Jim Kalkofen and other walleye and ice fishing nuts like you.

Today's Top 5


Rain triggers NWT walleye flurry.
Bob Bruegger's 2-day total of 42.53 lbs won the $87K purse at the National Walleye Tour event on Lake Winnebago, WI. Here's how he did it: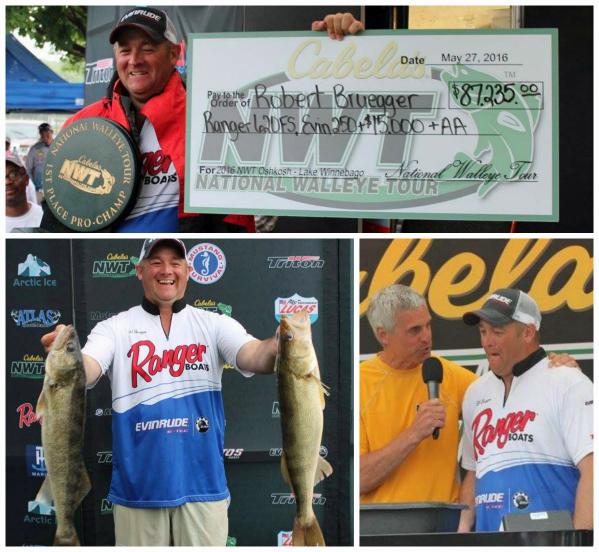 > "I caught all my fish in one area — a spot a mile or so straight east of the river mouth in 16′. The fish were coming out of the river and heading to the big lake, and I was just intercepting them.
> "I was preparing to run to the river when it just started pouring rain. All of a sudden, the bite turned on."
> Bruegger was pulling spinners (gold/chartreuse gold/purple) with night crawlers. "I would let out 20′ of line and then put the board on. I used a 1/2-oz weight and would troll at 1 to 1.1 mph.
> "Fishing these national tournaments gets me out of my comfort zone and forces me to fish more water. To win on this level is an amazing feeling — it leaves you without words…."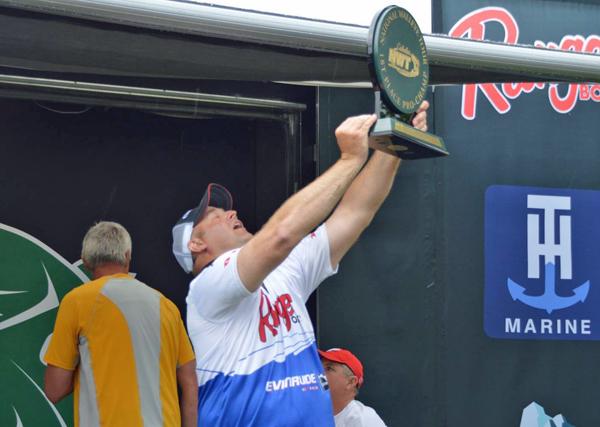 Shallow weed-pattern walleyes.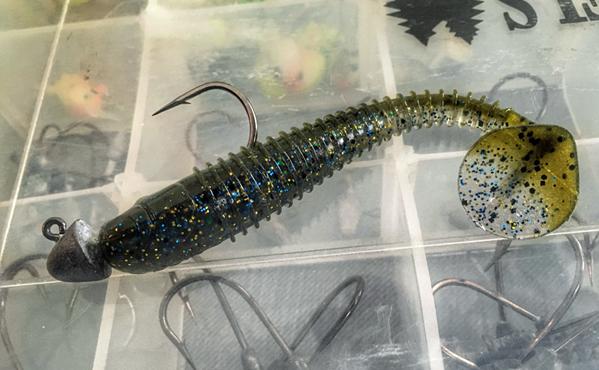 We love us some mean weed-dwelling walleyes! And…many anglers don't realize it's a bite you can take advantage of all summer long. Here's a few excerpts on how/why Jason "always on 'em" Mitchell does it (full tip here):
> Weed patterns are often overlooked because many walleye anglers hate fishing weeds…it's not how they grew up catching 'em. These populations of fish don't get touched, and that's what makes these patterns so good.
> A swimbait with a large plastic paddle tail is tough to beat — the thumping tail pulls fish up out of weeds because they can feel the vibration. The large-gap single hook can be snapped and shredded through weed stalks, and allows you to put more pressure on the fish to keep them hooked up.
> Many anglers use too small of a swimbait — a 4″ to 5″ or sometimes larger swimbait bodies present an easy target, move water, and slide and glide more slowly towards the bottom so that the bait can be swam just over the tops or through the edges of the weeds.
> Swim and slide these swimbaits along the edges, open pockets or over the tops of emerging weeds while snapping or popping the lure when you make contact. This snap/pop not only cleans off hooks but also triggers fish.
Takes a little time to get dialed in but worth it!

Free piggyback rides on Lake Erie: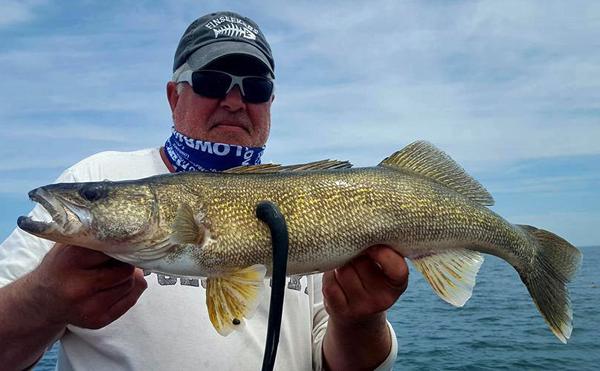 We haven't seen many lamprey on walleye the last few years, but it seems more common on Lake Superior waters. Here in MN we'd try soaking that thing under a lighted slip-bobber lol.

How to get the clearest side-imaging possible.
Jimmy Bell runs 2 transducers with a splitter cable to his Humminbird Helix to get the clearest display possible — check it out: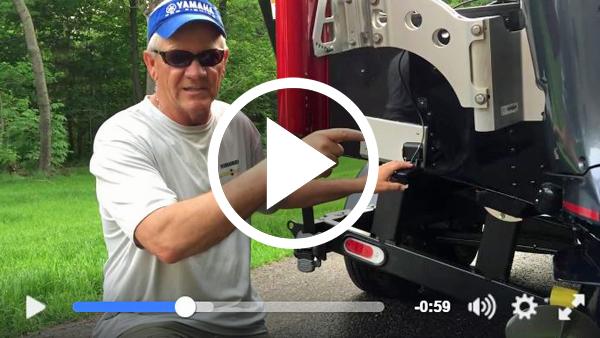 Can you guess how many graphs JB has rigged up on that Alumacraft? Here's the video for a sneak peek.

You know you're in walleye country when…
…this: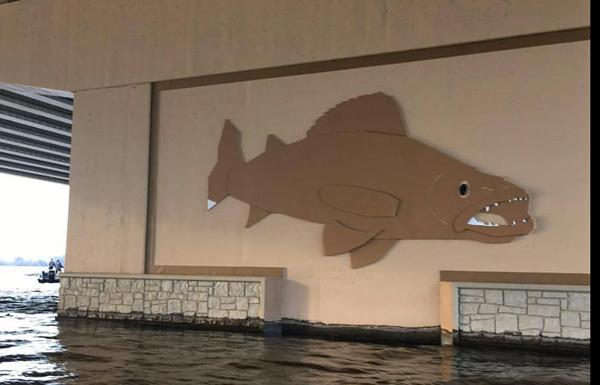 Cool. Must have armed guards 24/7 to keep graffiti-slingers away.
---


News
1. MN: Hooking mortality study on Mille Lacs.
They're working on getting new data, but here are some findings from the previous study:
The warmer the water, the more fish die from hooking mortality, especially when water temps get above 70.
Small fish and large fish die more often than medium-length walleyes.
Fish hooked with live bait die more often than those hooked with artificial lures.
Hooking mortality ranges from nearly zero during ice fishing to as high as 20% in a summer heat wave.
2. IA: Clear Lake Walleye Classic winners too good.
Aaron Petersen and Jason Dick topped the 100 boat field despite weighing in at 10am thanks to a livewell malfunction. Crushed 'em!
3. MN: Boater refuses to clean off zebra mussels.
> "One boater informed the watercraft inspector that he didn't have time to clean all of the zebra mussels off and had lived on Gull Lake for 40 years and was grandfathered in."
Lol: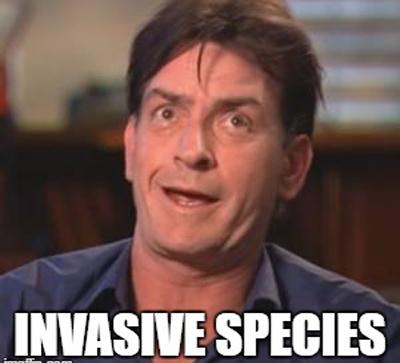 4. Trolling Rapala jointed minnow baits for walleyes.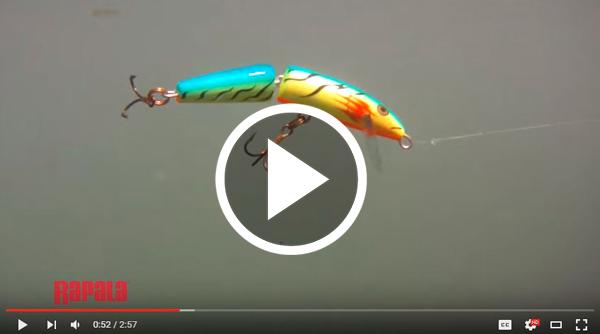 5. Minn Kota Trolling Motor Console for a kayaks.
Dr. Jason Halfen uses one to find and catch unpressured walleyes (video).
6. LEER coupons for fishermen/women.
If you have a LEER top and fish tourneys, make sure you sign up for Cover Cash to have a shot at making more cash.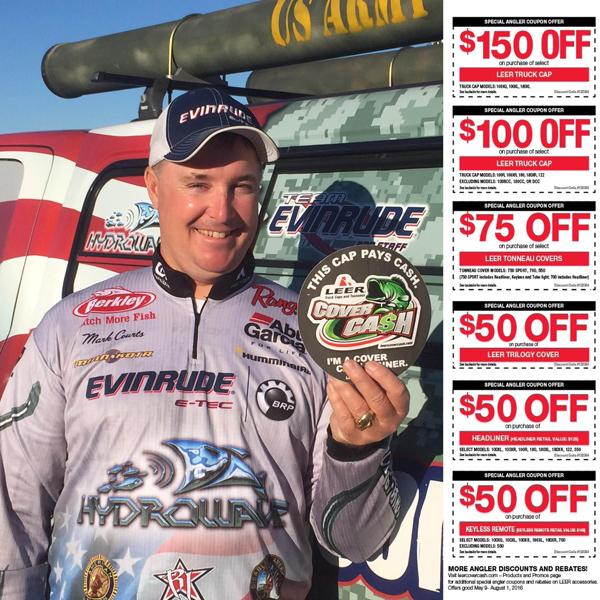 7. FishUSA partners with NPAA.
---

Another Rapala Giveaway Contest!
Have another shot at winning all this stuff from Rapala — including a giant Original Floater! Same thing as always: enter your email addy, then share the link you get for more chances to win. Good luck! (The winner from the last contest will be announced soon!)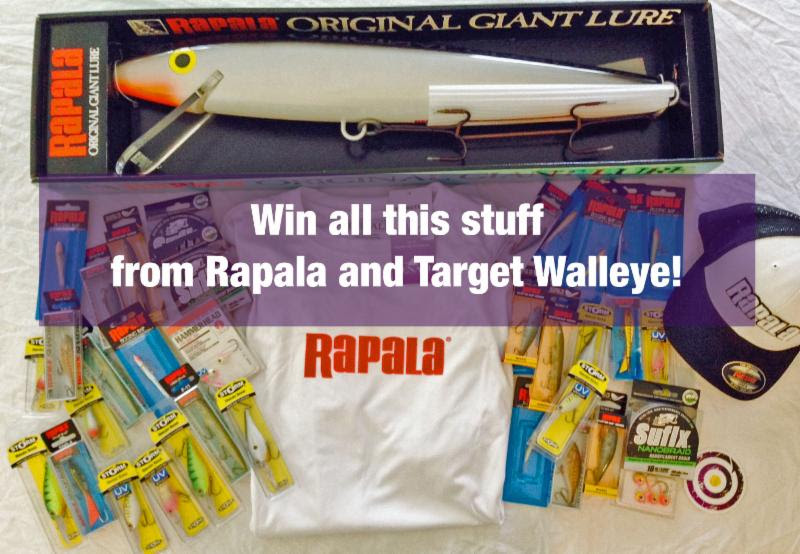 Events
1. WI: Warrior Boats National Championship, Jun 3-4.
Stacked with 28 teams that qualified from three divisions.
2. MN: Charity MN Fishing Challenge on Gull Lake, Jun 4.
Rub shoulders with fishing celebs while fishing. All the proceeds benefit a great charity: the MN Adult & Teen Challenge. See you there!
3. MN: 8th Annual Leech Lake Walleye Tournament, Jun 4-5.
A full 155-boat field fishing for the $43.6K purse.
4. ND: Free TESTRIDE event, Missouri River, Mandan, Jun 11.
Test ride (free!) some seriously decked-out boats with the pros. The first 50 attendees get free goodies.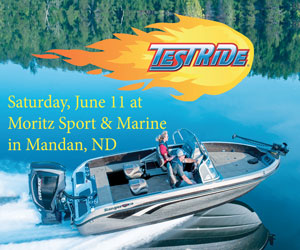 ---
Great places to catch 'em
---
Sign up another walleye-head!
If you're forwarding Target Walleye/Ice to a friend who loves to walleye-fish or want your fishing buddies to get these emails, just
send us
their email addresses and we'll take care of it! (We won't sell the addresses, use them for spam, etc.)

> In the early weeks of the open-water walleye season, post-spawn fish disperse onto flats and along breaklines, where they put the feedbag on before heading off to their summer haunts.
> Baitfish are at a low point in abundance for the year, so hungry 'eyes often gorge on a variety of insect life and anything else they can scrounge up off bottom.
> With the fish looking down for food, a jig tipped with a nightcrawler, minnow or artificial softbait like Northland Fishing Tackle's IMPULSE Smelt Minnow is a deadly presentation.
> Traditional vertical jigging is fine when walleyes are concentrated in one area, but horizontal tactics are best for covering water in search of fish — Northland's new Swivel-Head Jig is especially hard to beat.
> Borrowing from bass fishing's swing-head craze, it uses a barrel swivel to couple a flat-bottom football head with a size 2 Crawler Hauler VMC hook. The free-swinging leadhead combines the unrestrained action of a live-bait rig with the total control of a jig — allowing you to animate the bait with subtler strokes than standard leadheads.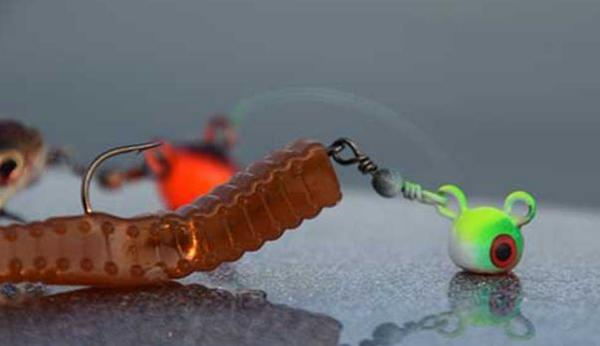 ---

---

Quote of the Day

…the bottom of a walleye's tail is usually rubbed white from being fanned on the bottom as the walleye holds in a river's current.
– From a newspaper article. No word on why lake walleye tails are white on the bottom….
---
---
Check this stuff out!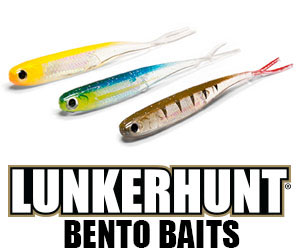 ---
About Target Walleye
Target Walleye/Ice
brings you the BEST walleye and ice fishing news, pics, tips and events year-round, and is brought to you by Al & Ron Lindner, Jim Kalkofen and other walleye nuts like you!

TargetWalleye.com | Rapala.com | IceForce.com