Anyone else do something like this on the ice?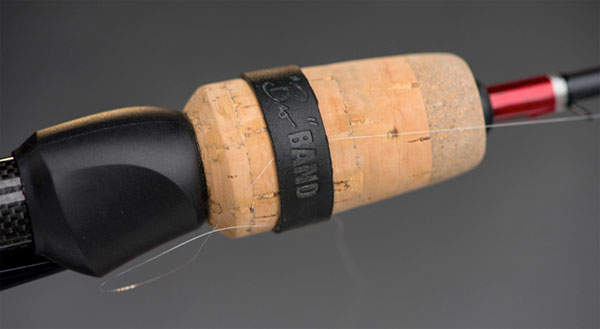 > The innovative Bro Band tethers your line to suspend bait (deadstick) and release quickly when a fish strikes.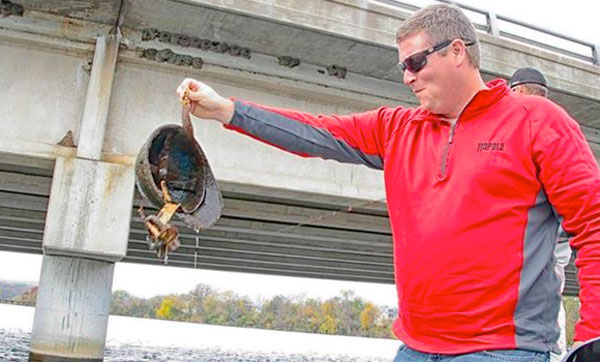 Some gems from a post on Rapala's Facebook page:
> Had a customer catch a grenade IN THE FIRING PIN. Talk about nervous.
>"…went down to the river with a friend and snagged a new Zebco pole and reel off the bottom of the fishing hole. My first fishing pole."
> "Buddy of mine hooked into a log with about $200 worth Rapalas."
> I caught a string of Christmas lights the same day my uncle caught a roller skate!!
> Red white and blue solo cups. In that order. On the same day on a good ole Shad Rap….
> A hub cap off an 80s Buick in a strong current. The current caused the hub cap to flutter like a giant spinnerbait, which translated back down the pole as the head shake of a giant catfish. I had a crowd of people watching me fight that thing. I still haven't lived it down.
That's good, but our favorite is:
> A guy I work with caught a dead goat in a burlap sack while fishing the Mississippi River!
Not sure if we'd rather catch a hubcap or a goat in front of a crowd….

How 'bout this setup for night-trolling??
Just need a disco ball and the walleye would be partying down there like it's 1999….
---

---
News
1. 2016 Cabela's NWT schedule.
2. MI: 3.5K 'eyes released in Whitefish River.
3. NY: Oneida shore bite improving.
4. MI: 4-acre reef being built in the Detroit River.
For fish-egg laying. Cool.
5. ND: Fall fishing survey results in.
Good news overall.
In-Depth Outdoors wants to see your personal best walleye.
7. MN: Warroad fishing report.
> …water temperature is 48 degrees. The best approach to reeling in some nice walleyes has been jigging with gold, orange or any bright-colored jig or spinner tipped with a minnow. The river is picking up more and more each day. A good bite still continues in the Lighthouse Gap, Morris Point Gap, just outside of Pine Island and Morris Point in 22-28′ of water.
8. MN: LOTW Tourism to host 2017 AGLOW.
Writers' conference. They will enjoy this: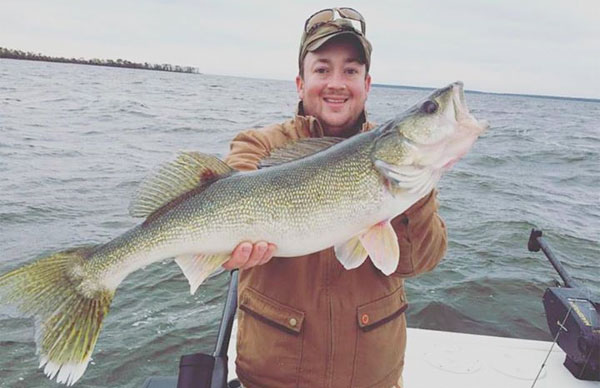 9. Big-time sale on Rapala and Ice Force wear.
10. WI: Zebra mussels in Lake Mendota.
> Maybe a brain-damaging chemical accumulated in the fish makes walleye eaters blind to the obvious — there can be only one Walleye Capital of the World.
Lake of the Woods not included?? Sounds like it's time for a fish off!
12. Mighty fine job of painting.
A good paint job will make or break your mount/replica: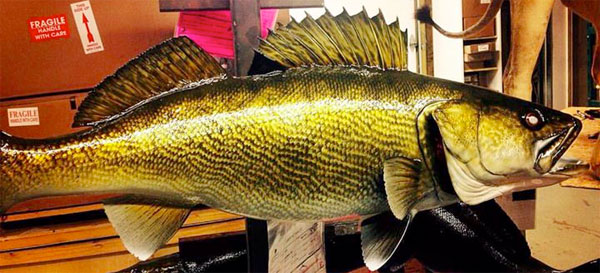 ---
---

---
Sign up a friend!
If you're forwarding Target Walleye/Ice to a friend or friends or would like your buddies to get these emails, just
send us
their email addresses and we'll take care of it! We of course will not sell the addresses, use them for spam, etc.
---

---
Close up and personal shot from Instagram: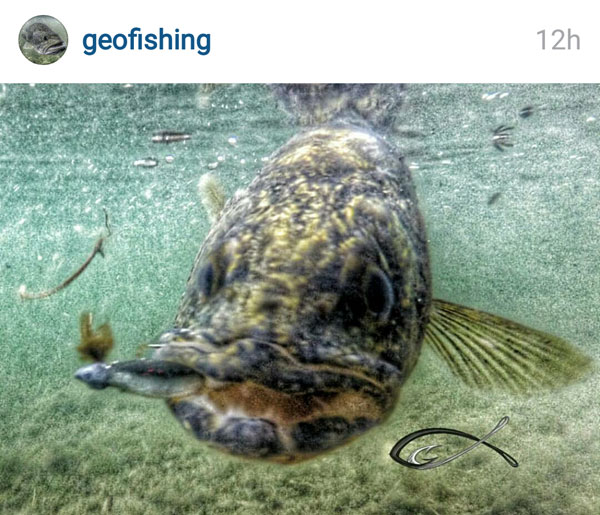 ---
Tip of the Day
> High-tech fish finders show us relatively realistic underwater images. Yet we still often find ourselves questioning what we're seeing on screen.
> Tournament anglers are increasingly using an underwater camera during pre-fishing to scout productive areas, and to covertly confirm fish presence.
> Among those anglers using an underwater camera is walleye pro and electronics wiz Bruce Samson: "The Multi-Vu system now allows my big screen sonar to interface directly with my Aqua-Vu. It provides a bright, clear underwater picture that is totally viewable in sunlight."
> "Just because you mark arches on sonar, doesn't always mean they'll bite. There's always a reason, but it's not always because the bass or walleyes 'aren't biting.' Sometimes, it's because, they're not bass or walleyes at all, but some other species. Or they're doing something that can't be understood without an Aqua-Vu."
---

---

Quote of the Day
If you hit a hot streak, the season could be over in 2-3 weeks.
– Tom Neustrom talking about the 5,000-lb cap on the Mille Lacs winter walleye harvest.
The ice fishing season begins Dec. 1. But there's still 2 questions: How many walleyes can anglers catch, and how big?
---
---
You ready for ice?
Have you checked this stuff out yet?

---
About Target Walleye
Target Walleye
brings you the BEST walleye and ice fishing news, pics, tips and events year-round, and is brought to you by Al & Ron Lindner, Jim Kalkofen and other walleye nuts like you!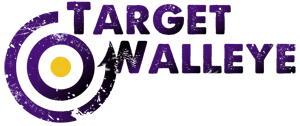 TargetWalleye.com | Rapala.com | IceForce.com