Lake Erie guide Ross Robertson is one of the most technically-astute anglers in walleye fishing, but readily admits there are times when it's hard to graph a fish.
"There are times when clear-water walleyes are either glued to the bottom or sky high in the water column and don't show up on your graph. My friend Doc Samson and I were just talking about how the scenario requires a completely different approach, no matter what brand electronics you're using. Some days they're like ninjas, and just can't be seen," he says.
That's been the case recently in Lake Erie's western basin. Steadily-rising water temps have been good for average-size walleyes, but strong northeastern winds have got Erie's monster fish with their bellies on the bottom.
"We're talking mud in the gills. And when that's the case, you can't just look for walleyes, you've got to key in on bait."
That's exactly what Robertson did this past week to uncloak Erie's big ninja 'eyes.
"In one spot I noticed a pile of perch just off bottom with my Helix 12 CHIRP unit. But I could tell by how they were disrupted that walleyes had to be nearby. So I ground crankbaits on and just off the bottom and we started catching 28-30" donkeys.
"We put some in the box for photos and they started puking up perch – just chunks and carcasses everywhere. The target separation of Helix 12 CHIRP lets me discern small bait, which gives me the confidence to fish there even if I'm not seeing walleyes that are bellied in just beyond the transducer cone."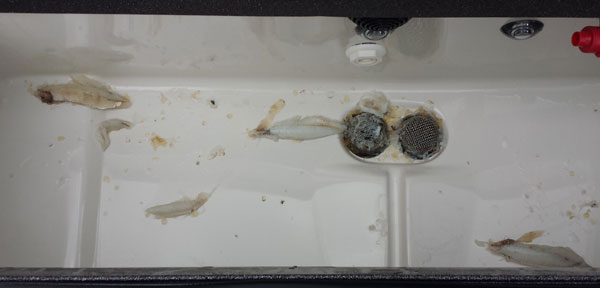 Cranks vs spinners
"Typically this time of year trolling spinners at almost rigging speeds would trigger these inactive 'eyes, but the perch were making that almost impossible," he says. "The switch to cranks on long leads with Sunline Super Natural monofilament (.013) covered most of the depths that we needed with Reef Runner 800 cranks, but Sunline SX1 braid has a super small diameter and allows me to get in the 30-plus range without adding weights."
He says going weightless is key. Weights can strip finesse from the presentation, plummeting cranks to the bottom on slow side turns – and riding baits out of the strike zone on high side turns.
"Slow and steady wins the race," he notes.
Hang 'em high
Ross says locating baitfish can also be key when warmer water stratified toward the surface sends baitfish high in the water column. Like walleyes bellied into the bottom, high-riding fish can be difficult to see on standard 2D sonar given the minimal coverage angle of the transducer high in the water column. There's also the matter of clear-water fish spooking long before you get a boat anywhere near them.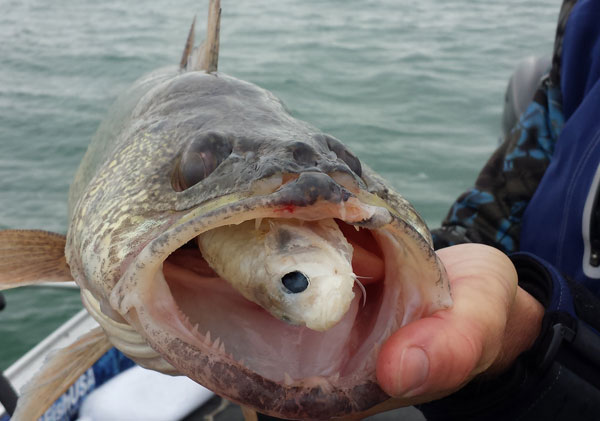 "In spring and fall, when baitfish go sky-high,  I'll set my Side Imaging to survey Erie's expansive flats for nomadic baitfish rather than structure. Given 10-12′ of water clarity, I'm typically looking out nearly 200′ off each side of the boat. When you see anything on these flats you know that's where you need to put your cranks."
At the end of the day, he says this approach significantly helps reduce the amount of time it takes to get on Erie fish. "With Erie's countless square miles, Side Imaging gives you some starting points that would be otherwise difficult to figure out."