If you're receiving this Target Walleye/Ice email — covering the best of walleye fishing during open water and the best of ice fishing during hard water — for the first time, a friend probably signed you up! Target Walleye/Ice is brought to you by Al and Ron Lindner, Jim Kalkofen and other walleye and ice fishing nuts like you.

Today's Top 5


Sand dragons of the week!
Jarek Wujkowski doesn't mind getting out-fished by his favorite fishing partner, Monica Michaelis — here she is with a gorgeous Lake Vermilion, MN 'eye that munched up a Lindy Rig/leech bottom-bounced over reefs: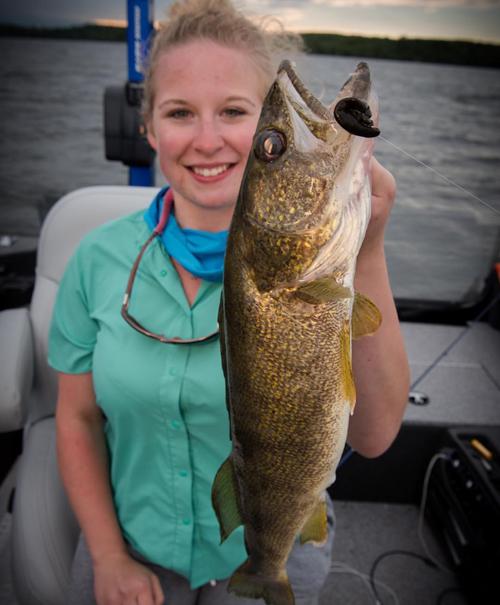 Here's a stout 30″ sowbelly that hit Kris Gaune "like a Mack truck" on Big Sand Lake in Minaki, ON:
> "I was jigging a dropshot hook [and minnow] with a 16" snell and using a Northland Tackle 3/8-oz
Swivel-Head Jig
[and leech] for the weight. She went for the leech!"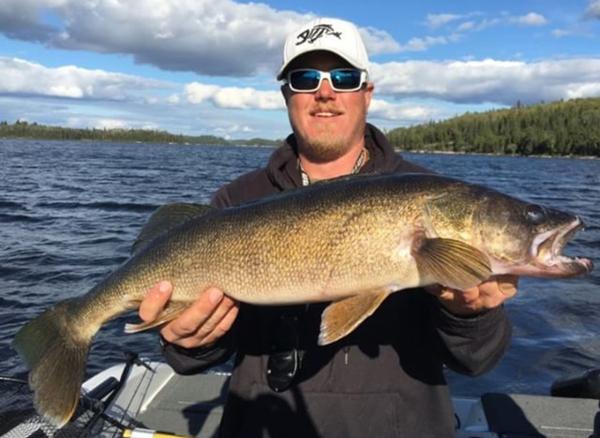 Meghan Trala stuck this Lake Erie beef brisket while fishing with Smooth Moves Seats pro Jim Hanley. She caught it pulling a crawler harness in 12′ on an Off Shore Tackle Mini Planer Board: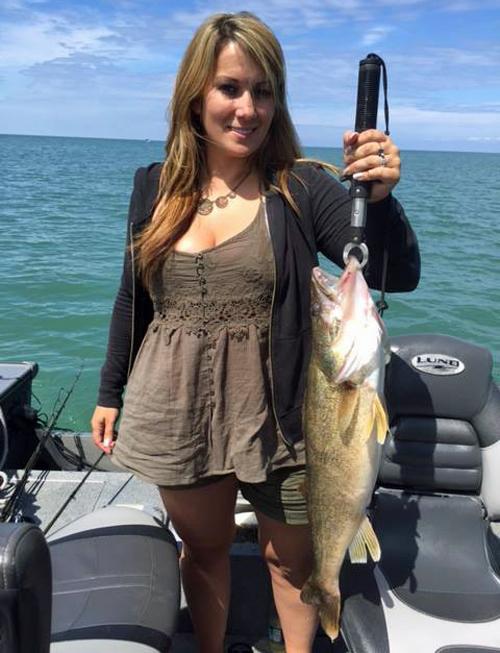 Trey Z. caught this moon melon trolling an Original Floating Rapala through Fox River, WI waters: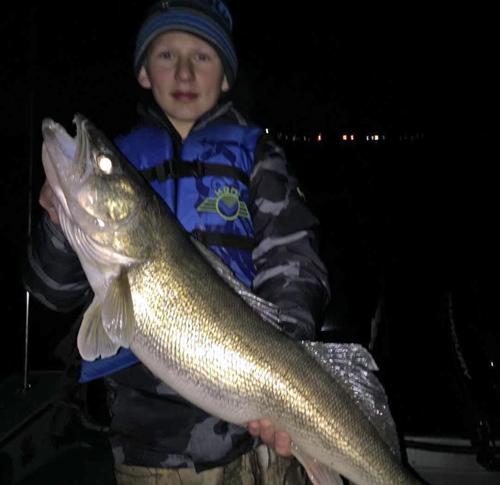 How to boat more fish without getting more bites.
Not meant to be a riddle, but read this nice and slow: A brightly-colored slip-sinker might not get you more bites, but it can still put more fish in your boat. Here's why Lake Vermilion guide Billy Rosner always adds them to his rigs when fishing stained water: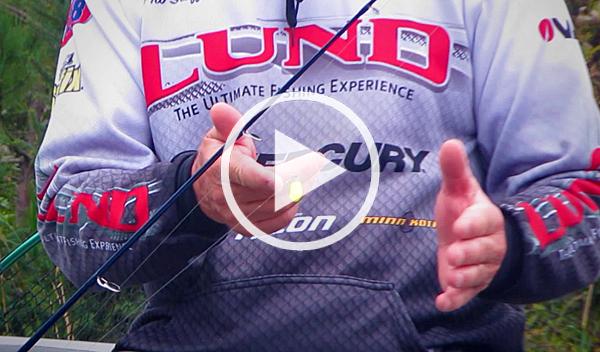 Easy as that!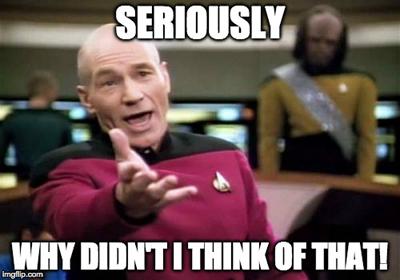 Why packing tape can help you make a proper release.
Us anglers are doing a pretty good job as conservationists, but there's always room for improvement. Here Scotty Brewer gives a few tips (you probably haven't heard yet) that can help you to do the least amount of harm to the fish you're measuring: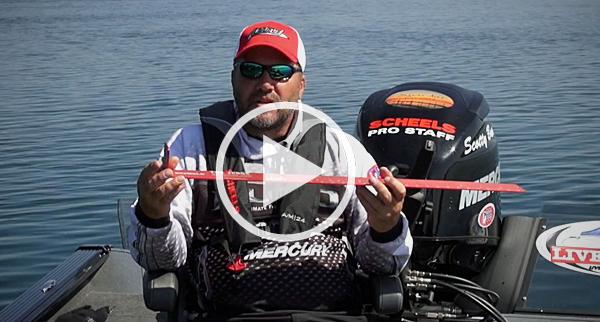 That's a new one, but makes sense: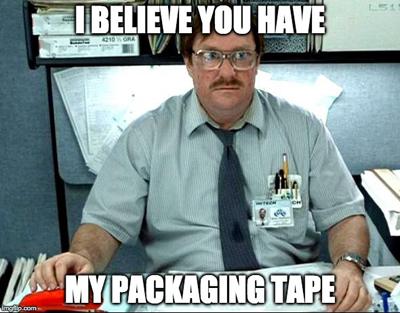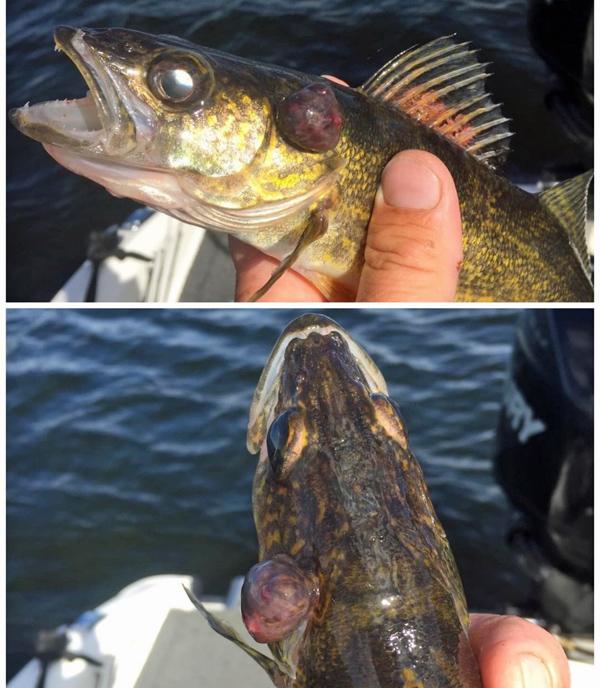 Or maybe just a big ol' wart…either way no likey: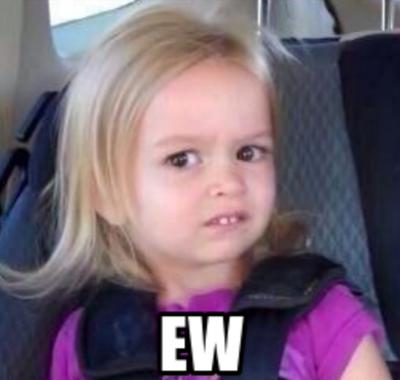 Just how down is the Mille Lacs walleye population??
You've heard by now that the Bassmaster Elite Series pros are out on Mille Lacs Lake, MN for their final AOY tourney. They're out there chasin' giant schmallies and can't keep the walleyes off…even though the population's at an all time low lol: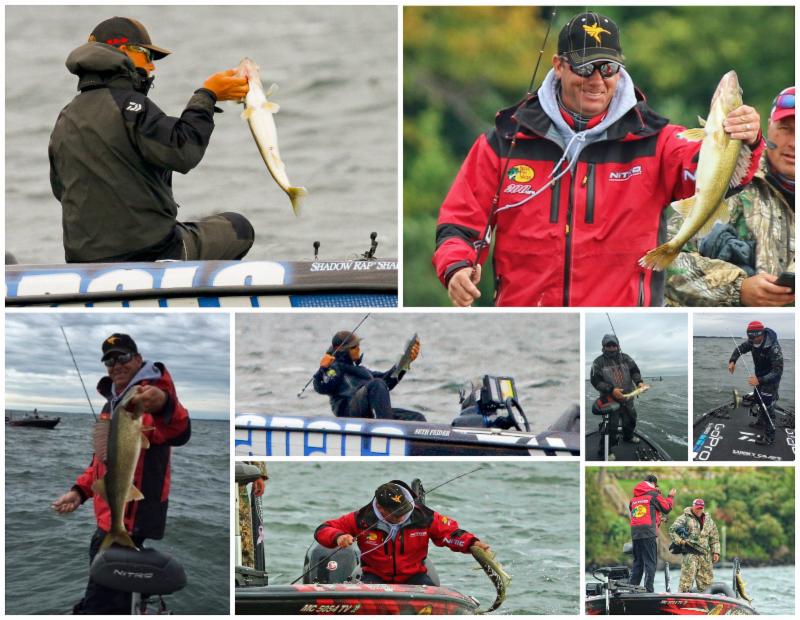 Those bassheads brought in some pretty impressive bags of smalljaws yesterday, but we betcha they can't catch 'em on 2-lb test, under 3′ of ice, through a 6″ hole: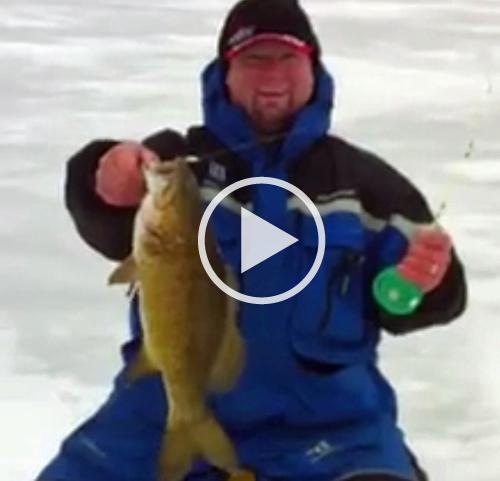 #TheGreenHornetStrikesAgain
News
Lake of the Woods. The top 3 teams weighed fish that broke the 10-lb mark…what an incredible fishery.
2. MN: Cass Lake MWC finale begins today.
3. MN: Fall fishing on the Rainy River.
The fall run can be just as good as the spring, but with a fraction of the fishing pressure. Bundle up and get out!
4. NC: Biologists testing Lake James…
…after a "couple hundred walleye fish washed ashore." Sure glad no walleye squirrels or walleye birds were harmed….
> "One biologist said tests suggested a pocket of water with no oxygen formed deep in the lake, and the warm, dry weather is pushing the fish down into it, killing them."
Because you can't release 'em all.

6. MI: Stocking big'uns in Lake Kagawong.
Average of 5″ long. Huge for stocked fish — gives them a much better chance at makin' it.
7. SD: Possible new application fees for tourneys.
Currently isn't any fee, but if the proposal is improved it'd go something like this:
> "Can be introduced from classroom or hobbyist aquariums, crayfish boils, etc."
Crayfish boils? Things would have to be pretty under-cooked to make it out of that alive lol.
9. Lunkerhunt Bento Bait for fall walleyes.
Not brand new this year but still flying under the radar of a lot of walleye guys. Crazy realistic looking and surprisingly durable — they aren't going to slip down the shank like other plastics.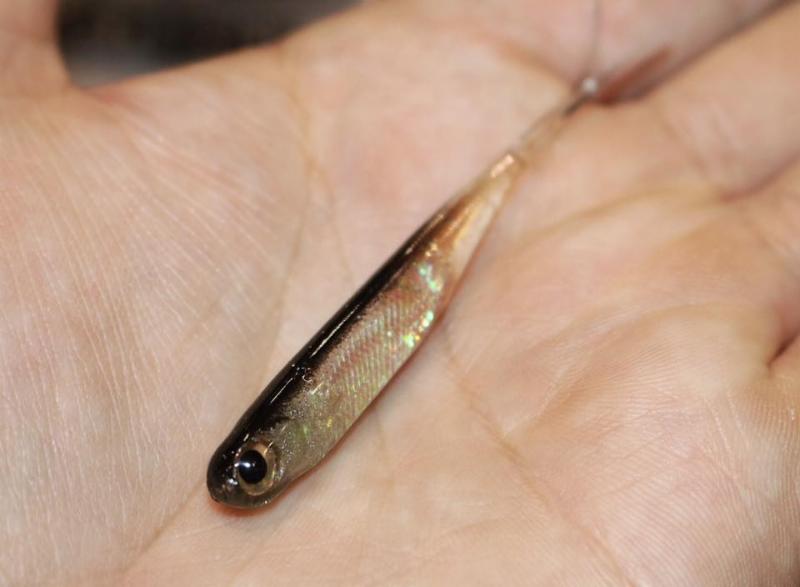 Also got a paddle-tail version called the the Swim Bento.
10. More info on Toyota Bonus Bucks.
> You don't have to win your qualified "Bonus Bucks" walleye tournament to get the bonus cash — you simply have to be the highest-finishing eligible Bonus Bucks participant in your tournament.
> Only national tow-vehicle program that pays you to fish. Free and available to anglers who tow with a 2012 or newer Toyota Tundra, Sequoia, 4Runner, Tacoma or FJ Cruiser and fish in Bonus Bucks-supported events.
Get registered here.
11. MN: Win a Helix 10 or Talon at Mille Lacs.
Stop by the Humminbird tent at the Bassmaster weigh-in on Mille Lacs to enter.
12. Waste Shark could be Roomba robot vacuum cleaner for water.
Each can snag up to 1,100-lbs of garbage. Pretty cool idea: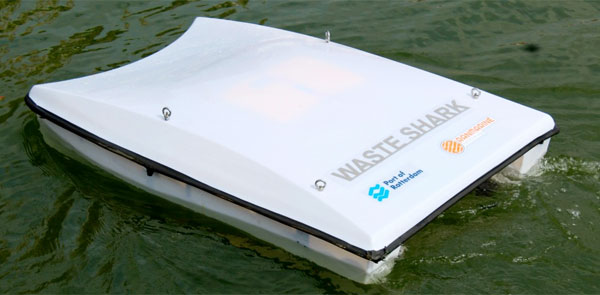 Oops
In the last TW we incorrectly said that
Korey Sprengel
was the 2014 NWT Angler of the Year, but that was actually
Tommy Kemos
. Korey won the 2014 NWT Championship. Sorry about the mix-up…we know how you walleye guys are about details!
Fishing Reports
> Good numbers of fish are showing up on the south shore. Drifting spinners with a crawler has its days, but the jig/shiner bite is on the rise. Crankbaits are also producing limits in the mud on the south shore in 32-34′. Hot colors include gold, chartreuse, purple and pink.
> The Rainy River and 4 Mile Bay…walleyes are starting to move in from the lake. Drifting spinners, jigging and pulling crankbaits have all been successful, and the bite should only get better….
> Anglers are also catching good numbers of walleyes on the south side of Oak Island, Oak Point, down to Rabbit Ears and the east bar of Little Oak in 15 to 25′.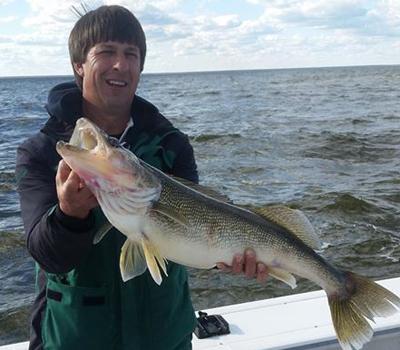 Pete "Mr. Tiller" Harsh of Mitchell's Guide Service:
> "Very good fishing continues throughout the Devils Lake basin as it has all summer. Some very nice fish were caught this week and anglers are reporting that the average size of the walleyes is way up.
> "As expected, the spinner and bouncer bite has slowed. Trolling crankbaits on flats continue to produce good limits of eater walleyes, and some larger walleye are now showing up.
> "For those who like to jig, a few fish are being caught with
Rapala Jigging Raps
, jigging spoons and the old reliable jig/minnow combo."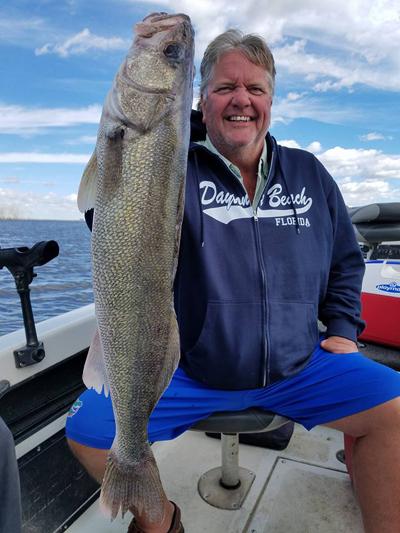 > "The fishing remains consistent with lots of eater-sized walleyes being caught in that lower Green Bay area and trophy-sized walleyes being found around Sturgeon Bay and Door County.
> "Trolling #11 Flicker Minnows down 20-28′ behind Off Shore Tackle planer boards has been the ticket. Trolling these big cranks slow at 1.4-1.6 mph has produced some trophy walleyes.
> "Rip-jigging #6
Rapala Rippin' Raps
and Moonshine Shiver Minnows also producing a few tankers. Drifting with live bait in the Sturgeon Bay shipping channel on windy days has been a great option…."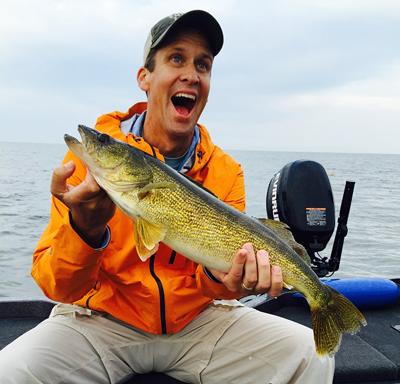 Great places to catch 'em
Sign up another fish-head!
If you're forwarding Target Walleye/Ice to a friend who loves to walleye-fish or want your fishing buddies to get these emails, just
send us
their email addresses and we'll take care of it! (We won't sell the addresses, use them for spam, etc.)

Timely. Make sure you understand it!
>  "Water temps reach a seasonal high during the summer, causing a layering process to occur. The end result is an upper warmer layer and a cooler lower layer — separated by a quickly changing narrow band known as the thermocline.
> "You'll actually be able to see the thermocline as a consistent narrow band on a quality graph. If it's still there you could still expect to find quite a few fish clinging to deeper summer patterns. If not, it's time to make some adjustments.
> "The turnover is a thorough mixing of the upper and lower layers of water in a system that had been separated by a thermocline — usually coinciding with the first hard frost of fall. Some years the change is so gradual that it becomes difficult to pin down. When the surface temp drops into the lower 60s and upper 50s, you can figure you're in the turnover zone.
> "The quick cool-off of the turnover will shut fish down until they've had time to adjust. Even lakes that don't experience a thermocline still go through a period of cooling off with tough conditions.
> "Lakes that experience the turnover first are more shallow and windswept compared to the deeper and more protected.
> "In the middle of a turnover you can avoid the negative effects by spending your time on a deeper lake. The shallower lakes may be a good choice after the cooling process has taken place everywhere because fish will have had more time to adjust.
> "The move to shallow water will depend on how much good shallow-water cover is available (shallow weed-choked bays, rocky bars/reefs, as well as larger weed flats). The food [baitfish] that has been hiding out in shallow cover is now getting pushed out into the open where it becomes extremely vulnerable."
You can keep reading Rick's article here on Walleye Central.

I will never forget the time Jimmy Houston was fishing for northern pike in MN and tried to land one like a bass — he actually stuck his thumb in the mouth of the northern to land it!!!
– Would love to see the video!! That's Dave Stimac's comment (our favorite) under the Facebook post of Jimmy holding up a big ol' gravel lizard that he caught on purpose: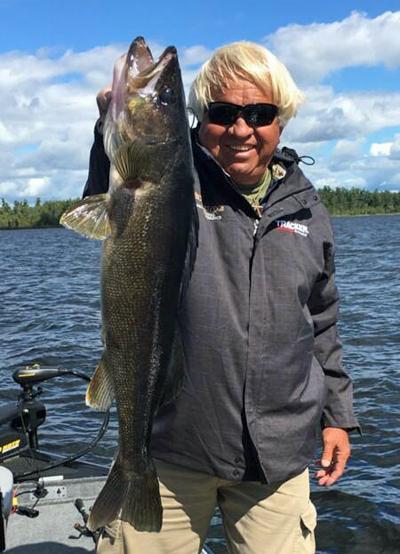 #BeLikeJimmy
Check this stuff out!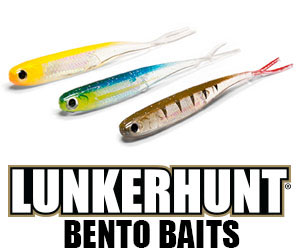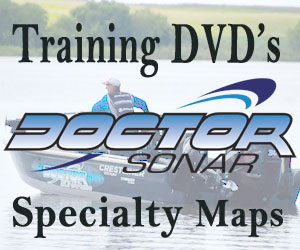 About Target Walleye
Target Walleye/Ice
brings you the BEST walleye and ice fishing news, pics, tips and events year-round, and is brought to you by Al & Ron Lindner, Jim Kalkofen and other walleye nuts like you!

TargetWalleye.com | Rapala.com | IceForce.com