If you're receiving this Target Walleye/Ice email — covering the best of walleye fishing during open water and the best of ice fishing during hard water — for the first time, a friend probably signed you up! Target Walleye/Ice is brought to you by Al and Ron Lindner, Jim Kalkofen and other walleye and ice fishing nuts like you.

Today's Top 4


Becoming a walleye puppet master.
When walleyes are being fussy, Mike Frisch of Fishing the Midwest will use a vertical-jigging bait like the Northland Tackle Puppet Minnow to turn sniffers into biters — especially when there's concentrated pods of fish. It's a simple technique, but one that will put more walleyes in your boat yet this late-summer and fall.

Mike first let's the bait settle into the bottom — then snaps it up quickly so it swims around before plummeting back down. Now's where he does a slight pause — before ripping the bait again — because walleyes will actually come in and pin the bait to the bottom.
Here's a quick vid on specifically how/when he like to get the drop on 'eyes: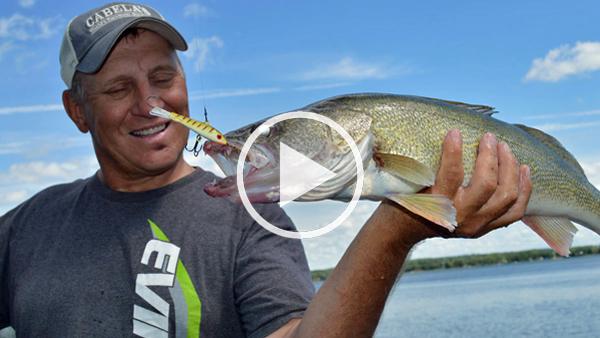 Ted Takasaki's poker face.
We all know that Fishing Hall of Famer Ted Takasaki wins plenty of walleye tournaments, but he's also got a mad poker game: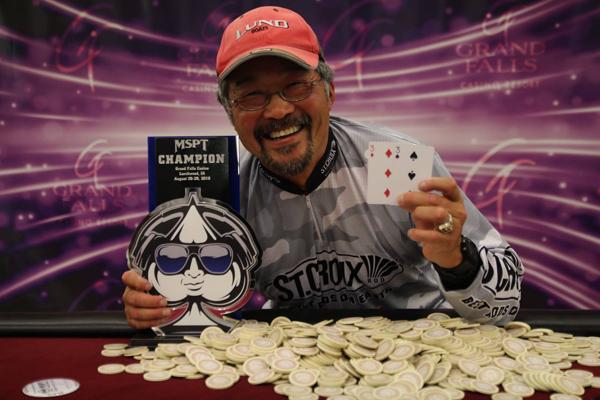 Yup, that's real life. Ted recently won the MSPT Grand Falls poker tourney to take home $52,360 in fish chips.
> "This is equivalent to the first $100,000 fishing tournament I won. I was jumping up and down. It was exciting.This win is exactly the same euphoria, the same kind of emotion. It's like the culmination of all the work I've done.
> "Everybody asks why I'm not fishing the weekends — I say why would a plumber fix a toilet on the weekend? I love fishing, but poker is my hobby. To take a hobby and win a tournament like this is incredible."
Congrats man! Love the passion. Speaking of you being super good at things:
A few weeks back we ran a "Four-wheel drive trolling" tip from Ted — a push/pull technique that's similar to driving your vehicle in 4WD. A lot of people commented that they loved it and wanted more. Here's Ted in action: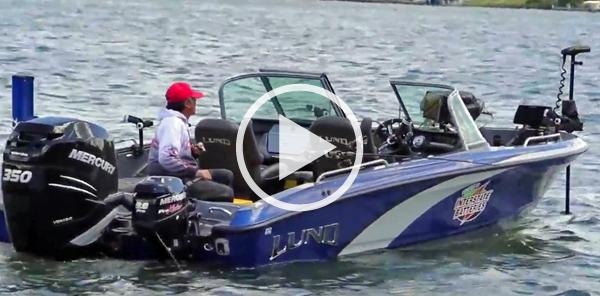 How walleye fishermen do laundry.
Grizzled Northern MN guide Greg Clusiau finally found a good use for that old clothesline: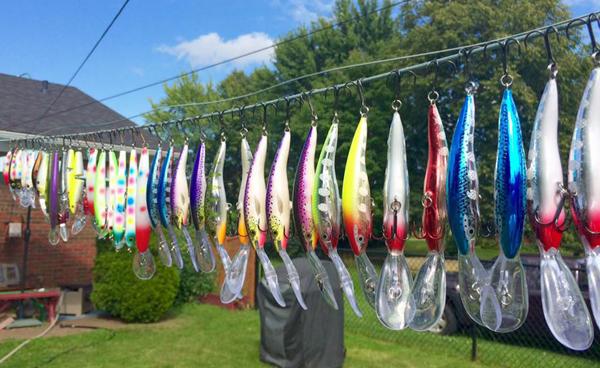 > "Some of the baits we used during the AIM Pro Walleye championship on Lake of the Woods. It was rough enough that water came over the bow a time or two. Also had a heavy downpour. I'll let these baits dry out and then wipe out the tackle boxes they were stored in."
We'll take a few of those Rapala Tail Dancers off your hands if you run out of room to hang your trousers….
All the deets on Dan and Rod Pfeifer's championship win will be in Friday's Target Walleye email. To give you an idea of how 'swell' it was out there, check out Scott Seibert's vid from on the water: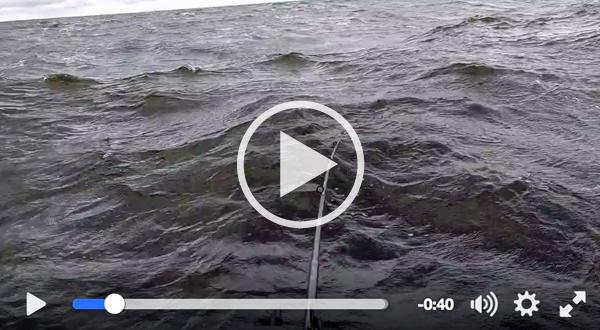 #SurfboardStatus

The godfather of ice fishing.
As the man who pioneered the sport of ice fishing, we've always "looked up" to Dave Genz, but this takes it to a whole new level: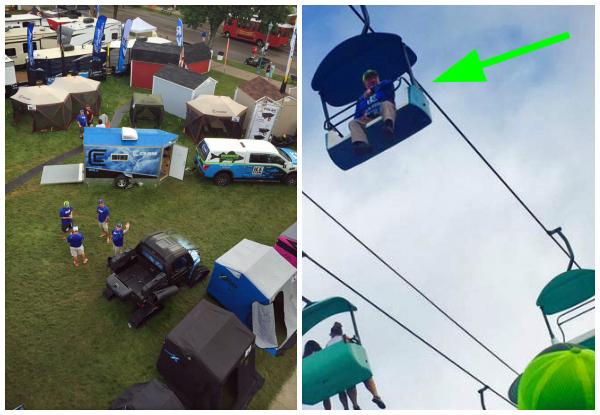 He can walk on water AND float through the air, so earning a nickname like "the godfather of ice fishing" only seems fitting: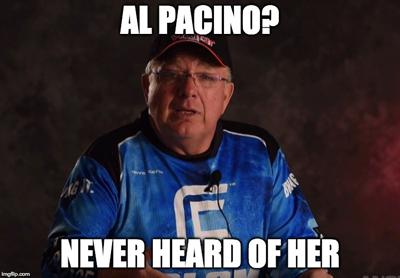 The crew in blue will be at the MN State Fair until Sep 5th — stop by to check out all the new gear and awkwardly stare at Dave Genz with lovey-dovey eyes lol.
News
1. OH. 25 anglers exceed daily limit on Erie.
> "Officers say they seized more than 500 lbs of walleye meat after finding that the fish had been cut up to disguise how many had been kept."
2. MN: Planer boards for big Mille Lacs walleye (video).
The Mille Lacs walleye season closes Sep 6th. In-Depth Outdoors host James Holst and Will Roseberg show you a technique worth trying this weekend — trolling crankbaits behind Off Shore Tackle planer boards to catch fish that were otherwise spooked by the boat.
There's also been a lot of talk about a new direction needed for Mille Lacs. It's been a whirlwind of a year for the Big Pond…who's to blame?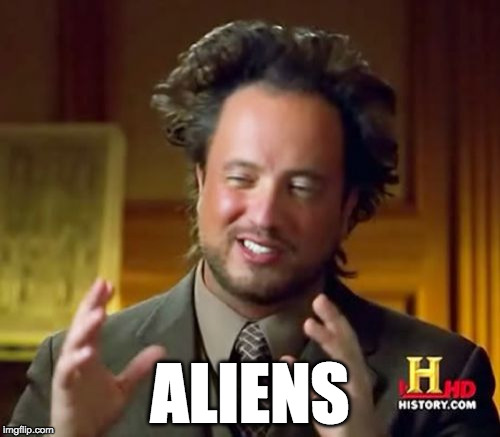 3. NY: Proposed changes to Great Lakes regs.
Lots of new possible changes and they want your opinion on 'em.
4. MN: Your chance to speak up on regs!
> "Anglers and others can give their opinions about fishing regulations that are in place or are newly proposed on 14 lakes and 3 rivers."
Can't complain about 'em later if you don't give your 2 cents now….
5. MN: DNR closes access to fight invasives.
Working to contain starry stonewort found in Turtle Lake near Bemidji.
> "Contractors are using suction to vacuum up the vegetation and an accompanying layer of mud from the lake. Once the cleanup is complete, a copper-based herbicide is applied in the area to kill the last remnants of the vegetation."
They're also offering a clean/drain/dry app.
6. MN: State fair fish pond cam.
Click here for the live feed. It's an up-close look at nearly 40 different species, including our favorite, the gravel lizard.
7. Tom Neustrom's Humminbird set-up (video).
'Bird is the word.
8. New ION X auger cuts through 1,600″ of ice.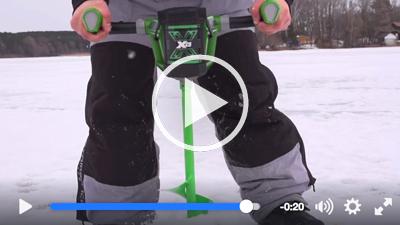 Went from a 3Ah to 5Ah battery to increase performance by 66%.
That baby is decked out!
10. Marcum RT-9 sonar settings.

A little pre-ice tutorial. The RT-9 is sonar, underwater camera and GPS all in one 9″ t. Holy smokes.
_____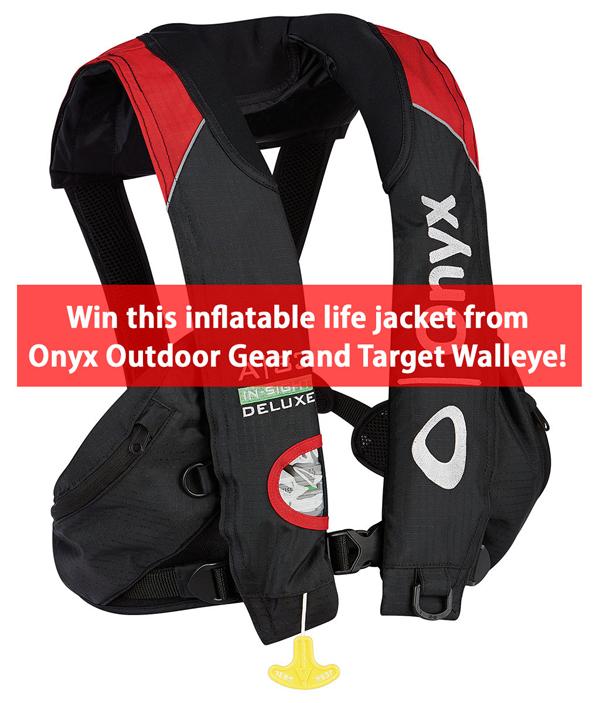 Last chance to have a shot at winning a new Onyx A-33 Automatic Infla Life Jacket from Onyx Outdoor Gear and Target Walleye! So comfor you'll forget you're wearing it! Same deal: Enter your email addy, then share the link to earn more points toward a win. Good luck!
Great places to catch 'em
Sign up another fish-head!
If you're forwarding Target Walleye/Ice to a friend who loves to walleye-fish or want your fishing buddies to get these emails, just
send us
their email addresses and we'll take care of it! (We won't sell the addresses, use them for spam, etc.)

Water temps are on the drop — we're now in what's known as the post-summer period of fishing. The fall bite is just around the corner where traditional jig fishing is the ticket when it comes to catching numbers of fish. Here's a few of Bob Jensen's must-have jigs and why he uses each:

Today's 'Eye Candy
Might want to grab the pliers for that one: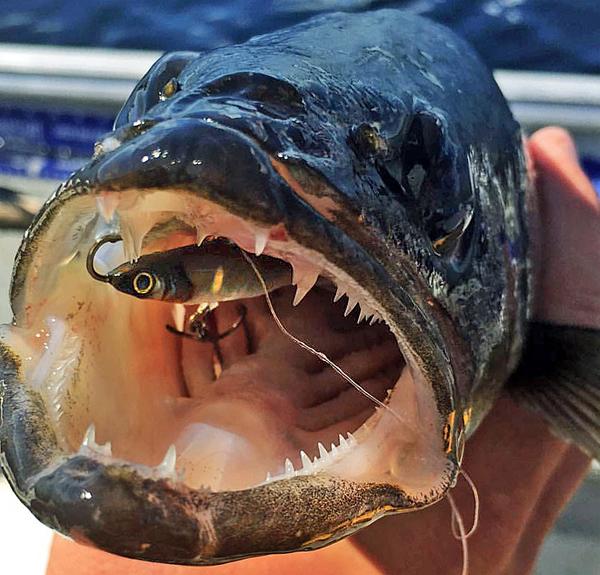 That's a sticky-sharp Lunkerhunt Straight Up Jig being chomped by an even stickier-sharp set of walligator chompers.
Check this stuff out!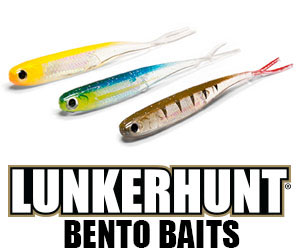 About Target Walleye
Target Walleye/Ice
brings you the BEST walleye and ice fishing news, pics, tips and events year-round, and is brought to you by Al & Ron Lindner, Jim Kalkofen and other walleye nuts like you!

TargetWalleye.com | Rapala.com | IceForce.com