If you're receiving this Target Walleye/Ice email — covering the best of walleye fishing during open water and the best of ice fishing during hard water — for the first time, a friend probably signed you up! Target Walleye/Ice is brought to you by Al and Ron Lindner, Jim Kalkofen and other walleye and ice fishing nuts like you.

Today's Top 5

Razorbacks of the week!
John Schelling's 1st bite of the morning — on the Canadian side of the Boundary Waters — was this b-e-a-utiful rock melon that measured a shade over 32″: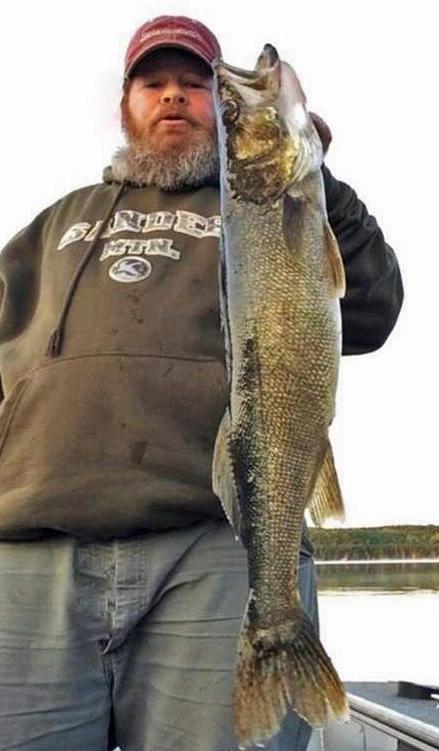 Rock on man! There's only one way to celebrate a toad like that…NET GUITAR: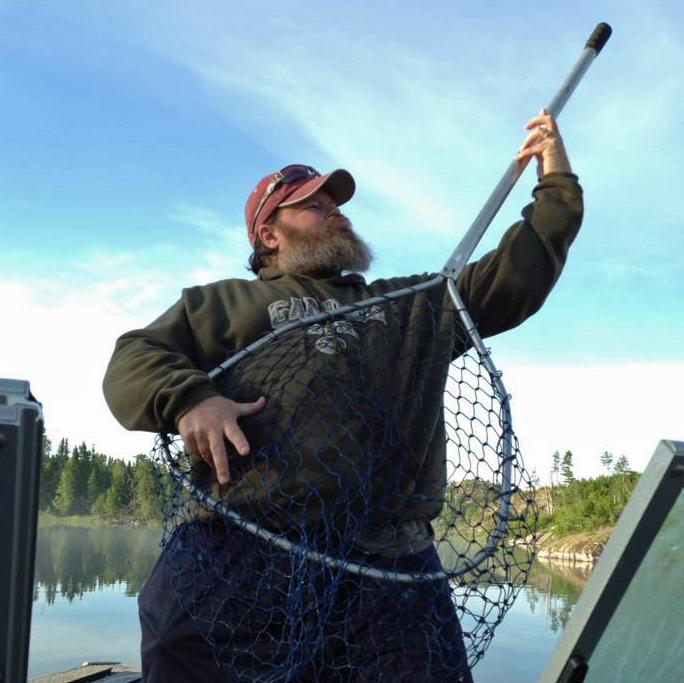 Mike Wagner bottom-bounced this 29 incher into the boat with a spinner/half crawler fishing the Devils Lake Basin area of ND: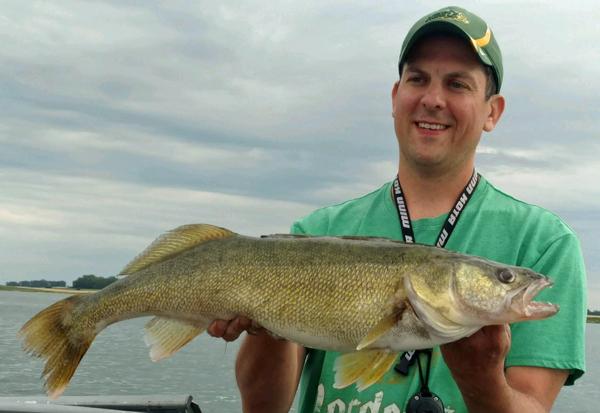 Guide David Shmyr Jr. with a moonlit daily double. He caught 'em running Bagley Rumble Bs at 1.8-2.0 mph behind Off Shore Tackle Planer Boards to get his cranks away from the boat and spooked fish: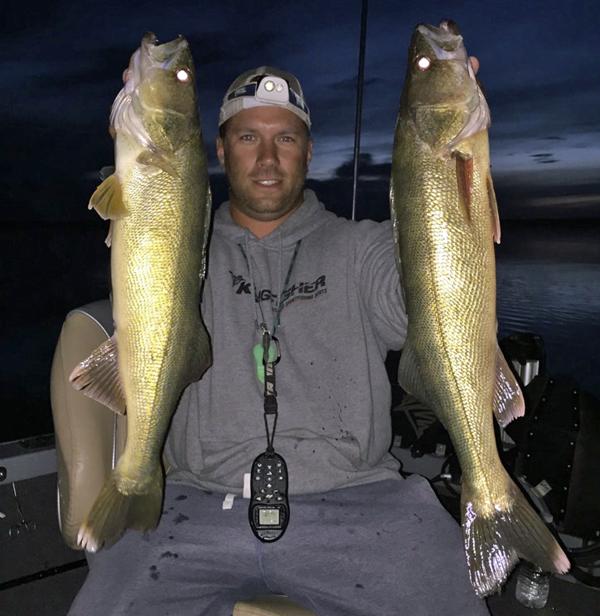 Al's Jiggin Rap line-selection tip.
Should you be using mono, braid, fluoro, or a combo when fishing the Rapala Jigging Rap?? Here's how Al Lindner does it, and it doesn't need to be as difficult as you'd think: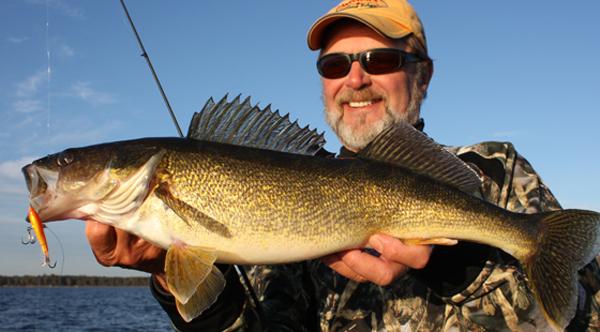 > "One of the most important things about fishing the Rapala Jigging Rap is using a barrel swivel about 15-18″ above the bait — especially if you're casting into the wind. The way the bait fishes will cause line twist and a barrel swivel simply eliminates that.
> "About 50% of the time I'm casting the Jigging Rap, 40% of the time I'm pulling it behind the boat and 10% is spent vertical jigging it.
> "My leader material is the same line that's on my reel, 10-lb mono. I've said it before many times and I'll say it again…you're going to land WAY more fish with monofilament. Day in and day out I use
10-lb Sufix mono
. It's that simple, you don't have to complicate it."But be careful, those Jigging Raps have got some super sticky hooks…right Al?! Lol: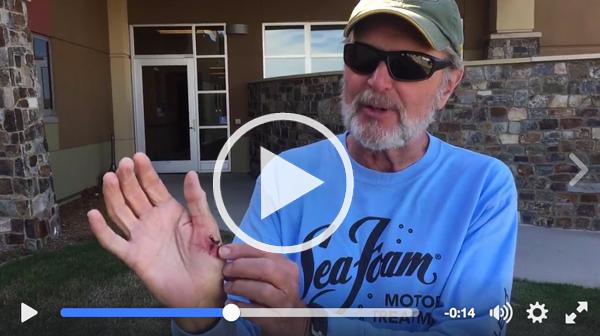 Keeping your crankbaits rust-free.
We all spend a ton of $$$ on our tackle, so the last thing we want to do is have to buy them again. Here's how Lund pro Jason Vogelsang keeps his hooks from rusting…for FREE: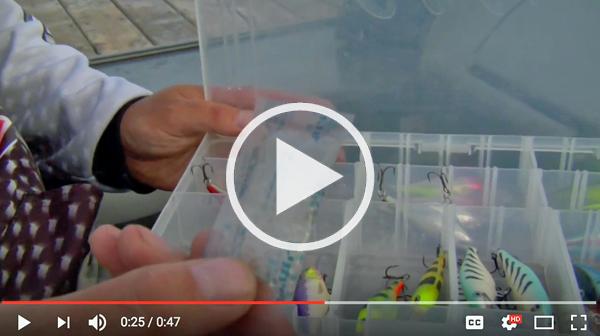 Plus it's a good excuse to buy new boat shoes: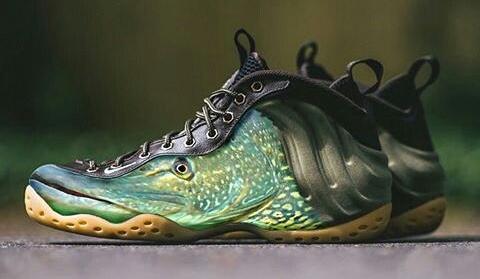 …because sometimes they just don't want their picture taken.
French River fishing guide Tyler Perry can put 'em on the fish, but he can't hold it for them lol. No 27″ walleyes were harmed in the making of this photo:
Next time Ty Scherger needs to yell, "Fire in the hole!"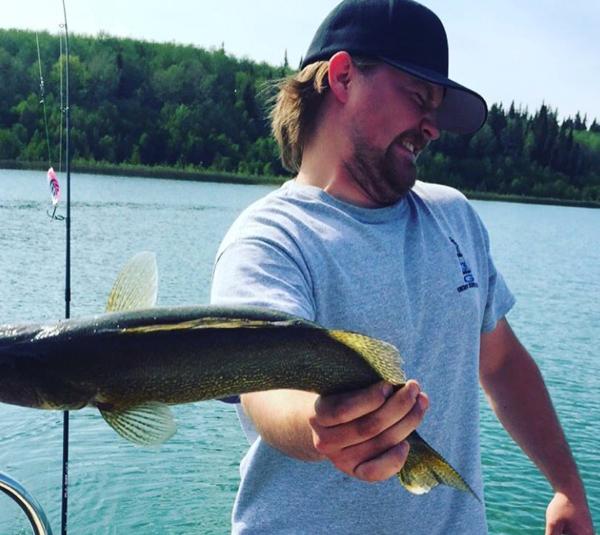 Marco Solt attempting a little grip-n-grin: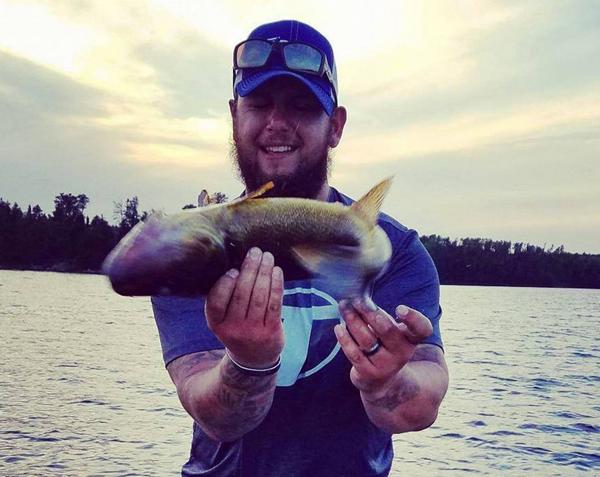 Jordan Osborn knew this one was done taking pictures when: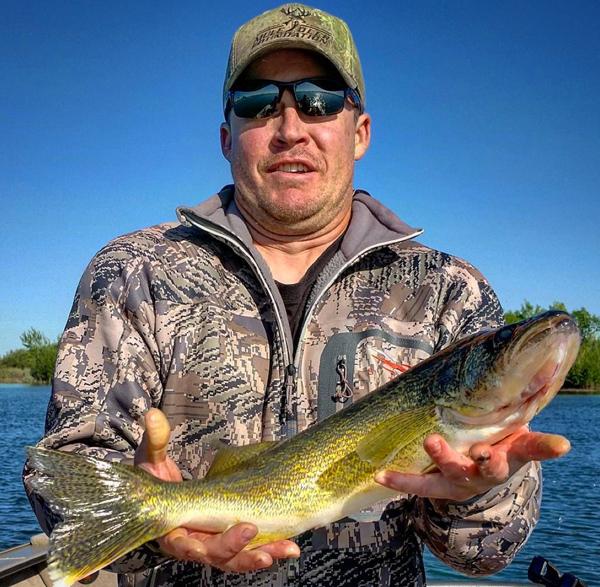 Might've been a little tail-slap goodbye from that one.

Lake of the Woods PokéStop.
Not sure what type of Pok-éye-mon this is, but we want to catch 'em all: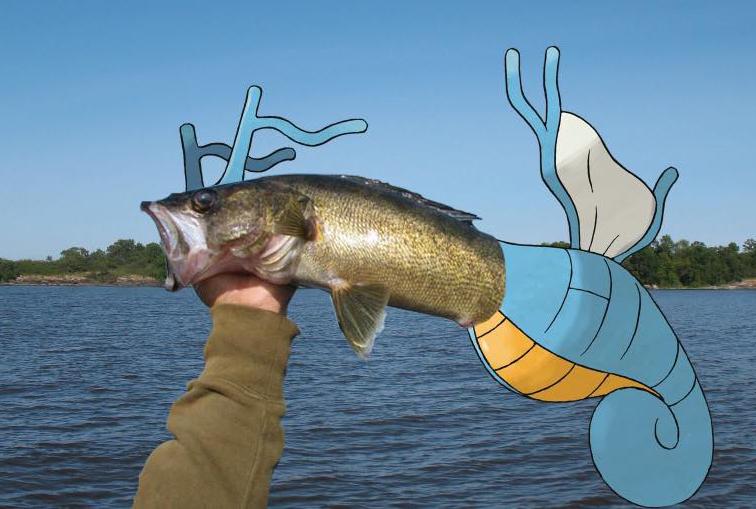 Nick Cox of In-Depth Outdoors captured this one at a Lake of the Woods PokéStop….


News
1. MN: Tribes considering legal options…
…against the state over Mille Lacs walleye quotas.
> "We're going to try reaching out to the state and coming to an agreement again. There are steps to be taken before it actually gets to the point of a lawsuit."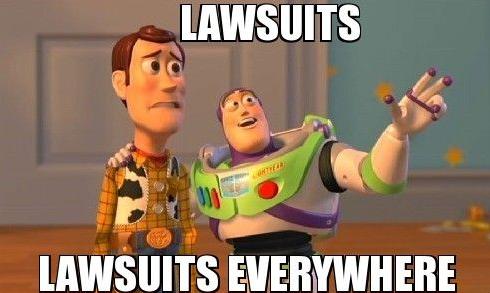 2. MN: Zeebz confirmed in 3 new lakes.
Detroit Lake, Signalness Lake (AKA Mountain Lake), and Round Lake in Aitkin and Crown Wing counties. This is becoming a weekly trend…. #CleanDrainDry
3. MN: "Pay It Forward" veterans event on LOTW.
> " …Bringing 60 injured and disabled vets to
Lake of the Woods
to honor, recognize and celebrate leading to healing and happiness."
Stout
Quick tip on how-to fight a fish without clearing your other lines when fishing multiple boards.
5. Dan Stefanich new marketing director for CLAM.
He's an avid outdoorsman + marketing guru. Good combo.
6. WI: Giant 88″ lake sturgeon caught and released.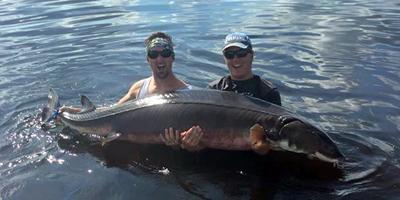 St. Croix River. Holy smokes — the current record was a foot-n-a-half shorter!
7. Mepps wants your squirrel tails…
…and they'll PAY you for 'em! They use 'em to make their hand-tied dressed hooks.
8. Doc Sonar: Transducer installation issues.
> "This image is what you see if the back end of the transducer is tilted lower than the front. We call the fish "1/2 arches." If all your fish look like this, go check your transducer to see if it was bumped."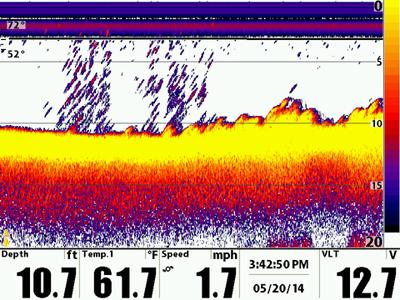 9. Friendly ICE reminder: Charge those batteries.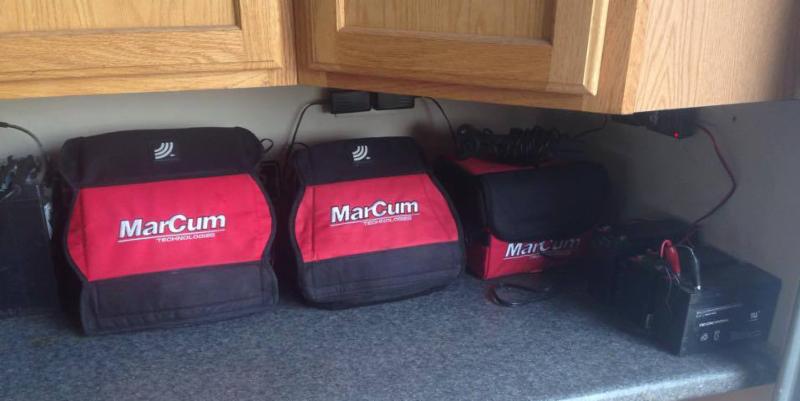 > "Over time, all lead-acid batteries will lose their charge. Without regular re-charging, even the highest quality battery can become so damaged it will refuse to take a charge. Worse yet, it could appear to take a charge, only to fail on the ice."
Supposed to charge 'em every 30-60 days during the off-season — get on it!
10. Best walleye fishing spot ever (video).
You might have missed this video we posted on Wed, but there's a reason that 976,851 other walleye nuts saw it….
Fishing Reports
> "Walleye fishing was awesome this past week. Minimal wind and lots of sun allowed anglers to go anywhere and fish any tactic they wished. Drifting with spinners, anchoring and jigging, and downrigging crankbaits all brought fish in.
> "Many walleyes are still holding in 28-32′ with trophies mixed in. Gold, pink, white, blue, and silver were best colors.
> "There's a nice bite just outside of Lighthouse Gap in 11-15′ with lots of small fish being boated, but larger keeper fish mixed in. Reports of a lot of fish being caught 6 miles off of Pine Island and also scattered schools across the shore to Zippel Bay, Long Point and Arnesen's."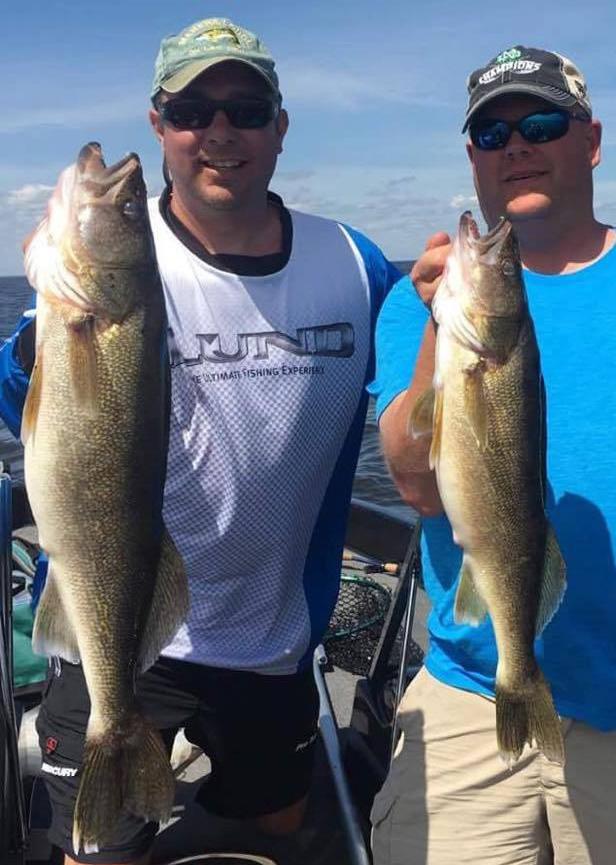 > "Targeting main-lake sunken shorelines in 24-27′ by pulling 1.5-oz bottom-bouncers at 1.1-1.2 mph. We're tipping our spinners with Gulp! to save time on re-baiting and the walleyes are hitting it like a Mack truck."
> "Sturgeon Bay area continues to produce a mixed bag of trophy-caliber and eater-sized walleyes. We've been starting when the sun is coming up with bites usually right out the gate.
> "Crawler harnesses and crankbaits are working equally well for us. We've been working depths of 18-33′ with the majority of the walleyes concentrated on the bottom 8′. Adjusting our baits accordingly helped to put 20+ fish in the boat for us yesterday morning."
Great places to catch 'em
Sign up another fish-head!
If you're forwarding Target Walleye/Ice to a friend who loves to walleye-fish or want your fishing buddies to get these emails, just
send us
their email addresses and we'll take care of it! (We won't sell the addresses, use them for spam, etc.)

Target Walleye's Jim Edlund tracked down Capt. Ross Robertson to get the deets on a little-known technique: speed-trolling spoons for walleyes. You can read the full write-up at TargetWalleye.com, but here's a few excerpts:
> "Spoons are probably the best walleye-finding tool not currently on the radar of most walleye anglers. Unlike a crankbait, I can run them really fast. Not many cranks run well at 3.5 mph.
> "They aren't meant to be fished slow — most don't work well below 1.8 mph. In most cases, 2.0-2.5 mph is the accepted speed range, but this year we've been burning them at 3.5 mph with great success.
> "I can put a spoon on a
Luhr-Jensen Jet Diver
and send it down 30′ pretty easily. On a
Dipsy Diver
, I can work 50′ without any problem and the strike detection is great. They're also a good landing percentage bait — it can be hard to keep fish buttoned on cranks trolled fast.
> "Color on the back of the spoon is important, rather than just silver, nickel or gold. Pink or antifreeze are proven performers, but it think it's more the contrast than the color.
> "The biggest mistake you can make trolling spoons is not matching your terminal tackle correctly. It's no different that walleye rigging…don't use terminal tackle that's too big."
Quote of the Day
Is a wilderness still a wilderness if you can text your spouse from camp? Or check on a presidential campaign? Or look up the capital of Zimbabwe?
– Outdoors writer Sam Cook's reaction after he pulled out his iPhone at fishing camp — in the middle of absolutely nowhere — to find he had cell service. Pretty tough to disconnect now-a-days…it's hard not to use it when it's there.
Today's 'Eye Candy
See…you CAN catch walleyes when it's glass calm + bluebird skies: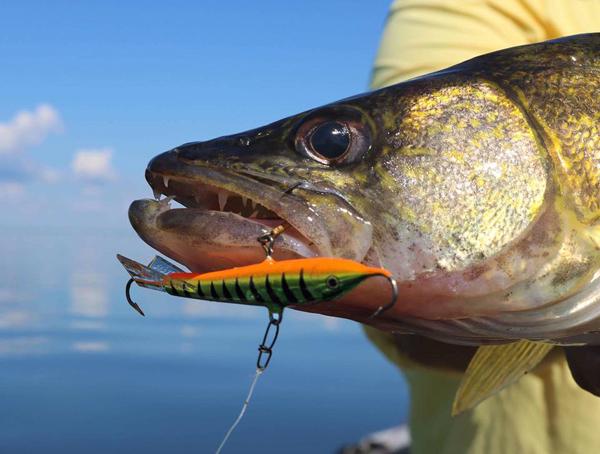 There's just something special about the way they munch the Rapala Jigging Rap:
Random
Man builds house over pond so he can fish through a hole in the living room floor. His ice-fishing game better be on point: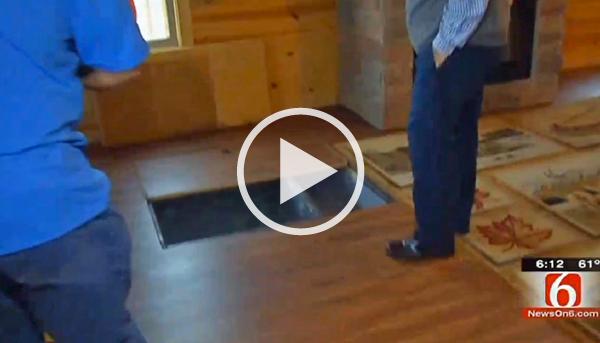 Check this stuff out!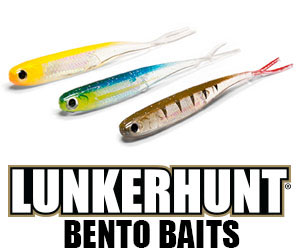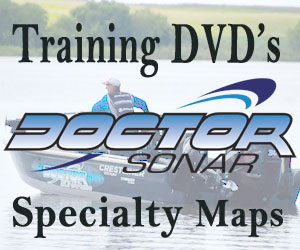 About Target Walleye
Target Walleye/Ice
brings you the BEST walleye and ice fishing news, pics, tips and events year-round, and is brought to you by Al & Ron Lindner, Jim Kalkofen and other walleye nuts like you!

TargetWalleye.com | Rapala.com | IceForce.com