If you're receiving this Target Walleye/Ice email — covering the best of walleye fishing during open water and the best of ice fishing during hard water — for the first time, a friend probably signed you up! Target Walleye/Ice is brought to you by Al and Ron Lindner, Jim Kalkofen and other walleye and ice fishing nuts like you.

Today's Top 5


New record walleye…in Georgia??
Yep, there's walleyes there! Wes Roberts caught this 14-lb 2-oz walleye (31″) out of Lake Rabun — crushed the previous state record by nearly 3 lbs!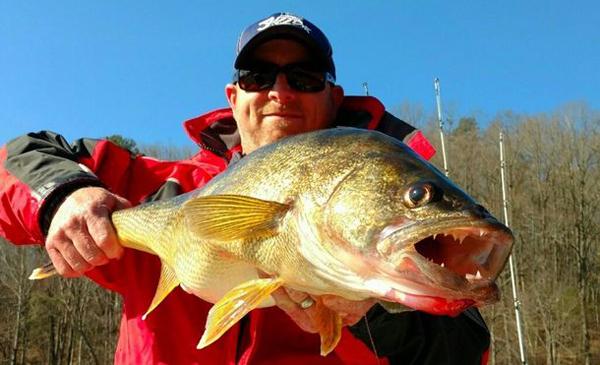 No word on how it was caught but:
> The chief of fisheries said, "Based on sampling efforts by fisheries staff, we have just been waiting on the day that a new state record walleye was pulled from Lake Rabun."
Wait…big walleyes and almost no one fishes for them?? #RoadTrip

If we keep down this path, in 5 years MN will have no large bluegill lakes.
– Bull 'gill junky Brad Hawthorne talking about selective harvest.
Nobody under the age of 9 likes to catch silver dollar sunnies. But big 'gills means catch and release. Selective harvest can cause an interwebz firestorm, so we decided do our part to maybe cause one (lol) by picking Brad's brain: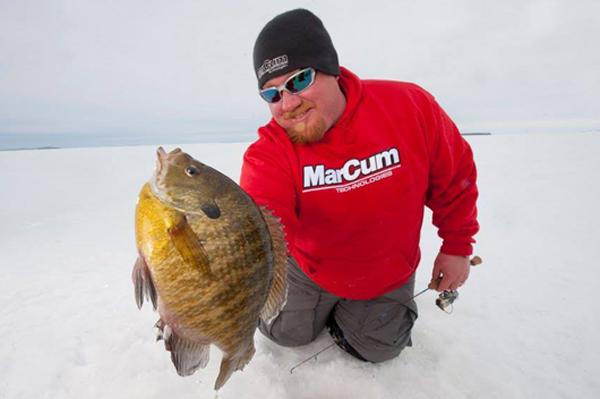 > It's time to get the word out: If we keep down this path, in 5 years MN will have no large bluegill lakes. Every time I see those pile-up pics of 9-11″ bluegills, it means we aren't doing our job as anglers and guides to conserve these resources.
> The DNR has its hands tied. They've put 5-fish bluegill limits on trophy bluegill lakes and that notifies everyone of the trophy potential, thus 10 times the pressure.
> With the DNR doing all they can, we as anglers and guides need to do a much better job of protecting these resources. Let's get the word out. If you love big bluegills take a stance. There's nothing wrong with taking a few 6-7″ bluegills for a meal — just put the 8″+ back. You wouldn't eat a 26″ walleye, would you?
> Let's start a movement called 'put them back' — crappies over 13″ and 'gills over 8″ — and get on a forward track to protect MN lakes for the future.
Yep! Taking too many big bluegills from a lake can do permanent damage to its size structure. That's why your grandpa used to catch 'gills like this from the same lakes you're struggling on:

Heads-up electronics displays coming?
Looks legit, even though the water body in QC is called Baie des Ha! Ha! — seriously that's what it says:
Short video of the fish coming up here. Crazy!

Think you're having a bad hair day? Check out this little dude caught by Derick B.: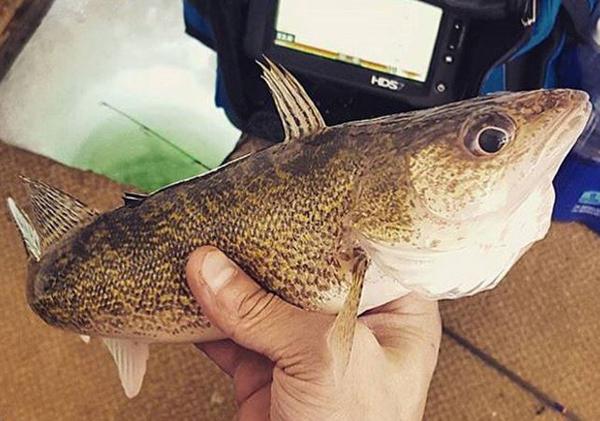 We named him Alfalfa, of course: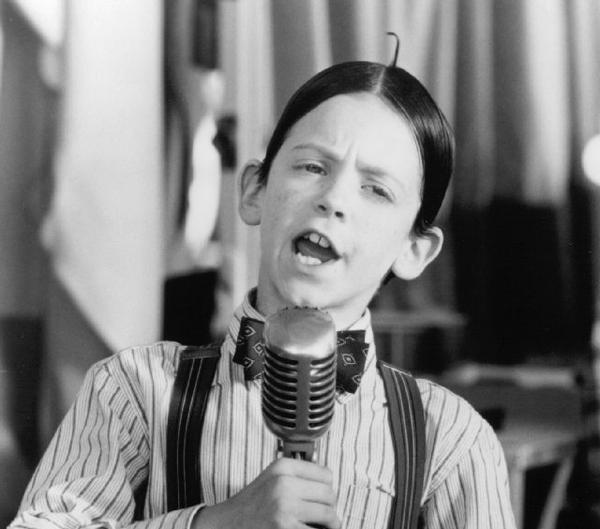 ---

---

Ice Fishing
1. IN: Ice fisherman's body recovered.
RIP fishing brother.
2. MI: Fisherman airlifted to hospital after falling through.
3. WI: Deteriorating ice on Winnebago.
4. SD: Oahe's ice not all solid.
Take it easy ice junkies: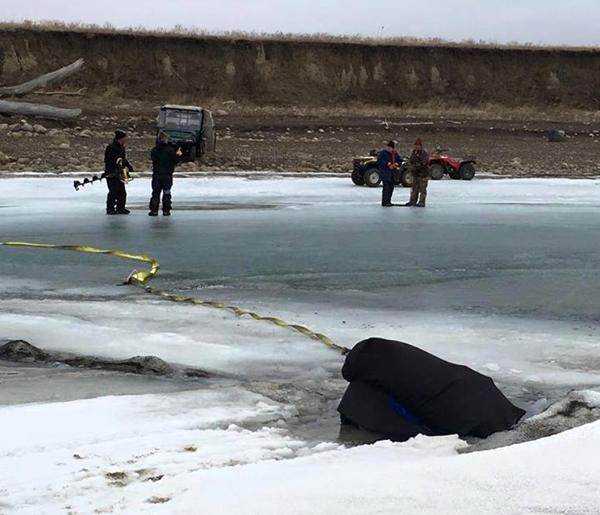 5. MB: Ice shacks set on fire.
Unoccupied. Not cool!
6. MN: Jesse F. takes top 'pout honors.
His 13.56-lber was the biggest burbot weighed in at this year's International Eelpout Festival. That's a whole lot of lobster tail!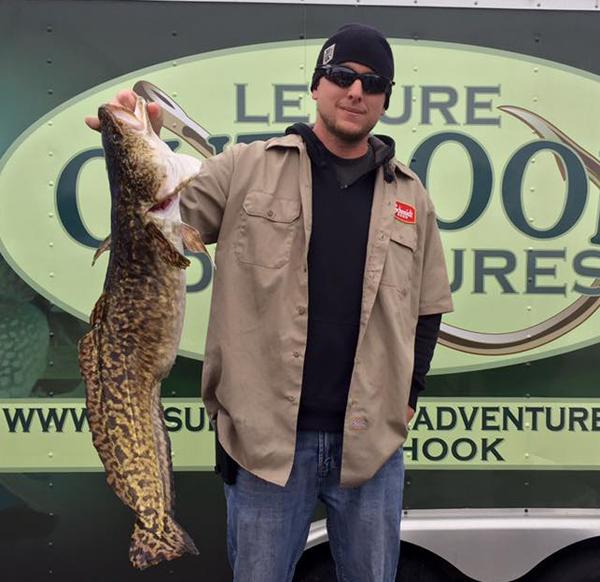 7. SD: 'Hooked on Hardwater' a big success.
60 pro anglers took out 60 underprivileged boys for a 1-on-1 fishing experience in the Black Hills of SD. Nicely done guys, that's what it's all about.
8. MN: Deadline for fish house removal approaching.
9. MI: Houses must be off Sunday.
10. Bro's aggressive walleye tip (video).
11. Are 'bob-houses' just a NH thing?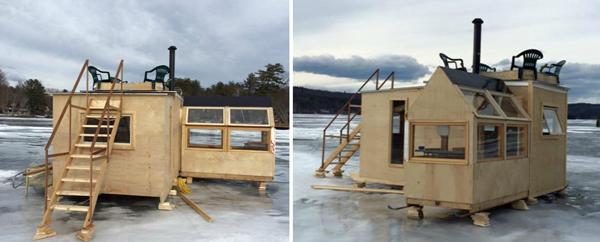 2-story modular home for sale, cheap! #ingenius
_____
Make sure you note the special code for Target Walleye/Ice subscribers!

News
1. MN: DNR studying Mille Lacs walleye population.
> After ice out, biologists will strip 10-20 million eggs from the lake and grow them in a St. Paul hatchery. There they will mark them with an antibiotic solution that actually puts a little mark on the ear bone.
> That way they can compare the stocked fry with the lake's naturally reproduced population, which could provide answers as to why young walleye are not surviving. "With the marked ratio out there, we can determine the hatching success of natural eggs in the lake, and we can determine the number of natural fry that are out there."
2. WI: Proposed bill = easier access.
> Did you know it's illegal to cross railroad tracks in WI unless you're at a designated crossing?! The law changed in 2006 and ever since anglers have been issued tickets for trying to access their favorite fishing holes.
> The proposed bill would allow pedestrians to walk across railroad tracks again [after looking left and right of course lol].
3. WY: 12-walleye limit on Alcova Rez.
DNR is going to try raise the limit at Pathfinder as well. Doesn't everyone know that trout are just gamefish food? lol
4. WI: New panfish regs on 100 lakes.
5. NY: Laundry list of new reg changes.
6. Urban perch fishing in England…
…that'll make you want to move there tomorrow!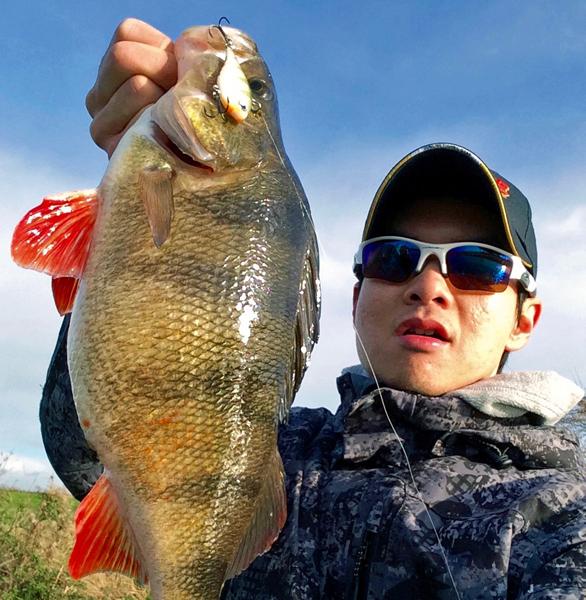 ---

---
Events
---
Sign up another ice-head!
If you're forwarding Target Walleye/Ice to a friend who loves to ice- and/or walleye-fish or want your fishing buddies to get these emails, just
send us
their email addresses and we'll take care of it! (We won't sell the addresses, use them for spam, etc.)

---

'Eye Candy
Jordan M. giving the Puppet Minnow a workout on Bay De Noc. Love the colors on those big gravel lizards.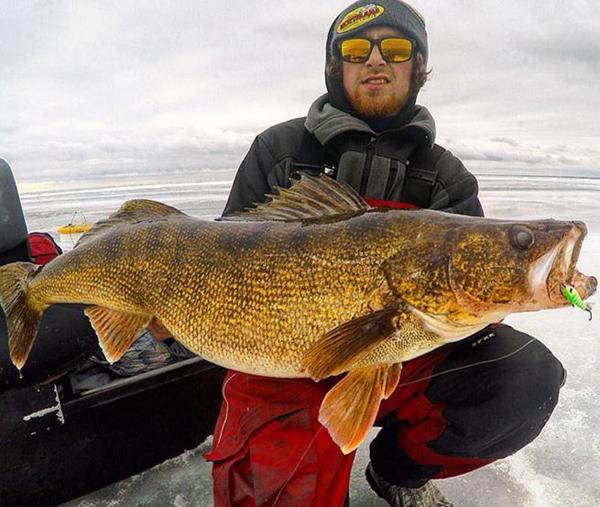 ---
When a lot of the ice belt isn't fishable or walleye regs prevent it, Door County's Green and Sturgeon bays offer some great late-ice opportunities. We caught up with guide
Bret Alexander
to get the scoop on fishing neck-deep water for walleyes. Here's an excerpt —
full tip here on TargetWalleye.com
:
> Concentrate on the shallow stuff for the last few weeks of ice. Most guys will be in that 15-30′ we fish midwinter, but I like to slide into shallows and pound that 5-8′. That's where the really aggressive walleyes are at in the mornings and evenings.
> Hole-hop with large #7 and #9 Jigging Raps. Any of the glow tiger patterns will produce — there are a lot perch in the bays during the end of the year, so anything that resembles them does well.
> The biggest Jigging Rap made, the colossal 3.5-inch #9, moves a lot of water and visually gets their attention. Bret puts scent in his corner by pinching an emerald shiner right in the middle, impaling it to the bottom hook.
> He works the plus-sized 'Raps with more pronounced vertical rips to call in active feeders. "When I'm out deeper I'm making one-foot rips. In shallower, I'm ripping two feet or more for bigger sweeps of the bait in the shallow water. Gets those aggressive fishing really going, and can incite the tentative fish, too."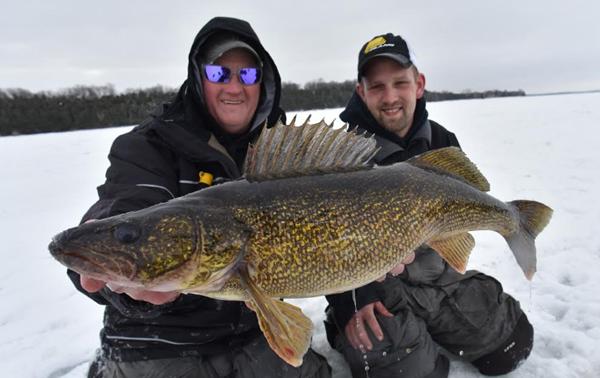 ---

---
---
What you need for ice fishing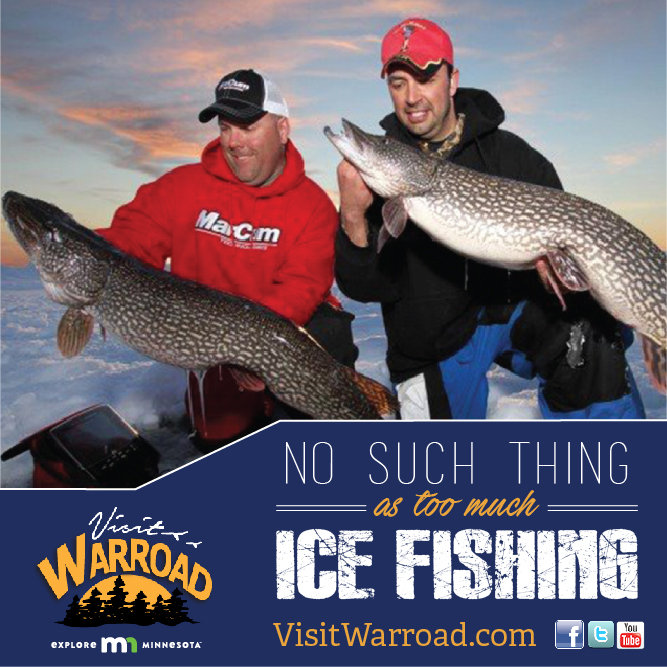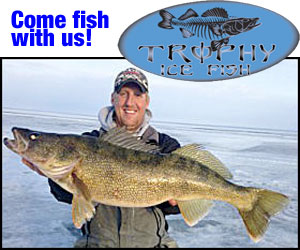 More great stuff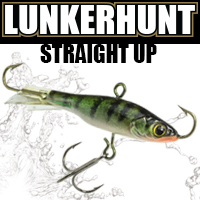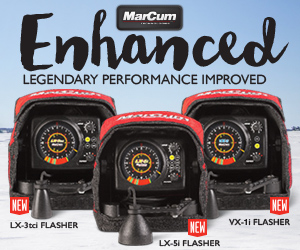 ---
About Target Walleye
Target Walleye
brings you the BEST walleye and ice fishing news, pics, tips and events year-round, and is brought to you by Al & Ron Lindner, Jim Kalkofen and other walleye nuts like you!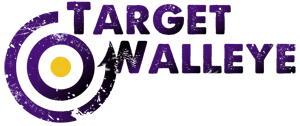 TargetWalleye.com | Rapala.com | IceForce.com