If you're receiving this Target Walleye/Ice email — covering the best of walleye fishing during open water and the best of ice fishing during hard water — for the first time, a friend probably signed you up! Target Walleye/Ice is
brought to you by Al and Ron Lindner, Jim Kalkofen and other walleye and ice fishing nuts like you.

Today's Top 4

MN state record eelpout caught!
For the love of burbot! Brent Getzler iced himself a record 19.67-lb belly-dragger while ice fishing on Lake of the Woods, MN. The previous record was a 19.54-lber caught 4 years ago by Aaron Guthrie on — you guessed it: Lake of the Woods. Actually 5 of the last 7 record burbs (since 1980) have come from the same water: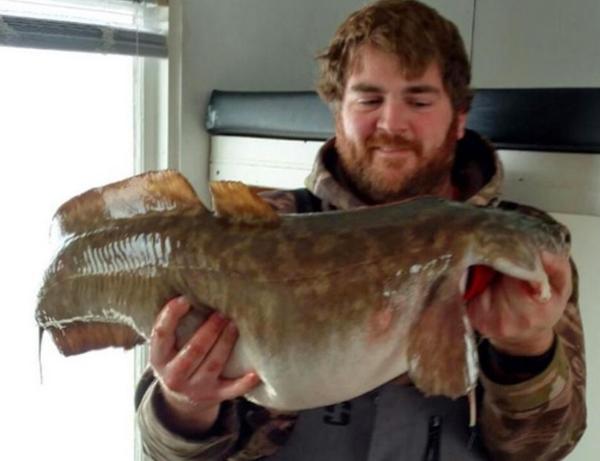 Brent was fishing north of Pine Island in about 26′ when the fish hit his deadstick:
> "I knew something big hit it. I was hoping it was a walleye — a big walleye. I've never gotten a big one to put on the wall. I was actually kind of upset when he came through the hole."
The DNR assistant fisheries manager happened to stop by the grocery store at the same time Getzler was having the fish weighed on a certified scale. He also happened to stop by the grocery store back in Feb 2012 when the last record burbot was weighed. Quite the cowinky-dink:

Rapala jigging bait differences.
Jigging-style baits are a fun way to whack wallies — the fish are aggressive and there's no fussing with live bait. But there's lots of similar lures in the jigging-bait class, so where do you start? Ice Force pro (and part-time hand model) Joel Nelson explains the differences between several of his favorite Rapala jigging baits, including the: Jigging Rap, Jigging Shad Rap and Flat Jig: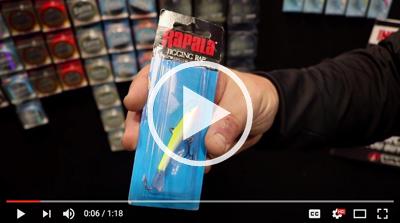 Still trying to figure out how Joel fishes with his hand-model mitts on??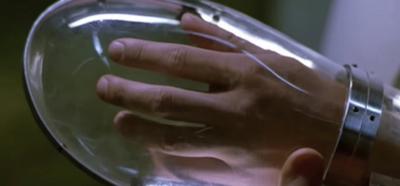 Did Santa bring anyone else a big fat present like THAT for Christmas?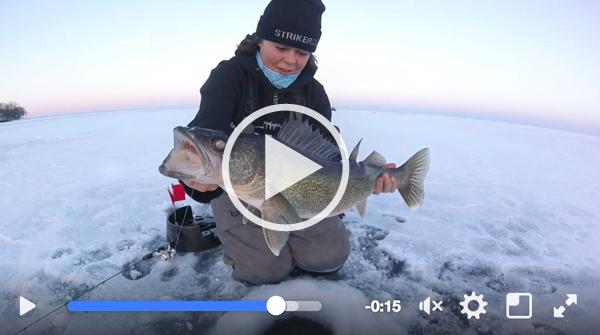 That's big-fish junkie Murray Hebert stickin' it to 'em on "The Big Pond" (Mille Lacs, MN). That funny looking contraption he's using is called an Ifishpro Tip Up — which lets you catch the fish on a rod and reel, instead of hand-over-hand. Looks pretty slick.

Used boat motor for sale.
Doesn't start — maybe the engine's flooded? Perfect hole placement on Riley Lake, WI: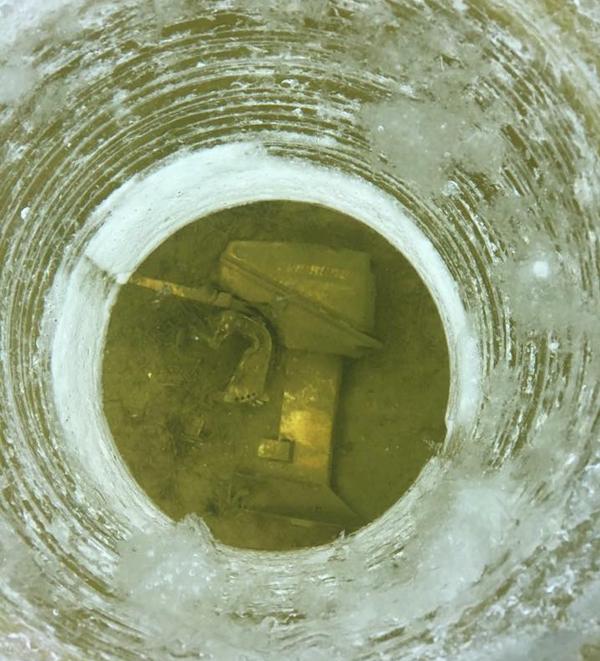 News
There's been a number of ice-fishing related drownings over the last few weeks — BE SAFE and use your head! RIP fishing brothers.
1. WI: 10 anglers rescued from Chequamegon Bay.
Lake Superior. Were stranded on an ice floe after it broke off. Glad everyone was okay.
2. MN: Ice fisherman finds missing body…
…while fishin' with his underwater camera. Led to the recovery of Andrew Stifter — who went missing Nov 26 while paddleboarding on Lake Waconia. Hope it provides some much needed closure to the family. Prayers.
3. MN: In-Depth Outdoors hits Mille Lacs.
And they whacked 'em! Not surprised: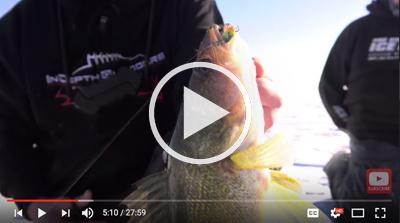 James Holst was using the new 2″ Rapala Slab Rap (glow hot perch) and Will Roseberg was backin' him with a 3/16-oz VMC Tingler Spoon (glow gold fish) — which he loves at dusk because it has more surface area of glow.
4. MN: Thorne Bros robbed…again.
Believe that's three years in a row now? Scary. This time they lost augers, pop-up fish houses and a couple of the new Minn Kota Ultrex trolling motors. Keep an eye out — we heard rumors that this pair o' bandits was out on bail. #HomeAlone: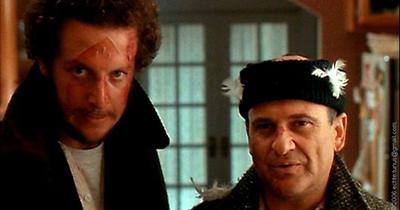 5. Why Tony Roach runs a Lund.
More specifically the gaw-jus 202 Pro-V GL Sport. Had the chance to hop in it with him and WHOA, that thing's sweeeet: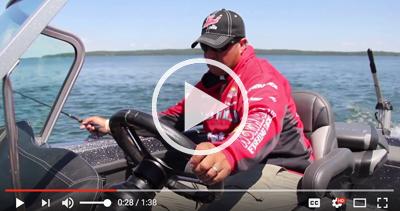 6. New Humminbird LakeMaster phone app.
Haven't tried it yet, but looks super detailed:
7. Who's gonna be the next world walleye champ?
MWC registration opens Jan 4 and their 2017 schedule looks pretty fishy:
Mar 17-18: Illinois River, IL.
Apr 7-8: Detroit River/Lake Erie, MI.
Apr 28-29: Big Stone Lake, MN.
May 19-20: Bay of Green Bay, WI.
Jun 2-3: Lake Winnebago, WI.
Jul 21-22: Devils Lake, ND.
Aug 25-26: St. Marys River, MI.
8. Tony Mariotti joins Ice Team.
Congrats man, much deserved! Just make sure to stay away from Jason Mitchell's fish and you'll be good lol!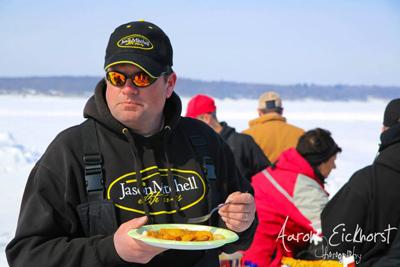 Guy can scrap — did you know he wore dog tags? Thanks for your service, Jason!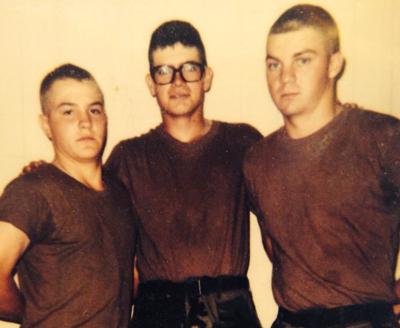 9. Don't add extra oil to your auger…
…like dad did back in the day:
> Brad Hawthorne: "Extra oil can harm your carburetor, make your auger harder to start, and is more likely to leak out your muffler. You don't want any of those hassles, so stick with a 40:1 ratio."
Here's a vid of the only time Brad's auger wouldn't start on the ice — and why he vowed to never let it happen again:

Sign up another fish-head!
If you're forwarding Target Walleye/Ice to a friend who loves to walleye-fish or want your fishing buddies to get these emails, just
send us
their email addresses and we'll take care of it! (We won't sell the addresses, use them for spam, etc.)

> "The best spots are usually located well out into the basin, as opposed to pike and panfish spots, which may be more bay-oriented and offer earlier safe ice. Start fishing in the same areas you last contacted walleyes in late open water: namely prominent main-lake structures with steep drops to the basin.
> "Major points, deep humps — somewhere that deep water swings up tight against a sharp dropoff, within modest walking distance (a mile or so) of shore.
> "Don't bother trying to locate little secret spots at first ice. Stick to big, prominent, obvious, classic spots that attract numbers of walleyes due to their sheer size. Then look for walleyes along concentration points along their edges.
> "Splash a little water from your minnow bucket atop the ice, rest your transducer atop the surface, and see if you can send a signal through to get a good depth reading of the bottom. Brush away light snow cover if necessary.
> "If you can't get a good bottom reading through the ice, start drilling or chopping holes in a swiss-cheese pattern.
> "If there's a little light snow cover atop the ice, reach down with your gloved finger and simply draw the depth in feet in the snow crust: 23, 18, 21, 37 — hey, there's the dropoff. Now drill more adjacent holes to establish the contour, and prepare for action."

Today's 'Eye Candy
Sarah Fortier's paunchy MB greenback came in high on the MarCum and t-boned a LIVETARGET Golden Shiner Rattlebait. Does that fish look like you felt after Christmas dinner or what? Lol: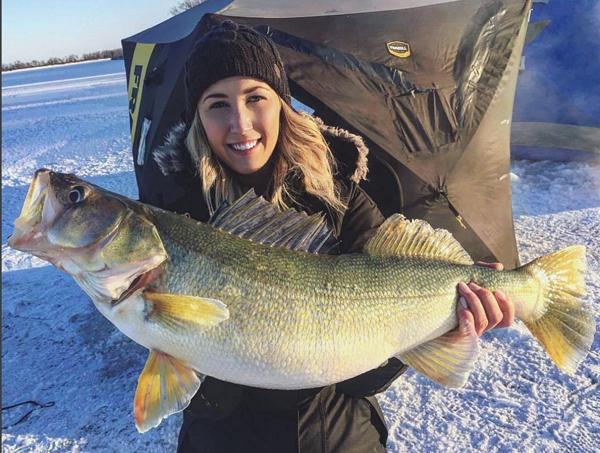 Check this stuff out!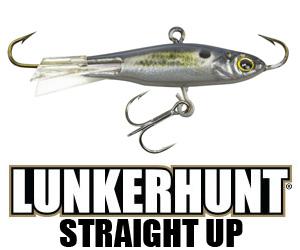 About Target Walleye
Target Walleye/Ice
brings you the BEST walleye and ice fishing news, pics, tips and events year-round, and is brought to you by Al & Ron Lindner, Jim Kalkofen and other walleye nuts like you!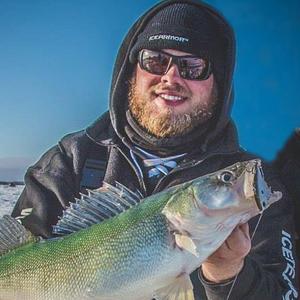 Brett McComas
is the main man for Target Walleye/Ice. He was plucked out of Brainerd, MN after years of wondering how in the heck people break into the fishing biz. He's in it now, but still can't answer that question. Brett is one of those guys who quit sports in high school because they were interfering with his fishing time…. Get him at
brett@targetwalleye.com

TargetWalleye.com | Rapala.com | IceForce.com