If you're receiving this Target Walleye/Ice email — covering the best of walleye fishing during open water and the best of ice fishing during hard water — for the first time, a friend probably signed you up! Target Walleye/Ice is brought to you by Al and Ron Lindner, Jim Kalkofen and other walleye and ice fishing nuts like you.

Today's Top 4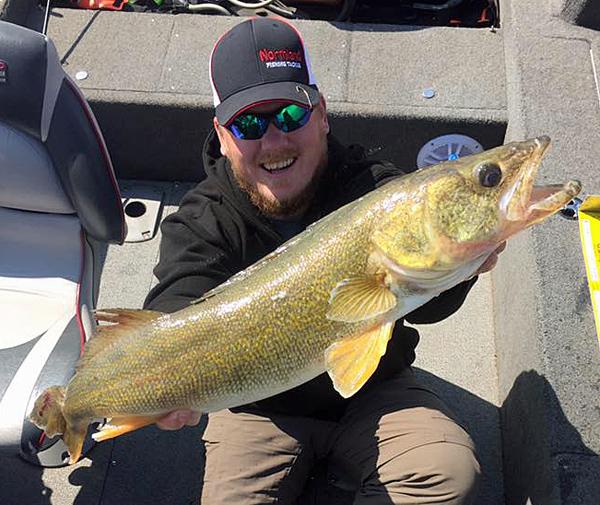 The interwebz Photoshop "fish police" are gonna love that one: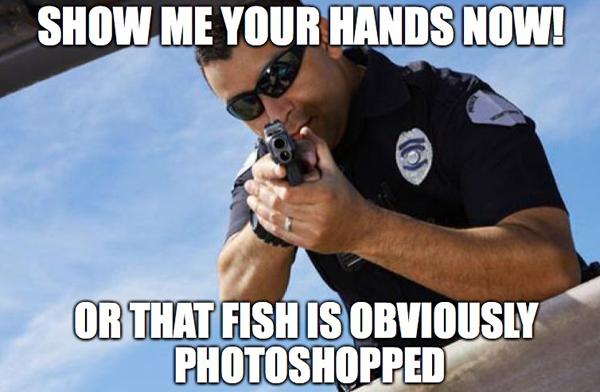 Vanessa T. got in on the pre-storm action with this giant wally: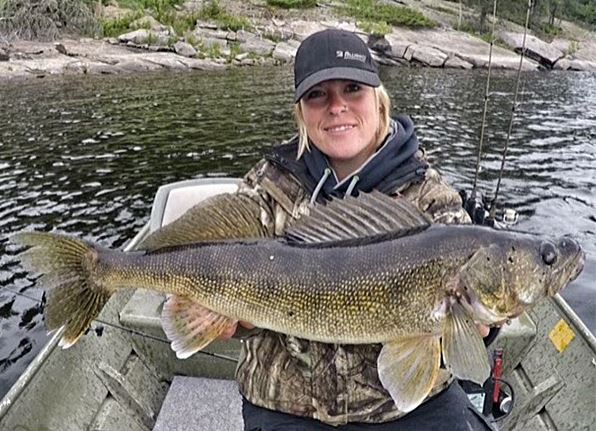 St. Louis River, WI action from Mike MacKenzie. This one measured 31″ and also ate a crawler harness:
Lake Butte des Morts, WI rock melon caught (and released) on a #5 Rapala Shad Rap in clown: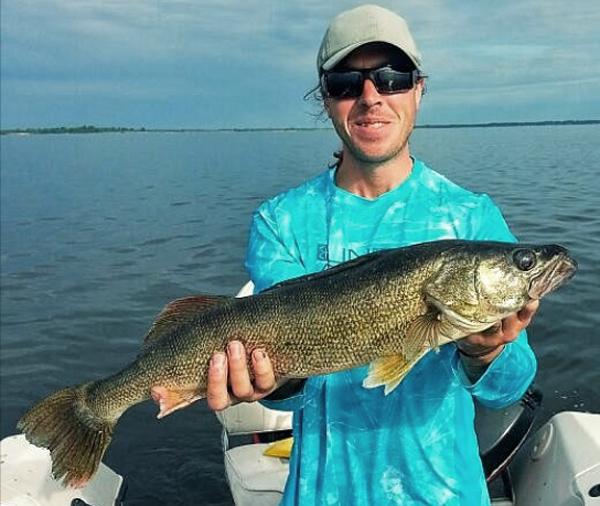 >> If ya wanna get in the Lizards of the Week section, email, FB or IG your shot of a giant walleye and the deets: bait, color, how fishing it. No guarantees it'll get in but that'll help!

Yup, it's a thing. Apparently you can still eat 'em, if you reeeeeeeeeally want to: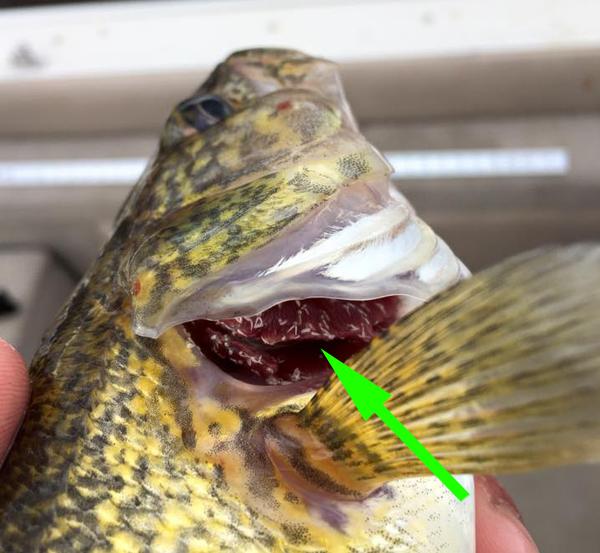 Grant Sorensen of Superior Angling Co who found 'em and wasn't all too sure about it either, so he asked the DNR what the deal is:
> "Gill lice is known to infect centrarchids and percids in the Great Lakes-area basin.
> "Gill lice can be harmful if present in large numbers because they feed on the blood of the fish, and resulting tissue damage to the gills can affect a fish's ability to uptake oxygen, balance electrolytes, and eliminate metabolic waste products.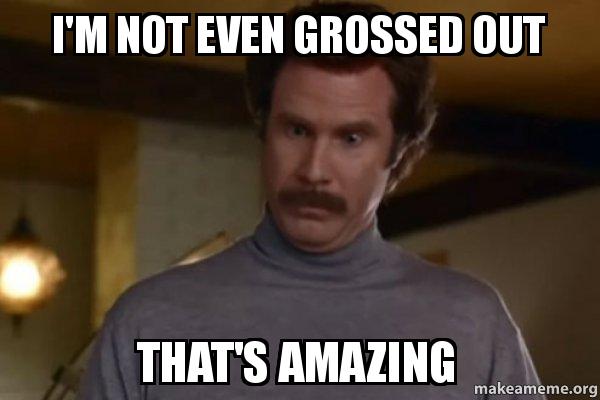 > "The gill damage can also make the fish more susceptible to bacterial, viral, or fungal infections."
Not sure if we're eating a fish that can't eliminate "waste"….

Bleeker/Weeda win AIM storm-chaser event.
On Leech Lake, MN. Was just plain nasty out there with 6-8′ waves, hail and possibly flying cows. Chad Bleeker and Frank Weeda stuck it out on the MAIN LAKE (!!), weighing-in a 32.99-lb bag for 1st place and a bonus $8K:
> "This year we switched to lead about 100′ out — running #4 Rapala Shad Raps and Minnow Raps (perch, pictured) approximately 18′ down in 30′.

> "We fished in ankle-deep water all day on my 620 Ranger. Those waves come at you from every direction. We almost lost the net once and just about busted a windshield from a wave.
> "Over the last 2 years I've discovered this main basin trolling bite. When you get bit out there, they're big fish. I've caught 3 fish on that lake over 32″and haven't done that anywhere else."
Way to do it guys! #stonecoldcrazy

Doesn't look like much, but the object in the zoom box is a tree extending just above the surface that was nearly impossible to see in a light chop: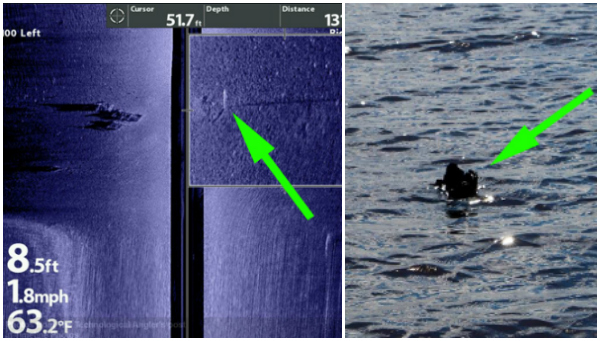 To avoid a future run-in with Mr. Stumpy, Jason "the technological angler" Halfen dropped a waypoint on its head — more importantly he changed the name/icon to distinguish it from others. 'Hazard' seems about right: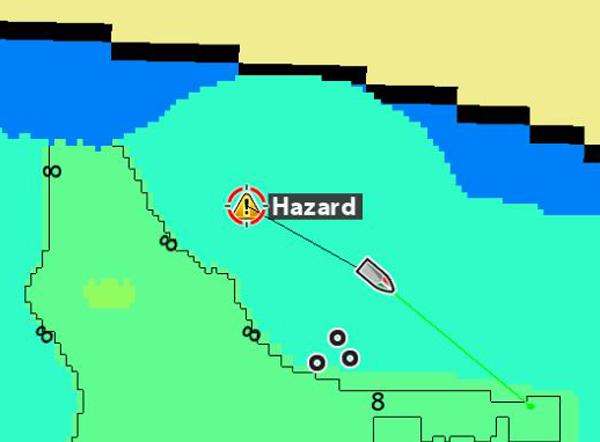 News
> "The perpetrators took roughly 30 augers and a few pop-up style ice houses. If you see any screamin' deals on augers or pop-ups please let us know."
Down side for the burglars: A lifetime of bad-fishing luck….
2016 Russell Lions Prairie Classic. Total weight = 23.57.
> "Transponders and receivers are set in place to track the movement of walleye in Lake Erie throughout the warm-weather seasons. DEC officials are seeking anglers who can catch and hold live walleye for the installation of transmitters."
Know anyone that'd be a good fit?
Joe Carlson talks about his love for the Ulterra and his favorite back-saving feature.
AKA sponsor jerseys. Competitive fishing has come a long way and Al has been there since the get-go. How cool is THAT jacket?!
You tourney guys know you'd run it if you could….
Fishing Reports

> Shallow is the place to be. Throwing a 3/8-oz jig paired up with a 3″ Berkley Ripple Shad (pink shine, fire perch or blue silver) in 3-5′ has been kicking out 'eyes.
Don't forget to hashtag #DevilsLakeND in your pics for a chance to win over $3K in goodies. Here's how!

> A jig and minnow is still the best tactic but pulling spinners is gaining. Depths of 8-15′ while pulling spinners tipped with a crawler or leech on south shore, and jigging with a minnow on reefs in 15-30′. Gold jigs and spinners are doing great. Trolling crankbaits in the shallows after dinner is producing some fish.
> Most anglers are fishing the lake, but walleyes are still being caught near the mouth of the Rainy River and into Four Mile Bay [awesome windy-day option!], with a jig/minnow being the best option for catching these fish.
> Resorts and guides are finding walleyes up at the NW Angle in 20′ or less — targeting points pulling crawler harnesses or 1/4-oz jigs in pink and gold tipped with a minnow.
Here's 19 fathers/sons celebrating Father's Day weekend at Cyrus Resort. Looks to confirm the fishing's good: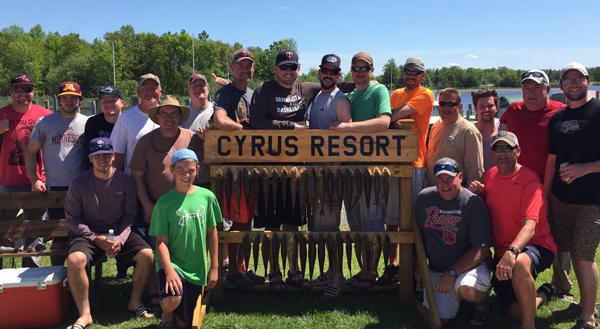 3. MN: Leech Lake.
> Crawlers and leeches on Lindy rigs in 10-14′ have been the ticket, fishing windblown areas. Move around until you mark fish.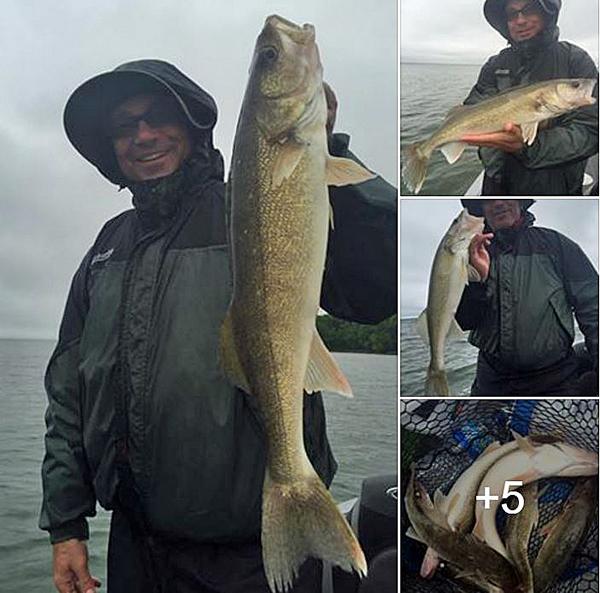 How 'bout walleyes by day, Moondance Jammin' Country by night?
Sign up another walleye-head!
If you're forwarding Target Walleye/Ice to a friend who loves to walleye-fish or want your fishing buddies to get these emails, just 
send us
 their email addresses and we'll take care of it! (We won't sell the addresses, use them for spam, etc.)

Paul Meleen: Horizontal movements of suspended walleyes.
Few excerpts below, read the full write-up on TargetWalleye.com:
> "Most anglers miss out because they fish in too small of a box. If they're targeting suspended fish off structure — points or sunken islands — most fishermen assume that when they lose contact with aggressive fish feeding on top, it's because the fish moved into deeper water.
> "What actually happens in June, July and into August is those walleyes will maintain the same depth (say 20-25′) at which they were feeding, but move out over deeper water. They don't move down. They will stay at a consistent traveling depth to conserve energy and intercept prey.
> "Most guys will catch a few active fish on a deep point or sunken island, but immediately think they have to move down to the breakline when the action dies. Instead, watch your electronics and move to the front end of the structure and out a good distance. More often than not, you'll find pods of fish that move in and out from the structure to feed, and then rest at the same depth….
> "I spend a lot of time pulling cranks. I'm a big Husky Jerk fan — glass and balsaShad Raps too. At times I'll use lead-core and floaters with rattles."

Quote of the Day
I fish because it's the only thing I've found that focuses my mind enough so that I forget everything else.
– We're right there with ya man! Article talking about how a guy uses fishing to mentally combat all the negative junk (the news, etc.) that surrounds us today. Amen brother!
Today's 'Eye Candy

Check this stuff out!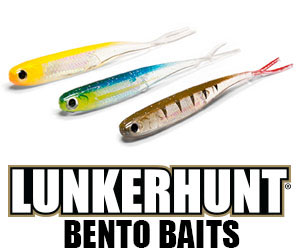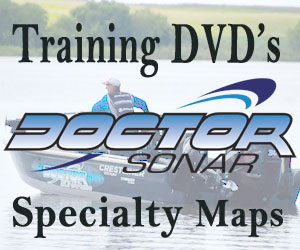 About Target Walleye
Target Walleye/Ice
 brings you the BEST walleye and ice fishing news, pics, tips and events year-round, and is brought to you by Al & Ron Lindner, Jim Kalkofen and other walleye nuts like you!

TargetWalleye.com |  Rapala.com | IceForce.com