If you're receiving this Target Walleye/Ice email — covering the best of walleye fishing during open water and the best of ice fishing during hard water — for the first time, a friend probably signed you up! Target Walleye/Ice is brought to you by Al and Ron Lindner, Jim Kalkofen and other walleye and ice fishing nuts like you.

Today's Top 4


Razorbacks of the week!
Troy Peterson aka "Mr. Bluegill" [but frequently giant walleyes] cracked this 29″ Green Bay rock moose while jigging a Lunkerhunt Kraken Lipless Crankbait. The name of that color is "you're my boy blue." Lol they have some great names for their colors: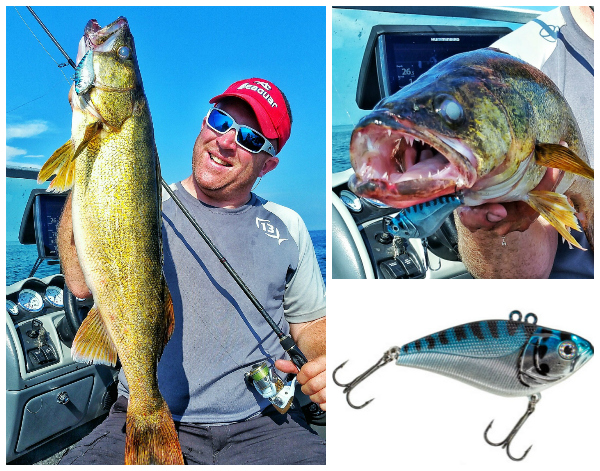 Tyson W. stuck this 30″ humpback whale-eye on Last Mountain Lake, SK pulling Northland Tackle spinners in 20′: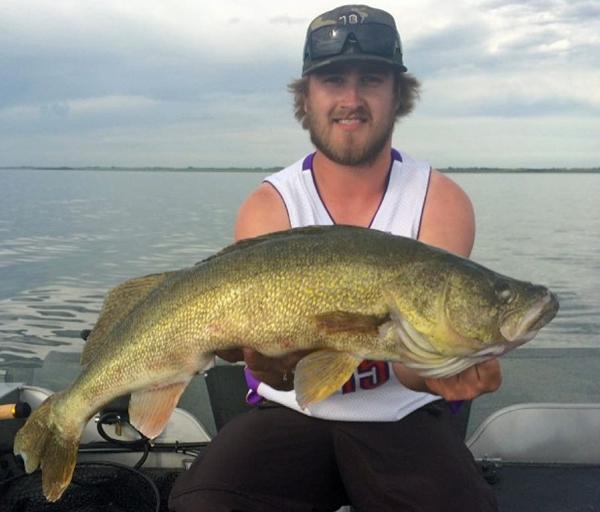 IG user @regglacou with a 28.5″ golden rock melon that ate a bottom-bounced crawler twirling on a Lindy Lil' Guy: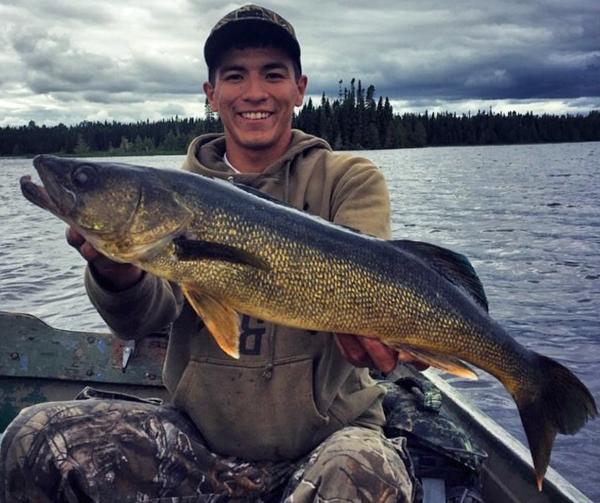 How to mod the Mepps Trolling Rig to catch monsters.
Central ON guide JP Bushey is just like the rest of us…he loves to tinker. He's been catching fish on all sorts of techniques, but one presentation that's really shined is the Mepps Trolling Rig. It's easy to customize so you can set it up for any type of situation: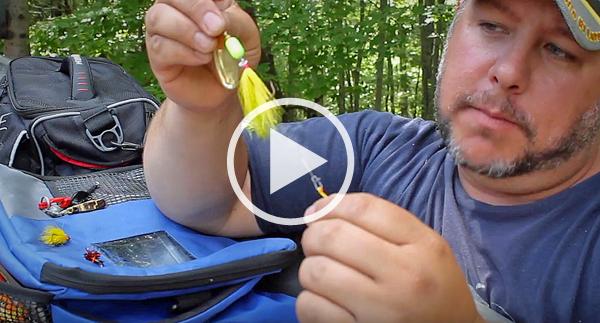 Seems to be working quite well for him. Proof is in the puddin' selfie: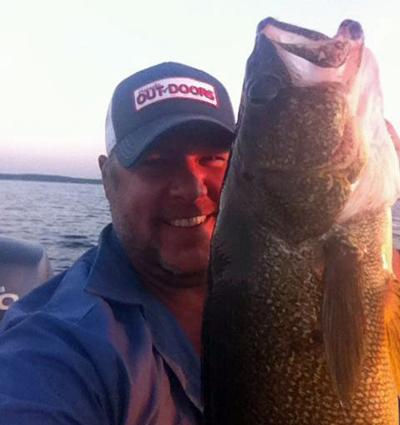 > "Because a pair of walleyes for 26 lbs is always best with no cameraman. Back-to-back good ones!"
Ridiculously big fish! If you want to hop in the boat with JP, you can reach out to him here.

Choosing the right style of weight.
There's a time and place for each style — here's a few snippets on how big-fish magician Tony Roach chooses which to rig up: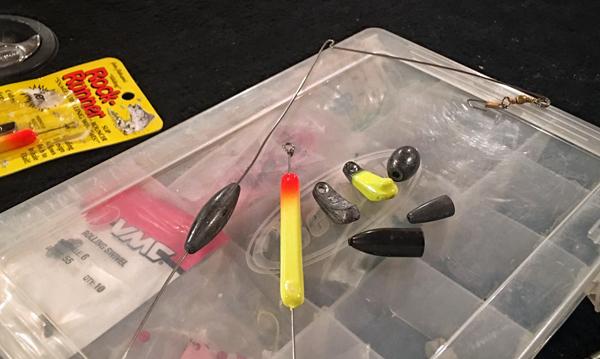 > Walking sinkers like the
Roach Walker
have a unique shape that's narrow at the leading end, with a bulbous behind. This let's them slide through weeds, yet still offer plenty of heft for their size. In the spring and fall they work very well to pin a large minnow to bottom on a short lead in deeper water.
> Northland's
Rock-Runner Bottom-Bouncer
is a traditional style bouncer and Roach's go-to in many situations. They work especially well when the bottom is snaggy rock since it keeps the spinner rig above the rocks at all times.
> Bottom-bouncers that allow free-line movement, like the
Slick-Stick
and
Rock-Runner Slip
are great for power rigging when walleyes are active and you want faster trolling speeds. They're heavy enough to keep the mainline vertical as you move along. Yet, you can feed line on a bite if you need to.
> Roach uses these conical sinkers when targeting walleyes in the weeds, explaining that their streamlined shape allows them to snake through the weedtops without getting snagged.
Though style is important, Roach adds that weight is just as critical.
> A sinker that's a little too light, or a touch too heavy, will produce far fewer hits. The catch is that you have to figure out what's "ideal" when you're on the water and can determine how wind, current and wave action should influence your selection.Full article
here
.

We all know that walleyes are made of delicious meat, but there's a few other things they can be made of…total man-cave material:
Solid stainless-steel replica of the world record 'eye done by the masterminds at Steeled Inc: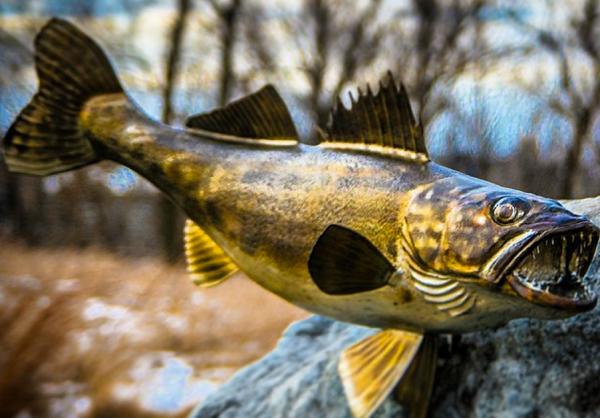 Bottle caps from The Moore Family Folk Art: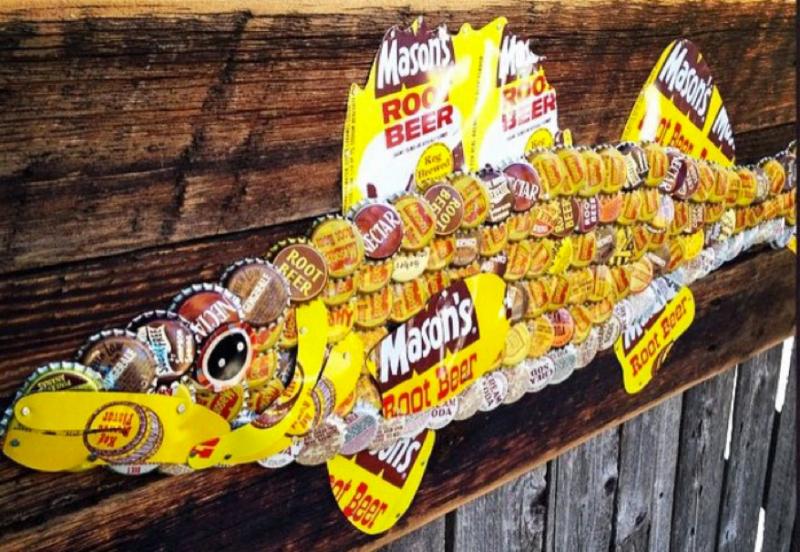 Stained glass from Thunder Bay, ON's Gayle Buzzi: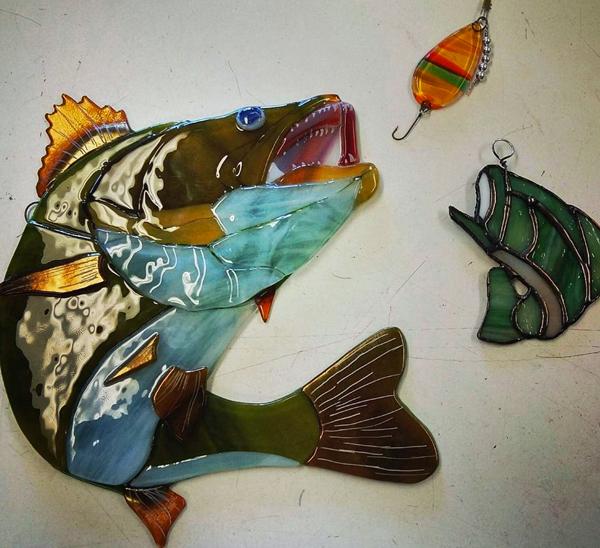 Walleye bonefish by master welder Cody Allison: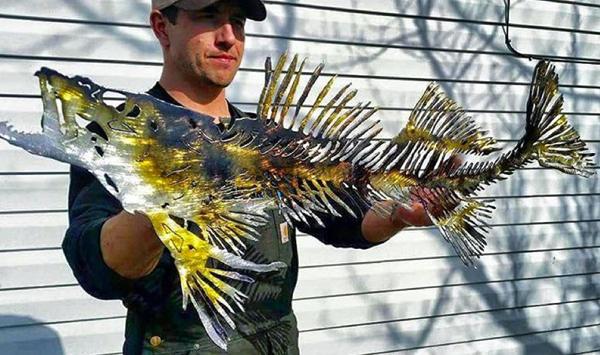 Andrew Askeland getting his pinstriping on in the auto-body shop: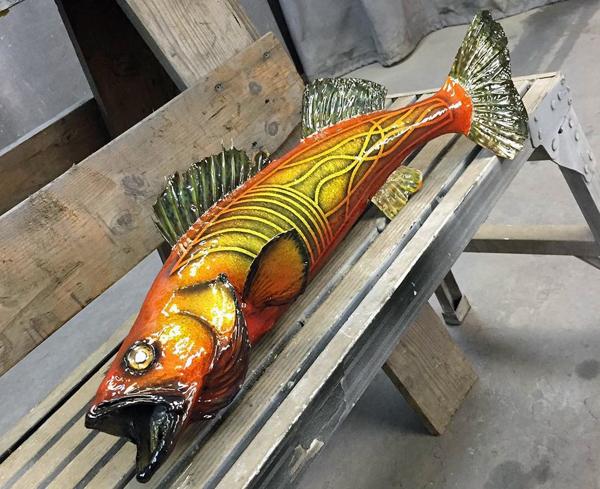 We'll help take them off your hands when your wife wants 'em gone!

News
1. ON: Erie claims walleye fisherman's life.
Dangit. RIP fishing brother.
2. NWT update: Przekurat leading Championship on Oahe.
Jason Przekurat is crushing the competition — leading by almost 7 lbs (huge margin on Oahe) after day 2: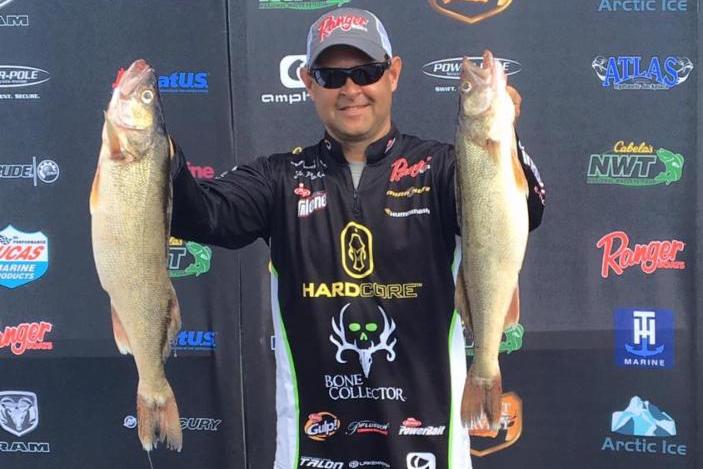 > "We're fishing trees. It's a mix of old cottonwoods and willow trees. They hover on top of the willows and bury under the cottonwoods. It's just a matter of getting the baits to them."
Wait, is he fishing for squirrels or walleyes?! Jason wouldn't say what specific baits or techniques he was using until after the event…don't blame him! Good luck today man!
We'll get all the deets on the top bags in the next TWI email. Until then you can check out the live stream of the weigh-in here to see who gets crowned champ.
3. ND: AIM Championship on Sakakawea.
Today and tomorrow. Solid crew of anglers there.
4. MN: Summer walleye patterns in full swing.
How and where to catch 'em on Lake of the Woods right now. They don't have "dog days" up there!
5. IL: DNR to stock alligator gar?
Supposed to help improve habitat…and maybe get rid of the Asian carp?
6. 46 million Americans went fishing last year.
> "Fishing is the 2nd most popular outdoor activity for adults ages 25+, (behind running/jogging/trail running)."
Does it count when we run/jog/sprint down to the dock?!
7. OH: DNR to hold dock lottery for boaters…
…to rent public docks during the 2017 boating season. Does that mean that those public docks won't really be public anymore? Better work on your trailering skills if you aren't drawn: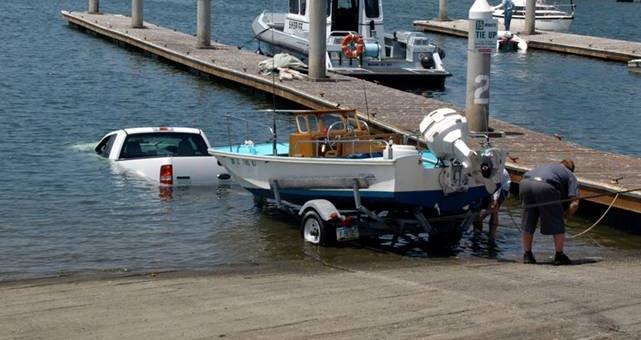 8. Tourney anglers: Snag extra dough at weigh-in!
LEER Truck Caps offers "Cover Cash" to tourney anglers — a pretty cool way to snag some extra dough in qualified tourneys even if you don't win 'em. Sign up here. #ChaChing
National Professional Anglers Association. Join now and get the rest of the year free. The product discounts alone more than cover the membership fee.
_____
Have a shot at winning 3 new Pro Walleye Series rods from Jason Mitchell and Target Walleye! Same deal: Enter your email addy, then share the link to earn more points toward a win. Good luck!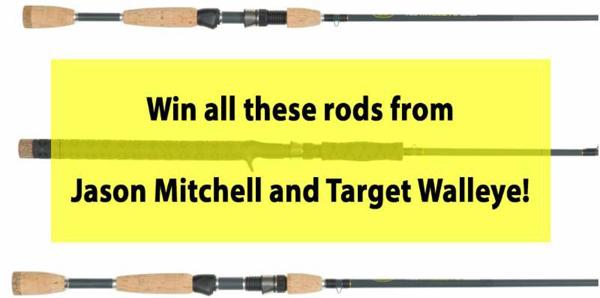 Awesome rods. Winning would get you set up for live-bait rigging, bottom-bouncers and pulling leadcore.
Fishing Reports
> "Fish are active. Downrigging with crankbaits, jig-fishing and drifting spinners (gold, silver and white) are all producing fish on the main lake in 28-32′. Garden Island and 9-12 miles off of Pine Island are holding fish. The water temp is 77 degrees.
> "Walleyes are also being caught on the Rainy River thanks to the improved water clarity. Trolling this time of year is a great way to locate fish and catch nice pods of river walleyes.
> "Up at the NW Angle, the mud around Four Blocks and Little Oak has been holding quality fish with spinners being most productive. The water temp is 74 degrees and walleyes are relating to the off-shore structure and deep mud."
> "The trolling bite has still be one of the most productive methods of fishing right now — focus on old shorelines like the structure that is found in the Doc Hagens area. Don't overlook trolling other structure such as rockpiles and sunken roads.
> "Throw on a 1.5-oz or 2-oz bottom-bouncer with a spinner in red/white, gold, pink/white or chartreuse. The best trolling speed has been between 0.9-1.2 mph. Once you get a bite or 2, turn right back on that spot and keep plugging away…if there's 1 walleye, there's usually more."
> "Most of our pods of active fish came from 24-26′ on the top edge of the mud flats. It was glass calm with bluebird skies, so we sped things up and upsized our presentations for the reaction bite.
> "The bite has been good and limits are happening. On windy days fish 12-14′ with leeches on wind-blown edges of flats, humps, or points being the best. Calmer days try working the deeper weedlines or off the edges of humps in 18-22′. Leeches again or also jigs and fatheads pitched at the weed edges."
> "Walleye activity picked up this last week following an almost 17 degree drop in surface temps. We found some active walleyes in lower Green Bay with mixed bags of walleye, bass, pike and perch. Plenty of action for my clients with kids and families that enjoy fishing.
> "Trolling Berkley Flicker Minnows and crawler harnesses with 1-oz in-line weights were both working well behind
Off Shore Tackle planer boards
. A jig/crawler combo also caught fish on humps and while drifting with the wind."

Great places to catch 'em
Sign up another fish-head!
If you're forwarding Target Walleye/Ice to a friend who loves to walleye-fish or want your fishing buddies to get these emails, just
send us
their email addresses and we'll take care of it! (We won't sell the addresses, use them for spam, etc.)

> "Probably one of the most overlooked and little-known ways to fish summer walleye — when the conditions are right it can be dynamite!!!"
You know it's good when Al's fired up! "Moping" involves suspending a minnow lure high in the water column with NO jigging action. Here it is in action: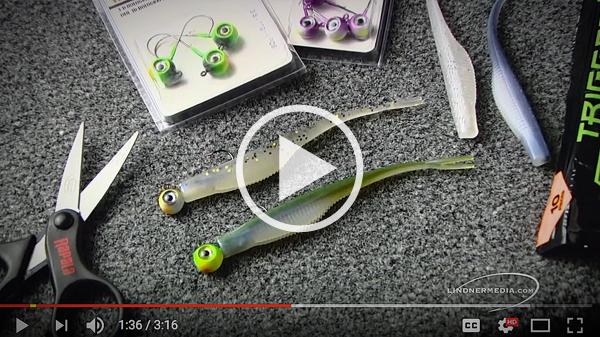 Quote of the Day

If you were spotting and stalking whitetails, and glassed every inch of a field or valley without seeing anything, would you still sneak out there on your hands and knees just because it looks so good?
– Scott Glorvigan talking about trusting your electronics and not fishing memories (spots you've done well on in the past) if you go through 'em without graphing any fish.
Check this stuff out!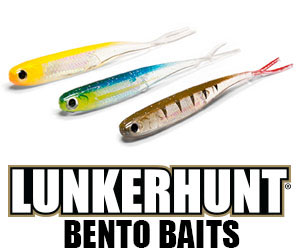 About Target Walleye
Target Walleye/Ice
brings you the BEST walleye and ice fishing news, pics, tips and events year-round, and is brought to you by Al & Ron Lindner, Jim Kalkofen and other walleye nuts like you!

TargetWalleye.com | Rapala.com | IceForce.com