Today's Top 4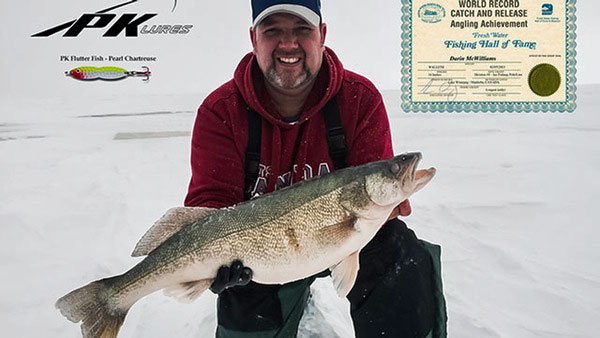 Well, sorta — this fish is now part of a 3-way length record of 34″ and change:
> Darin McWilliams [with fish above, caught from Lake Winnipeg] now shares the ledger with angler Jay Millar's walleye, caught and released on January 22, 2011, on Lake Temagami, Ontario; and Jim Manwell's fish, caught on December 22, 2011, on Last Mountain Lake, Saskatchewan.
> All three have trumped the 34″ mark, but since no fractional measurements are recognized by the Fresh Water Fishing Hall of Fame, all three tie at 34″ for the ice fishing catch and release world record.
Story of the catch, more details here:
> Fishing pressure ridges shallow: "I was sitting there waiting and saw a good mark on my
MarCum LX-5
. I jigged up a foot, let the bait drop back down, then brought it up a little bit higher. I coaxed the fish 3 feet off the bottom and she grabbed it."
> "When we put it on the measuring board it showed 34-1/4″. Our jaws dropped. Randy and I had no idea it was a record. We took a couple photos inside and outside the shack and released it pretty quick. If I had to guess, that fish was over 15 lbs."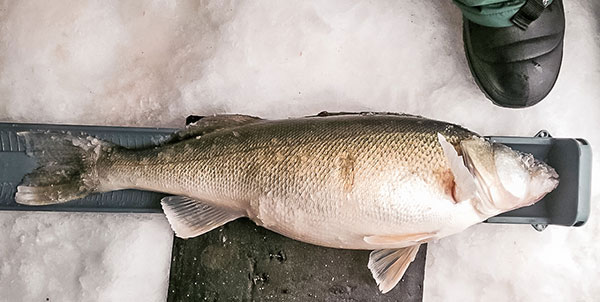 > "That 1/2-oz pearl chartreuse Flutterfish was the first bait I grabbed out of my box after we realized rattlebaits were scaring the fish off. I had it tied to a 15-lb fluoro leader and 20-lb FireLine that had been on the reel for a few years."
Someone pointed this out to us on OutdoorLife.com, from 2013. For sure some of them would be on our collective list, but….
Cordell Wally Diver
Lindy Fuzz-E Grub Jig
Terminator T1 Spinnerbait
Lindy Slick Jig
Strike King Redeye Shad
Rapala Shad Rap (No. 7 & No. 5)
Lindy Watsit Jig
TriggerX Nightcrawler
Rapala Husky Jerk
Storm Hot 'n Tot Mad Flash
Reef Runner Little Ripper
Koppers Live Target Crawfish
Mepps Black Fury Spinnerbait (Size #3)
Bass Pro Shops Walleye Angler XPS Jig Spin
We read that list to our exterminator and got this reaction: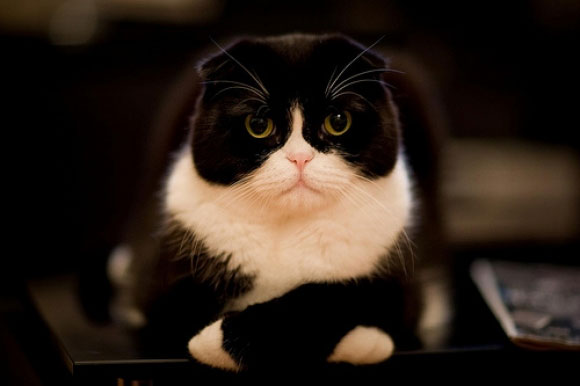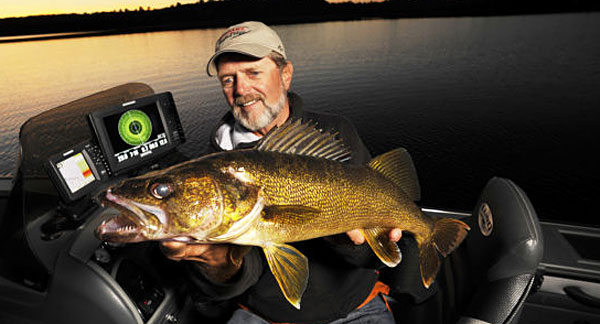 If nothing else, this tip is a good excuse to Like our Facebook page, where this tip first appeared:
> One of the things we learned about early-season walleye is what we call the 30-day rule. This rule primarily applies to smaller and medium-sized natural lakes and reservoirs. This rule DOES NOT apply to the Great Lakes or other huge bodies of water where massive schools of walleye migrate great distances….
> The 30-day rule in these smaller bodies of water: If you know the precise time that the walleye spawned, you can almost bet that 30 days later, groups of walleye will be on the first lip of the large shallow flats extending out into the main body of water. These are fish that have already gone through their post-spawn, are regrouping and feeding heavy.
> There can be other groups of fish deeper, but many of the good sized fish will be relating to that first lip.
> The lip could be a 3- to 5-foot drop, either weed-edged or sparsely weeded. In other bodies of water that break might occur at 7 to 10 feet, and still others at 12 to 15 feet. But in all cases the lip is what is considered the main break for that body of water.
> It helps if there is vegetation — however sparse or thick, the walleyes will likely be relating to it. It's important to realize that the fish will most likely be up on the flat, rather than down the drop.
> Get out our LakeMaster maps and look for those drops-It's really as simple yet complex as that.
Thanks Al!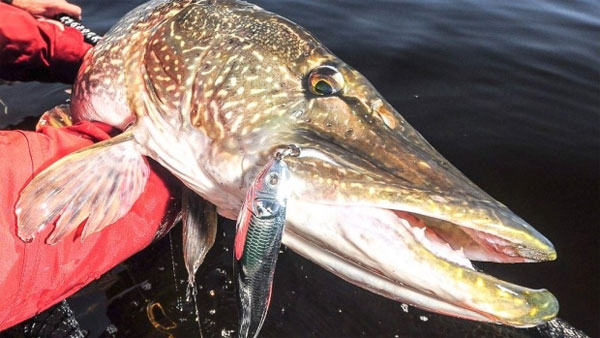 We assume this can apply to other species as well:
> What happens when a pike swims off with your lure? Graduate student Chris Pullen hooked pike in four different parts of the mouth with colour coded crankbait lures fitted with radio transmitters. The fish were then released into a small lake and tracked.
> The pike shook the lures with ease. "By and large, most of the lures were shed in a relatively short period of time," said Pullen. "Barbless hooks…came out usually within 24 hours. And deeply hooked [lures] also came out relatively quickly, although they were retained for a number of days."
> The pike in the study were hooked in the lower jaw, through both the upper and lower jaw together, and deeply in the mouth. Pullen said pike hooked in the lower jaw actually took longer to shed the lure than those hooked deeply near the back of the tongue.
The study used floating crankbaits, not the lure pictured in the photo.

News
1. OH: Will AIM event set weight records?
Erie has been on fire so you never know:
> The way the weather is shaping up, anglers could break the Aim Weekend Walleye Series big basket of 55.93 lbs on Green Bay in 2014. The possibilities are great for a limit to be recorded with all 5 fish breaking the 30-inch mark on the cards.
This is a paper tournament. A 30-inch fish converts to 11.33 lbs on AIM's chart.
2. MI: Saginaw MWT is spectator event.
> "We wanted to have an event here, where family and friends can see the guys competing on the river."
New 3-fish limit in ceded territories. Was 2.
4. VT: Walleye opens tomorrow.
Here's the state record, a 14.55 caught in Lake Champlain by Richard Levesque in 2010: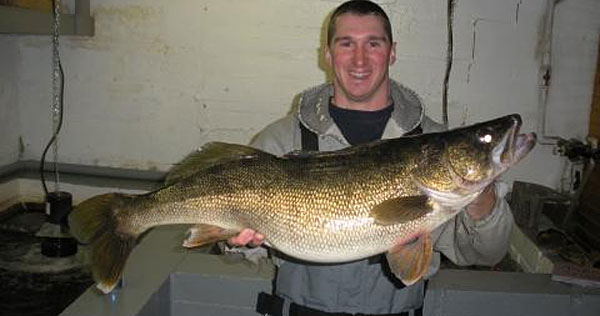 5. OH: Maumee and Sandusky runs 1 week behind.
6. MN wants comments on Rainy regs.
7. ON: United Walleye Clubs helps…
…collect fish for spawning. The club has a great website btw.
8. Great Lakes: Removing barriers…
…in tributaries — barriers like bridges — could mean more spawning walleye success.
9. ND: Devils Lake 'eyes are on.
Report from guide Jason Mitchell:
> Devils Lake is producing good walleye catches for both boat anglers and shore fishermen. Walleye anglers have long had a theory that minnows work best early in the year and as the season progresses, switch over to crawlers or leeches. These walleyes didn't get that memo. Surprises some anglers that a slip bobber and leech is often one of the top early season producers on Devils Lake. Catching most of the fish in 4-7 feet.
Here's Jason with a beautiful goldy: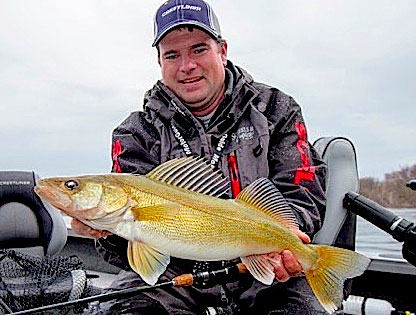 Pike
1. ON: Top 50 Pike Trail makes changes.
Sounds like more chances to win.
2. MN: LOTW pike derby a success.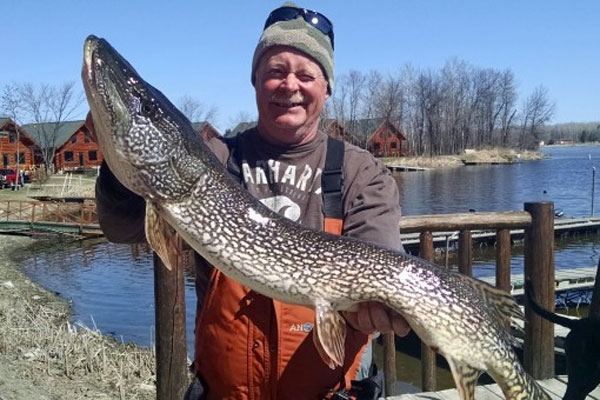 Caught 'em trolling and casting crankbaits, or dead bait under a bobber in 1-8 feet. Seemed like lots of females hadn't spawned yet so the fishing should be great now!
Events
---
---

'Eye Candy
Our friends at Sea Foam know how to catch 'em: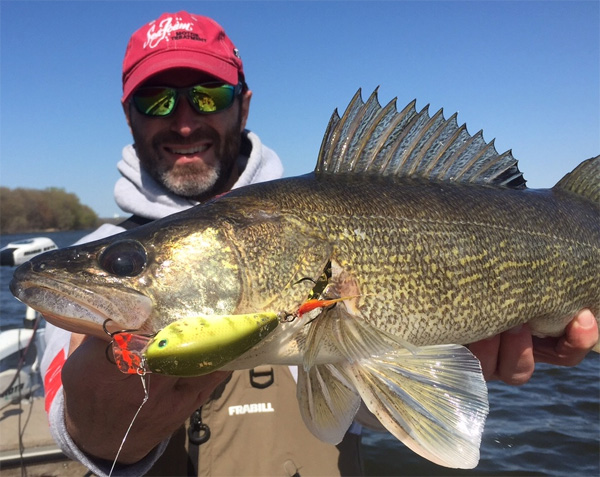 ---
Tip of the Day
Tom Neustrom's Shadow Rap opener.
> When the season opens, Tom Neustrom will be throwing Rapala's new Shadow Rap….
> "Especially on lakes that contain shiners and dwarf ciscoes, that new Shadow Rap should be an awesome bait."
> "You don't necessarily have to twitch 'em, like you would for a bass, or jerk them. Just change your speed and cadence on the retrieve."
> Neustrom will tie on a Shadow Rap to target big, post-spawn female walleyes around dark-colored shallow gravel and scattered rock. "They're up there looking for bait. If you get some sun during the day, that dark rock will warm up and attract baitfish and young-of-the-year fish and the walleyes will be in there looking."
> He'll target these spots in the evening, rather than in the morning or at midday. "During the day, they'll drop down to the first break, because they were up spawning in the evening. And then they'll come back up in the low-light period into the shallow water."
> After making a long cast to a prime-looking spot, Neustrom will quickly crank a Shadow Rap down to its maximum running depth and then…"all of a sudden, I'll switch to a really slow retrieve." Before the bait gets back to the boat, he'll stop and start his retrieve several times.
> Combining a horizontal struggle with a vertical fade, the Shadow Rap perfectly mimics a wounded minnow's last moments before it dies. When you pause it on slack line, it shimmies from side to side as it's suspending there. So even when it's sitting still, it looks just barely alive.

---
You feel like you're 14 years old again and waking up at Christmas….
– Guy talking about fishing tournaments, in his case the Ontario pike tournaments mentioned above. Couldn't agree more — not for everyone, but does get the blood pumping!
---
An awesome "bulbous" 29-incher caught by Brad Baker in Pool 12 of the Mississippi River: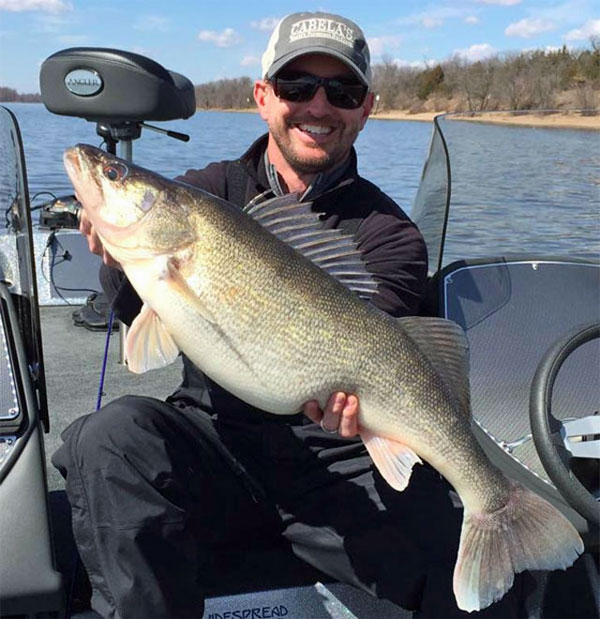 ---
Gotta check this stuff out!

---
About Target Walleye
Target Walleye
brings you the BEST walleye and ice fishing news, pics, tips and events year-round, and is brought to you by Al & Ron Lindner, Jim Kalkofen and other walleye nuts like you!
---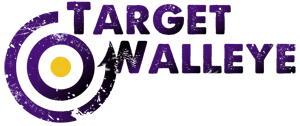 TargetWalleye.com | Rapala.com | IceForce.com