With the National Walleye Tour Championship on Green Bay next week, I thought walleye-fans would be interested in some statistics I've compiled…. With the help of Christy Schad and Chip Leer — along with the results taken from the National Walleye Tour website — I've created spreadsheets of information using the data from the 19 tournaments held from 2013 to 2017:
1. Top Ten Finishes
Numbers of Top Tens for anglers fishing at least 16 tournaments from 2013-2017. Korey Sprengel, including his 3 wins, leads with 7 in 19 events. Jason Przekurat is the only angler to have 3 in the same season. Dan Stier had 3 in a row across two seasons. John Gillman is looking to join Korey Sprengel and Kevin McQuoid as the only anglers to record at least one in each of the five NWT seasons:
2. In The Money Finishes (ITM)
Finishes only include places paid out by tournament purse, NOT by optional pot. Payout places are paid to top 25% of each event. Tom Keenan has the most ITM and highest % of ITM finishes across 19 events. Out Of The Money Streak is the highest number of tourneys in a row an angler has NOT cashed a check, the lower the number the better. Tom Keenan also owns that record at one; never going two events in a row without a check. The longest ITM streak was by the late David Andersen at 7 straight. Five other anglers have streaks of 5 in a row, including Robert Blosser with 2 separate streaks of 5:
3. In The Money In All Four Tournaments in a Season
Only four anglers have finished In The Money in all events across one season, and three of those won Angler of the Year. There are four anglers in 2017 with a chance to cash a check in all four events: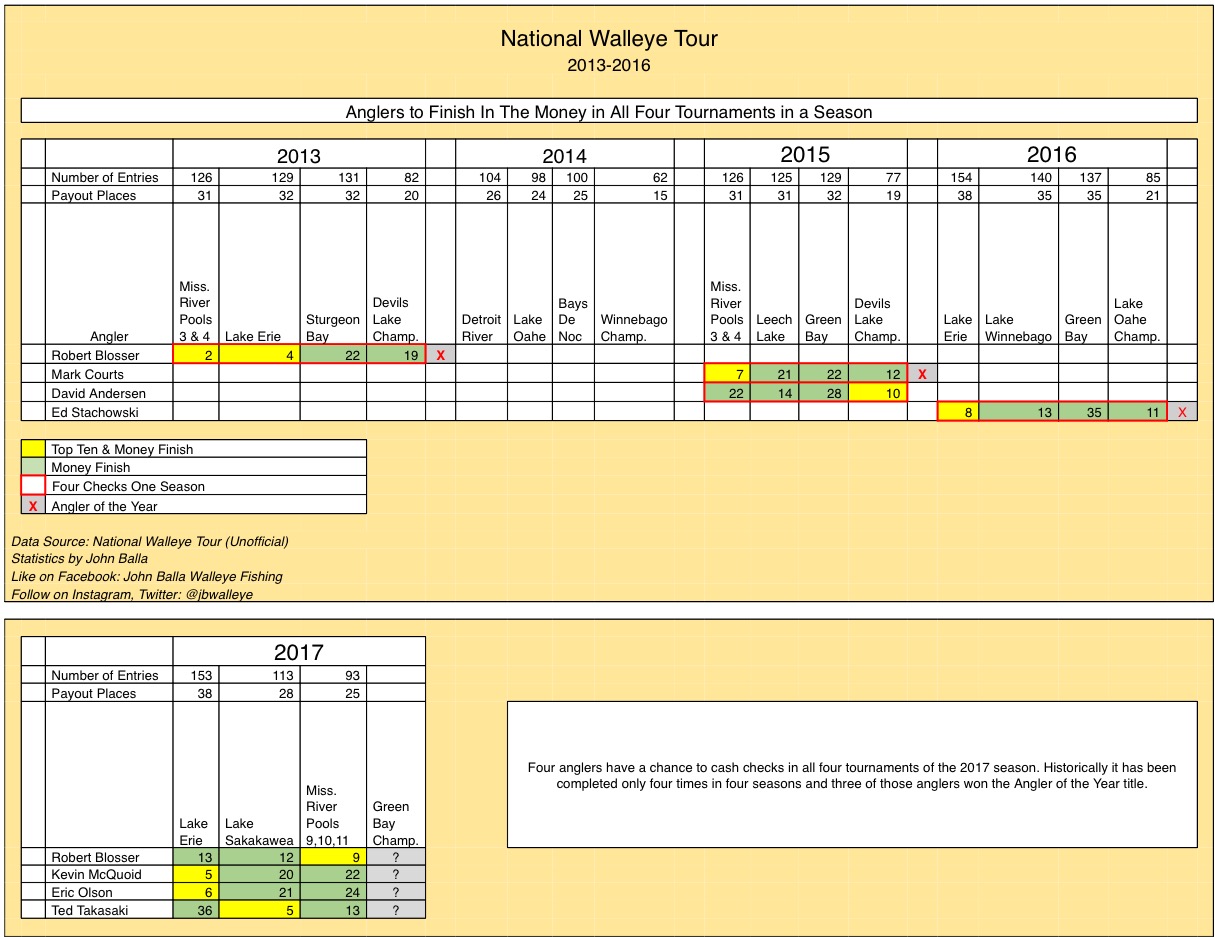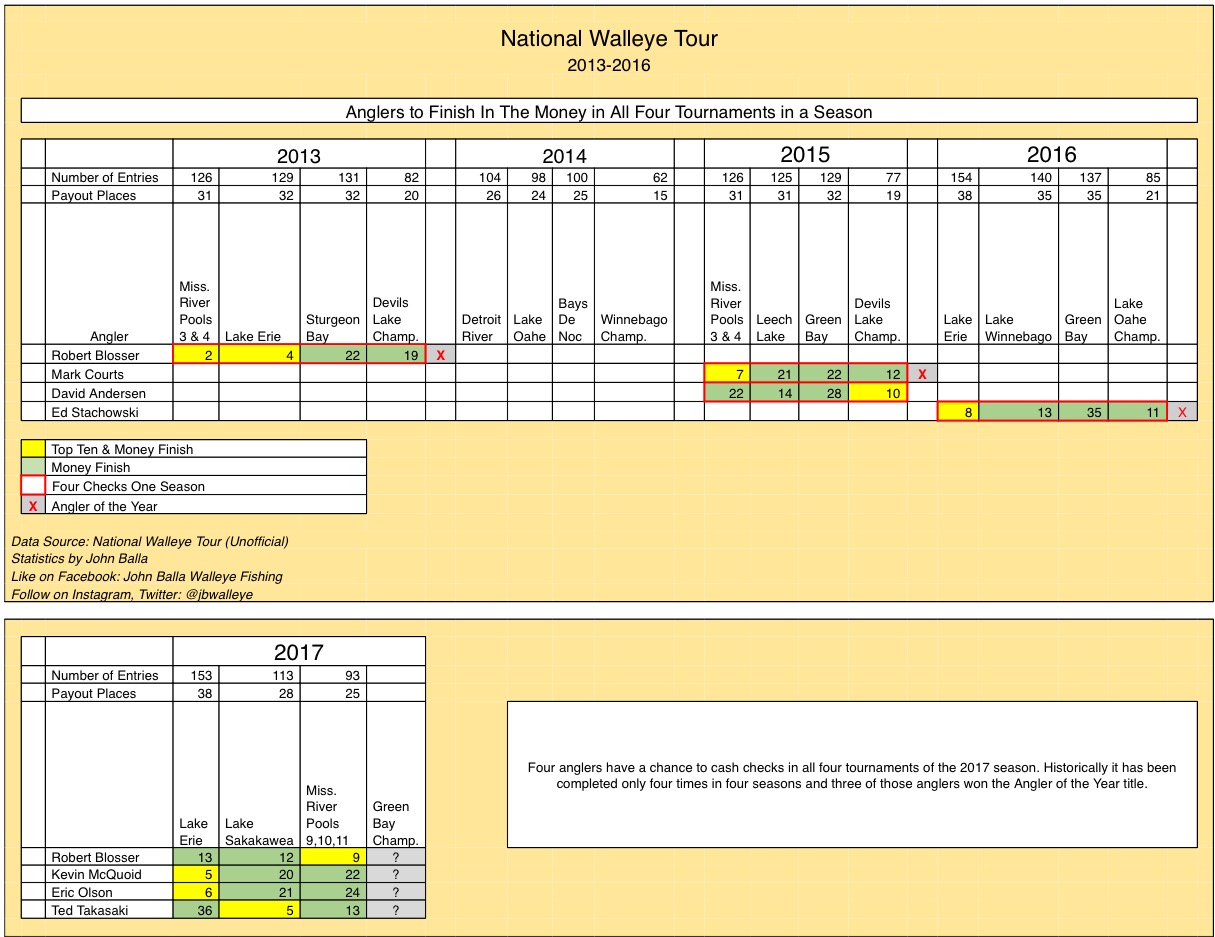 4. Tour Rankings
Best representation of angler rankings based on average finish with at least 16 tournaments fished since 2013. This chart shows the percent finish based on field size in each event. For example, Gary Parsons at 30.2% would average a 30th place in 19 tournaments with a 100 boat field (30.2% times 100), and 15th in a 50 boat field. The average field size for all events since 2013 is 114 anglers:
5. Angler of the Year (AOY)
(Updated 9/26/17) Point totals and average finish to win AOY.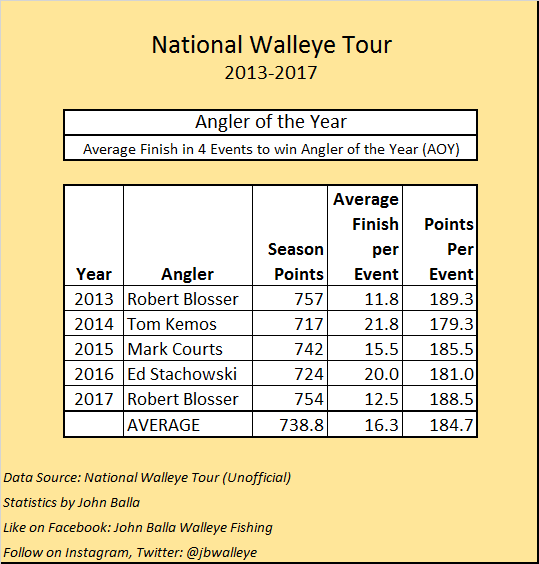 6. Angler Of The Year (AOY) Statistics
After four seasons, the average AOY results for the anglers fishing at least 16 of the 19 tournaments. Of note is Korey Sprengel has the best average finish, but has yet to win an AOY (lost the 2013 title in a tiebreaker):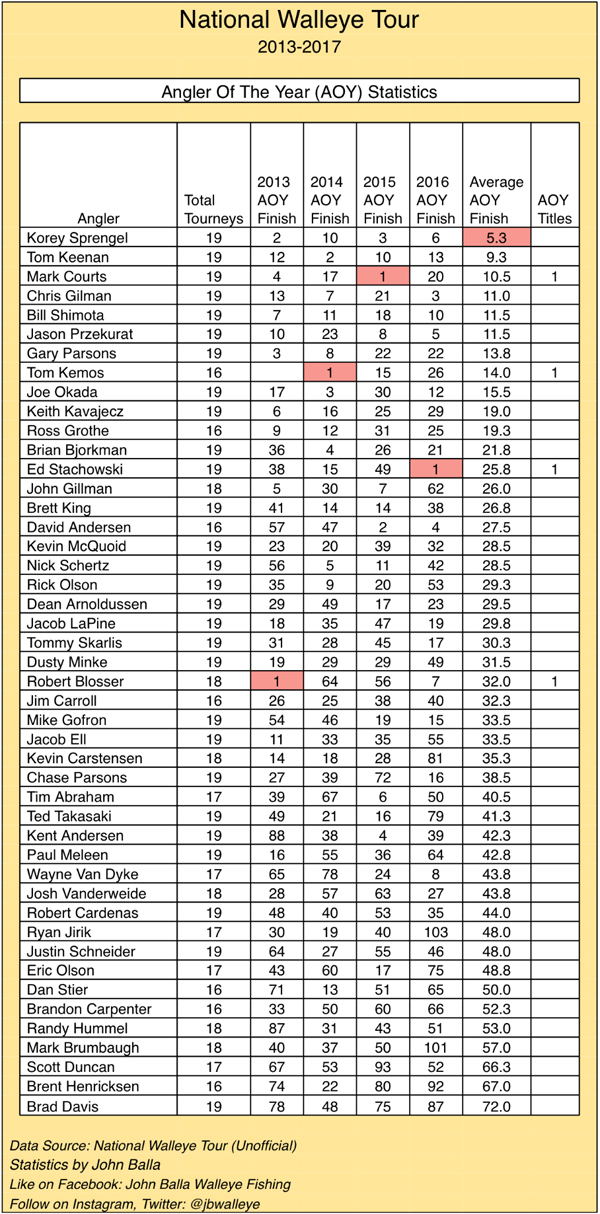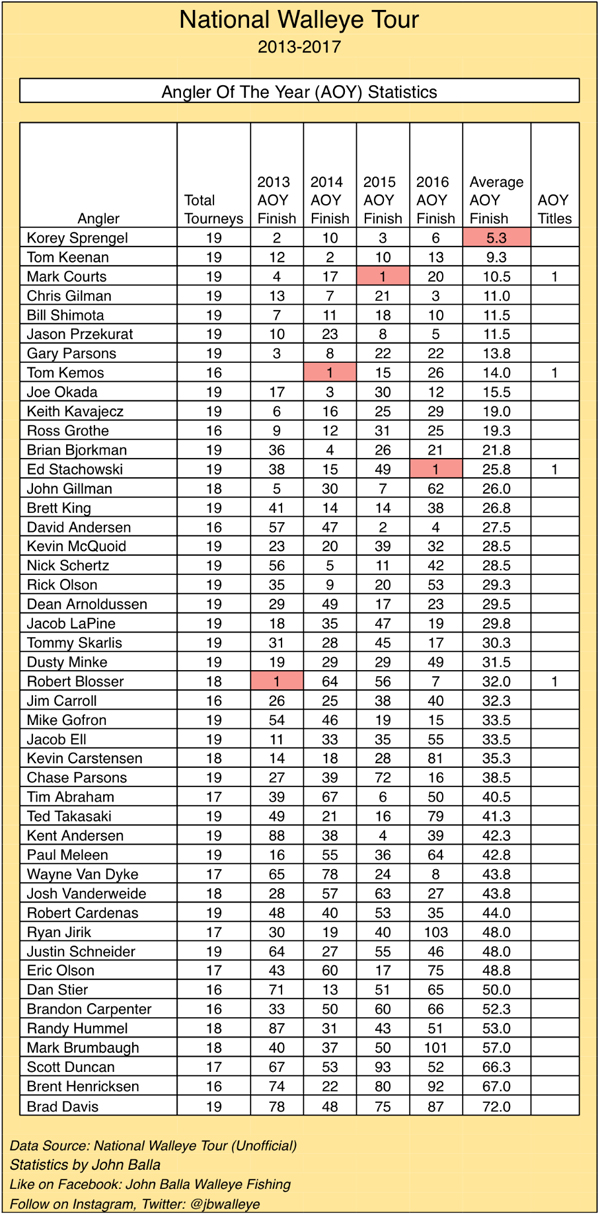 7. Angler Of The Year Race 2017
A breakdown of the current points race for AOY. The numbers in red are the points lead over the angler below on the list. Robert Blosser can lock up the title with a 12th place or higher finish. For others to win, the chart below is an example showing how Eric Olson needs to finish ahead of those above him by at least the red numbers, and simply ahead of those below (with some room for error based on points lead over those below him):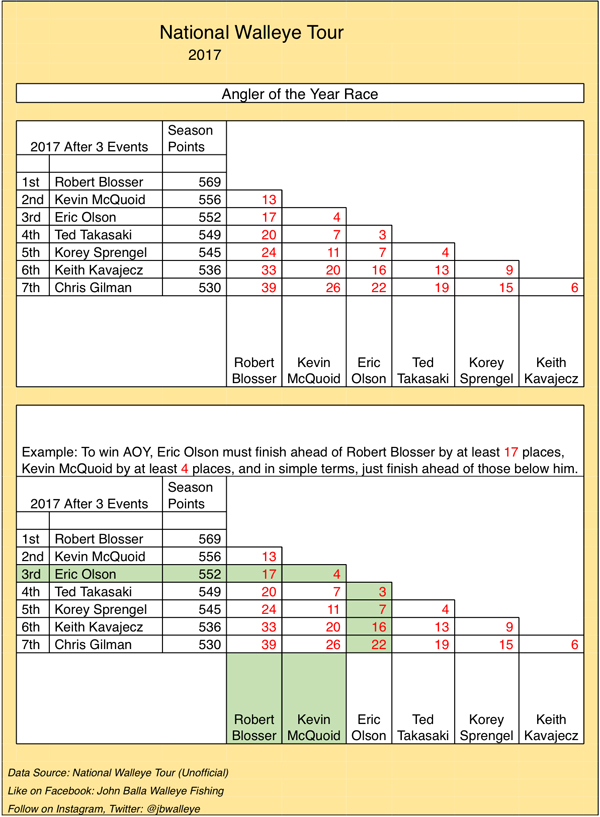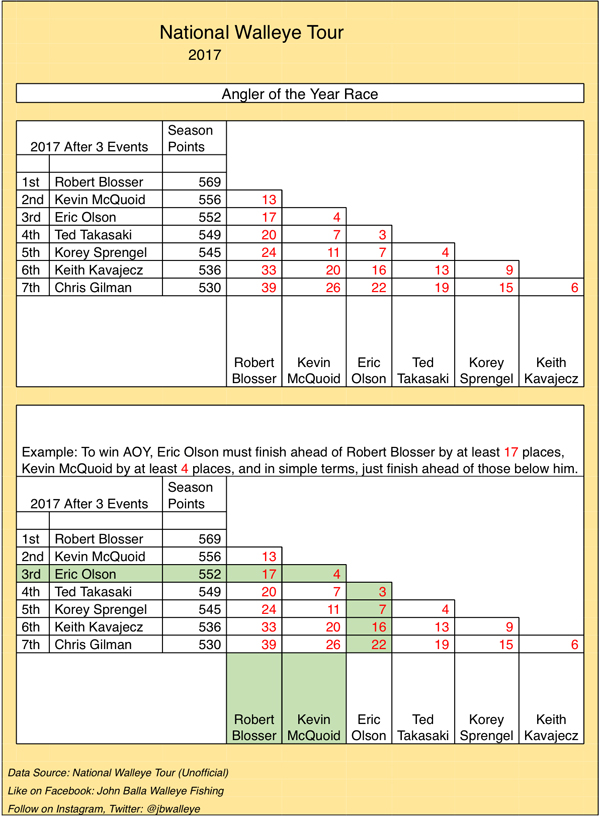 8. Projected AOY Standings Based on Average Green Bay Finish
The NWT has held four events on the bay of Green Bay waters since 2013. Assuming the anglers finish at their Green Bay average, by applying the points of that finish to their current AOY standings, this is the projected finish for AOY. These are only based on averages, Robert Blosser is currently leading and controls his AOY destiny. Korey Sprengel and John Gillman share the best average finish on Green Bay, 8th place, and project to move up in the standings. Red highlighted boxes are the leaders in each category:


9. Winning Weight Statistics
After 19 NWT events since 2013 here is the breakdown of largest 1-day/2-day weights, and the largest/smallest margins of victory:
10. Winning Techniques
A breakdown of the techniques used to win the 19 tournaments based on interviews and press releases. More than 19 are listed because of multiple techniques used to win:
♦ Update 9/29/2017 ♦
NWT Earnings Top Ten
The unofficial totals for the Top Ten in NWT earnings after 20 events. The optional Anglers Advantage side pot money was not included: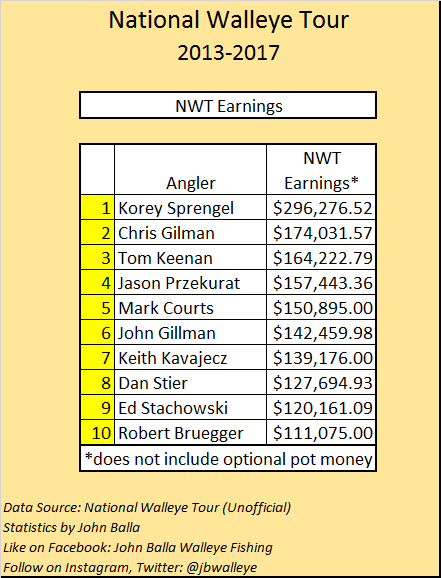 Bay of Green Bay Weights
The NWT has now held four events on the waters of Green Bay and the sheet shows the average weights before the 2017 Championship. New records were set for all places listed. Number of anglers, time of year, launch location, and unlimited tournament boundaries may have contributed to increased weights. (2014 event on Bays de Noc not included in data because of slot limits):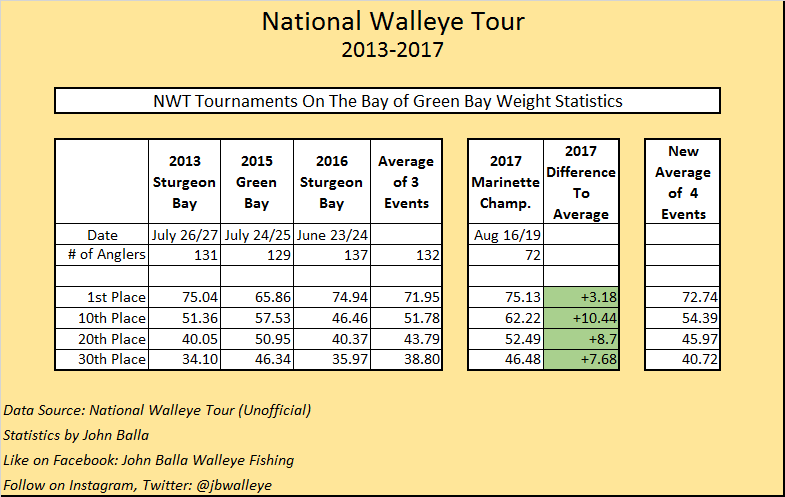 Contact John
John Balla is a professional walleye angler, educator and promoter. Follow him on Twitter, Instagram and Facebook here.