If you're receiving this Target Walleye/Ice email — covering the best of walleye fishing during open water and the best of ice fishing during hard water — for the first time, a friend probably signed you up! Target Walleye/Ice is brought to you by Al and Ron Lindner, Jim Kalkofen and other walleye and ice fishing nuts like you.

Today's Top 4

Might be getting here a little late, but the ice cometh: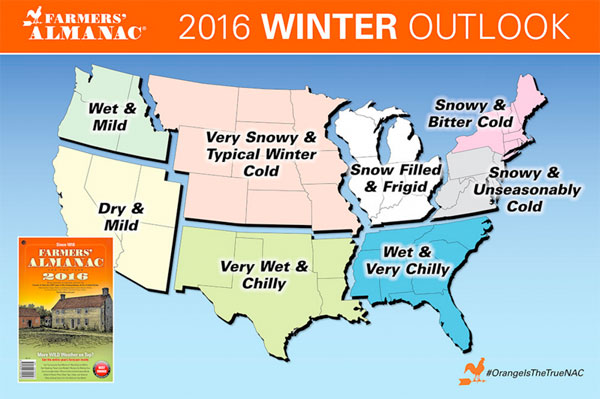 Here it is, in Alaska — Clam pro Shawn Johnson 'bow hunting near Fairbanks: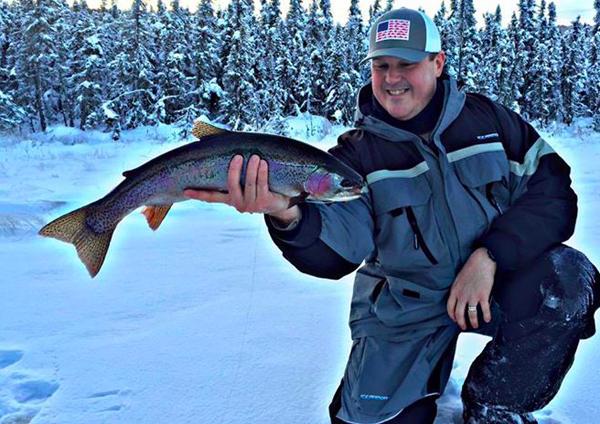 How to bake a big walleye.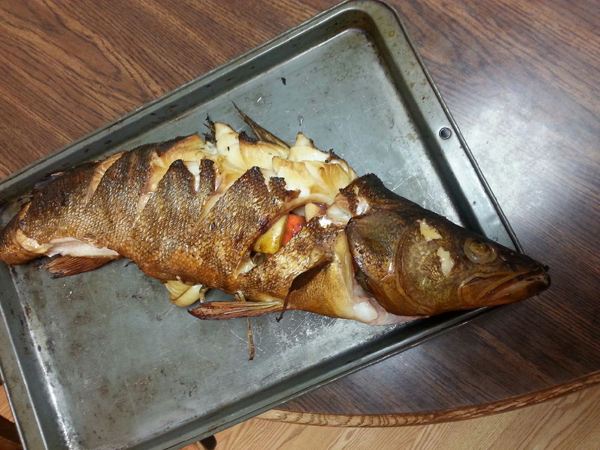 From Devils Lake guide Johnnie Candle:
> I had a rather large walleye that was not able to be released last week so I decided to try a new recipe. Tasted pretty darn good and looked even better. Baked whole in my Big Green Egg. First three hours at 200 degrees then one hour at 350 degrees. Basted every 30 minutes with a mixture of teriyaki and honey. Stuffed with potatoes, carrots, garlic, onion and celery. I think the pics say it all.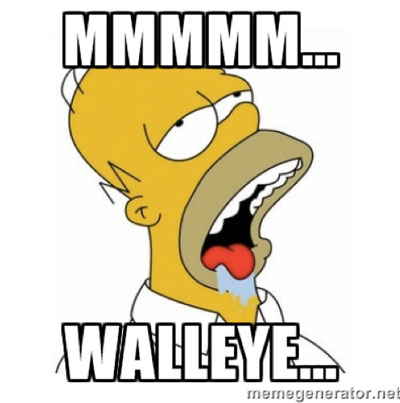 For fish that can make it, don't forget to throw some back, like Bigwater Guide Service is doing on Erie (video).
---

---
News
1. MN: Hardwater Expo schedule announced.
Nov. 20-22 at the National Sports in Blaine.
2. MN: Looser walleye regs on Upper Red.
3. ID: Illegal walleye caught in Ririe.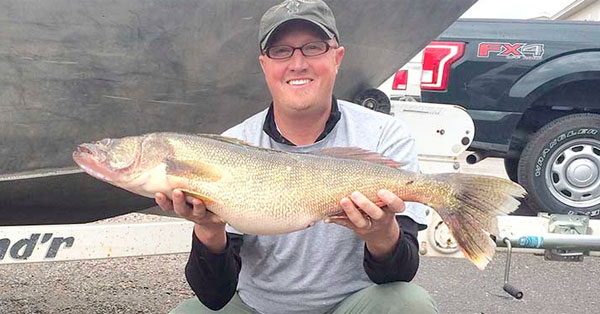 4. MN: Wade for late-fall 'eyes.
5. SD: Oahe walleyes getting bigger.
6. MN: Muskies may be coming to Fairmont Lakes.
And DNR seeking new muskie lakes.
7. Humminbird news.
Interface easier than ever (video).
HELIX 7 shows "Christ of the Abyss," Ligurian Sea, Italy: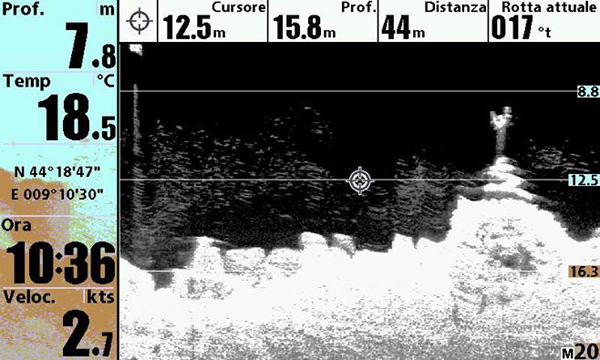 8. MN Hall of Fame 2016 inductees.
> Inductees in the "Legends" category include longtime guide and educator Royal Karels, nationally renowned photographer Bill Lindner, and veteran tournament pro and educator Bruce "Doc" Samson. The Minnesota Fishing Museum and Frankie's Marine will join the ranks of "Legendary Organizations."
Congrats all!
_____


_____
Ice Fishing
Reeds exclusive, free shipping!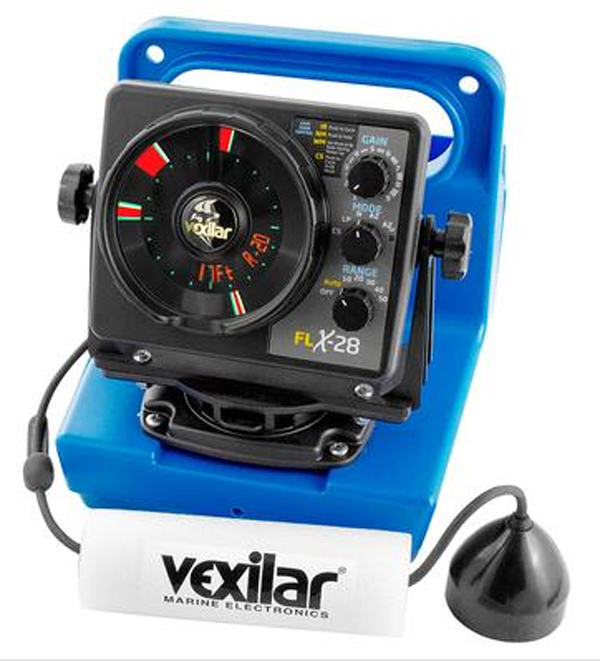 Here's how to trick out your Genz Box (video).
Reed's is also having a sale on hard-house gear — Catch Covers and more.
2. New VMC Miracle Metal baits.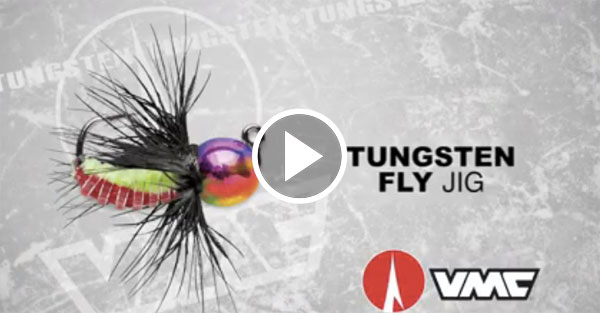 We're lovin' that Tungsten Fly Jig.
3. Win an Aqua-Vu underwater camera…
…just identify the fish species in this ONIX screenshot for your chance to win: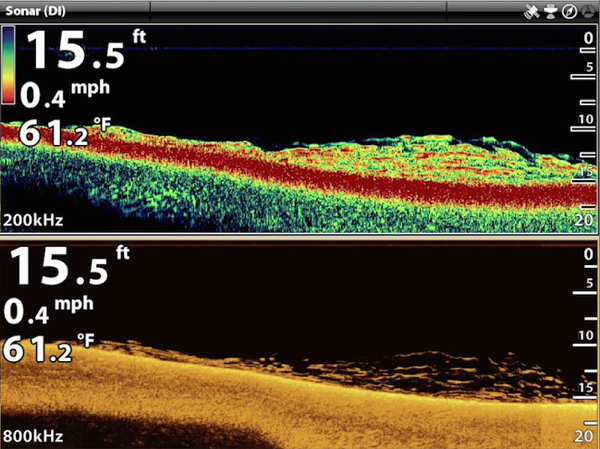 5. Ice 'eyes right now via app game thingy.
Beat this Target Walleye office record: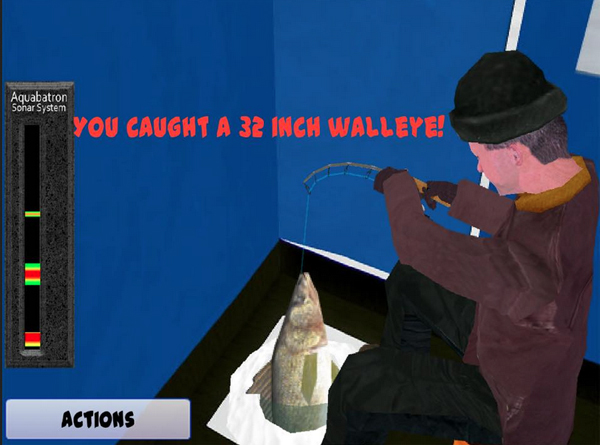 ---

---

---
Sign up a friend!
If you're forwarding Target Walleye/Ice to a friend or friends or would like your buddies to get these emails, just
send us
their email addresses and we'll take care of it! We of course will not sell the addresses, use them for spam, etc.
---

---
---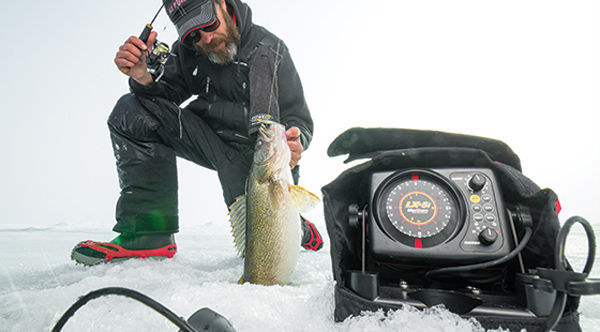 NAIFC champ and Ice Force pro Tony Boshold:
> Most flasher failure is caused by an old battery or damaged transducer or cable.
"Only unwind as much cable as you need to position your transducer just below the bottom of the ice sheet. Otherwise as you're hole hopping, your transducer will be banging around too much, and that can cause damage."
> …never use your transducer to chip or knock ice out of a hole. Seems like a no-brainer, but you'd be surprised.
> If you're fishing with braided line, it's especially important to shorten your transducer cable. "Because braid is abrasive, it can saw into your transducer cord. After a few times of that happening, wires can be exposed and then you've got problems."
> "A dead battery – or one that poops out an hour or two into your day, because it doesn't hold a charge like once it used to could – can make all your other preparation moot."
> If your flasher is exhibiting any of these symptoms, a weak battery is the likely culprit:
Unit will not turn on
Unit turns on, motor spins, but there are no lights
Unit turns on, but only works for a short time
Unit will not mark bottom or fish, with transducer clicking
To test your battery, you can power a MarCum flasher off any 12 volt battery, including one from your boat or truck.
---

---
Quote of the Day

I knew he had to cheat, so I watched him all next year to catch him, and all I got was a fishing lesson.
– Walleye pro Mike McClelland talking about how Bob Propst is the greatest walleye fisherman that ever lived.
This 1990 article recently resurfaced across social media. TW's Jim Kalkofen was also quoted:
> He'll be using 9-foot rods when everyone else is using 6s, or he'll have 17-lb test when the others are using 4 or 6, or he'll be in 1 foot of water when everyone else is fishing in 35. Or he'll be the only one in the middle of a lake catching fish in 110 feet.
---
---
Shot of the Day
Brian M. Shadow Rappin' metro Mississippi 'eyes: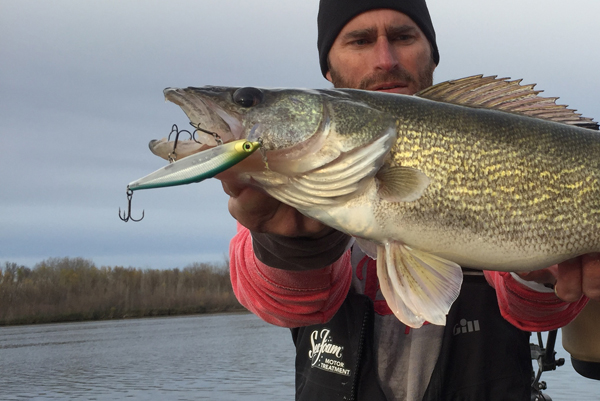 ---
You ready for ice?
Have you checked this stuff out yet?

---
About Target Walleye
Target Walleye
brings you the BEST walleye and ice fishing news, pics, tips and events year-round, and is brought to you by Al & Ron Lindner, Jim Kalkofen and other walleye nuts like you!
---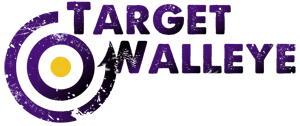 TargetWalleye.com | Rapala.com | IceForce.com