Today's Top 5

Fishful Thinker guide Ronny Castiglioni caught this 32-INCH Carter Lake walleye 2 days ago using a suspending jerkbait. That is a moose!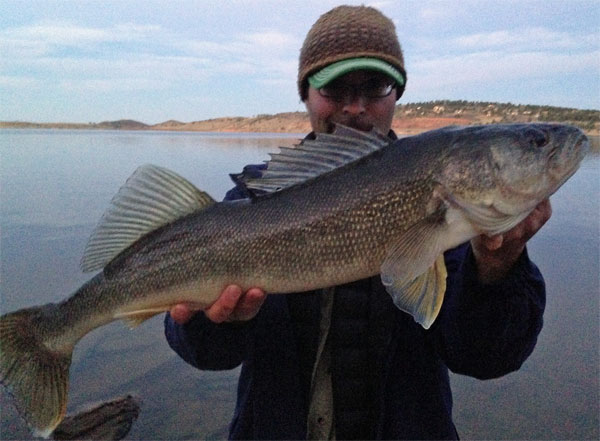 Another giant 'by-catch' walleye.
By-catch = unintentional. Caught by a fly fisherman using a "fry pattern:"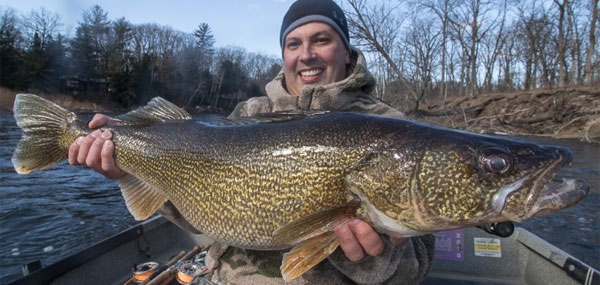 Flies?? Are we using lures that are too big??

Would you brag about this?
Cool catch, possible NH record white sucker, but…would you brag about having an ice sucker record? Maybe not on a first date….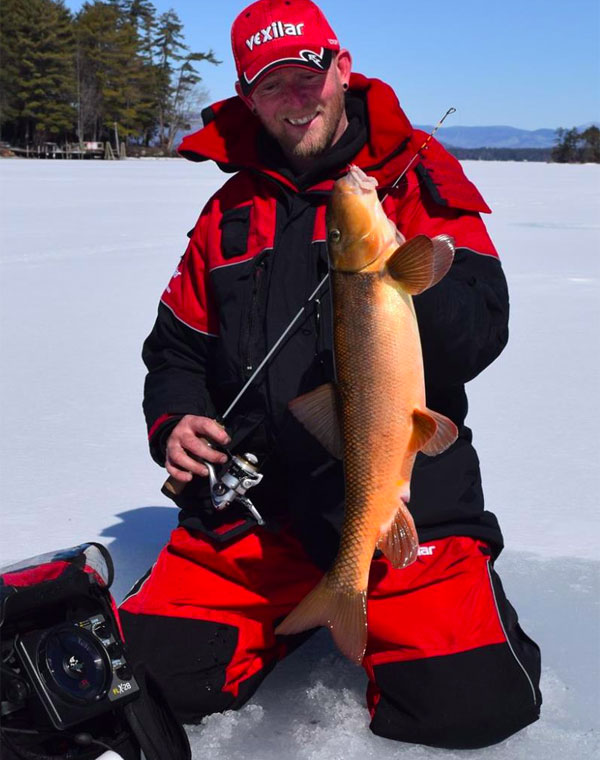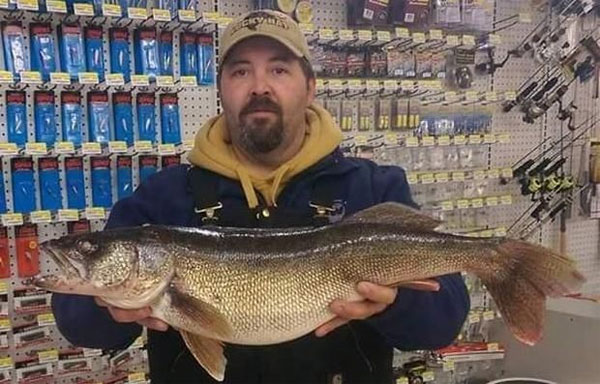 > Ernie Waterman said the 28″ walleye he caught March 14 through the ice on Oneida Lake [NY] was his biggest in the 40 years that he's been fishing there.
> A walleye that big out of that lake is rare. Waterman knows that and is having the 9-lb fish mounted. He's going one step further to honor his catch be incorporating it into coffee he plans to make.
> The will have a surface that will imitate snow and ice, and he'll include an 8-inch hole…the idea, he said, "is to make it look like the walleye is under the ice. You'll be able to see it from the sides and through the hole."
> Waterman said he caught the fish in 32 feet off Godfrey Point using a glo-in-the-dark, Nils Master jig.
If you think that coffee idea is weird, how 'bout these: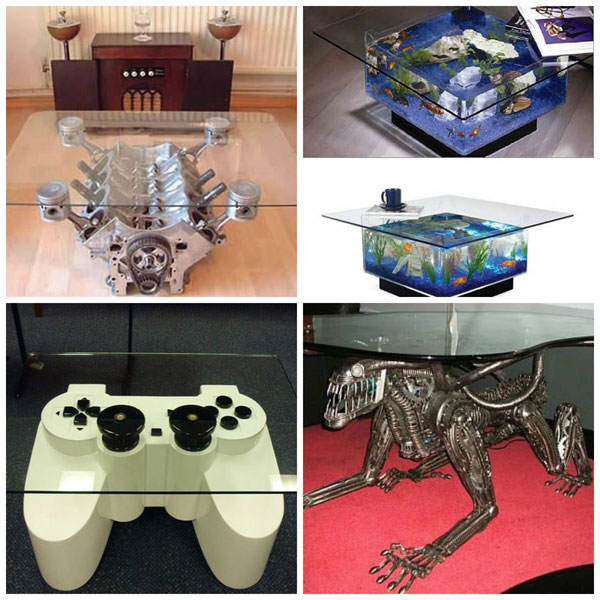 ---

---


News
1. Team USA 11th in world ice fishing derby.
Third from last but beat Sweden and Norway. Ukraine won it followed by Finland, where it was held, and then Russia. But Nick Schertz of the USA finished 10th in the individual competition.
Here's where they fished — Findland, but looks like MN or Canada!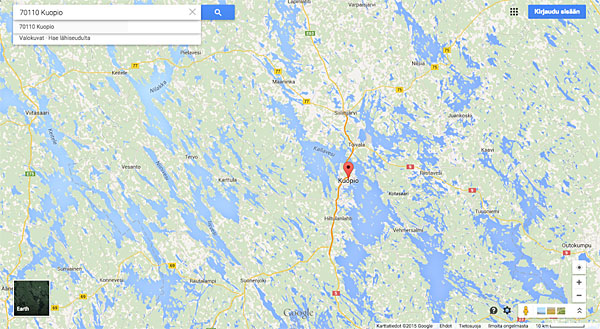 2. Keith Kavajecz talks to 4th graders.
About fishing. Cool. All kids need to learn how to speak walleye.
3. IN: Best tailwater walleye fishing locations.
4. OH: Ballville Dam on Sandusky coming down.
Will open up 22 miles of river for Erie walleye to spawn in.
5. KS: Walleye tagging study at Milford.
6. New Humminbird/Lakemaster maps.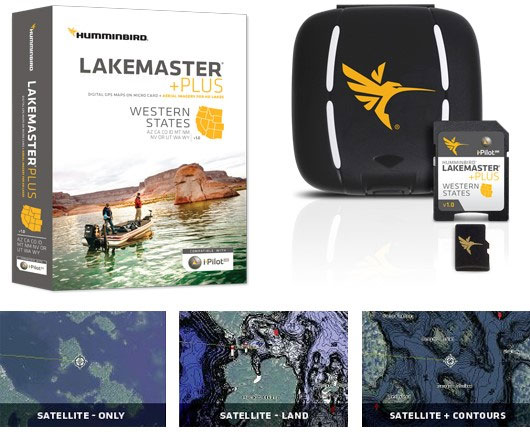 7. Northland Fishing Tackle iso:
Note that there are a few things you need to get used to working here in northern MN: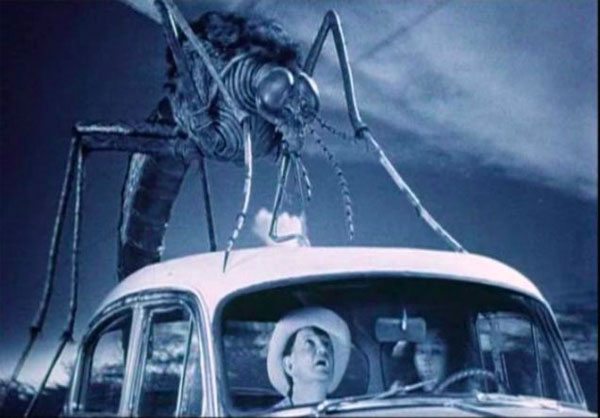 8. MN: Some want fewer muskies stocked.
9. VT: 6 fall thru Champlain ice.
All rescued.
10. MN man drowns on Perch Lake.
RIP fishing brother.

Events
---

---
---
Tip of the Day
A few solid basics from Kyle Weisenburger:
> Location: "When walleye move into the river to stage for the spawn, they are going to look for gravel/rocky areas…will hold in deeper holes below the riffles until they are ready to spawn."
> Water Levels: "If you walk into the river early in the day and the water was just below the top of your waders, rising water may put you in a difficult position to return…safety needs to be the #1 priority…."
> Presentation: "When you are fishing in this current, it is important to cast upstream at approximately a 45 degree angle and let the current sweep your rig downstream…. You want to use a weight that can consistently bounce off the bottom, but not too heavy that your lure just drags on the bottom."
---

---
We keep track on a clicker right here. And…when we quit this morning, I think we ended up [with] 144.
– Guy from Iowa who drove with a buddy 6.5 hours to get to the Fox River, WI to fish the walleye run. They fished 3.5 days, so that averages out to 41 walleyes a day. Worth the trip!
---
Wild shot of a massive ice bowfin: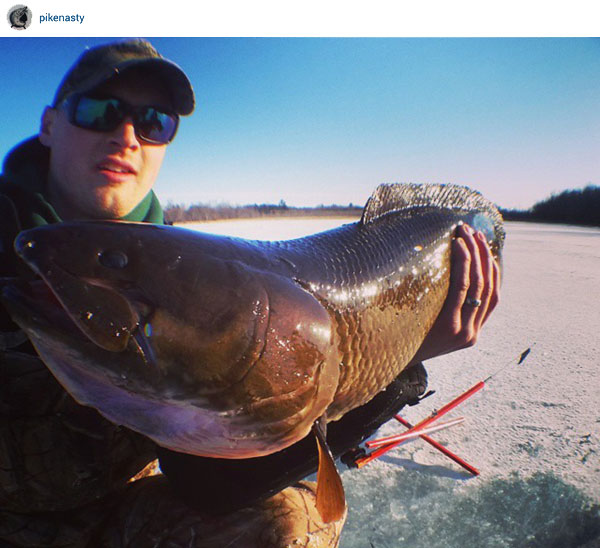 ---
Gotta check this stuff out!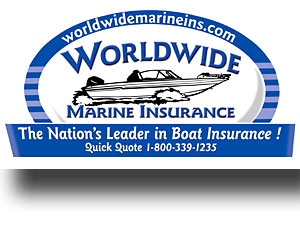 ---
About Target Walleye
Target Walleye
is brought to you by Al & Ron Lindner, Jim Kalkofen and other walleye nuts like you!
---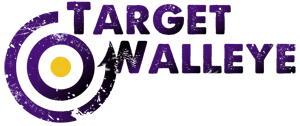 TargetWalleye.com | Rapala.com | IceForce.com