The Clam Crank Weight — too cool: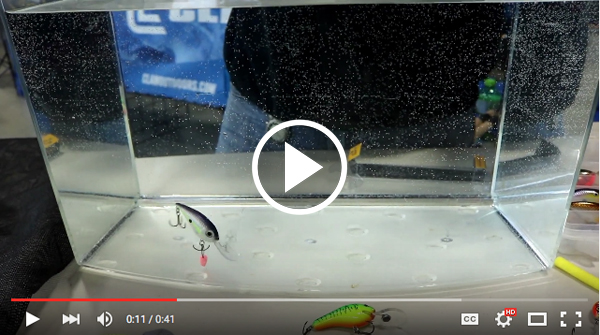 Fish parasite damage photo.
> I've got a confession to make. …like 95% of the folks that chase walleyes, live bait was a way of life for me. Lately, I almost never use live bait.
> Thankfully, I finally woke up and discovered my mentality for chasing walleyes exclusively with live bait had me missing out on a red hot artificial lure bite up in the shallow weeds. That pattern has always been there I assume, but I was too blinded by my traditional live bait ways to see it.
> Fact is, most walleye anglers start at the edge of the weed bed and work their way out to open water with live bait. Promise me you'll do just the opposite on your next trip. Promise me you'll put some soft plastic minnow mimicking lures in your arsenal and fish right in the weeds instead of out from the weeds.
> Now in a perfect situation, I'm talking about scattered weeds in less than 12 feet of water, and typically I'm fishing in just 4 to 8 feet of water. I'm using spinning tackle with 10-lb braided line and a 30″ fluorocarbon leader. …I'm snap-jigging the lure with fast erratic movements of the rod.
> Make sure you're using a 1/4-oz jighead, and it's imperative that it has a wire keeper barb on it in order to keep your soft plastic minnow from tearing loose every time you snap or rip it through the weeds.
Might not be the ticket now where you fish, but try it when the conditions are right!
---

---
News
1. MN: Mille Lacs fisheries group sets ground rules.
2. MN: LOTW loses 3 young guides.
Sounds like rough water at night. RIP fishing brothers.
3. MB: Winnipeg walleye migration is on!
> As soon as the water temperature cools to 54-50 degrees F, the walleye hear their dinner bell. It's time to move and feed.
> …they move upriver on the hunt for minnows like Lake Winnipeg shiners. They travel many miles, and remain in their fall feeding areas for the winter. Then with the start of a new growing season, the walleye follow their food back into the big lake.
> The fall walleye migration brings trophy-size fish into easily accessible waters for anglers — and it helps make many walleye anglers' big-fish dreams come true.
But…lots of skinny fish being caught?
4. WI: Bringing more walleyes to 'Sconnie.
Funding of $500,000 to continue the stocking effort for 2015 and 2016. Stocking "extended growth fingerlings" — larger fish that have an increased chance of survival. Agency plans to stock 760,000 of 6-8″walleye fingerlings in 128 different lakes.
5. MI: New 'eye/perch regs for Saginaw Bay.
6. Video: walleye stocking in Chequamegon Bay.
8. Interest in fishing is growing?
> 46 million Americans, or 15.8 percent of the U.S. population ages 6 and older, participated in fishing last year.
> More than 2.4 million people had their first fishing experience in 2014, and 47% of those first-timers were female.
> 85% of adult anglers fished as a child, before the age of 12.
New Gear
1. How Humminbird's AutoChart Live really works on the water.
2. Gussy on Northland Buck-Shot Flutter Spoon.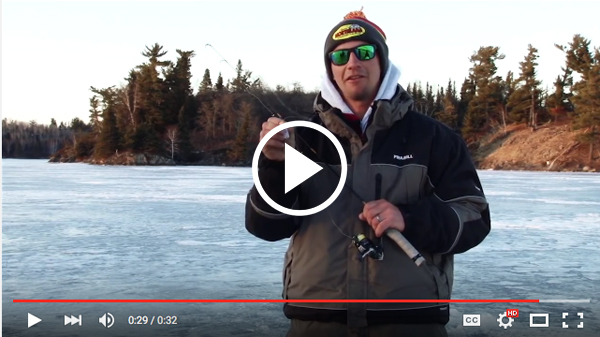 _____
Click here to enter and win! And please forward the link!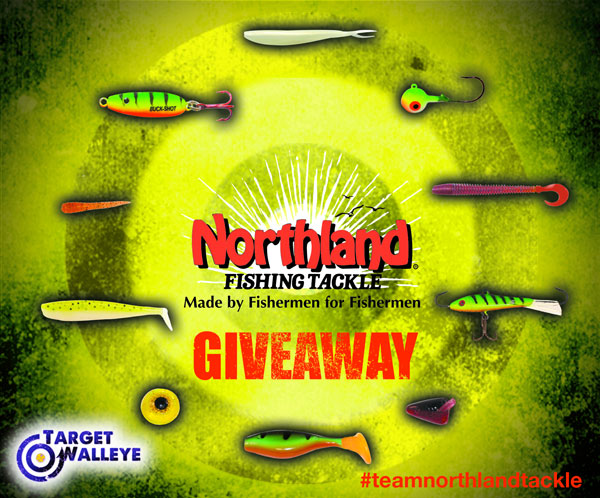 Fishing Reports
> Good numbers of walleyes and saugers being caught around the lake. Jig and an emerald shiner are the go-to. Gold, bubble gum or orange hot colors. Stinger hook helpful for light biters.
> Big numbers of fish in front of the Lighthouse Gap, Morris Point Gap, Zippel Bay in 25-30′. 12 Mile Reef and Archie's Reef also producing. Some still headed to Knight, Bridges and Garden Islands in 25-31′. Trollers using crankbaits still producing with unseasonably warm temps.
> Rainy River: Good amount of bait but with warm weather, walleye fishing has been so-so. Some fish being caught in 4 Mile Bay and the Lighthouse Gap. Mornings and evenings best. Colder weather should bring fish into river. Try 16-18 ft. jigging or drifting during windier days. Pink, Orange, and gold hot colors tipped with minnow. Areas of Wheeler's Point, Wabanica Bay, and Baudette Airport best.
> NW Angle: Hot walleye action in 15-26′ jigging near Little Oak, Oak and NW Point east of Garden Island. On the ON side, areas with current adjacent to deep holes best, Johnson's Passage still producing. Water temps in mid-50s.
Also:
28.5″ walleye caught on video: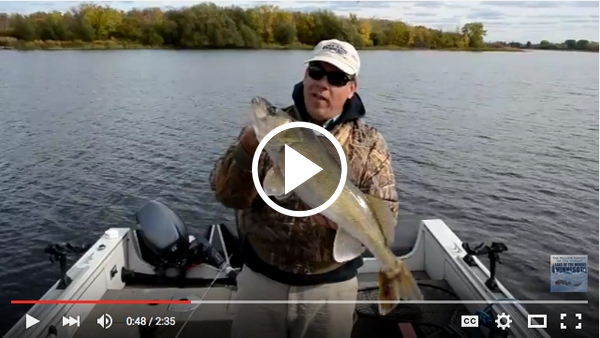 > …fish are congregating on the Main Lake Points and shoreline breaks. 4-8 ft. has been the best when fishing wind blown structure. Ottertail, Little and Big Hardwoods, Five Mile, Pine Point, Little Stoney, and any windblown shoreline that has had the wind blowing into it for a couple days have been good.
> Also the fishing around Pelican Island fishing isolated rock piles by pitching a jig and minnow or slip bobber and minnow has been a great.
> When fishing with a jig and minnow be sure to really dial in the cadence that is working for that day. Whether you are snap-jigging it going for the reaction bite, dragging them, pitching jigs and working them back, or just changing up the cadence from fast to slow, any of these will work on any given day depending on the factors such as wind, sun, water clarity, and frontal pressure.
> In bays such as Kabekona, Walker Bay, and Agency Bay, walleyes have been setting up on traditional fall walleye structure. Look to steep breaks off of points or humps in 30-40 ft. Lindy rigs with chubs or a jig and minnow have been decent producers.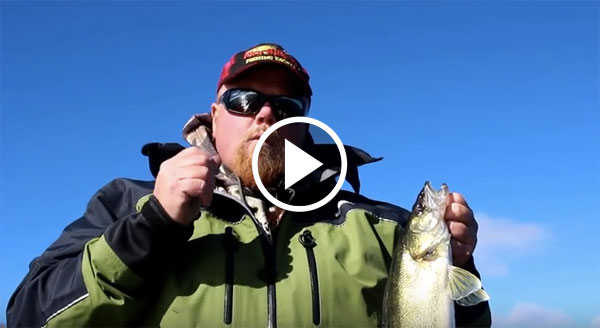 ---
---
Gord Ellis:
> Finding fall walleye is the hardest part of the game. As temperatures drop, walleye tend to head for dropoffs, some of which can be surprisingly steep. …when water temperatures approach the low 50s or high 40s, searching deep is almost always better than going shallow.
> Thankfully, when walleye are in water deeper than 20′ they're usually visible on sonar. I normally zoom in to the bottom 10 feet on my unit and look for lumps or arches attached to bottom. These are often walleye. When I find them, I plot the spot into a GPS unit or drop in a marker buoy, make note of the depth the marks were at, and take a good look at the structure.
> As much as I like using artificial lures…the late season is when live-bait fishing really shines. On a typical day trip, I'll bring a few dozen medium to medium-large minnows for jigging and several dozen large and even extra-large minnows for live-bait rigging. The bait should be vigorous and healthy. I've had good luck with chubs, but never turn down lively sucker minnows either.
> When jigging for fall walleye, keep it simple. I rarely use stinger hooks, spinners, or rattles then. The key is a plain jig with enough weight to get easily to bottom (bottom contact is very important), as well as a hook with enough bite to handle large bait. Tiny jig hooks and big bait don't catch fish.
---

---

Quote of the Day
When you made the championship, you could almost guarantee you'd make money. I don't mean the guaranteed check just for qualifying, but the sponsors who would approach you and ask you to be a part of their team. It really happened that way."
– Johnnie Candle talking about how it used to be. All the up-and-coming walleye pros are like:
Shot of the Day
Great shot of a happy gal!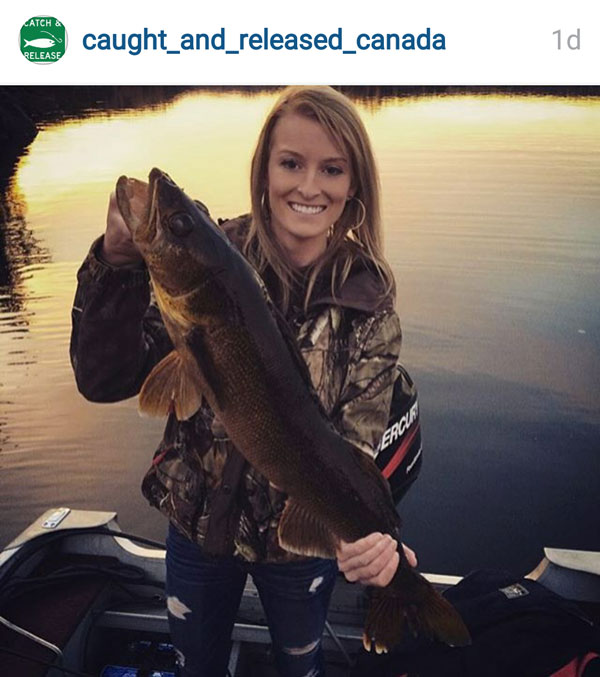 ---
Have you checked this stuff out yet?

---
About Target Walleye
Target Walleye
brings you the BEST walleye and ice fishing news, pics, tips and events year-round, and is brought to you by Al & Ron Lindner, Jim Kalkofen and other walleye nuts like you!
---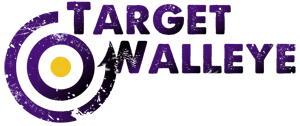 TargetWalleye.com | Rapala.com | IceForce.com