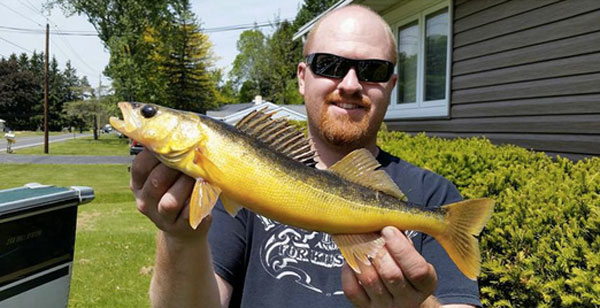 Right after that pic was taken, these guys ran up and grabbed it, then took off:
Oneida Lake, NY, btw.
On Rainy Lake, MN:
Scientists are unsure why this happens, but we used the interwebz to find the answer:
Pike too, underwater spinner hits: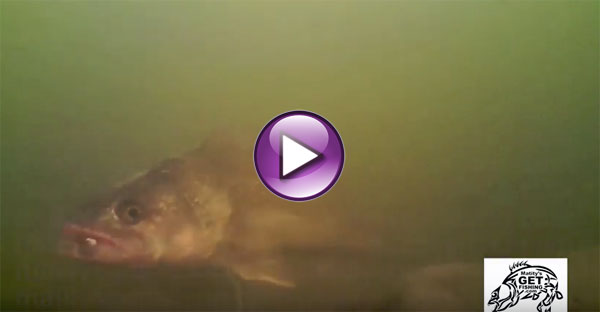 From 10 years of license data:
> 4% of angler buy licenses every year.
> 49% of anglers who bought licenses over the last 10 years have only bought one.
> Typical anglers buy 3 of 10 years.
Yoda says: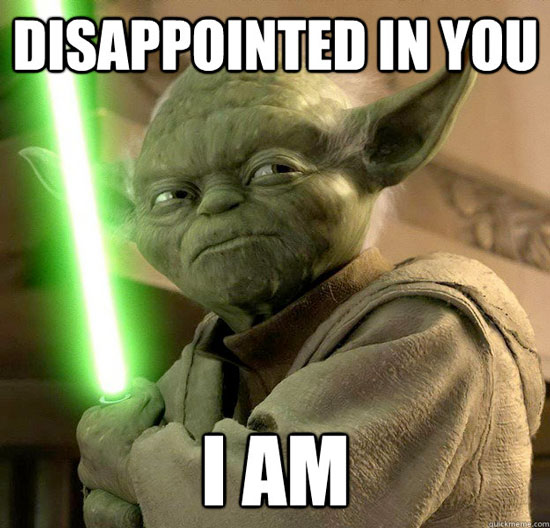 So…everyone we know is "atypical?"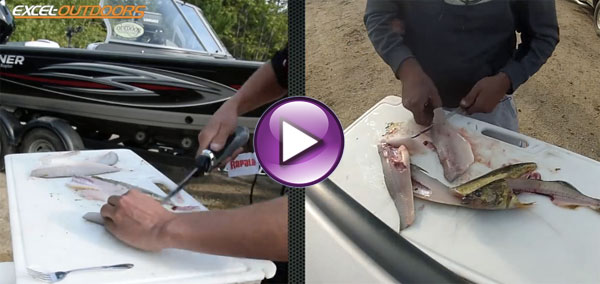 The winner: Electric did two fish in 36 seconds, but the blade wasn't far behind!
Get your Rapala fillet knives here.

News
1. OR: Walleye limits now officially gone…
…on Columbia River. Smallmouth limits also gone on that and two other rivers. Hope there's no limits on sea lions…and never mind the fact that the Columbia is a world class walleye fishery.
2. AB: Golden Classic winners.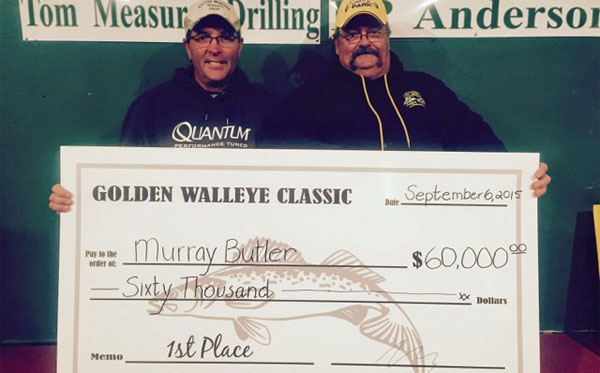 The 1st place team at the 2015 Golden Walleye Classic was Murray Butler and Bob Hill with 28.85 lbs. They fished bottom bouncers and spinners in 10-16′ between Driftpile and Big Grassy on Lesser Slave Lake to pull their winning weight and a huge $60,000 check.
2nd place was Marlin Hovrisko and Jeff Koch. They also fished the same area as the winners and used bottom bouncers and spinners in 10-18′.
3rd was Wayne Erasmus fishing with his daughter Jamie Erasmus-Perley with 26.86 lbs.
3. Interview with Northland's Petersons.
John and Duane, great guys, awesome interview.
4. MN: Lake of the Woods fishing report.
> Fishing remains excellent. Drifting with spinners the favored method. Others jigging and pulling plugs as well. Try Lighthouse Gap, Pine Island, in front of Zippel Bay, Long Point and 12 mile in 26-30′ drifting and jigging. Use gold or pink tipped with crawlers or frozen minnows. Trollers are hitting areas of Garden and Knight Islands or the middle of Big Traverse Bay in 28-32′ using orange or purple UV plugs. Trolling pulling in lots of trophy walleye.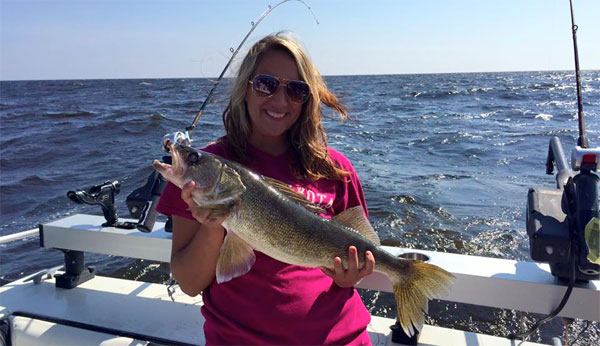 > Rainy River: Most anglers targeting walleyes evenings. Try 18-20′ using gold or chartreuse colors with minnows. Sturgeon active from Birchdale to Clementson areas. Anchor and still fish the bottom using a 3-oz no-roll sinker, 5/0 circle hook and gob of crawlers or frozen shiners. Walleye fishing picking up.
> NW Angle: Walleyes active and on the move. Jigging favored near reefs, points, and rocks. Try 16-24′ over rocky areas and 26-30′ off reefs and island points. Little Oak and Four Blocks producing in MN waters or Falcon Island when in Ontario water. Fish shallow for muskie using top water baits, spinner baits, or bucktails. Crappie bite best around structure jigging with a minnow 24-28 feet and will get stronger as water gets cooler.
> Lake Erie fishing has been improving all week in the local areas around the islands as some of the algal bloom we have been talking about has moved east and opened up a cleaner water area around Kelleys Island allowing some good fishing to be had for both walleye and yellow perch. Walleye were biting around South Bass and Kelleys Island in the shallow waters around reefs and dropoffs in 11-24′. Crawler harnesses or weight-forward spinners like Tiny Teasers or Crooked Eye were working. Green and yellow lures were best tipped with night crawlers.
> Decent numbers of walleye are also coming in from other areas like the sandbar area north of Vermilion from 7 miles offshore all the way up to the weather buoy which is located 17 miles north of Vermilion right on the Canadian border. Trolling was working well in this area with Stinger scorpion spoons and some crawler harnesses. Casting fishermen were also scoring near the weather buoy over the past weekend.
6. OH: Algae tough on Erie walleye bite.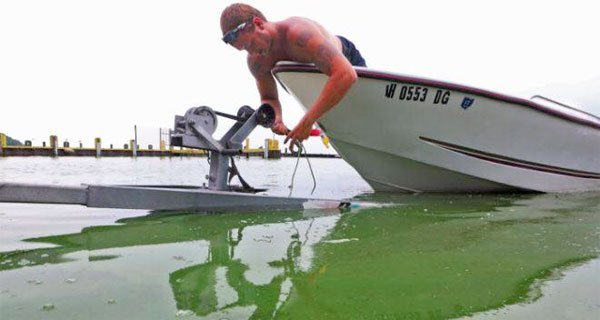 7. MB: Angler over the limit fined $927.
Too much? Not enough?
8. MN: Why walleye is the Holy Grail of fish.
9. MI: New regs coming for Ontonagon River.
10. WI: Zero-walleye limit didn't hurt Minocqua baitshop.
11. WI: Gobies on their way to Winnebago?
14. Morgal new LiveTarget VP of sales.
_____
Click here to enter and win! And please forward the link!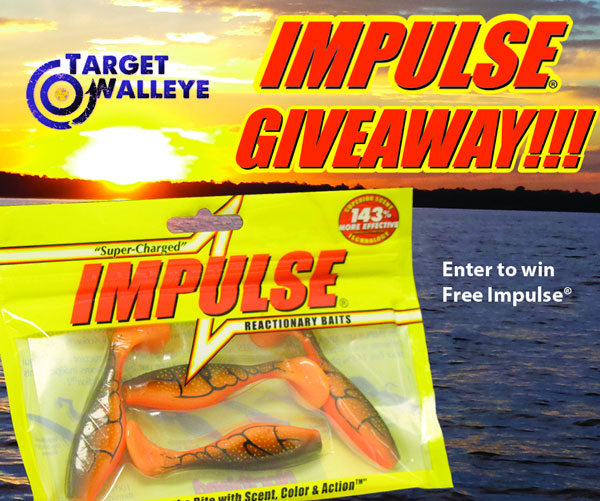 Events
Sept 11-12.
Sept 24-27 with Johnnie Candle and Doctor Sonar at Vermilion Dam Lodge.

'Eye Candy
Might be the fish of the week: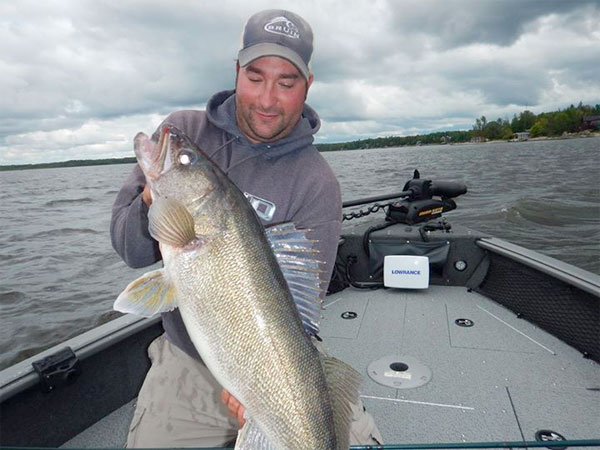 Details from Matt at Bruin Outfitting and Guide Service:
> The fish [only one big one pictured above, he rest are here] were caught on the Manitoba stretch of the Winnipeg River in the North Whiteshell, not at PIne Falls.
> They were all caught trolling on various crankbaits with bottom bouncers and 3-way rigs.
> All of the fish were released.
> We did not weigh any of the fish. The biggest one I estimated to be around 11lbs at the time I caught it but a length-weight chart put it at between 12-13 lbs based on the length and girth. Thats honestly all I can tell you with respect to the weights.
Mike Gnatkowski:
> Weeds begin to die as winter approaches, depleting the oxygen in the water and fish are forced to deeper water.
> Baitfish flushed from the weeds relocate to the first available structure…dropoffs, stumps, wind-swept points, gravel bars or reefs.
> You can drift with live-bait rigs, pitch or vertical jig, or back-troll…. Look for spines and fingers that act as roadways leading to rockpiles, humps, gravel bars or boulders in 10 to 15 feet in the main lake. Watch for the reverse later in the fall when the shallows cool and become re-oxygenated.
> A great way to target fall walleyes then is to stealth troll after dark. Work up and down the contour, trolling slowly and quietly at 1.0 to 1.2 mph. Big Husky Jerk Rapalas, ThunderSticks and Rattlin' Rogues interest the biggest fish. Be sure to keep noise to a minimum and lights off the water because the walleyes are on edge, but you've got a chance of catching a pig.

Gotta check this stuff out!

---
About Target Walleye
Target Walleye
brings you the BEST walleye and ice fishing news, pics, tips and events year-round, and is brought to you by Al & Ron Lindner, Jim Kalkofen and other walleye nuts like you!
---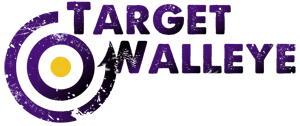 TargetWalleye.com | Rapala.com | IceForce.com