If you're receiving this Target Walleye/Ice email — covering the best of walleye fishing during open water and the best of ice fishing during hard water — for the first time, a friend probably signed you up! Target Walleye/Ice is brought to you by Al and Ron Lindner, Jim Kalkofen and other walleye and ice fishing nuts like you.

Today's Top 5


And away we go….
12.6 lbs of fish-flavored ham caught by Glen B. in Last Mountain Lake, SK. Jigging Rap, 25 FOW.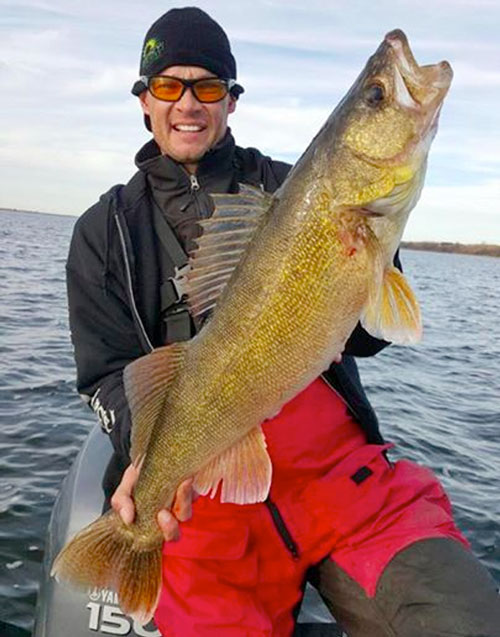 But..then there's this tanker, a huge 13.5 lbs and 33.5″, caught by Logan W. outta Lake Diefenbaker, SK (lake on our walleye bucket list):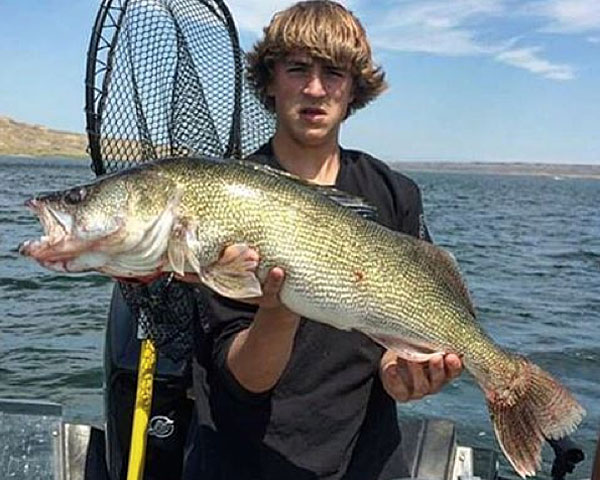 Yet another SK giant, this one in black and white for some reason: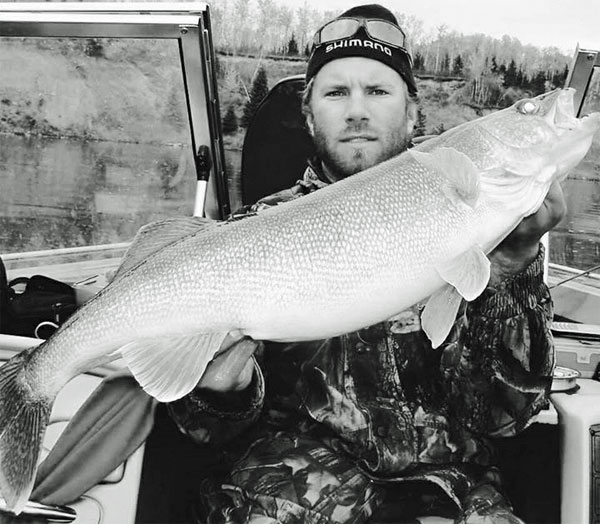 Another big Walter (29″ x 17″) fooled by a muskie bait: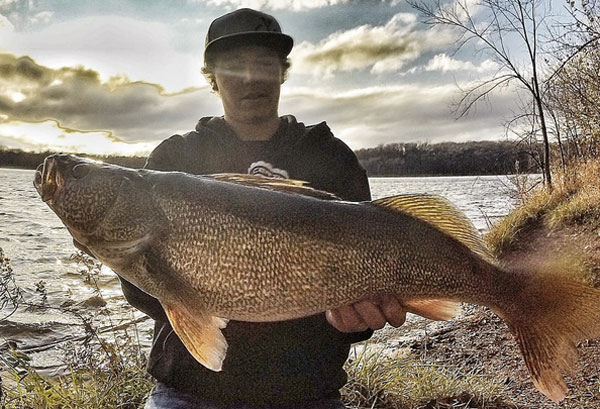 The godfather of ice fishing, Dave Genz, never did need a boat to catch 'em. Here's a 30-incher caught over the weekend from bank (Mississippi River):
Is it us or does this walleye look mad to you too?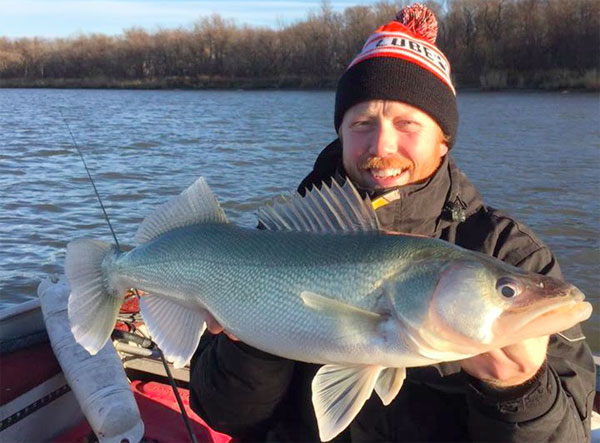 _____
If you catch a gator walleye, please post it to Target Walleye Facebook or on Instagram @targetwalleye or #targetwalleye. PLEASE INCLUDE what lure/bait you caught it on and where (how deep at least). Thx!

> Where I live, we have a wide variety of lakes, rivers and reservoirs that have walleye in them. Some are clear, some are stained, and some are actually dark water conditions.
> By dark to stained water, I'm talking visibility of no more than 2 feet. On lakes like this, I've never had a good catch of walleyes in deep water (15+ feet). Most cases, all season long, the best bites for me are 6-12 feet of water. Rivers are a completely different story.
> The walleye I'm holding here came out of 6 feet of water on a 1/4-oz
Moon Eye Jig
and a 4 inch Big Bite boot tail.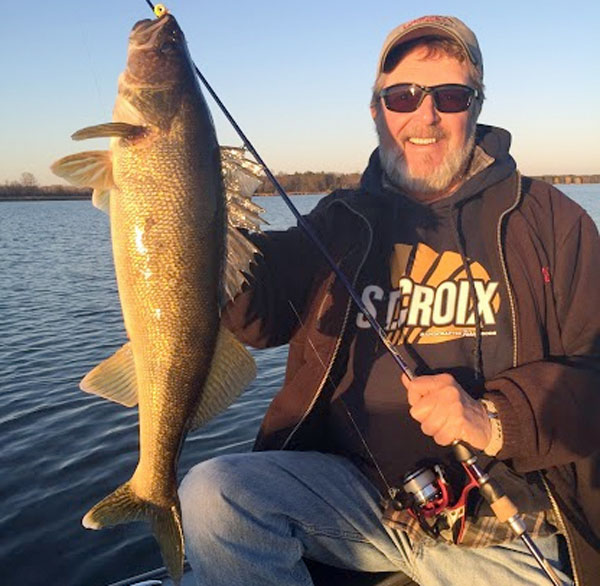 Feed 'em some Wonder Bread?

That's what this color Bomber stickbait is called. Anyone fish a lure painted to look like…Skittles? Post your Wonder Bread, Skittles or other spotted-lure-name pics here on the Target Walleye/Ice Facebook page, or on Instagram @targetwalleye or #targetwalleye.

Here's some…in Anchorage, AK: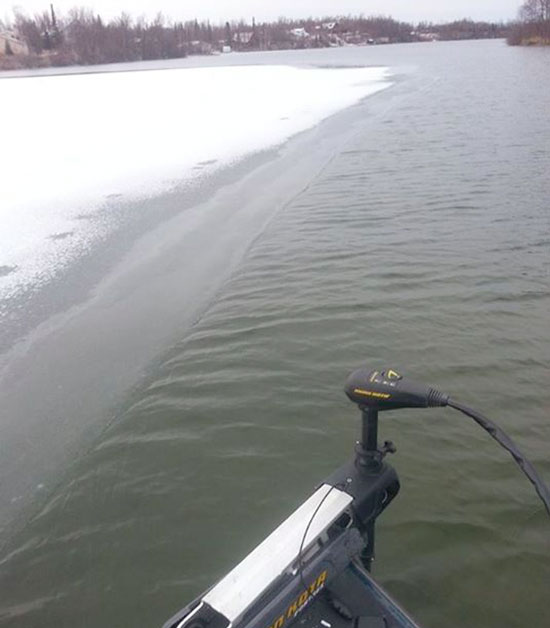 Guess it's a positive sign…though the lack of ice has been causing some psychological problems: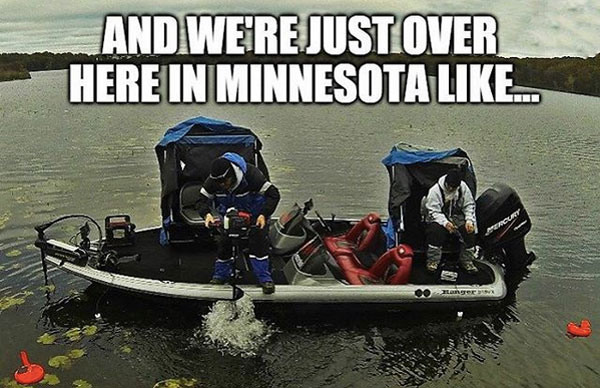 News
1. How Bro uses his Humminbird ONIX.
And here's a video on Humminbird CLEAR vs MAX modes.
3. 2016 Lake Erie Walleye Trail schedule.
4. SD: Good reports from Oahe and Sharpe.
Walleye pop up on Sharpe, slightly down on Oahe…but the average size on Oahe increased 1 inch.
5. OH: 2015 worst algae year yet on Erie.
6. IN: Zebra mussels in Prairie Creek Reservoir.
7. MI: New Detroit River fishing pier approved.
8. ON: JP Bushey's Georgian Bay tips.
> Trolling crankbaits way away from the boat is definitely one of the king methods for walleye right now. But for grinding structure — shoals, island lips, current-washed hard spots — you can't beat running your deep divers straight off the gunnels, flatlining. Baits follow the boat's path, and run right through those cherries you mark on the graph. Set your rod angle so the tips just barely kiss the surface. You'll dial in your crankbait's depth curves for life, being able to see precisely when they start to stutter along the bottom.
> Baits with lots of buoyancy, big lips and that dog straight down are key. I'd rather touch my target depth with 51′ of line out than 91′. It just makes you that much more accurate and efficient for staying on spots and making turns. Braided line that's thin and responsive is the way to go. Run a heavier, fluoro leader for rubbing the odd rock, 15-25 lb test.
> …crankbaits for me year after year: Reef Runners,
Rapala Tail Dancers
, Rebel Spoonbills, #9
Shad Raps
, Mann's Stretch 25s. Watching a trolling board get pinned never gets old, but wait'll you're staring at a flatline when a walleye clunks it! Hand-to-hand combat!
9. What works in the Southwest US.
From a forum post on what works for walleyes on Wheeler Branch Reservoir, TX:
Fluke (soft jerkbait)
Spinnerbait
Popping frog.
And in NM:
> Fish a lot of Walleye in New Mexico, Ute Lake and Conches. As it cools a bottom bouncer with a crawler rig works great. I catch more on white spinners than anything else.
10. NY: 3-eyed catfish caught in Brooklyn.
Guess they're not just in Springfield anymore:

Need to use this code: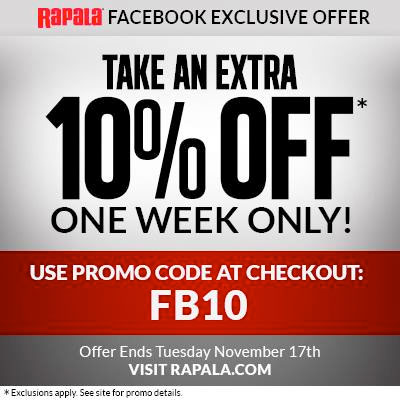 12. New National Walleye Tour clothing.
13. T-H Marine gets Grabbar.
> T-H Marine and Magnetic Marine Products LLC, of Ada, MI announce they have entered into an agreement that grants T-H Marine exclusive global rights to manufacture and distribute the patented Gear Grabbar line of magnetic tackle management systems.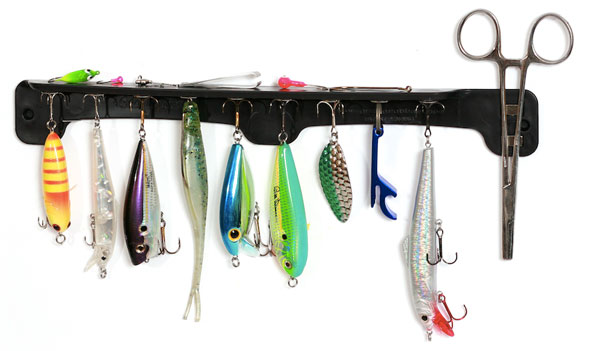 Given the rumors of Bass Pro Shops maybe making a bid for it, looks like maybe good timing for BPS:
> Cabela's punts on Gainesville, VA store.
> Company might get state help.
> To remove a hook that has penetrated the skin beyond the barb, loop a piece of cord or heavy line around the bend, then press down firmly on the shank of the hook. This pressure opens up the wound channel vertically, clearing the barb. While maintaining steady pressure, take a firm grip on the loop of cord, and snatch the hook out in one quick motion.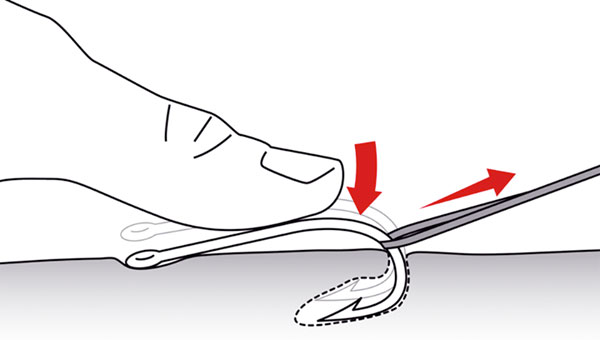 16. A MN Approach to Helping Veterans Heal.
TedX talk, very cool.
_____


_____

1. Which flasher is right for you?
Guide Brad Hawthorne:
> "What keeps me infatuated with MarCum is the superior target separation. It's a huge deal that's not widely understood…."
> "If the fish are tight to the bottom and you don't have superior target separation, you're not going to know they're there. So you could waste a whole day if the fish stay in that mood– you'd come back in and say it was a bad day. But the guy with the MarCum comes in and says it was a pretty good day."
2. Make sure your ice reels are ready…
…with fresh line:
> "Not only are the edges of ice sharp, there's a million things in your ice house, sled and garage that could have grabbed, nicked and weakened your line between the start of last season and when you hung up your rods last spring."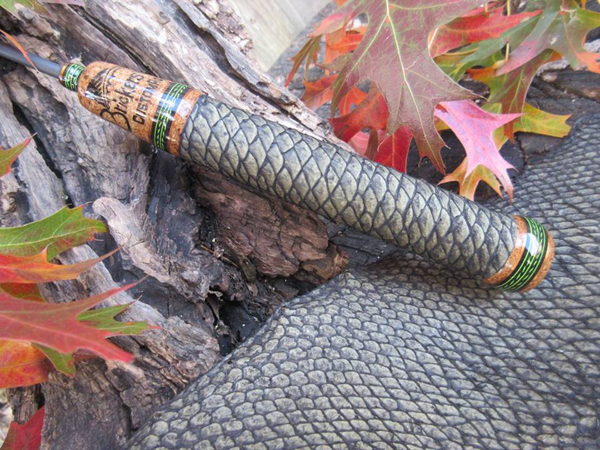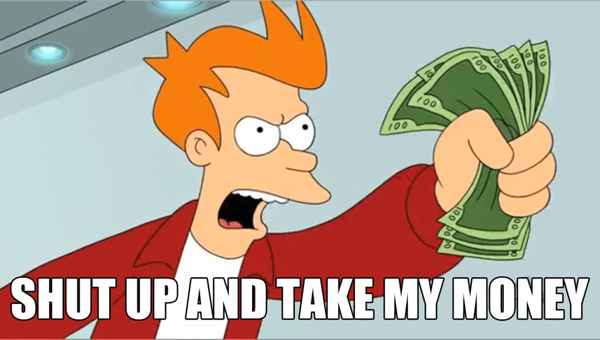 4. HydroWave comes out with ice version.
Fish-stimulating sounds.
---
> Eric Haataja is a big believer in using underwater cameras to find and catch fish, both on ice and during open water.
> "One of the neatest things about a camera like a Auqua-Vu Micro 5 or Micro Plus DVR is that you can record up to 8 GB of video or still photos right onto the unit's hard drive."
> "The camera also comes with a viewing fin that can be immediately adjusted to view horizontally, or down view or up view vertically."
> Haataja notes that up-viewing is a little-used sort-of-secret method for discovering big panfish in heavy vegetation: "By setting up the camera to view in an upward-facing orientation, you can use the light underside of the ice to silhouette fish that otherwise stay hidden in vegetation."
> "In some of the toughest ice bites, I can mount the Micro right on my sonar case, and sight fish for sluggish perch, trout and bluegills. These fish can bite so light you can scarcely detect them on your rod, but you can see them eat right on screen."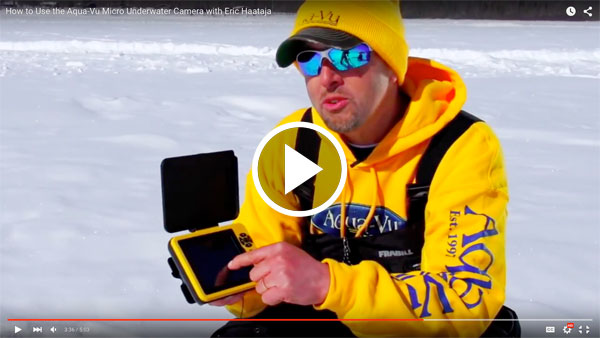 ---

---
Quote of the Day

We just didn't see the need to fish anymore after seeing a fish that fat!
– Fisherman John Hoyer talking about catching this 40-lb, 54-inch side of beef muskie on his last cast of the night: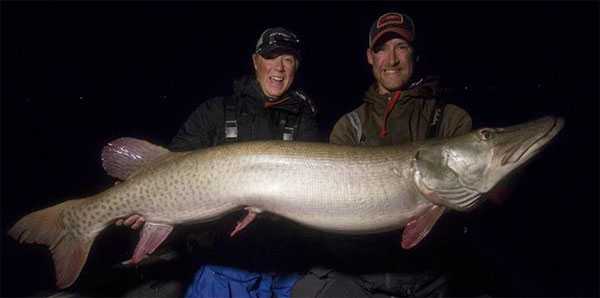 ---
---
You ready for ice?
---
Have you checked this stuff out yet?

---
About Target Walleye
Target Walleye
brings you the BEST walleye and ice fishing news, pics, tips and events year-round, and is brought to you by Al & Ron Lindner, Jim Kalkofen and other walleye nuts like you!
---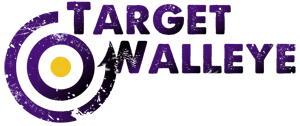 TargetWalleye.com | Rapala.com | IceForce.com