Measure your fish of a lifetime AFTER it's been in the livewell…if it fits:
Walleye shrinkage occurred after being caught at all water temperatures when stored in ice. However, all walleyes gained a little length in the livewell, except when coming out of 20 C (68 F) water.
Bake a trophy >> get one of these!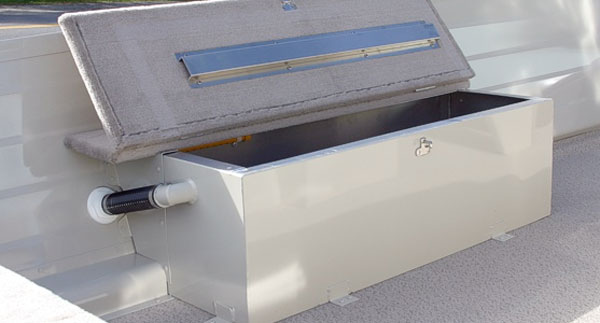 Why was the study done?
> The study suggested that "Enforcement personnel should take water temperature and condition of fish into account when deciding whether to write a citation, but in general a 6 millimeter leeway should suffice in most situations."
That term is news to us: "walleye shrinkage."

Maybe this one was weighed first…

Crawler harness component lab.
Sorta: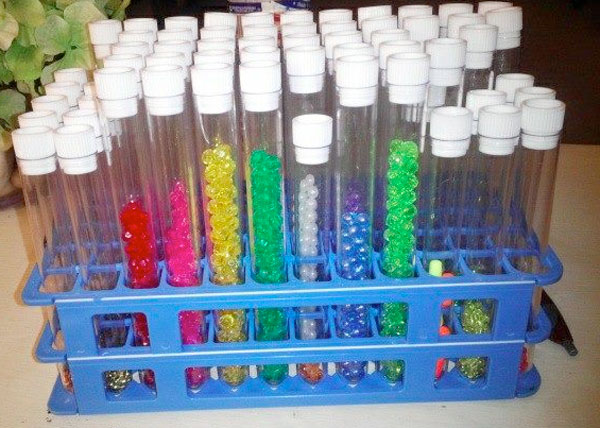 Slick way of storing crawler harness components from Tim B. If you have any interesting/unique ways of storing your tackle, send us some pics!
> "In 1986, just fishing for fun with my Lake Erie mentor, Russ Johnson, we caught six 11-pounders, four 12-pounders and one 14-pounder, not mention several hundred fish from 8 to 10 pounds while fishing the waters within 5 miles of Van Buren Point."
Wow! Thinking about that made even this guy happy: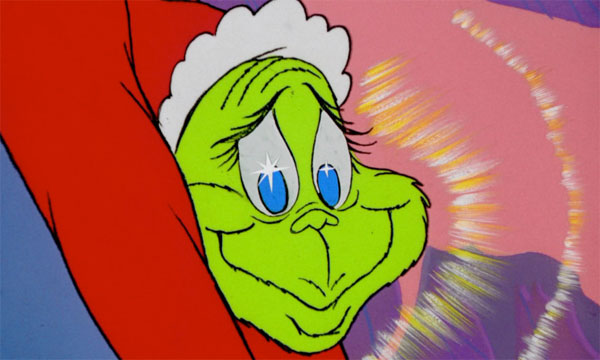 News
1. MN: DNR plans to boost Mille Lacs walleyes.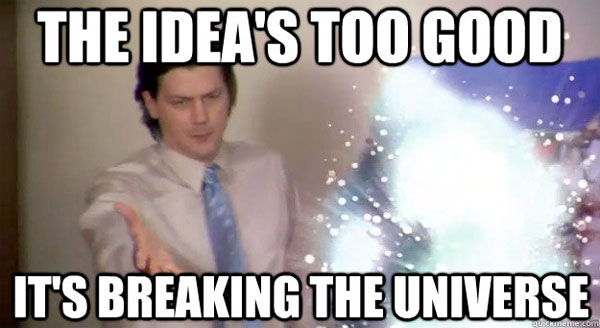 2. MN: Mille Lacs ice season uncertain.
Other shoe drops…like a bomb. Artist's rendering of inside the MN DNR right now: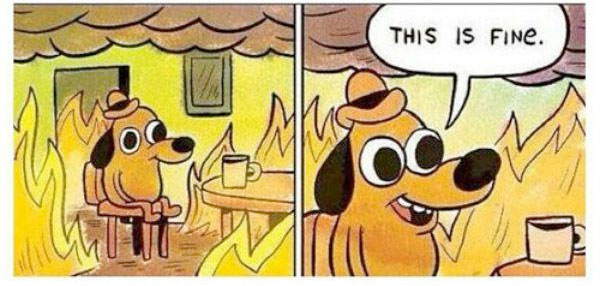 lol
3. MN: Check out Sternberg's 2002 Mille Lacs doc.
Just one example:
> Not only has treaty management created the problems now facing Mille Lacs, the problems are self-perpetuating and could become worse. For example, if the number of large predators continues to increase, baitfish levels may plunge even more, resulting in an even-better "bite" that will fill the quota more quickly.
> Under treaty management, the only way the DNR can stay within the quota is to further tighten the slot, thus aggravating the very problems that need to be solved.
> Treaty management also discourages anglers from coming to Mille Lacs, creating a serious economic hardship for those whose livelihood depends on the Mille Lacs fishery.
The MN DNR drove right past the sign: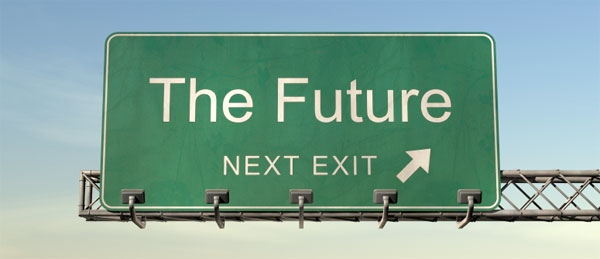 4. MI: Saginaw Bay a wally gold mine.
> "Bay walleyes are so numerous, food so increasingly scarce, that not only have walleye plants been discontinued, but officials are considering lowering length minimums and/or hiking creel limits to put more of them in anglers' coolers and take some pressure off the food base."
Maybe rename Mille Lacs "Saginaw Bay" and see if that works?
5. MN: AIM MN Championship on Winnibigoshish.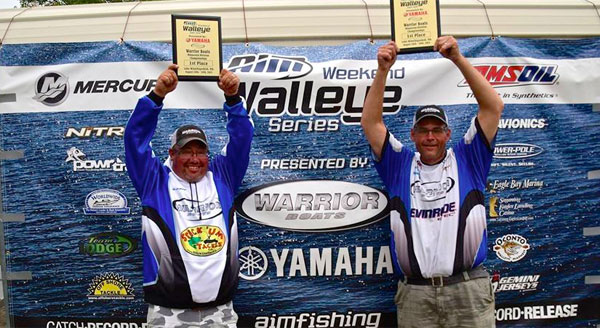 Jason Pitts and Pat Brookshaw won with 48.26 after catching only 4 fish prefishing.
6. MI: Gogebic walleye options still being evaluated.
7. MN: Illegal netting on Gull Lake.
8. ND: Walleye stocking at record levels.
9. SD: Expect big healthy walleyes on Oahe next year.
> NOAA experts have predicted that algae levels will approach a level of 9.5 on the agency's 10-point scale for both extent and duration.
11. New Rapala Jigging Rap colors.
Bluegill, Helsinki shad, pearl white, purpledescent (below), redfire crawdad, regal shad.

12. NE: Zebras found on Lewis and Clark.
Sent in by Rich McShane of the Nebraska Walleye Association:
>
This video
shows zebra mussels being found recently in Lewis and Clark Reservoir that borders NE and SD. Last year at this time a 'single' suspect mussel was found on the SD side. However less than 1 year later numerous zebra mussels have been found on both sides of the lake. Hard to believe they could multiply and spread so fast.
> Lewis & Clark Reservoir is the lake formed by Gavins Point Dam near Yankton, SD and is a quality walleye fishery. This is the last dam on the Missouri River system so there is a real concern of the zebra mussels spreading downstream.
14. VT: Musky stocking on Lake Champlain.
15. MN: Lake of the Woods fishing report.
> Quality sized limits of walleye and sauger as well as many trophy sized walleyes. Drifting with spinners or trolling with Shad Raps and various crankbaits have been the favored methods, with some anglers still anchoring and jigging over rocky areas.
> Try Lighthouse Gap, in front of Zippel Bay, Long Point, and 12 Mile or 16 Mile (Archie's Reef) drifting 24-26′ with a crawler harness. Those jigging are in 28-30′ fishing with a frozen shiner. Hot colors are gold, pink, and orange. Trolling areas have been 12 miles out from Pine Island, Knight and Garden Islands 28-32′. Many hot colors but white/red favored.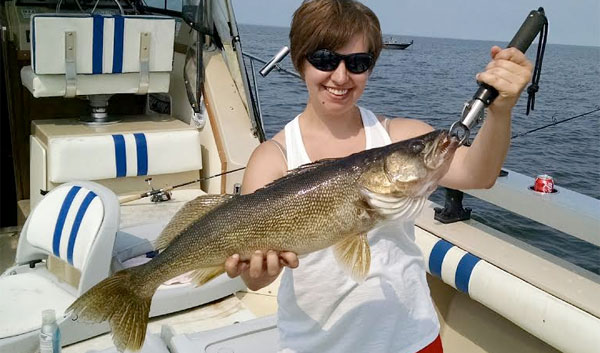 > Rainy River: Sturgeon and smallmouth bass on fire! Sturgeon active on cloudy days, evenings best. Deep pockets and adjacent bays using a circle hook and a gob of crawlers from Wabanica Bay to Clementson area. Bass are along shorelines and weeded areas with spoons. Best areas Clementson headed east towards Birchdale.
> NW Angle: Walleye and sauger found in 24-32′ over reefs, troughs and mud with many perch. Hot colors are gold or pink glow on a crawler harness drifting or jigging with a minnow. Try points off Falcon Island in Ontario waters or Garden Island to Northwest Point US side.
_____
Click here to enter and win! And please forward the link!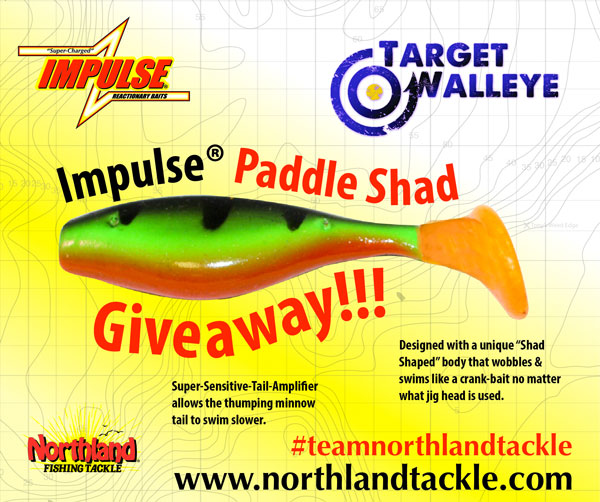 Events
---

'Eye Candy and Quote of the Day
Been waiting for 15 years to catch one like this and my better half beats me to it.
– Husband of this gal, with a 31″ T-Rex from the Kabetogama, MN area: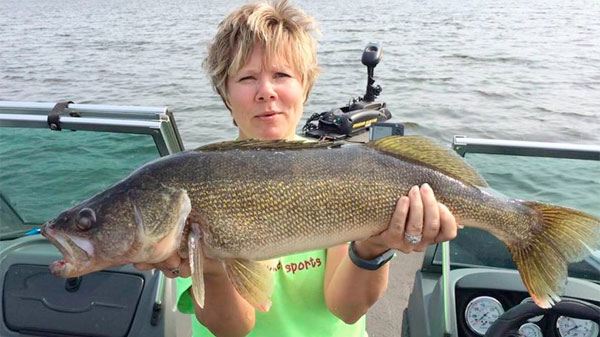 Tough break!
---
Ted Takasaki and Scott Richardson:
The general rule is this: the darker the water, the deeper the water, or the more aggressive the fish, the more you can rely upon sound…to attract bites.
> Colorado blades are best when visibility is poor. Their shape broadcasts more noise than the slimmer willowleaf style, which is better suited for occasions when water is clear. Hatchet or chopper-style blades were designed to be noisy even at slower speeds.
> Try adding one colored rattling bead in front of the hook when you're rigging. Exchange standard pencil weights for a slip sinker that has rattles built in, or use it as the sinker for the dropper line of a three-way rig.
Muddy water forced Tom Keenan to add rattles to his 1/8-oz yellow glow jigs during a big walleye tournament on his home waters of Lake Winnebago, WI. He flipped them into pockets and along edges of cane beds. His bite turned off as the water cleared up on the third day of the event. Keenan adjusted to the cleaner water by removing his rattles. He proceeded to win the event.

Shot of the Day
Who says you can't lip a walleye?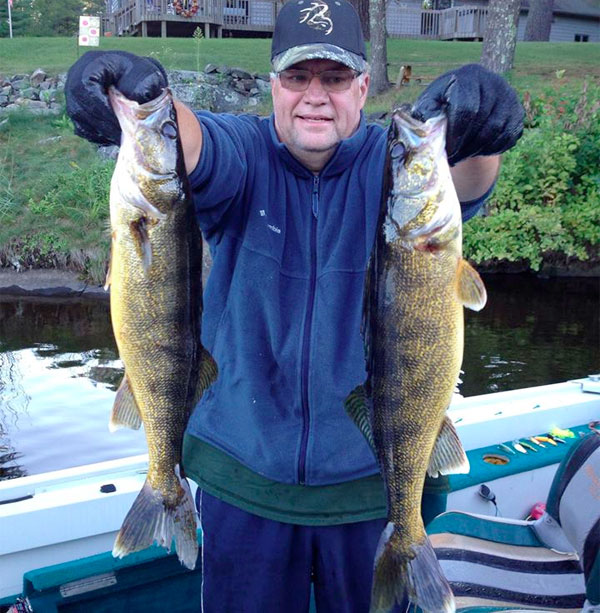 Wouldn't try it without gloves though….
#kevlar #thumbs
---
Gotta check this stuff out!

---
About Target Walleye
Target Walleye
brings you the BEST walleye and ice fishing news, pics, tips and events year-round, and is brought to you by Al & Ron Lindner, Jim Kalkofen and other walleye nuts like you!
---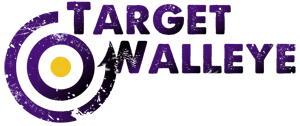 TargetWalleye.com | Rapala.com | IceForce.com