Today's Top 5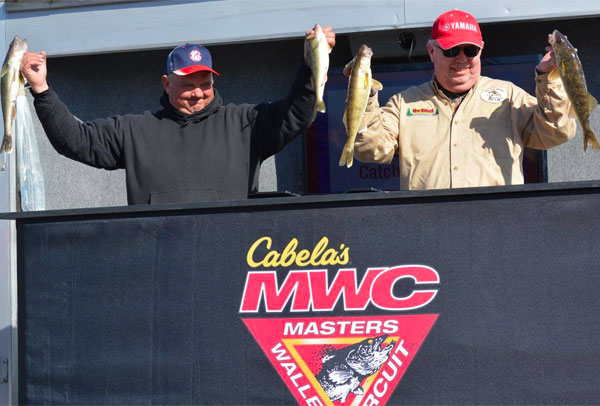 Woo-hoo open-water walleye derbies are ON! Last weekend Gary Stanton and Lee Brown won the kick-off MWC walleye tournament on Stockton Lake, MO. Wasn't easy – they had 8 fish (2 short of a limit) over 2 days that weighed 13.00 lbs. First place day 1 leaders blanked.
> "We didn't have a keeper by noon the first day pulling bottom-bouncers. So we switched to bright-colored, shad-style crankbaits on lead-core and caught our three fish." He noted that speeds of 1.8 to 2 mph were critical, as were 5- to 6-foot leaders of 14- to 17-pound Berkley Vanish fluorocarbon, which helped fool line-shy fish….
> While many teams targeted prespawn walleyes hunkered in 40-60 feet, Stanton and Brown focused on the 30-foot zone in a large cove close to the dam. "We started out with lead-core and crankbaits on day 2 and caught five walleyes by 11:00."
Btw, registration for Illinois River MWC event ends this Monday, link here.
Speaking of bulbous barred fish: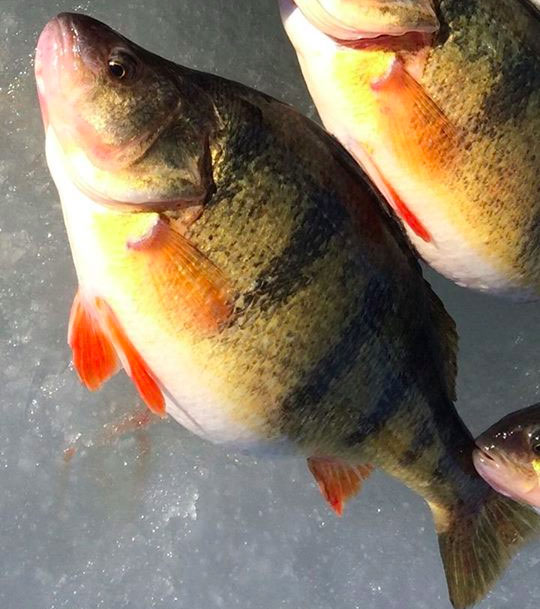 Caught by Steve Thompson at a "small public lake." Not sure we'd tell anyone either Steve!
---

News
…Gary Parsons ice-fishes for walleyes with Tom Kemos, Brett King, Chase Parsons and Keith Kavajecz: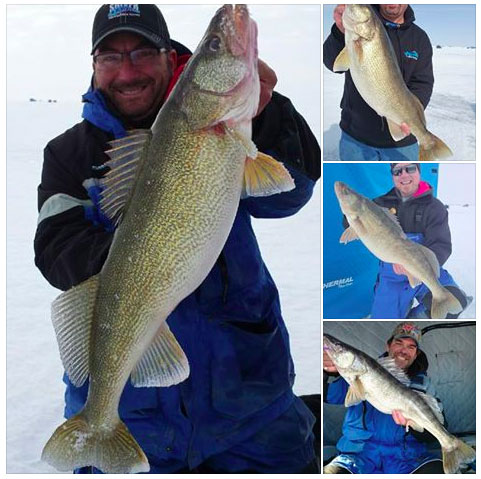 2. Ice Force Ultimate Giveaway winner.
Legendary walleye guide and tournament angler, a PWT champion passed away March 9. RIP fishing brother.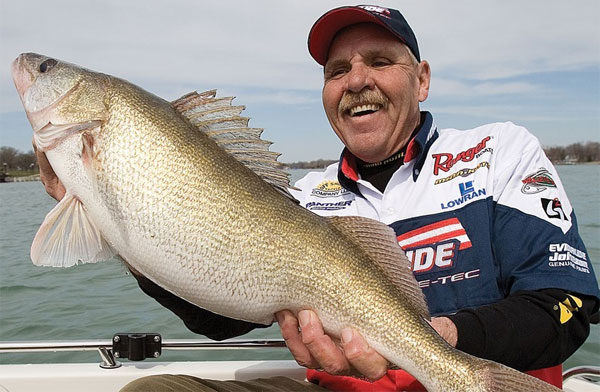 4. MI Walleye Tour registration on now.
5. WV: New complex walleye regs.
Regs range from complete catch-and-release to 8-fish limits with no length requirements.
6. ND: Devil's Lake ice changing fast.
In the meantime: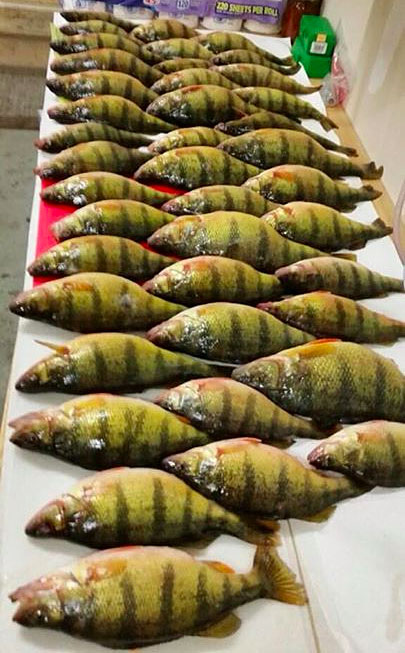 7. WI: Ice off Green Bay early?
8. Toyota Bonus Bucks now for walleye trails.
Cool.
> Never before has Bonus Bucks included walleye trails, but now anglers who tow with an eligible Toyota and participate in the Masters Walleye Circuit, National Walleye Tour or the AIM Walleye Tournament Series will be eligible for bonuses ranging from $250 to $750 each time they compete.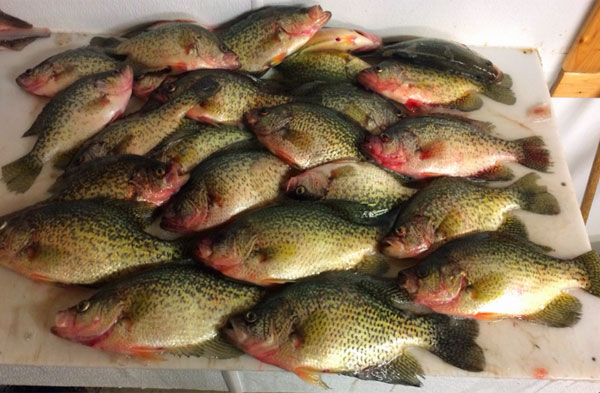 Heating up:
> Good reports this week from a number of areas. Longer days and angle of sun getting fish more active.
> On the Rainy River some big walleyes showing up in 15-18′. Orange is the go-to color. Best mode of travel is a snowmobile. Caution on river as water begins to flow with melting this week.
> Up at the NW Angle good fishing continues. Walleyes being caught in the mud on the south side of Oak Island in 18-22′ and by Crow Duck Island in 24-28′. Crappie anglers doing well with slabs up to 16″.
> Better reports coming from off Pine Island, 26-31 feet, as well as main basin. Fish still going well up by Garden Island and adjacent deep mud. Reefs on west end still giving up some meals of fish. Lots of tulibees everywhere. Colors, gold, glow red, and pink.
> Pike activity heating up. Good reports from in front of Morris Point gap and just west of Zippel Bay. Pike 40″+ in decent numbers. Live suckers, frozen ciscoes and smelt on quick strike rig in 9-14′.

Events

---

---
'Eye Candy
Brennan Tait on Lake Winnipeg with a pretty 27-incher. Fergie spoon, rip-jigging.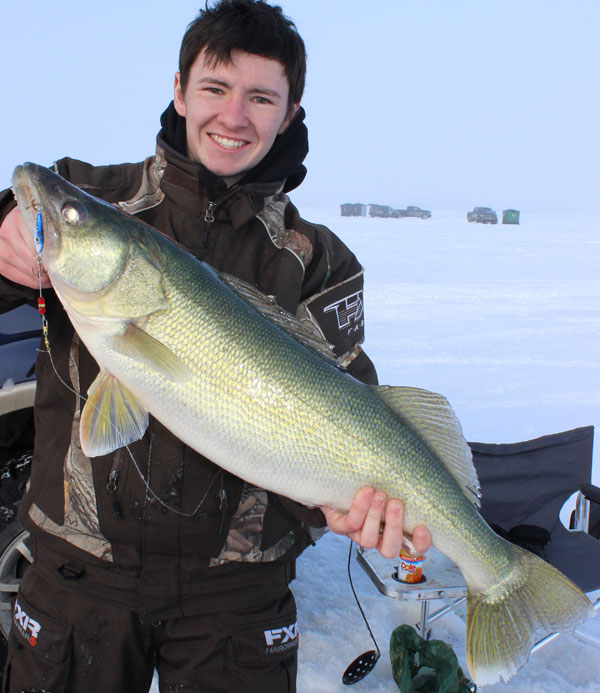 ---
Tip of the Day
Jason Mitchell: Understanding muddy water.
> Mud lines have a life cycle. Mud lines create an opportunistic window when waves crash up against a bank until a veil of turbid water protrudes from the shoreline.
> In the early stages of the mud line, the plume of churned up muddy water reaches out and hangs like a veil in the top of the water column, and this stage is typically when mud lines are the most productive.
> As the wind continues to pound and the veil becomes bigger and sinks down through the water column, the bite will often dissipate.
> So often when wind churns up sediment and clouds the water, the day after the big wind can sometimes be the best because as the sediment sinks, the visibility increases yet still offers some stain in the water.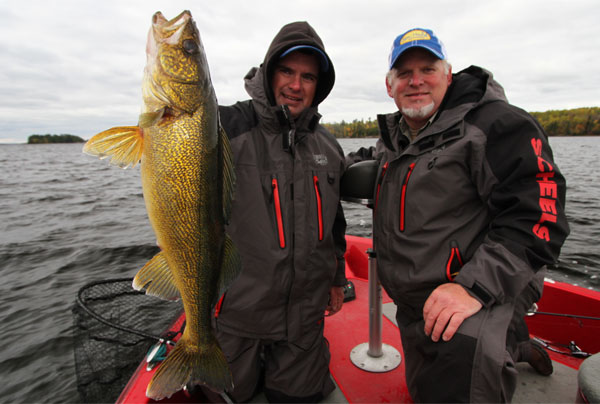 ---

---
Just about everything we love about ice and walleye fishing is summed up in this shot: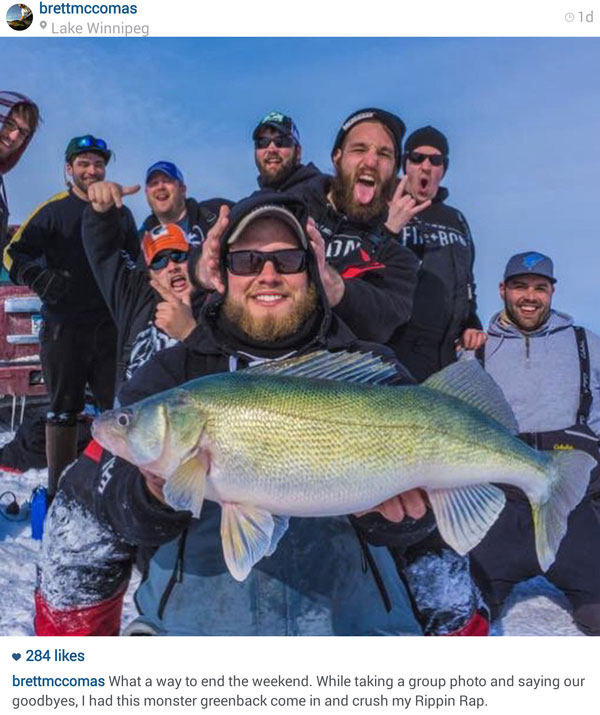 ---
Gotta check this stuff out!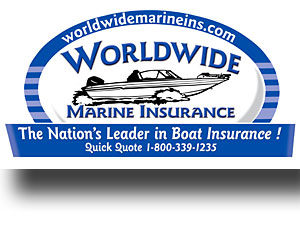 ---
About Us
Target Walleye
is brought to you by Al & Ron Lindner, Jim Kalkofen and other walleye nuts like you!
---
TargetWalleye.com | IceForce.com | Rapala.com