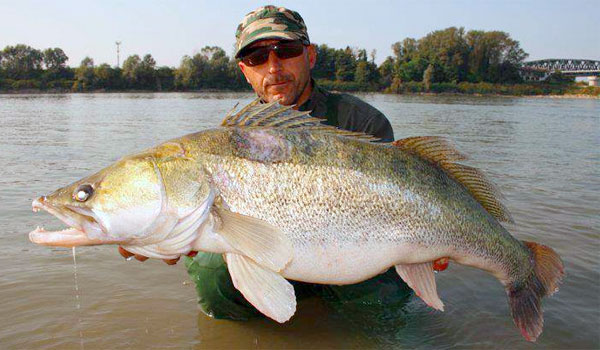 Reminds us of: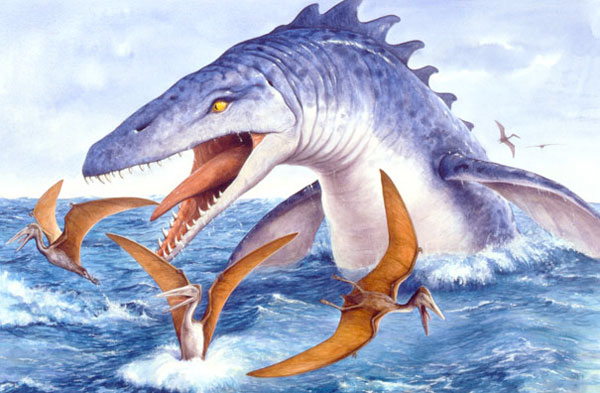 Brad Dirkman won it with 26.83 lbs, Tommy Skarlis was 2nd with 25.93 but only 7 fish, and Boggs caught 25.69 to finish 3rd. Here's how they did it:
1st: Dirkman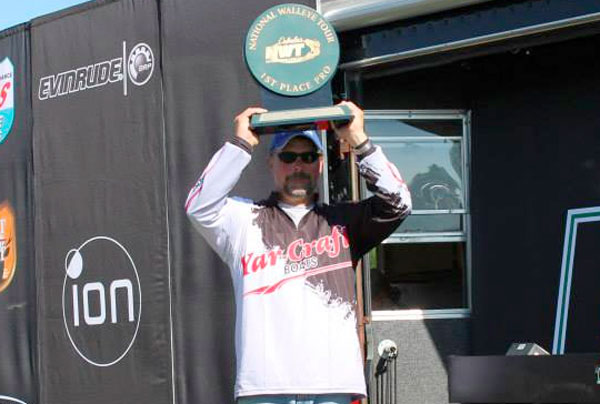 > Slot fish on mid-lake humps and rock bars: Dirkman used a heavy bottom bouncer, a short snell and a two-hook JB Lures crawler harness, presenting the smaller 4-inch bait in 14-17 feet. Natural colors and hammered blades worked best, as did occasionally increasing his speed.
> Walker Bay: "I was targeting sharp breaklines and I like covering them quick – up and down, up and down. It doesn't have to be the deepest water." He primarily used a Lindy rig with a big 7-inch creek chub, while his partner would rig with a crawler…. "The crawlers were important this week. The minnow bite died. Everything was eating crayfish and when that happens, crawlers work best. There's a huge lobster feed out there."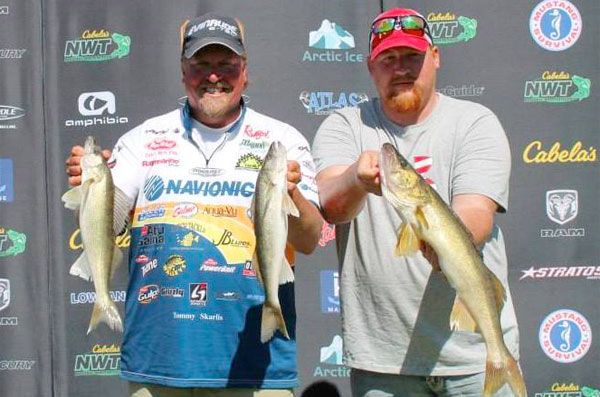 > Skarlis used leeches and No. 6 Daiichi Awesome Walleye Hooks on day 1. [Day 2] he used crawlers and No. 4 hooks. His line was old-school Trilene XL mono…8-pound for his main line and 6-pound for his leader.
> "I thought that catching [slot] fish between 15 and 20 inches in the tournament would be easy and that the overs would be difficult to catch. Then we got our two big ones by 10 a.m. the first day. I told Karl (Sprengel, his co-angler partner) that we would keep the first three fish over 15 inches. But they never came. After the big fish, it was one of those days where nothing went right."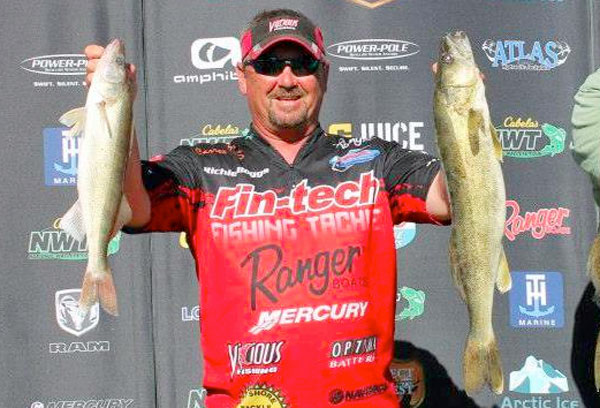 > Boggs would start on his slot fish, using Slow Death with half a night crawler and a 2-ounce bottom bouncer in 14 feet. He would move the boat at approx 1 mph.
> "Once I got my slot fish, I would take off and spend the rest of the day in Walker Bay."
> "After driving around the bay for a bit, I marked one all by itself. So I dropped a Lindy rig and a creek chub down to 32 feet of water. I swear it hit my sinker the first time, because I felt him pick it up but there was nothing there and there wasn't a single mark on the fish. Instead of nose-hooking the chub, this time I tailed hooked it and she bit and was a 26 1/2-incher."

After winning $63K, Brad Dirkman might be changing his name to: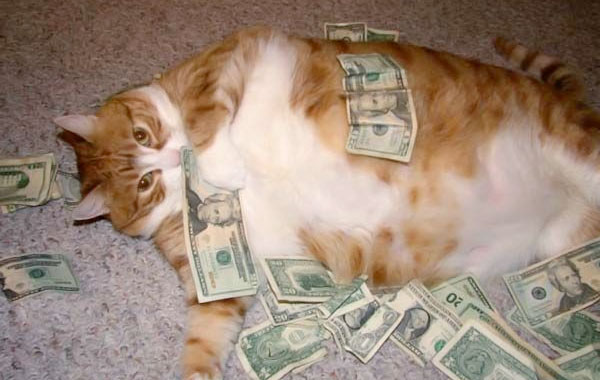 Tommy Skarlis: "Probably the lightest 30-incher I've ever caught, but I'll take it! "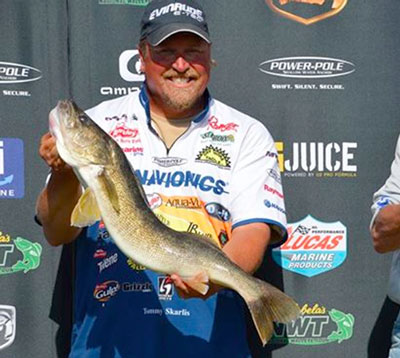 Wonder what hooks he was using: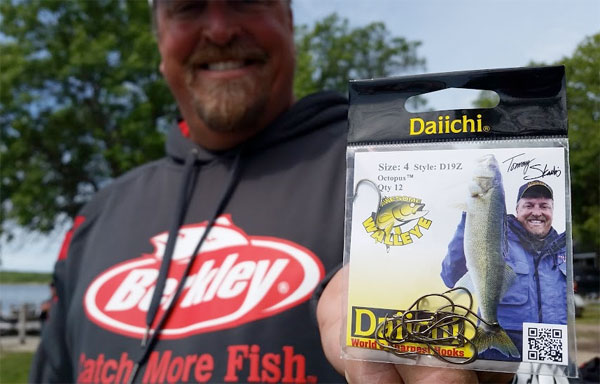 Bill Shimota and his co with some hawgs:
Ted Takasaki's rig: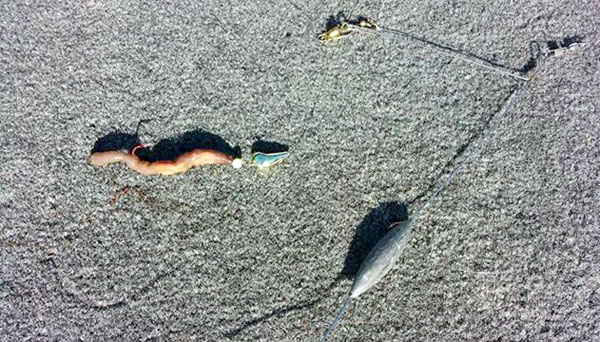 > Here's the rig I was catching limits on every day during practice. I was working the edges of reefs in 13-18 feet going 1.1 mph with a crawler or leech.

Bass can be very predic in comparison to a walleye.
– Al talking about why he loves walleyes (and why maybe you do too):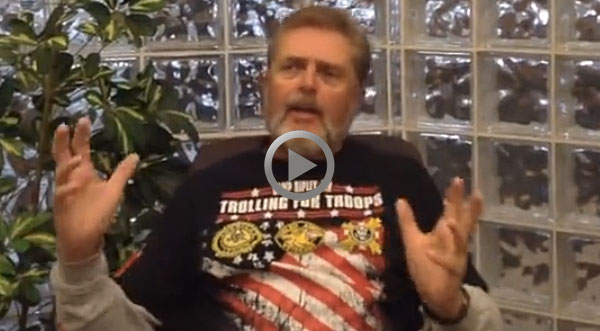 Walleye great Ron Seelhoff passes on.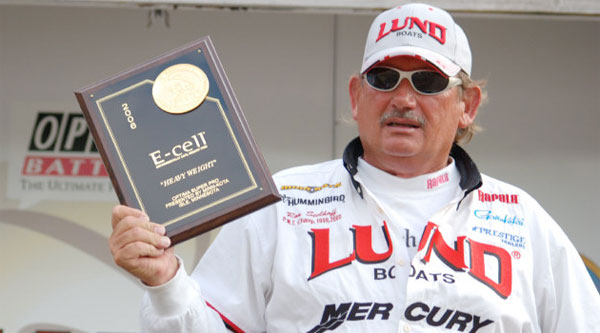 RIP fishing brother. Great tribute on TargetWalleye.com by Jim Kalkofen. One highlight:
> "I've got to tell about my first-ever meeting with Ron. I was talking to a friend about catching fish on Rainy Lake with a Lindy rig. Ron parked his boat at the Thunderbird Lodge dock, listened for a minute or two, and then walked up and asked, 'What's a Lindy rig?' He didn't introduce himself, just walked up and blurted out a question. He wanted to know.
> "The Lindy rig was the most common term in the walleye kingdom, and he didn't know it. This is one of many classic Seelhoff stories that portray a man who was unafraid to learn, ask questions or share his knowledge."

News
> Trey Benson and Karl Kenner had a total of 51.62 lbs of walleye over the 2 days. They received a check for $10,000.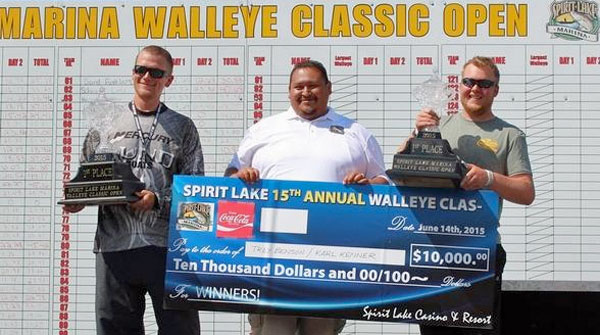 Bryan and Brett Bigelow with 45.73: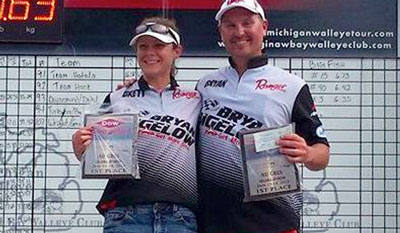 > Brian Arneson and Christopher Pickhardt took home the first place plaques and a check for $13,000 weighing a two day total of 36.08. Brian and Chris trolled crankbaits, adapted to changing conditions, and put two good days together to take the win over second place Kahut and Walser by 0.32 lbs.
> Most of the fish were caught trolling cranks. A few really impressive weights were taken jigging.
Keith Kavajacz had a good time MCing the event. Nice crowd:
4. ND: 82% say walleye favorite species.
With fisheries like Devils Lake and the Missouri River, it's easy to see why!
5. WI: River systems high in north.
6. More details on OptiMax diesel.
No plans for sale to civilians yet.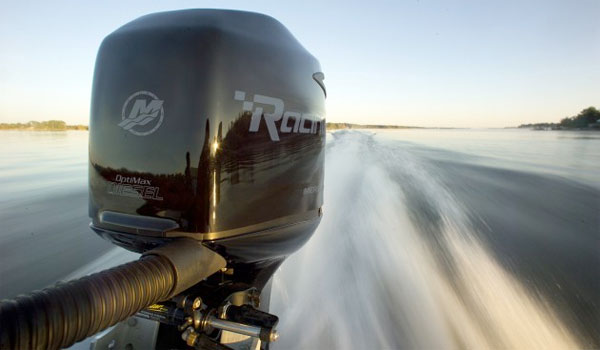 7. Wright & McGill buys Shappell Co.
For more ice business.
8. VMC sponsors Predator Classic.
46″, 8-lb tippet, Lake La Martre: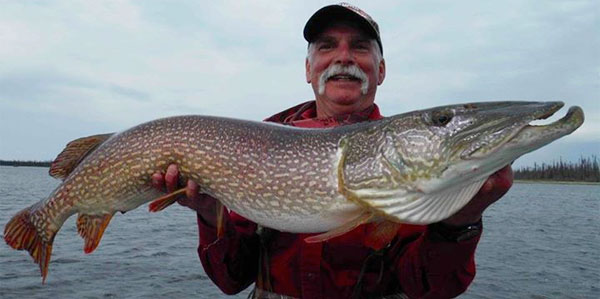 10. OH: Catfisherman lands record wiper.
Richard Knisely caught the fish night-fishing on Deer Lake with a chunk of shad. Fish was 18.32 lbs and 31.75″ length, 24.5″ girth. Previous record was 17.68 lbs, same lake.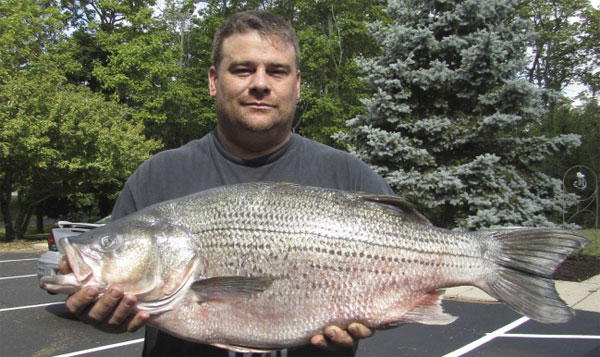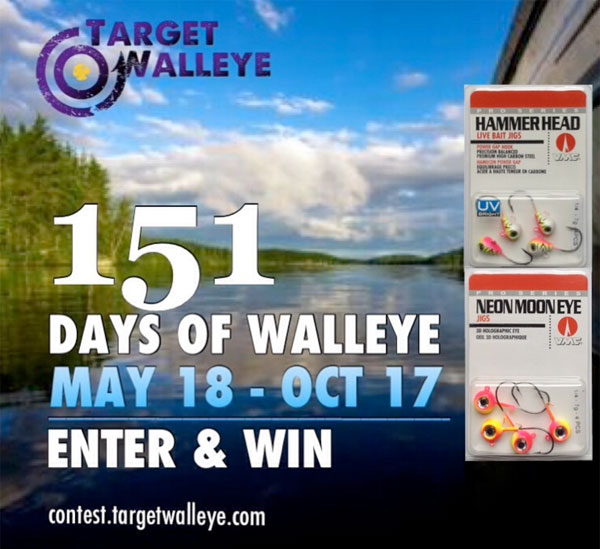 Events
---
---

Jason Mitchell: Smaller walleye lakes.
> Not all big-time walleye fishing opportunities are on big-time water. A few areas in the country really stand out to me for having numerous small-lake fishing opportunities that are top notch.
> The Glacial Lakes Region of South Dakota is as good as fishing gets. Many small lakes in central and southern North Dakota are similar…. If you look at a map of North Dakota between Bismarck and Jamestown and look north and south of the interstate by about 70 miles, you are looking at a lot of untapped walleyes.
> Ottertail and Becker counties in western Minnesota are fun but there are hidden treasures all across the Midwest. The DNR or Game and Fish websites are helpful resources for each respective state, where net surveys and stocking reports can help you find some of these under the radar gems.
> The prairie dish bowl lakes of the Glacial Lakes region of South Dakota along with the new lakes in central North Dakota are…dish-bowl lakes with little structure across the basin. For much of the year, you can't go wrong working the shoreline. Shoreline contours that have the right depth profile combining either weeds or a harder bottom like sand, gravel or rock often hold walleyes for much of the year.
> Another top location is any saddle that was basically a high spot between two potholes when the water was lower. Submerged roadbeds and points are other good locations. At times, fish will randomly scatter across these basins, but any structure present can be a calling card for walleye.

Quote of the Day
I'm not a real religious man, but God gave me a blessing today.
– Leech Lake NWT winner Brad Dirkman talking after he won.
Tommy Skarlis said in the post-event interview:
> "That fish was a gift from God."
Sounds like it was a revival there!
Six-year-old Blake N. caught this gargantuan 12-lb, 31.5″ walleye this weekend at Lake of the Woods. He was using a hot pink eyeball jig with a frozen shiner. He reeled it in all by himself — awesome: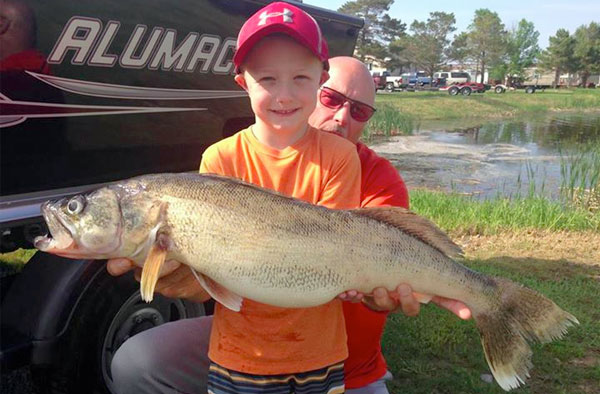 ---
Gotta check this stuff out!

---
About Target Walleye
Target Walleye
brings you the BEST walleye and ice fishing news, pics, tips and events year-round, and is brought to you by Al & Ron Lindner, Jim Kalkofen and other walleye nuts like you!
---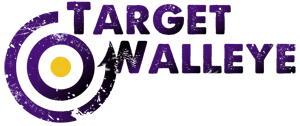 TargetWalleye.com | Rapala.com | IceForce.com