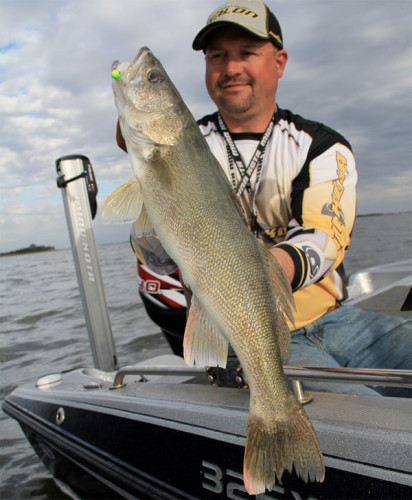 by Jim Edlund
Former PWT/FLW champ and Perch Eyes Guide Service owner Jason Feldner thinks the Devils Lake pre-spawn walleye bite will turn on soon – which is a great opportunity for anglers in states where the walleye season is closed for the pre-spawn and spawn.
"There's some fish activity around the bridges right now, but water temps are still 38-41 degrees in most places," says Feldner. "But in a week or so it should be game on for pre-spawn fish. With forecast temps in the 60s next week, it could be very soon."
Pre-spawn location
Male walleyes are the first to show up shallow when the water begins to climb into the low- to mid-40s. "The males are basically just waiting around for females and feeding opportunistically. Most of what you'll catch are males, but in the early morning and late afternoon twilight periods you'll catch fat females, too," Feldner says.
"Water temp is the big thing. Unlike post-spawn fish, the wind doesn't factor in as much during pre-spawn. A lot of times I'll find the fish out of the wind if the water temp is 2 or 3 degrees higher than the rest of the lake."
He encourages anglers to monitor the water temperature readout on their electronics. Areas of slightly warmer water can mean walleye presence and activity.  "Another thing I'm always looking for is south-facing structure along northern shorelines as it warms the quickest."
He keys in on shallow points, road beds and other rocky areas in depths ranging from 1' to 8' using a combination of Side Imaging and mapping via the Nebraska/Dakotas LakeMaster PLUS card in his Humminbird ONIX and HELIX units.
"First thing guys should know who fished here last year is the water isn't running. We didn't have much snow this winter and we haven't had much rain. So you'll want to use Water Level Offset function on your LakeMaster map, adjusting for the lake being down 1-2 feet. Then use Depth Highlight to mark everything 8' and under in green. That will give you a good roadmap of where the fish will be for the next few weeks or so."
The north end of Six Mile Bay, Pelican Lake and Mauvais Coulee areas are good places to start looking for pre-spawn fish.
Presentations
Once dialed into high-probability pre-spawn locations, Feldner uses three key presentations to put clients on pre-spawn fish.
"Lift and sail" grub fishing
Typically he pitches 1/4-oz Lindy jig heads threaded with white, white/pink, or chartreuse 3″ Yum Walleye Grubs tied directly to 8-lb braid.
"Braid is key out here. With limited water clarity, our walleyes are not line shy. Secondly, braid's a better option for getting baits unsnagged from rocks, wood, you-name-it. And lastly, it provides quicker and more solid hooksets when fishing plastics."
His retrieve is a specific cadence he calls the "lift and sail," which maximizes the amount of time the curly-tail grub travels through the water column. Rather than a sharp, lift-drop jigging action, the 'lift and sail' allows lethargic fish to see and feel the bait longer in Devils' cold and turbid early-season water.
"I cast out, and as soon as the bait hits the water I close my bail, keeping my rod tip at 75 degrees. The line will be tight, but as soon as the bait hits bottom it goes slack. I reel down to tighten the slack, lift the rod to 75 degrees again and hold it right there. When you bring rod tip back to that spot, the jig sails back to the bottom. Then repeat. Most times they smoke it right before the bait hits bottom."
He likes to get away with as light a jig as possible, but the wind dictates that. "If there's no wind, I'll go down to an 1/8-oz jig."
For boat control, Feldner works areas via his bow-mount Minn Kota Ulterra trolling motor. "As soon as I catch a fish, I drop the Talon shallow-water anchor and fan-cast the area. Same approach when I'm crankin'."
Afternoon crankin'
If the sun comes out and the water warms, Feldner will switch over to casting cranks on the same medium-power spinning outfit with 8-lb braid. "A lot of shad-type crankbaits work, but I've had really good luck with the new Lindy Walleye Shad in yellow perch, gold/black and purple passion."
He casts to shallow rock and along riprap, and cranks until he hits bottom. Then he lets the bait pause, makes a few more turns of the handle, lets the bait pause and rise again, then switches to a steady retrieve when he no longer bangs bottom.
"A lot of times walleyes won't hammer the bait until it's over deeper water. Don't just give up and crank in fast after you stop feeling bottom – work the bait all the way to the boat."
Finesse Lindy-rigging
For those days when plastics and cranks aren't producing numbers, Feldner switches to a pre-spawn technique he's convinced is overlooked by most anglers.
"Lindy-rigging over shallow humps in 6-10′ can produce good numbers of both males and females during early-season. But the key is going finesse."
He uses a medium-light spinning rod (still with 8-lb braid as mainline) and a 32″ 8-lb fluorocarbon snell hooked with a large leech. He prefers large to jumbos to prevent short-biting fish.
"Since we can use two rods in North Dakota, I'll rig one snell with a plain hook and the other with an in-line float just above the hook. In terms of weight, I try to go as light as possible while still being able to feel bottom ticking, but you're at the mercy of the wind. So consider anything from a 1/4- to 1/2-oz."
He trolls as slowly as possible over the shallow humps, below 1.0 mph. If the wind is strong, he'll deploy a drift sock.
"For whatever reason, some days this technique just produces more and bigger fish. It shouldn't go overlooked during pre-spawn."