Tom Neustrom caught this gravel croc on a VMC Moon Eye Jig: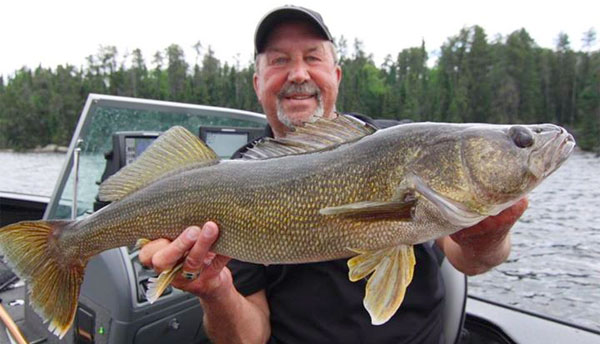 Bret A. whacked this beast, 31″ and 11 lbs, from Green Bay: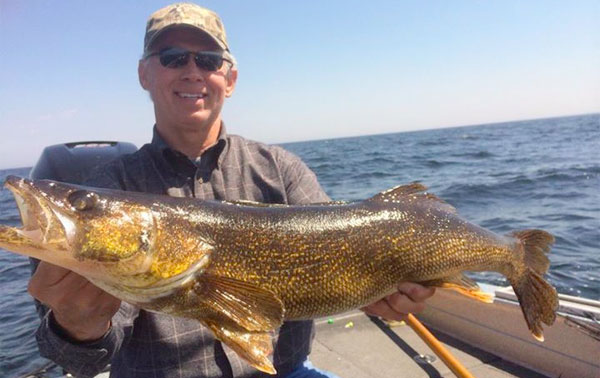 32-incher from Gunisao Lake, MB: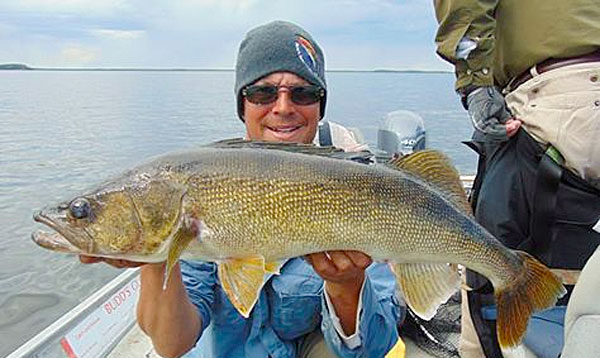 The Boundary Waters gave up this 34-INCHER! Wow!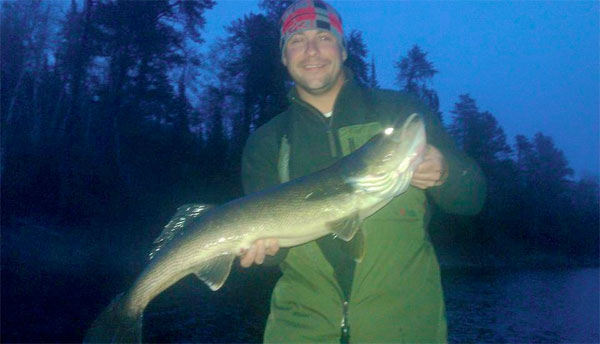 Most expensive fillet knife?
…out on the water. Sure they let you see into the water better and protect your
eyes from UV damage, but they also can protect you from things like this: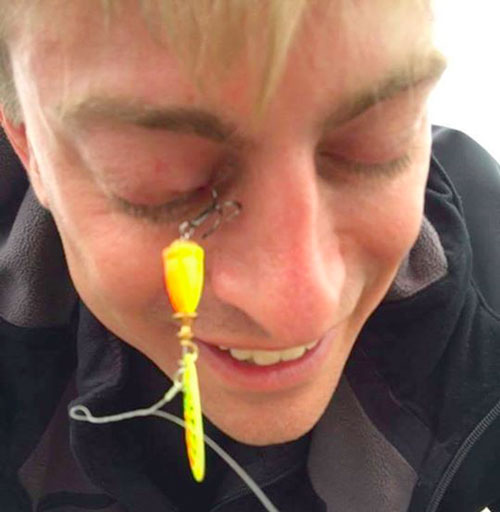 News
1. ND stocked record 10 mil walleye this year.
In 140 lakes. Because of wet cycle, number of fishable lakes has gone from 200 to well over 400 now in last 10 years.
Emailed from guide Johnnie Candle:
> It is just plain crazy here now. Spinners and Gulp! or live bait, bobbers, crankbaits and jigs are all working. Flooded roads and main-lake humps are holding fish. The sizes are from 14 to 27 inches. In the past 15 years guiding here, I have never seen it like this. The Devils Lake Chamber Tournament will be very interesting this weekend.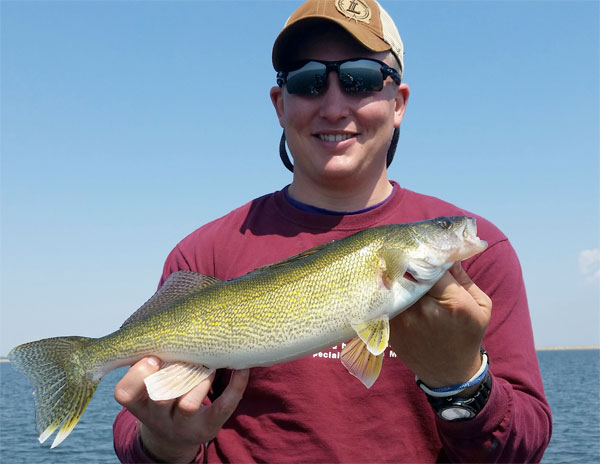 3. ON scrapping conservation fishing license?
Sounds like a mess.
…for bass fishing.
> The DNR extracts 582 million eggs each year.
> 1,050 lakes are currently being stocked in the state
> 85% of walleyes harvested in the state were naturally reproduced.
6. MN: Aquatic invasive training/trailer decal repealed.
7. Blades on the Mepps rig and harness.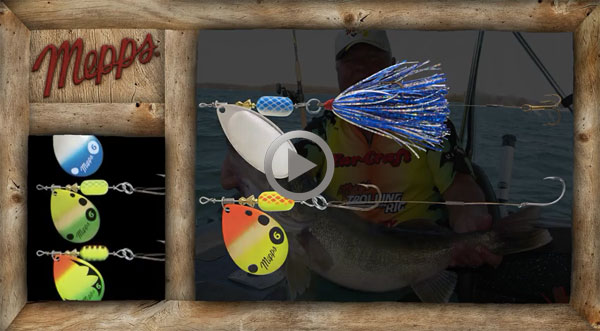 8. Off Shore Tackle has podcasts.
Gave 'em a listen. Awesome stuff for you bait-pullers.
> …releases the Micro 5 PLUS, a powerful, por and affordable viewing system…with a vibrant 5-inch color LCD and a patented high-resolution Micro camera….
> While prefishing a recent National Walleye Tour event, Tommy Skarlis utilized an Aqua-Vu Micro camera to positively identify walleyes on a spot that ultimately yielded 2nd place fish. "The Micro is an awesome tool for verifying or disproving what I'm seeing on sonar."
> "During practice, I could drop the camera and determine the species, size and position of the fish-and see the exact habitat or forage that was attracting them. The Micro gave me needed confidence to stay on a spot and work it, so I could extract precious bites and earn a nice big check."
10. SD: Twin teens clean fish for college $.
Love it.
11. Tony Roach mid-June fishing report.
Video report: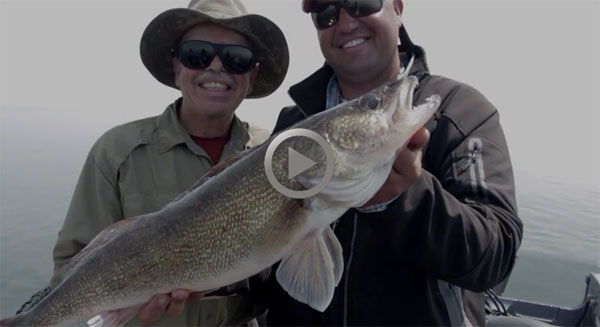 12. Interesting Great Lakes facts.
Few doozies in here.
Your insurance may not cover you: Did you know some marine insurance policies don't cover you when you go on the Great Lakes?
Contact Bob Luellen at Worldwide Marine Underwriters to make sure you're covered:
800-339-1235 and bob@worldwidemarineins.com
…at the ripe young age of 80, Ron Lindner still fishes tournaments. Here's a shot of Ron and his partner Curt at the Camp Confidence Nick Adams Memorial Fishing tournament where they finished 32nd: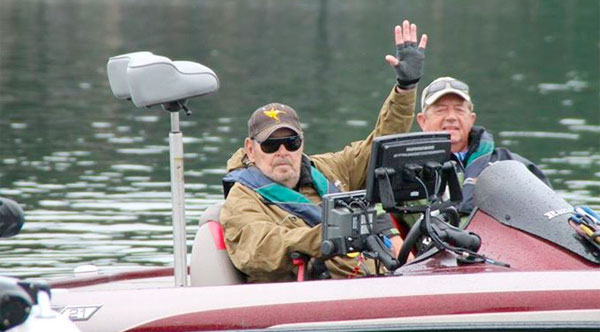 15. MN: Muskie season is on at LOTW!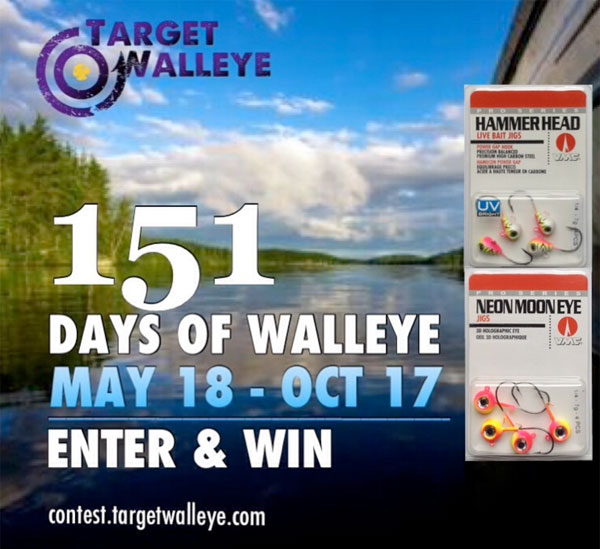 Events
---

'Eye Candy
Looks like the dynamite Lunkerhunt Swim Bento is catching them in Europe too. Here's a zander from Germany — nice shot: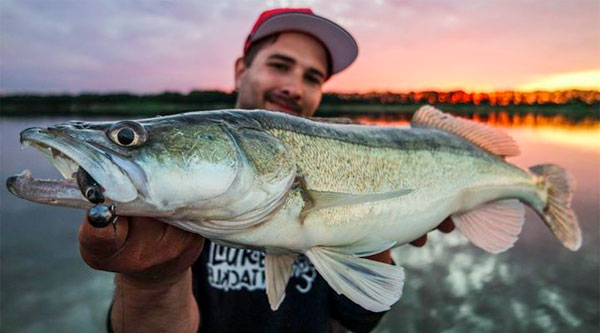 ---
Tip of the Day
Go vertical for tough-bite 'eyes.
Joel Nelson tip (tx Joel!), full post here:
> I just got back from a tough-bite on Lake of the Woods where active fish were few, and passing fronts were many…we saw it all in 2 days of fishing. Still, we caught a good number of fish, and our group even put some 28+" eyes on the board – just not the way I'm used to doing it.
> I'll be the first to admit that vertical jigging isn't my favorite way of tempting a walleye…but at times it can be one of the most effective.
> I first learned this as a college-kid while fishing a Vilas County, WI lake known for great populations of eater fish and some true giants…. I was on a group of extremely stubborn mid-lake 'eyes that would simply not eat anything that I drifted past a deep feeding shelf at the tip of a long rock/sand point.
> Trolling was illegal, so crankbaits were out of the equation, and at that time I didn't own any leadcore setups. I could use a trolling motor to hold location, however, so I did just that while dancing with the foot pedal to point windward and offer just enough speed to stay completely vertical. One by one I was able to pick off those fish until they scattered during mid-day.
> When fish are unwilling to chase, perhaps the best way to "slow-it-down" is to put it in their face for prolonged periods of time. This is especially true for live bait offerings, but also for more aggressive lures like a Jigging Rap….
> When we found what we were looking for, we simply used the GPS-enabled anchor function on the trolling motor to auto adjust for direction and speed while it glued us to the spot. Our electronics pointed out more than fish locations too – they indicated activity level and even helped us "watch" the strikes.

---
Quote of the Day
I'll have ice in the cooler, the live well and in my underwear.
---
Shot of the Day
What happens in the boundary waters doesn't always stay in the boundary waters…. Awesome shot of TW reader Scott N fighting a 40″ water wolf: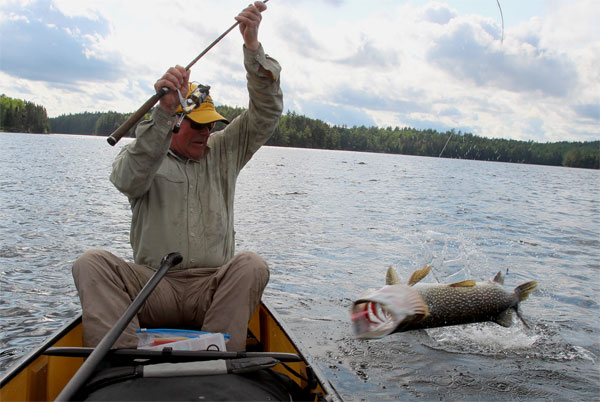 ---
Gotta check this stuff out!

---
About Target Walleye
Target Walleye
brings you the BEST walleye and ice fishing news, pics, tips and events year-round, and is brought to you by Al & Ron Lindner, Jim Kalkofen and other walleye nuts like you!
---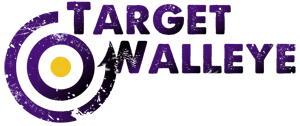 TargetWalleye.com | Rapala.com | IceForce.com