Welcome to Target Walleye! Target Walleye is a daily-ish roundup of the best stuff in the walleye world – collected by folks like the Lindners, Jim Kalkofen and a few other walleye nuts, and delivered directly to you. Enjoy!!
Today's Top 3


Alberta 13-lber!
Exclusive to Target Walleye. Deets: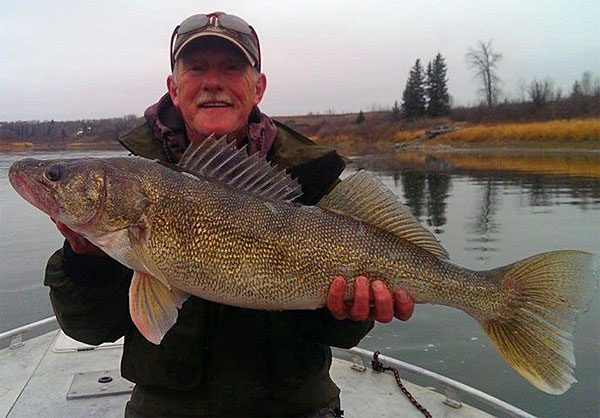 > Brian Wiebe, manager of The Fishin' Hole tackle store in Edmonton with a 33″ personal best walleye from the North Saskatchewan River near Edmonton in Alberta.
> He didn't weigh it as they got it back in the water as quickly as possible to release but a conservative estimate is in the 13 pound range.
> The fish was caught on a silver 1/4-oz Northland Fireball Jig with a 4″ F2 Yum Walleye Grub. It was fished with no bait and jigged in a current seam in 11 feet right below the boat.
More:
> The North Saskatchewan River flows through Edmonton, and then into Saskatchewan 40 km east of Prince Albert where the South Saskatchewan River dumps in and they become the Saskatchewan River.
> The Sask River then flows 100km north east into Codette Lake and then out of the Nipawin Hydroelectric dam into Tobin Lake. The fish in the whole Saskatchewan River system have incredible genetics.

The Shiver Minnow continues to be a hot topic. Gary Parsons' take on it:

> The Moonshine Shiver Minnow has a totally different action than a Jigging Rap and the [Northland] Puppet Minnow. It flies up and to the side, rolls on its back and then comes down straight, nose first – where the others dart to the side and circle back into the area.
> The Shivers totally out-fished the other minnow baits of this style for me during practice…I'm sure it was the action, just like the difference from one crankbait to another.
> Since Escanaba, I've caught many, many walleyes in at least 5 different heavily fished walleye lakes in northern Wisconsin, and in fact just finished a show near Minocqua with Daryl Christensen where the Shivers out-produced both jigs and fatheads, and jigs and red tails, at about 9 to 1. These baits are the real deal.
> At Escanaba we fished them deep, and you could time the sweep by watching your line so that you could start the next sweep just before the bait hit the bottom. That way they didn't foul with moss as much as letting them hit the bottom. In lakes where weeds are not a big deal, I let them hit bottom all the time.

Question: When do walleyes want to be on land? Answer: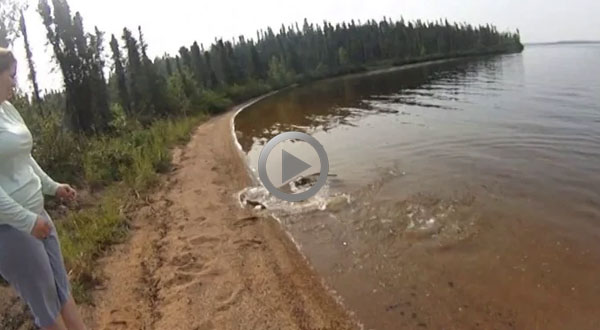 ---
---
News
…on MO River.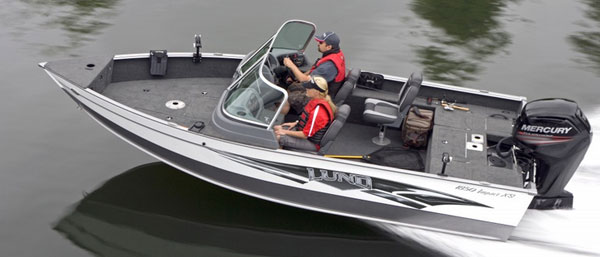 7. IL: New Mike Jackson radio station.
Starts this Sunday, Nov. 2:
> Mike has teamed up with WCGO, AM-1590, Chicago, for a 2-hour broadcast every Sunday morning from 7-9 a.m. A.J. Paul will continue with Mike as his co-host and on-air sidekick.
It's a great show!
Are you?
---
Tip of the Day

Since we've talked about the Rapala Jigging Rap and the Moonshine Shiver Minnow in this and past emails, here's Bro on fishing Northland Fishing Tackle's Puppet Minnow:
---

Quote of the Day
Most people won't fish for walleye in a tree.
– Could that possibly be true?? Haha! Eric Naig of Northland Fishing Tackle talkin' 'bout trolling spinnerbaits…but it sounded funny!
---
Shot of the Day
Check out this awesome winning Cabela's photo contest entry – yak fishing for Erie 'eyes: