If you're receiving this Target Walleye/Ice email — covering the best of walleye fishing during open water and the best of ice fishing during hard water — for the first time, a friend probably signed you up! Target Walleye/Ice is brought to you by Al and Ron Lindner, Jim Kalkofen and other walleye and ice fishing nuts like you.

Today's Top 5

Rock melons of the week!
Cody and Greg Walk (father-son duo) cracked a pair of 30-pluses while fishing Fort Peck Reservoir, MT. They caught 'em on Slow Death in 22′. Greg, with that hold you could've said it was 51″ lol: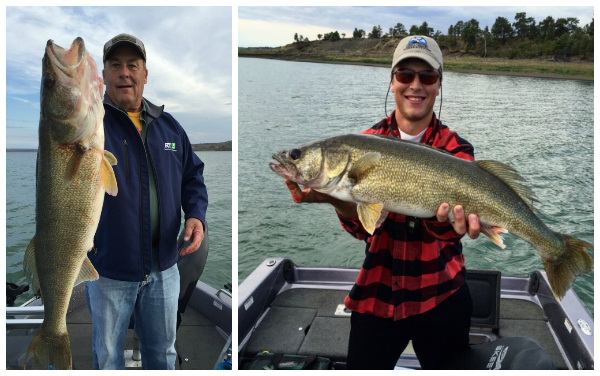 Check out the shoulders on this 11.25-lb rock moose that Carlos Frigon wrassled in: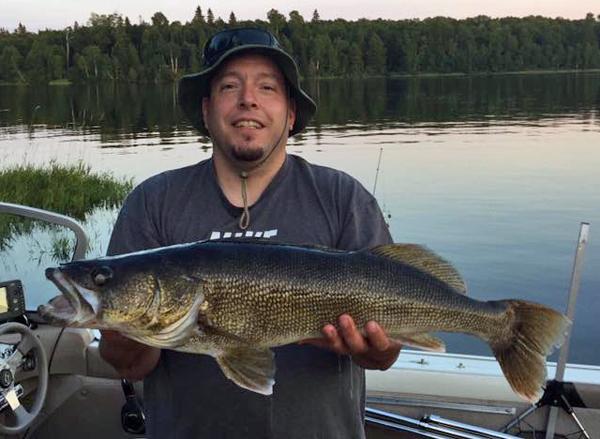 Not a blue, but love the coloring of this big rock melon that TW fan Eric caught while pulling a bottom-bouncer and leech in NW ON: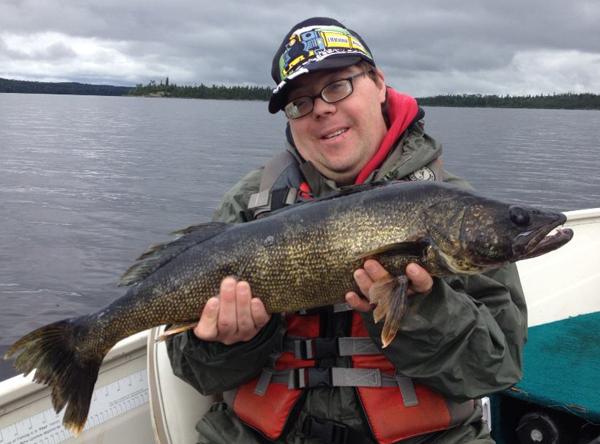 Dan Kruger has been whackin' 'em in the Webster SD area — this thick 28-incher chowed his #7 Rapala Shad Rap: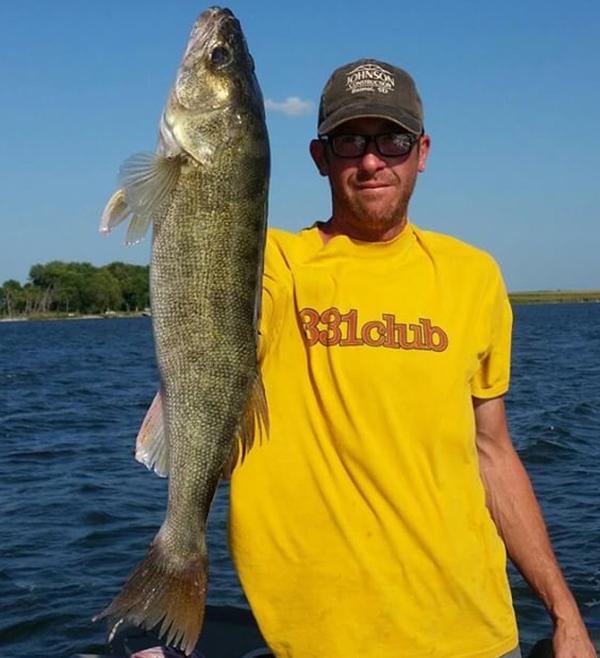 Will "walleye" Pappenfus trying to figure out if he can hold his arm out any farther: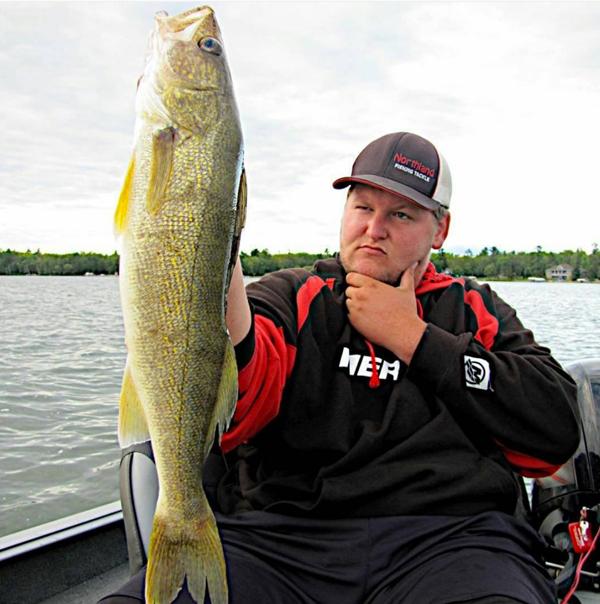 Lol just kidding man, great lizard.

The secret's out…tipping your crankbaits with a piece of crawler or plastic is a surefire way to get more tooth marks on your favorite baits. Walleye pro Tommy Kemos has a couple different ways he goes about it:
> "If it's colder or I'm running slower speeds, I'll put the crawler (or plastic) on the back hook to deaden the bait. Thread the crawler on the hook to keep it inline and straight.
> "Rigging on the front hook causes a little more action. It'll actually cause the bait to blow out — it's that erratic change in direction that will trigger a strike from a fish that's following."
Heeeeeeeeeere's Tommy talking about it on the water:

Tiller vs. wheel boat debate…continued.
Scott Brewer is all about that tiller life!! Here he is talkin' about some of the advantages of running a Lund tiller boat and why it helps him stick more fish:
How chill does Scotty look…. Lol #TillerLife

Humminbird field marketing manager Bill Carson has been catching walleyes on GA's Lake Lanier in some pretty crazy ways. Yup, that's GEORGIA:
> Bill says, "They dump about 20,000 walleye fry and fingerlings in Lake Lanier a year — and some of these fish are growing up."
He cracked this 29″ GA peach on an
8″ Ben Parker Magnum Spoon
dropped on a downrigger ball and fished on 100′ of line behind the boat. Think your walleye bait is too big? Think again: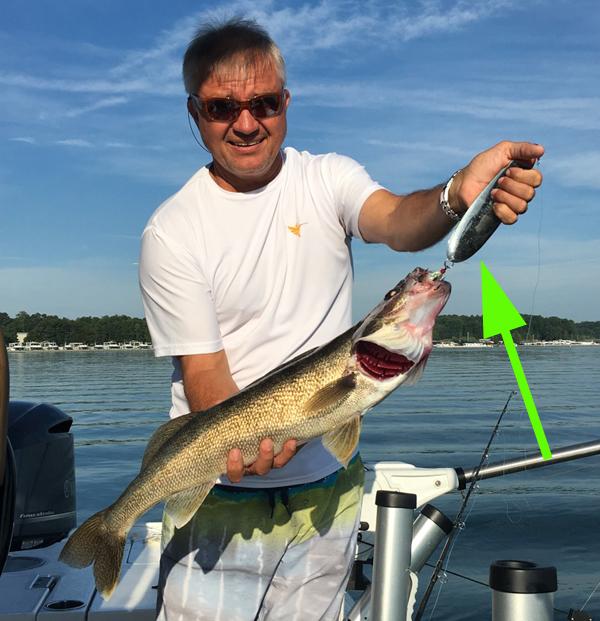 One walleye might be a fluke, but Bill says he's caught quite a few trolling Captain Mack umbrella rigs while fishing stripers.
Recently, when Bill was on an episode of Blair Wiggins' Addictive Fishing (a mostly saltwater show), Wiggins caught his 1st walleye ever while targeting stripers: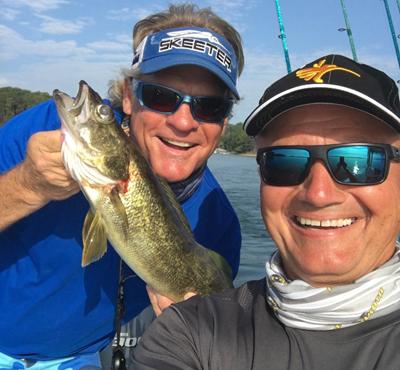 The fish hammered a live blueback herring on a #2 Trokar hook and split-shot rig in 35′. The rig allows the herring to free swim, which according to Bill:
> "Drives stripers wild when the water temp is high. If they're there, they typically eat. The walleye was a real surprise but we're catching more all the time."
Maybe it's time we bust out the herring rigs and magnum spoons up here in central Minnie!

Ice fishing training camp.
If you're the type that sits in your fish house on a hot July day, sticks your head in the freezer to pretend it's December, or maybe you've already spooled up the short sticks and began to pace the shorelines…then you'll definitely be able to relate to the crew at Fish Addictions: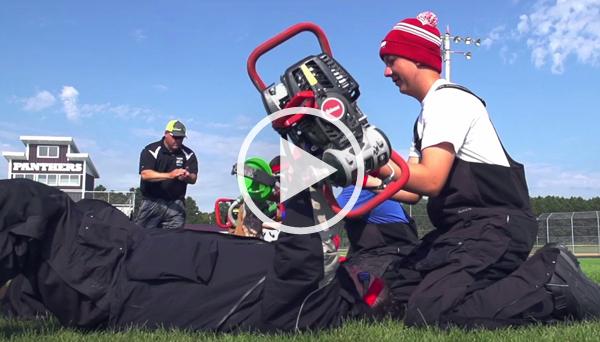 Ice anglers are for sure a different breed. When they're not hole-hoppin' in their Eskimos, they're probably sleeping in this bad boy with the rattle reels down:

News
1. Vet catches final fish as last wish.
> "Navy veteran Connie Willhite only asked for 2 things before he passed away in the Hospice Care Unit: To be baptized and to catch 1 more fish.
> "He caught 4 fish from his hospital bed. While he was catching those fish, Willhite's face lit up and he was truly at peace."
RIP fishing brother and thank you for your service.
2. MN: Looser regs on Vermilion walleyes.
Thanks to a super healthy population. The current protected slot is 18-26″ — say they'll likely keep the bag limit at 4 but:
> "New options under consideration are a 20-26″ protected slot, an 18-22″ protected slot, or a rule that says 1 of 4 keepers can be over 18 inches."

3. MN: MTT championship on Lake of the Woods.
Sep 15-16. The time of year when dreams come true!
4. MN: MWC finale on Cass Lake.
Your last chance to register is THIS Monday.
They recently announced their 2017 schedule, check it here.
5. ON: Nipissing commercial fishing closed…
…for the season. They've reached the 'upper sustainable limit' of walleye harvest. They also said: "A major drop in the number of spawning-size walleye were noticed several years ago." Hmmmm.
6. The Technological Angler: Fall walleye techniques.
> "Spring walleye fishing gets all the press, but the fall bite is truly the most enjoyable time of the year to chase ol' marble-eyes."
Spot on brother! Get the tips here.
7. ON: Asian carp found in Erie was fertile.
No bueno.
8. ND: Des Lacs fish kill no threat to Souris River.
The fish kill was due to a lack of oxygen in the water — so no worries about anything "emptying" into Souris from Des Lacs.
9. No such thing as too much Sea Foam.
Guess you can mix it as high as 50/50 with gas engines and diesel can actually run on 100% straight Sea Foam. Spit-shine that outboard inside and out! #SeaFoamWorks
Fishing Reports
 > "Trolling crankbaits in 30-34′ about 10 miles out of Lighthouse Gap is producing nice walleyes, but the scattered schools are starting to move closer into shore. Pulling spinners and vertical jigging with a jig/minnow in 12-18′ is also producing….
> "More walleyes are showing up in 4 Mile Bay and the mouth of the Rainy River each day as the water cools. Covering lots of water to find fish is key, but the fall shiner run (up the river) should begin soon and walleyes will be close behind.
> "Fishing has moved to the bays and shallow water at the NW Angle with fish being caught in 10-13′ around Flag Island and in 16-27′ south of Oak. Drifting with spinners and bottom-bouncers in shallower areas has been the best option, but pulling plugs away from structure is also catching fish."
Snappin' toads:
Pete "Mr. Tiller" Harsh of Mitchell's Guide Service:
> "The good fishing we have enjoyed all summer continues and so far the methods remain pretty much the same. Spinners/bouncers and trolling crankbaits are good bets….
> "You'll want to change your presentations with the dropping water temps — jigging and trolling crankbaits…as the spinner bite fades."
Now here's a buffet line:
> "Trolling big crankbaits in 19-24′ has been the key for tying into toads measuring 30+ inches. Best baits have been #11 Berkley Flicker Minnows and #12
Rapala Down Deep Husky Jerks
— slowing to 1.4-1.7 mph was key to get the negative fish to bite."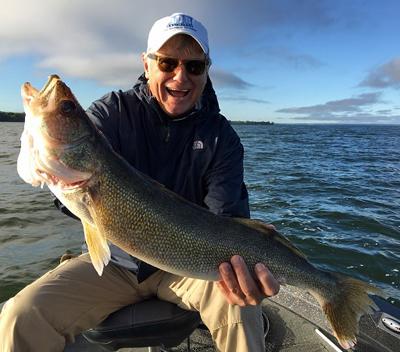 Great places to catch 'em
Sign up another fish-head!
If you're forwarding Target Walleye/Ice to a friend who loves to walleye-fish or want your fishing buddies to get these emails, just send us their email addresses and we'll take care of it! (We won't sell the addresses, use them for spam, etc.)

The full Jim Edlund write-up is on TargetWalleye.com, but here's a few excerpts — "she" is diehard walleye angler Vicki Tennant:
> "A lot of people have touted that we're only out for big walleyes — but for us, it's simply a more active way to catch them than jigging or pulling bottom-bouncers. Just seems like there are often bigger fish in the shallows where we fish."
> Sometimes she tips the back treble with plastic, but what's proven most effective are
Rapala Tail Dancers
that feature her unique DIY mod: a small Colorado or Indiana-style blade affixed to a
split ring
and
barrel swivel
, and soldered to the rear treble hook.
> The combination of
Tail Dancer
wobble and added rear flash and vibration has proved so deadly the entire approached has been dubbed 'The Tennant Pattern' by fellow Witch Bay guests.
> She adds that the best years for the 'Tennant Pattern' have been those that are "so stinking hot and glass calm that you can literally see walleyes in 5-10′ over those humps." But it produces year after year no matter the conditions.

Quote of the Day
I wouldn't live anywhere else 8 months out of the year.
– That's
Al Lindner
talking about how much he LOVES central MinneSnowa…at least until the lakes lock up! Quote was pulled from
a great Matt Straw write-up
on Al's passion for the outdoor industry and how he and Ron's lives were woven into it. For sure worth a read.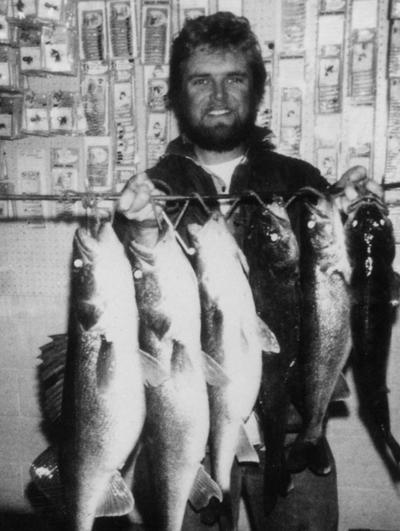 Today's 'Eye Candy
Big baits = big fish: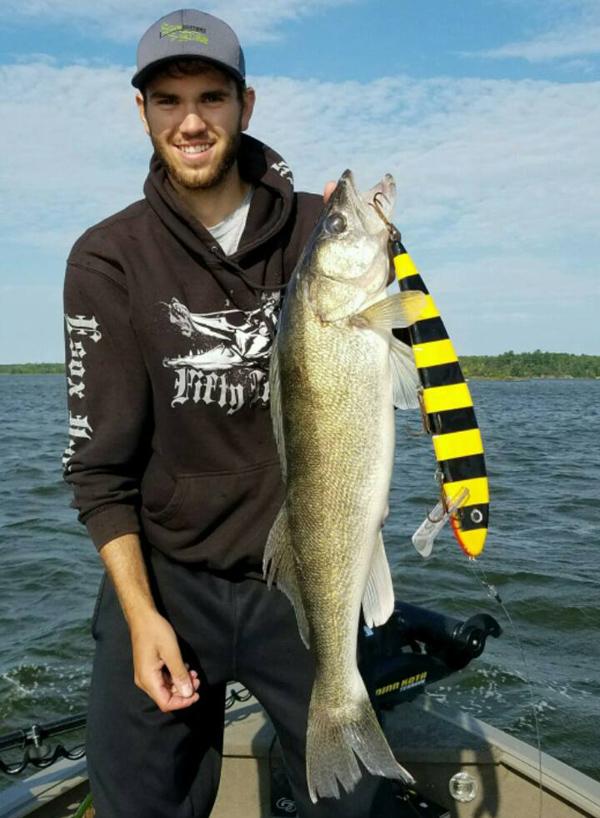 Yep that's a real shot! It's Andrew "no stranger to big fish" Slette who's been on a role lately — get a load of this 57″ muskie he caught a couple months back that's the new catch-and-release record in MN: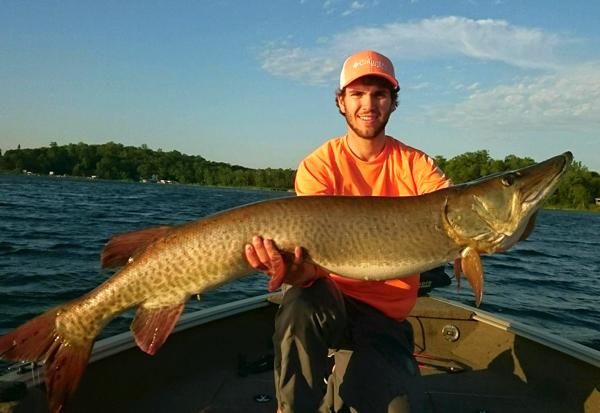 Check this stuff out!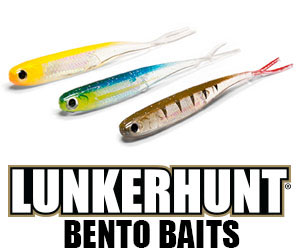 About Target Walleye
Target Walleye/Ice
brings you the BEST walleye and ice fishing news, pics, tips and events year-round, and is brought to you by Al & Ron Lindner, Jim Kalkofen and other walleye nuts like you!

TargetWalleye.com | Rapala.com | IceForce.com