If you're receiving this Target Walleye/Ice email — covering the best of walleye fishing during open water and the best of ice fishing during hard water — for the first time, a friend probably signed you up! Target Walleye/Ice is brought to you by Al and Ron Lindner, Jim Kalkofen and other walleye and ice fishing nuts like you.

Today's Top 5


Why someone in the boat always catches more. 
Jason Mitchell learns ya some knowledge on why it's important to pay attention to the angle your line makes from your rod tip to the water: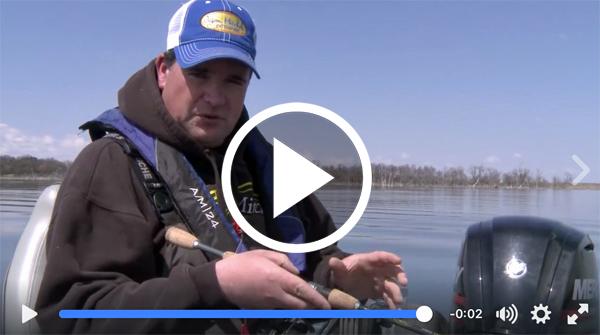 Jason is being inducted in the ND Fishing Hall of Fame this July during the Governor's Cup banquet in Garrison, ND. Congrats man!

Rigging a 'tattle flag' on Off Shore Tackle boards.
It's easy to tell when you've got a big walleye on since it rips the board back, but a 'tattle flag' helps you know when you've got a small fish on so you don't accidentally drag the little bugger around: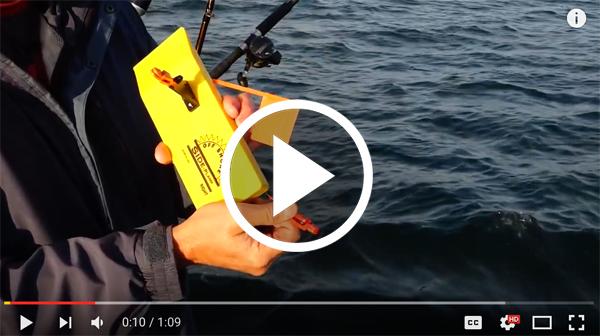 Pretty important unless you're tryin' to catch a bigger cannibalistic walleye like this guy: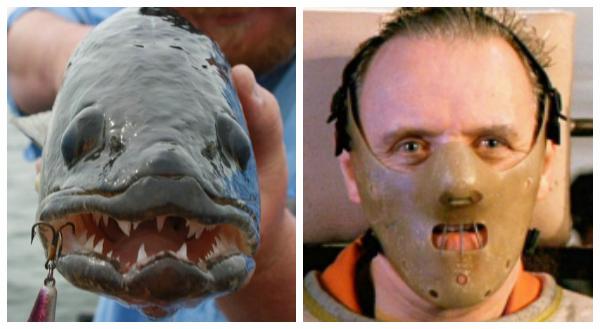 When someone's fishing in your spot.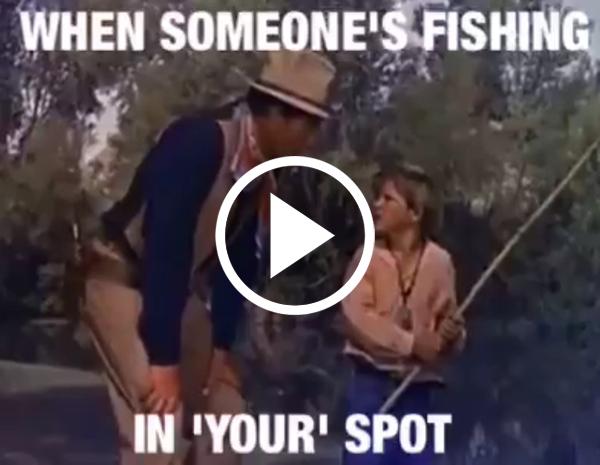 LOL!

Walleye-fishing emoji.
Bet you didn't know they had an 'I got my limit of walleyes' emoji: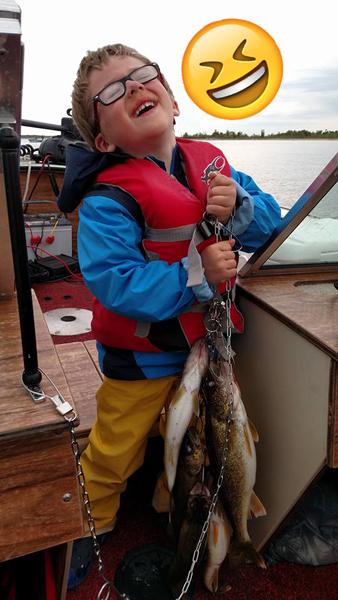 Kid is for sure hooked on wally fishing — good job dad!

Literary no wake sign.
You'd have to be at a dead stop to read this!

News
1. MN: Angler struck by lightning in serious condition. 
Dang it. Prayers, fishing brother.
2. WI: Steffes/Schneider win on Winnebago.
Merc National. Ken Steffes and Lucas Schneider's 2-day total of 34.40 got 'em $13K.
Caught the fish trolling crankbaits out in the mud on the west side of 'Bago. They were moving their baits up and down in the water column depending where they graphed each fish.
3. MN: Blomberg/Murphy win K of C Walleye Classic.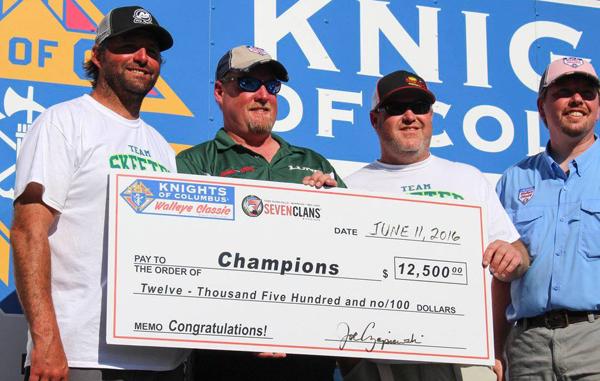 Rich Blomberg and Aaron Murphy's 17-lb Lake Bemidji bag was good enough for the $12.5K 1st-place prize.
> "…managed to recover from a poor start after they woke up to find that their minnows had died due to a power outage."
4. MN spending $$$ to save deepwater cisco lakes.
> "DNR project that aims to curb development and stop deforestation around lakes containing ciscoes (tullibees). About $1.2 million will be paid to private landowners for permanent easements."
So basically playing real-life Monopoly minus the hotels?
5. Canada using zebra mussel-sniffing dogs.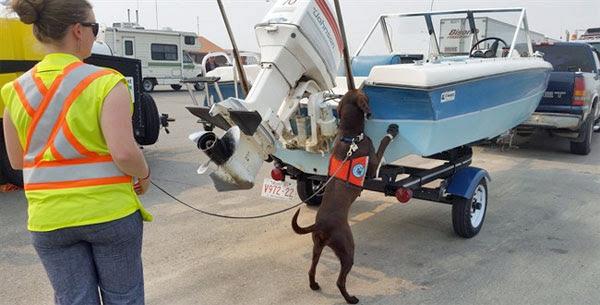 Have to question if this is the best use of a perfectly good hunting dog??
6. Bone-free walleye fillets (video).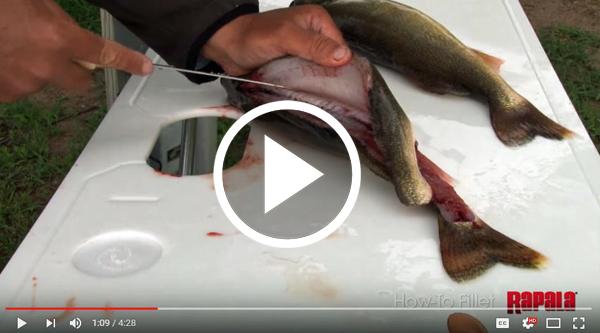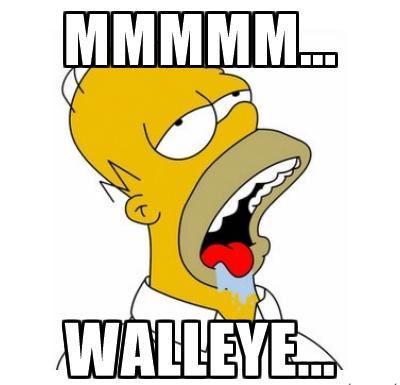 7. CLAM looking for marketing director.
Someone's #DreamJob
9. LEER coupons for fishermen/women.
Save on a new LEER top right here!
10. Using magnets to stay organized (video).
Why not just make a whole boat out of magnets??
Great places to catch 'em




Sign up another walleye-head!
If you're forwarding Target Walleye/Ice to a friend who loves to walleye-fish or want your fishing buddies to get these emails, just 
send us
 their email addresses and we'll take care of it! (We won't sell the addresses, use them for spam, etc.)

Target Walleye's Jim Edlund talked with a few of walleye fishing's top sticks to learn how they catch walleyes during the dreaded mayfly hatch. Few excerpts below, but you can read the full write-up on TargetWalleye.com:
> "I treat engorged walleyes like cold-front fish. I go for reaction bites by using a Jigging Rap or spoon. Or if I'm pulling spinners, I'll speed up from 1.0-1.2 to 1.6-1.8 mph.
> "On a lake like Mille Lacs, it's key to know which flats have the biggest bug hatches. If I see clouds of bugs on my electronics I don't even fish it. I'll move to the gravel bars where they don't hatch."
> "One of the things during a big hatch is go really light and run a stealth rig of nothing more than a splitshot and leech. I'll either troll really slow or sit right on top of the fish….
> "The rig is simple: 4- or 6-lb Sufix Fluorocarbon with 32-38″ between a #4 VMC Octopus hook and the splitshot. On the business end, I use a smaller leech like a medium or large to emulate the larvae coming off the bottom."
> "I do things differently. I don't compete with the mud buffet. I do downsize, but look for harder bottoms because there's fewer mayflies. Even if it's just harder mud bottom. There's the spongy stuff and there's compact, clay bottom. I go for the latter — areas where there's less competition.
> "I'm either cranking or pulling spinners. I downsize blades and crankbaits, like going from Reef Runner 800s to Deep Little Rippers which are half the size. In terms of spinners, I drop one to two sizes in blades, like from #8 to #6, or #6 to #4 or all the way down to #3."

Quote of the Day
They treat walleyes more as a predator than as a game fish.
– Jim Gillespie, prez of the Upper Missouri River Chapter of Walleyes Unlimited, talking about the MT DNR. Here's a shot from the fisheries chief's childhood, may explain a few things lol: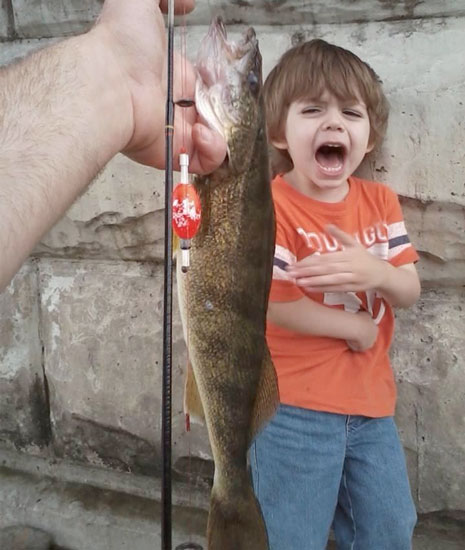 Today's 'Eye Candy
That's Target Walleye's Brett McComas and his fiance Amanda last night at their local walleye league. Looks like it was a little wet out there! They caught 'em on a 1-2 punch of Rapala Jigging Raps and a Lindy/leech.
Random
Unmanned 'saildrones' depart on Bering Sea data-gathering mission: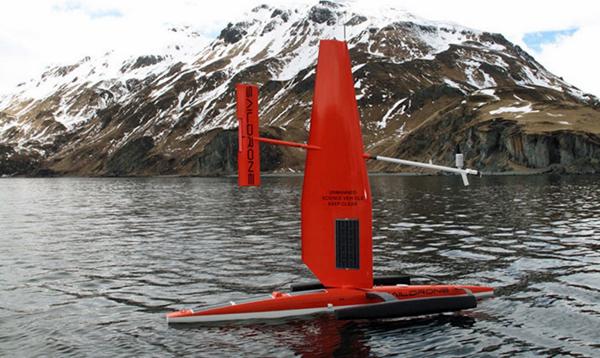 Data?? They oughta slap a couple rod holders on that thing and pull some Shad Raps!
Check this stuff out!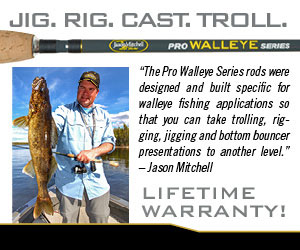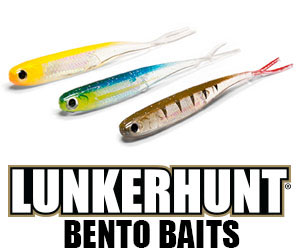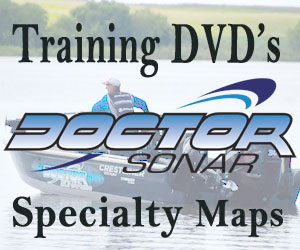 About Target Walleye
Target Walleye/Ice
 brings you the BEST walleye and ice fishing news, pics, tips and events year-round, and is brought to you by Al & Ron Lindner, Jim Kalkofen and other walleye nuts like you!

TargetWalleye.com |  Rapala.com | IceForce.com