If you're receiving this Target Walleye/Ice email — covering the best of walleye fishing during open water and the best of ice fishing during hard water — for the first time, a friend probably signed you up! Target Walleye/Ice is brought to you by Al and Ron Lindner, Jim Kalkofen and other walleye and ice fishing nuts like you.

Today's Top 4


Biggest hardwater 'gill ever on video?
Nick Kerber was using a Clam Half Ant Drop in southeast IA waters to ice this giant 2-lb bulldozer — released too. Stout!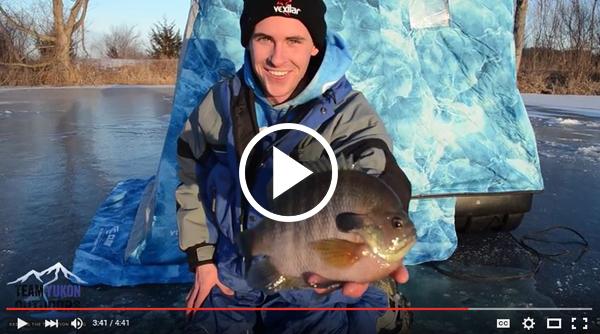 Far as we know this is the biggest ice bull ever caught on film? If you know of a bigger one, let us know here on Facebook.

We called Brian "Bro" Brosdahl and asked him what gets his goat.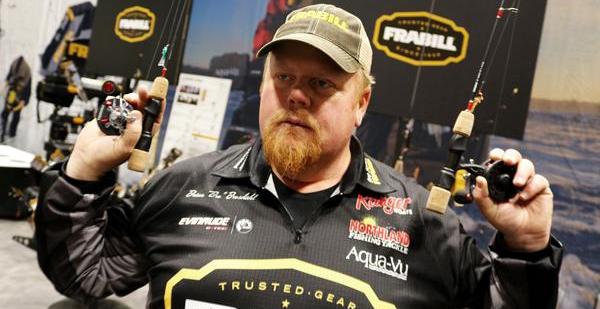 TW: What do you think of the permanent house craze?
Bro: In some ways, permanents have privatized public waters. You can't go onto public land and build a Taj Mahal deer stand, but you can set up and own the best hump in the lake. Not sure what I think of that. And you're talking to a guy with two old permies.
TW: Thoughts on plowing?
Bro: Plows are fun, but when a guy plows a 7-mile road to put his permie for the weekend, and then leaves, the fun really begins. The road fills in with hard-packed snow, slush builds and people repeatedly get stuck with sleds, ATVs and other trucks. The Great Wall of China was built to keep people safe.
People should plow with common sense. You don't have to scrape it all the way down to the ice so people can play marbles. If you don't know how to plow, don't drop it.
When resorts maintain roads, they plow to one side based on predominant wind direction so the road doesn't fill in. They're also there to help retrieve people who get stuck.
People have to mark spear holes with sticks or brush. Should people have to mark random weekender roads as a future hazard? I don't know. Maybe. Here's the other thing: Excessive roads can also change vegetation growth in lakes.
It's not all bad — permanent shacks make a nice wind block! Just hope that no one is inside or you'll end up like this: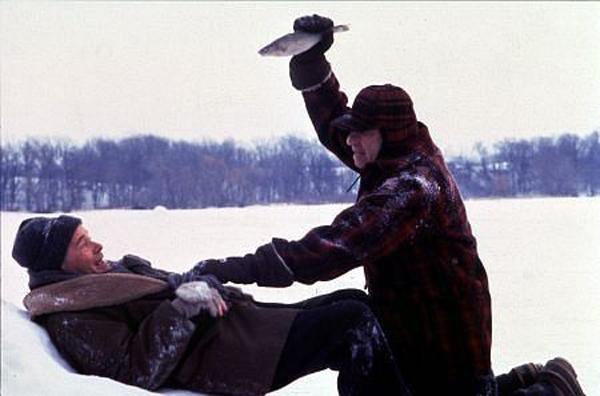 Why you should hunt burbot.
People are finally starting to realize that burbot (aka, eelpout, ling, slimeball, etc.) are NOT a trash fish — they're actually a top predator right alongside walleyes. You can even target them using your walleye gear while fishing in your walleye spots. Here's a quick rundown from Jason Rylander of Northcountry Guide Service on the ins and outs of 'pout.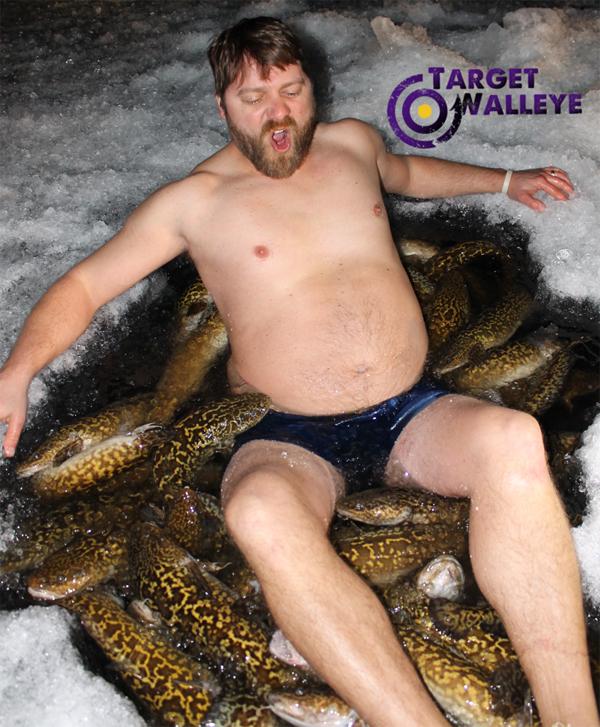 > Right now they are in feed mode preparing for their early to mid-March spawn, and good numbers can be caught on any given night. I target spawning areas and I prefer mid-lake humps that top out at 5 to 12 ft. I look for gravel or rock bottom areas on this structure to find the spot on the spot. I'll also key on the edges of gravel or rocky shoreline flats.
> I'll drill holes from the top of these structures to the bottom of the drops, then will hop holes seeing what depths the fish are keying in on that particular night. I'll spend my time fishing that depth range.
> See the pattern here? Glow and noise is my go-to when fishing for burbot. I like to tip these lures with shiner minnows or shiner minnows broken in half. I like using a UV light to quickly give my glow jigs optimum glowing power, and I glow up my jigs often.
Next month is considered prime time for slime — burbot season is upon us. #EmbraceIt

Hockey stick cell phone recovery.
What do you do when you lose your phone down the hole in 20 ft of water? You get it back using a couple of Aqua-Vu's and a slap shot into a wide-open net: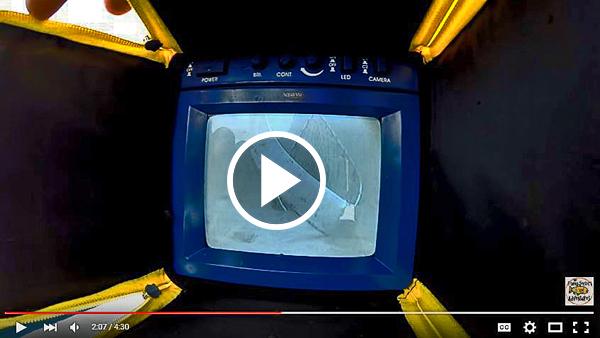 Well done fellas! Props to Samsung for the phone still working….


Ice Fishing


1. World ice championship moved to today.
In the Ukraine, because of rapidly deteriorating conditions. This is a manual drill, small-fish deal. Check out the palm rod: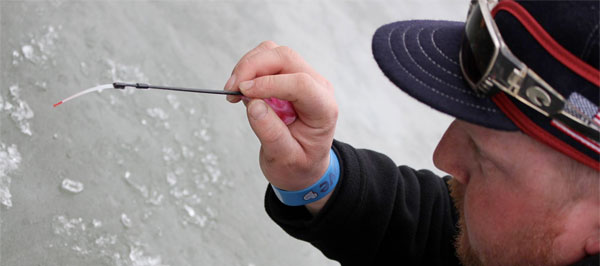 2. WI: Sturgeon spearing open on Winnebago.
Welcome to ShantiesRus:


3. MN: Early ice-off expected.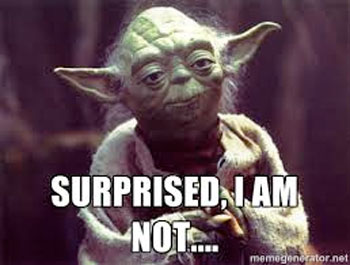 4. SD: Jumbos lunchin' a Northland Sliver Spoon.
5. The benefits of dual-rigging minnows.
The secret's out!
6. MT: Eagle nabs frozen fish (video).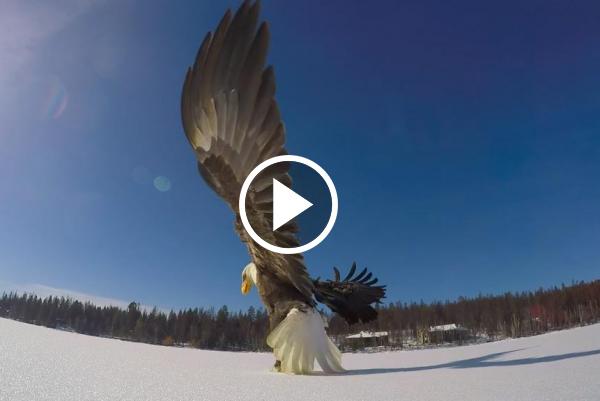 7. Repurpose those old hand augers!
Make a manual snowblower: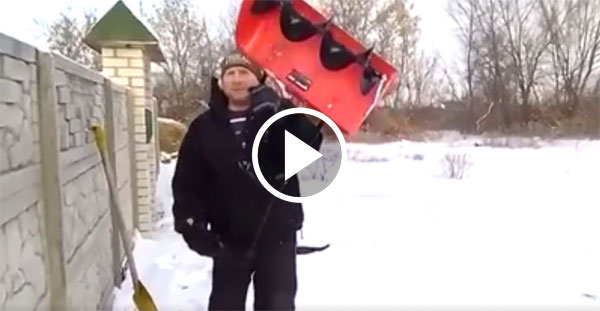 8. MI: ORV falls through polar plunge hole.
Prayers to the family.
9. VT: Man found dead near submerged vehicle.
RIP fishing brother.
_____
Make sure you note the special code for Target Walleye/Ice subscribers!

News
1. Ron Lindner and Dick Sternberg talk walleye slot limits.
A TWI exclusive, part 2 of 4. Check out part 1 here.
2. 10.2 lb 'eye wins Saginaw Bay/River contest.
4. Denali Rods form walleye team.
5. Understanding Humminbird SwitchFire.
7. Merc wins customer satisfaction award.
Love of fishing isn't in the requirements, but proficiency with Microsoft Office is….
9. How wooden rods were made in 1939…
…and here's how ice rods are made now lol: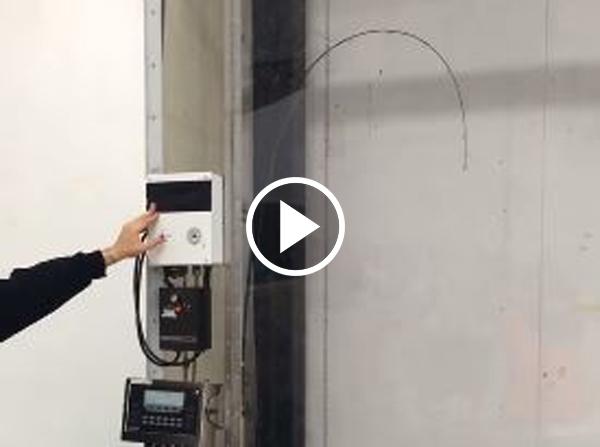 ---

---
---


'Eye Candy
Big catch, bigger release:
Spenser S. fishing the walleye capital of the world, Lake of the Woods.
---
How to catch tough midwinter walleyes.
> …you're looking for a downward trending barometer or a fairly s one. Heavier snow cover during this time of year cuts down light levels and makes bite windows extremely important. You'll want to be in a high-likelihood location at first and last light for most species this time of year.
> Moving fish are a big deal this time of year. You may not get them to commit on the initial offering, or even during that time of day, but lethargic walleyes will often still come to check out the commotion caused by noisy baits.
> With heavy snow cover and diminished light levels causing small bite windows, it's imperative that you offer them the one-two punch of Rippin' Raps with a nearby deadstick.
> Think Jekyll/Hyde, with the high-vibration Rippin' Rap racing aggressively and ringing the dinner bell, while the minimalist deadstick rod has a plain #4 octopus hook and tail-hooked shiner or fathead.
> If the fish are so negative that they're actually scared by aggressive baits and jigging, tone it down. You can still call fish from a distance with baits like the VMC Rattling Spoon. Just remember to have the dead offering nearby, so any fish which passes on your jigging rod offering is forced to see live bait that can't get away.
---

---
---
Shot of the Day
Devils Lake Jumbos love dropper chains — that's a Clam Speed Spoon btw: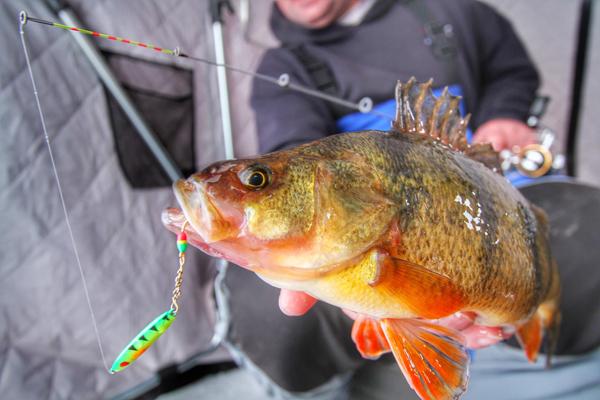 ---
What you need for ice fishing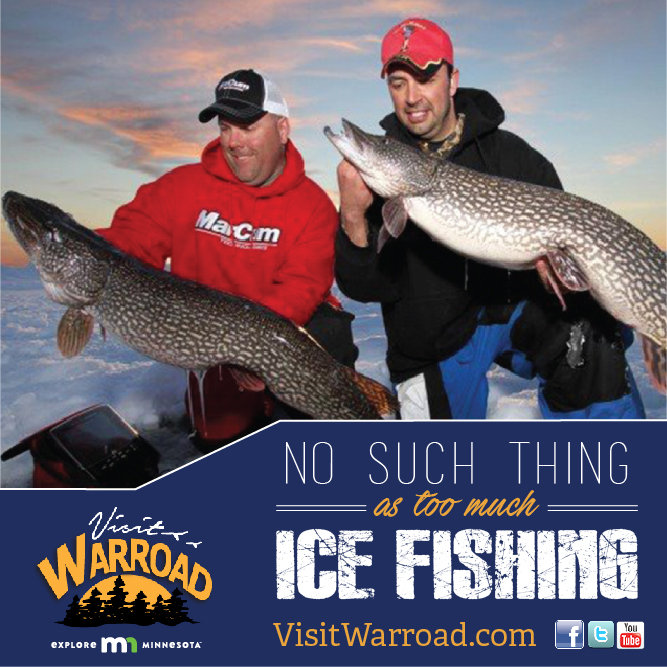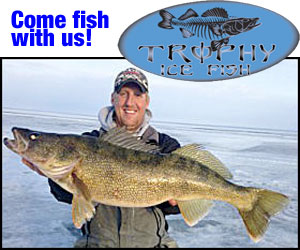 More great stuff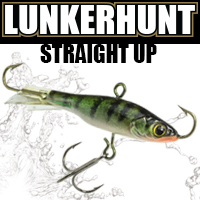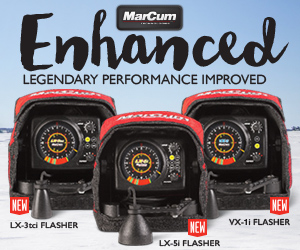 ---
About Target Walleye
Target Walleye
brings you the BEST walleye and ice fishing news, pics, tips and events year-round, and is brought to you by Al & Ron Lindner, Jim Kalkofen and other walleye nuts like you!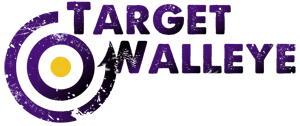 TargetWalleye.com | Rapala.com | IceForce.com