18 lbs?!?! At least one 'eye's eatin' good on Starvation Reservoir, UT: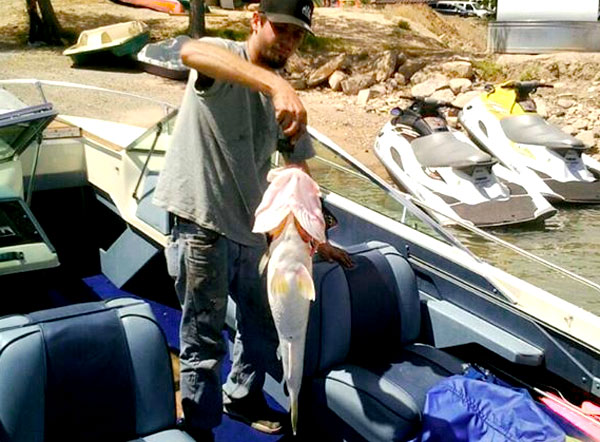 Travis K. with a 32-incher from Ain't Tellin' Where, MN: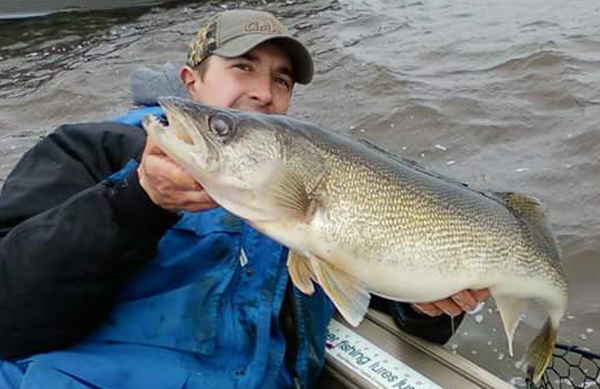 > "Just another northern MN river giant. I caught her with a chartreuse floating jig casting perpendicular to the shore." [Looks like a popular spot?]
Graham with a SK silver-eyed night 'creetch: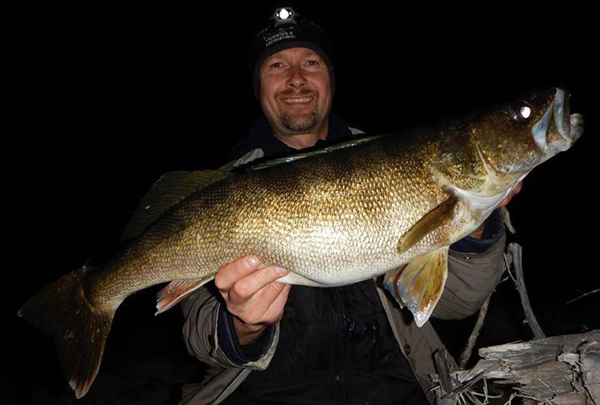 12-lb 12-oz, 30.5 incher from Dustin G. in the S. Sask River: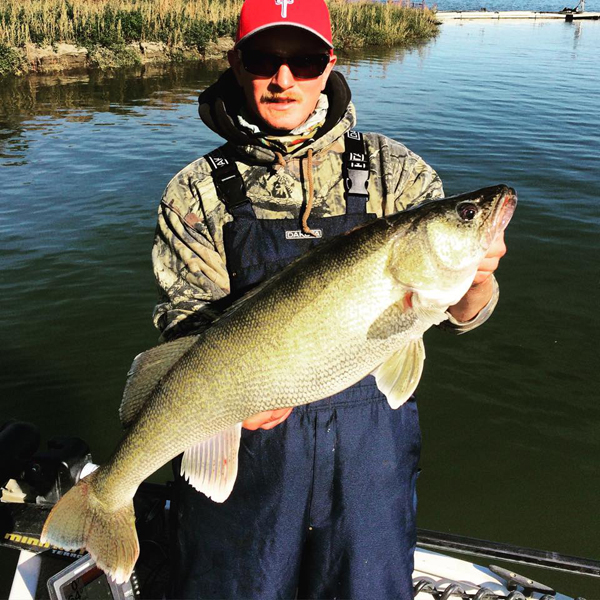 Tom H. with a Lake of the Woods, MN golden giant: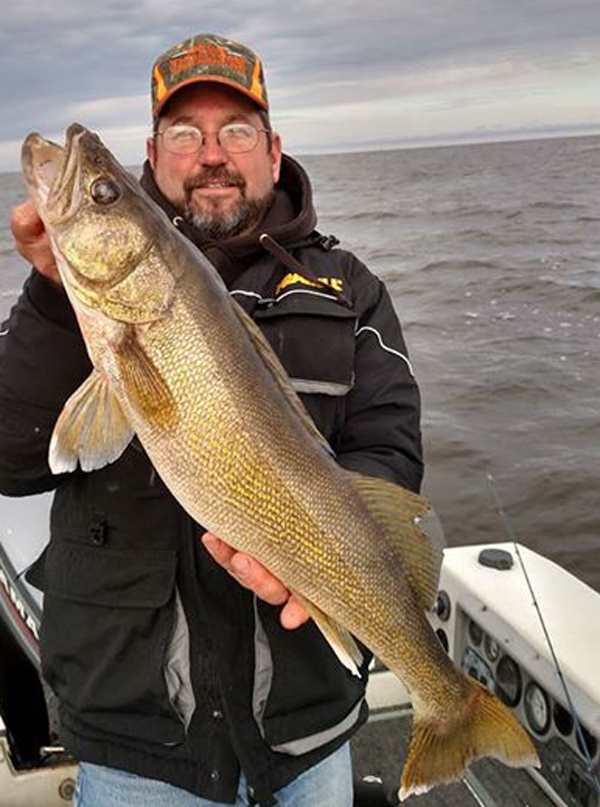 33″ gator from the East Monongahela River, PA: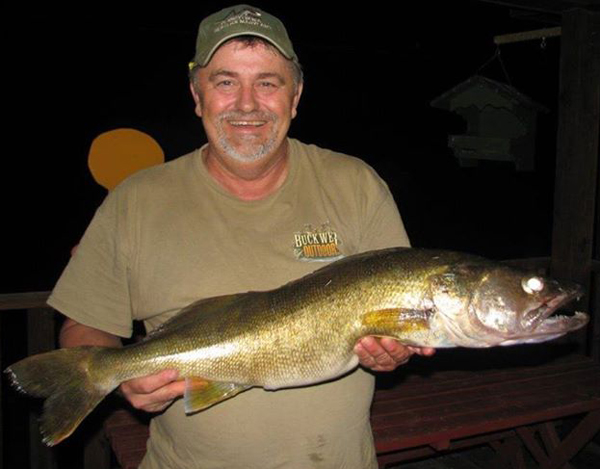 Dave Genz's "Holey Boat."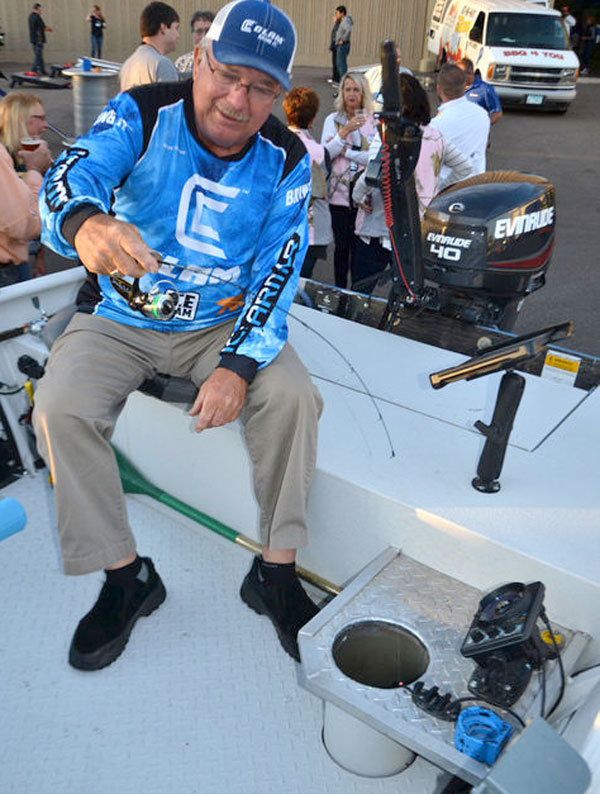 That's right, a boat with an intentional hole in it. Crazy cool how someone would even think of that:
> …Holey Boat, a flat-bottomed craft into which a pair of holes have been cut and then topped with something like a stovepipe. Ice-fishing-style Vexilar fish sounders are mounted, and anglers fish through the hole at the top of the pipe, just as if it were a hole in the ice.
> The angler, closer to the line and rod tip, can better watch what's going on there. More importantly, that angler sees what the fishfinder screen shows — the presence or arrival of fish, and how they react to the bait and presentation.
> By all accounts, the results are astounding. "Every time, people fishing in the holes in the (boat) outfish people fishing over the side."
What about snags Dave?

Fish-flesh-eating parasite in MN and WI.
This sounds bad!
> …a disease that dissolves the muscles of fish. He said there are 26 known infected lakes in [MN], with 15 species.
> "Some of the most commonly affected fish are yellow perch. I am concerned. As far as diseases go, this is a nasty one. People aren't known to be susceptible to this disease. The parasite basically destroys the filet and you are not going to want eat it."
> Infected fish have the appearance of freezer burn. It is called Heterosporis. If you suspect that a fish has Heterosporis or any other disease you can report the threat, and see a list of infected lakes, here.
> …it is not clear how the disease is spreading. Currently, there is no way to measure the economic impact. "When you have lakes that have 30% (of the fish population) infected you can imagine how big of an impact this may have…."
Hollywood is all over it already: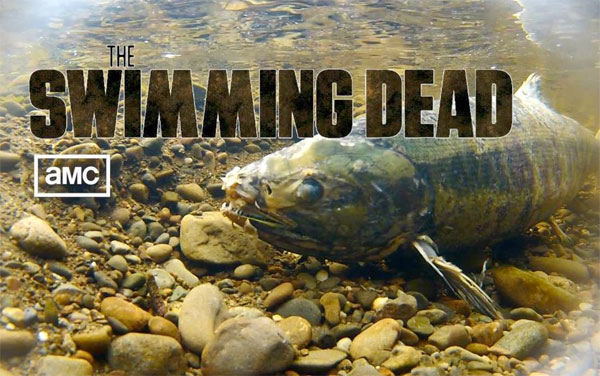 Sticking to the yuck theme: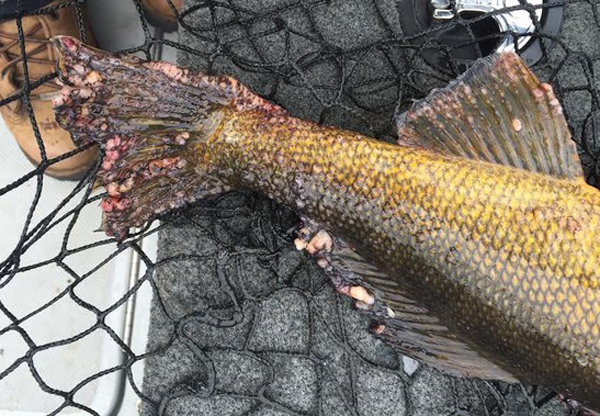 > Lymphocystis and Dermal Sarcoma are often referred to as warts or tumors which are virus-caused diseases. The growths usually are white to white-gray or pinkish in color.
> Not fatal to the fish unless the Lymphocys lesions affect their feeding, breathing or a secondary infection occurs.
> Not known to infect humans…. If you do decide to keep a fish with these diseases, it is a good idea to wash your hands immediately after handling any dead or diseased fish and to cook the fish thoroughly to ensure the fresh is safe to eat.
No thanks!

Lake Winnipeg a lost cause??
An "expert" says that zebra mussels will crush the fishery there:
> "The problem is irreversible and in fact it's a catastrophe, it's a disaster. It's very sad because all we have to look forward to now in Lake Winnipeg is a complete and eventual collapse of our ecosystem."
As a result of this opinion, the province has no choice but to implement its zebra mussel final solution: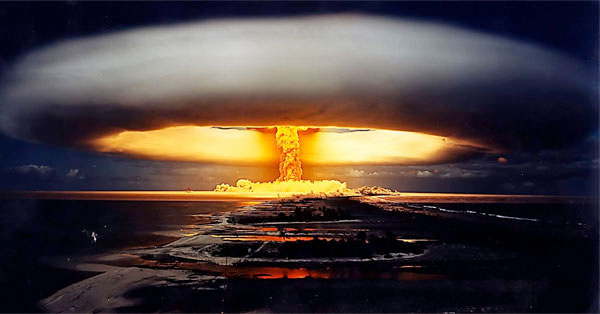 News
2. MN: New Mille Lacs advisory panel.
Neustrom and Roach on it = good.
3. Midwest and Northeast most hardcore anglers.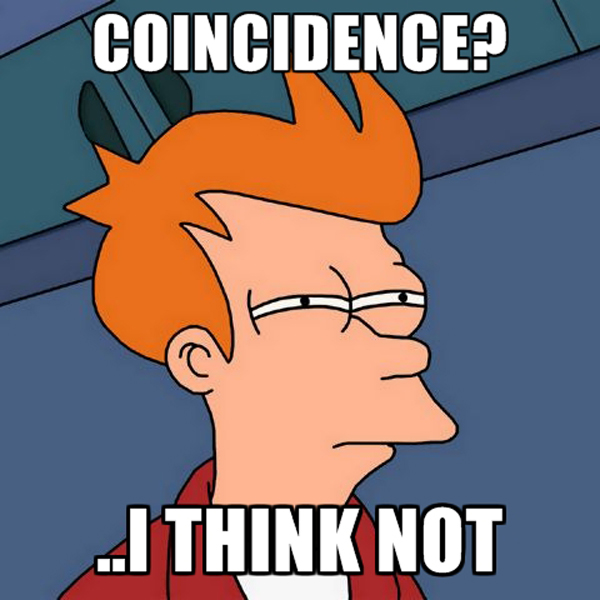 4. New CLAM show airs TOMORROW.
Fox Sports North and Fox Sports WI, Sat 7:30 am. Jiggy and J.P. tackle LOTW. Heres a sneak peak: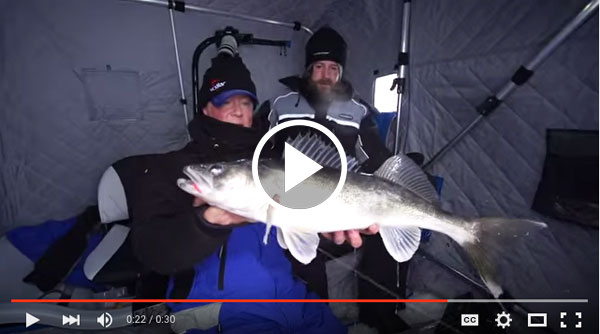 5. SD: Puppet Minnow bite continues.
> Guide Eric Brandriet: "Here in South Dakota, I use it to jig over certain structure like rock piles, steep dropoffs and roadbeds. Our flooded glacial lakes are full of unique structure making this a fall go-to bait."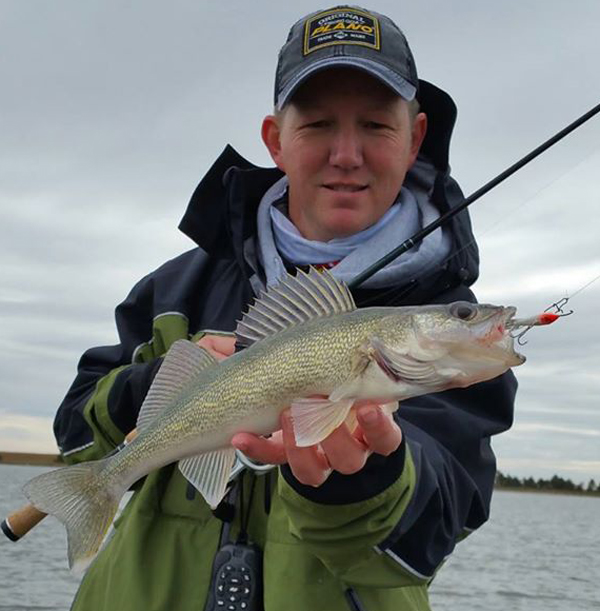 Learn more about the bait on NorthlandTackle.com.
6. ND: Great Devils summer points to a great fall.
Gary Parsons:
> There's a tremendous number of 14 to 18 inch walleyes in the system, and…plenty of trophies present also.
7. WA: Good Potholes bite continues.
8. WI: Fall walleye stocking underway.
Walleye also stocked in Chequamegon Bay.
9. MI: Erie walleye assessment starts next week.
10. MN: DNR wants more input on Leech Lake.
11. MN: Do cormorants hurt walleyes?
Doesn't look like it?
12. MN: Guide Paul Nelson on fall Bemidji bite.
13. WI: 'Sconnie fall 'eye tips.
14. ON: Seven guilty of over-fishing 'eyes.
15. 3 new Livingston walleye cranks.
16. Protect your right to fish.
Sportsmen's Act of 2015.
Ice Stuff
1. Get your StrikeMaster auger tuned up now!
Find a service here.
3. New Frabill Aegis ice shack.
_____
Click here to enter and win! And please forward the link!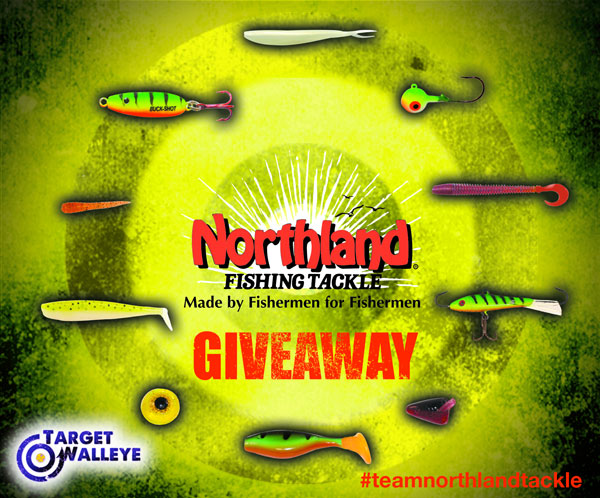 ---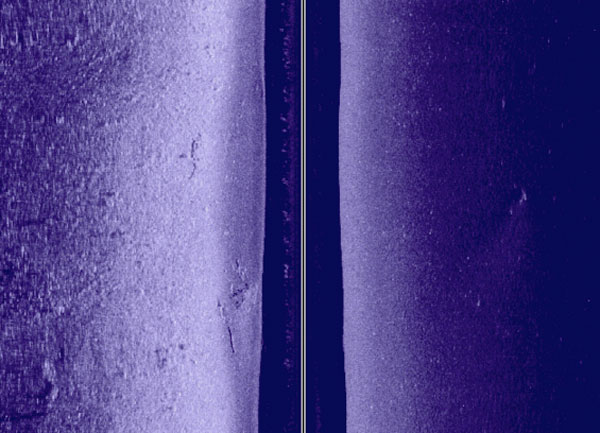 > When fish are relating to hard bottom, the bright white signals that we typically associate with fish become very difficult to see against the bright signals associated with the hard bottom. Fish can often be identified by observing their sonar shadows, but depending on the precise nature of the bottom, even those shadows can be masked by bottom irregularities. With many rocks on the bottom in this area, the sonar shadows from the small and large rocks are mixed with sonar shadows from the fish, making the fish "invisible."
> How did I find the fish relating to this shard hard/soft bottom transition? I reversed course. I turned the boat around and drove along the transition on the hard-bottom side, rather than the soft bottom side.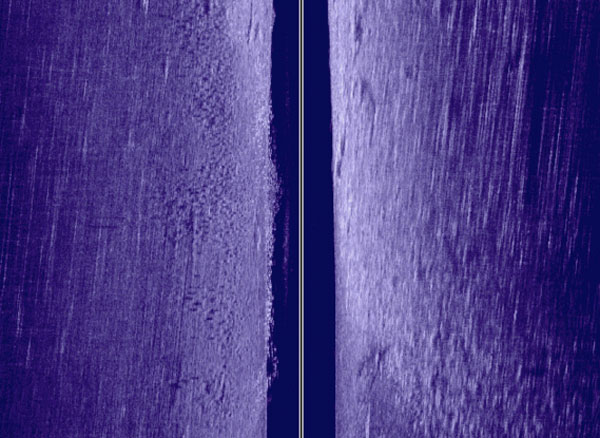 > This caused the sonar signals associated with the fish to stick out like sore thumbs, because they were now imaged against the soft, silty bottom rather than having a hard, rocky bottom as the backdrop. Likewise, because the soft bottom doesn't have the irregularities of the rocky flat, the many sonar shadows of the fish are just as easy to see.

Have you checked this stuff out yet?

---
About Target Walleye
Target Walleye
brings you the BEST walleye and ice fishing news, pics, tips and events year-round, and is brought to you by Al & Ron Lindner, Jim Kalkofen and other walleye nuts like you!
---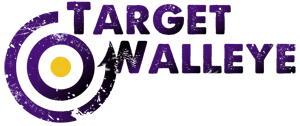 TargetWalleye.com | Rapala.com | IceForce.com