If you're receiving this Target Walleye/Ice email — covering the best of walleye fishing during open water and the best of ice fishing during hard water — for the first time, a friend probably signed you up! Target Walleye/Ice is brought to you by Al and Ron Lindner, Jim Kalkofen and other walleye and ice fishing nuts like you.

Today's Top 5

Look at this walleye!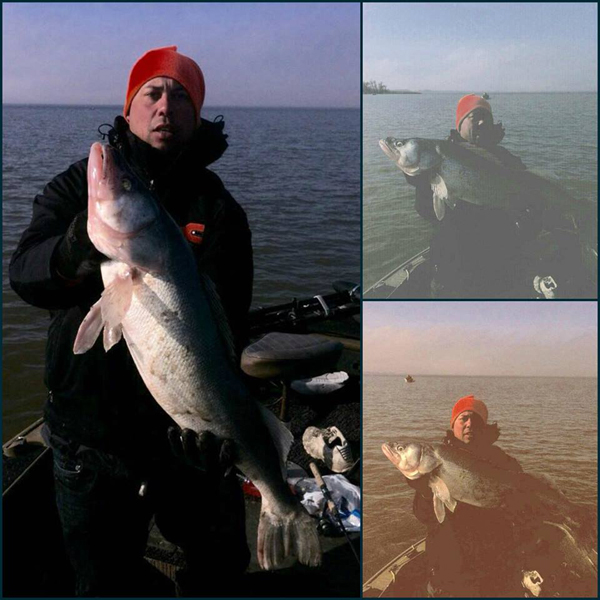 > Mammoth Red River willie (MB) muscled up by David Parker! The fish measured a staggering 34.5″ and was 17.23 lbs.
> 1/2-oz lime green jig (red hook, red eyes) tipped with a "Salty" in 15 feet of water. RELEASED unharmed — better bring up your 14 inch auger in March.
Love the old-school pic, almost like it's a mythical Loch Ness-type fish.

Whitson/Campeau are MWC champs.
ON's Greg Whitson and Mark Campeau won the MWC Championship on Erie (out of Huron, OH). 3 days, 15 fish = 65.12 lbs.
> Presented by Cabela's, the three-day event Oct. 22-24 featured the top 49 point-accumulating teams from the 2014 MWC season.
> Whitson and Campeau topped the talented field by bringing 5-fish limit catches to the scale each day, including a 24-lb basket on day 1, 24 lbs 9 oz on day 2, and 17 lbs 3 oz on day 3….
Trolling stickbaits:
> …program hinged on running purplish, perch-colored baits as close to 1.5 mph as possible, 30-40′ behind planer boards on 10-lb Berkley Trilene XT mainline. They focused on 8-12′ around the Kelley's Island and Gull Island Shoals.

Killer fall shore tactic, so get on it!
> It's hard to beat a minnow for walleyes this time of year, although I know of some anglers who are doing well using frogs. Based on what I've seen in the stomachs of fish I've cleaned in the past couple of weeks, I can see why.
> Fish are gorging on frogs. I've even caught northern pike with their mouths full of leaves, which seems to result when the fish root through the bottom of the lake or river for frogs.
Hey, Rapala — we need this pattern on a Husky Jerk and Jigging Rap!



How to frog: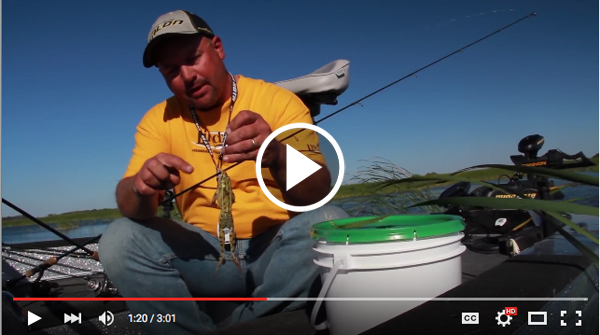 More evidence for walleye froggin'.
'Nuff said:
lol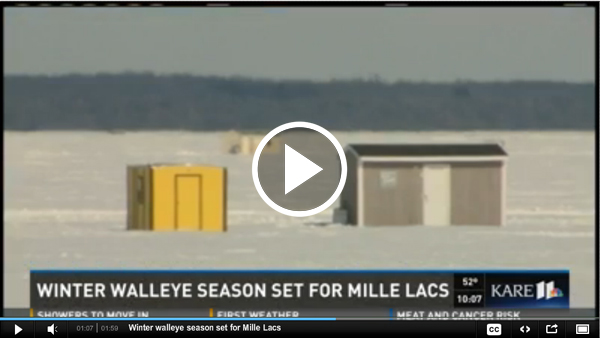 > ONE walleye between 18″ and 20″ or one longer than 28″ during the season running from Dec 1 to Feb 28. Anglers can also keep five northern pike, with just one over 30″.
In case you get full fast:
> If the winter walleye harvest approaches or tops the 5,000-lb cap on walleye, the DNR will move to catch and release.
Only one guy is happy about this: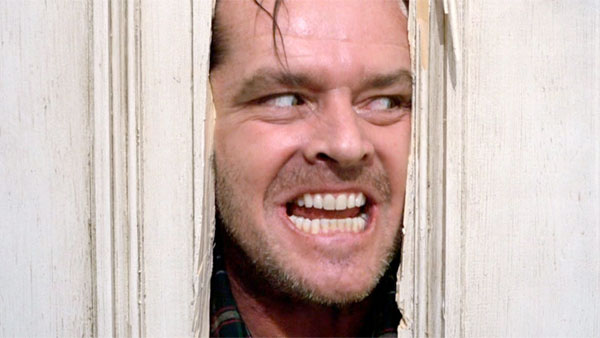 ---

News
1. MN: 2016 Walleye Stamp design selected.
Nicholas Markell, who also won the 2013 contest: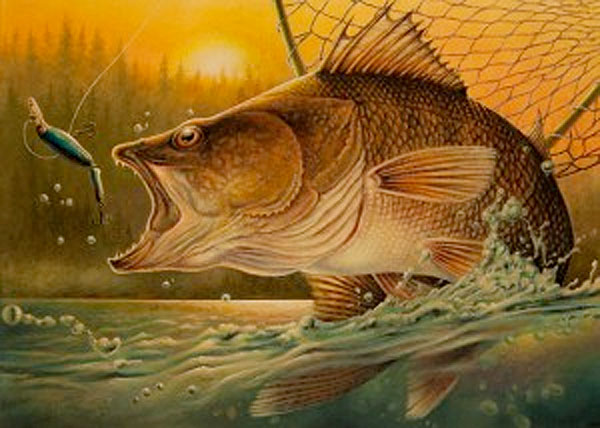 2. MN: 13,000 yearling stocked in Minnetonka.
> "This is only possible because of the generous donations from the community. We will be spending $25,000 and adding just under 2,000 lbs of walleye to Minnesota's largest metro lake."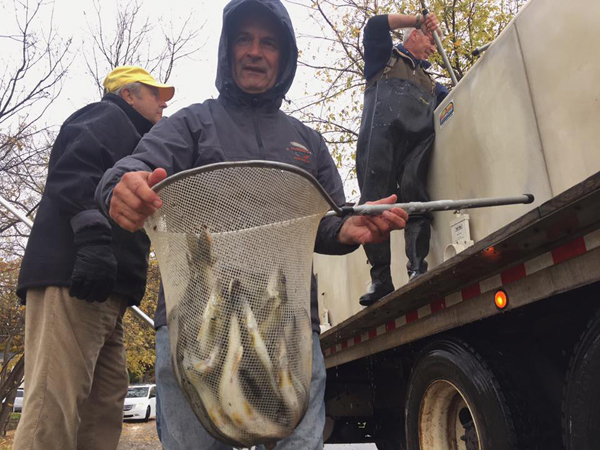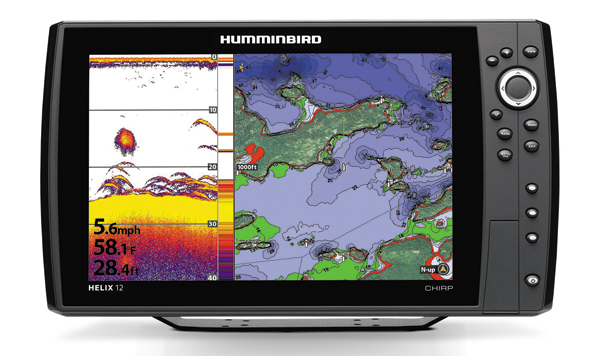 12.1″ screen with Chirp & AutoChart Live:
> New Helix 9, Helix 10, and Helix 12 Chirp bring an eye-popping 1500 nits of widescreen brightness to your boat, making them easily readable in direct sunlight – even when wearing sunglasses.
> Ethernet capable, allowing them to share waypoints and sonar across the network. Also compatibility with Minn Kota iPilot Link.
> Anglers can now go where no map has ever been with one-of-a-kind, patent-pending AutoChart Live technology, which allows anglers to make their own maps in real time, no PC, server or Cloud connection required.
> The Helix 12 Chirp uses long transmit pulses that sweep across bandwidths of frequencies that are then processed using advanced Digital Signal Processing (DSP) to result in high-resolution Sonar with increased target separation and reduced noise.
> Enhanced target separation allows anglers to clearly identify game fish and baitfish, while reduced noise offers clear, sharp Sonar images.
4. MI: 3,500 fingerlings in Whitefish River.
5. MT: Walleye found in Swan Lake.
Biologists not happy.
6. Tommy Skarlis on Offshore Tackle Podcast.
8. Pro basser now working for Yar-Craft.
> Rick Pierce, president of Bass Cat and Yar-Craft boats, recently announced the appointment of [former Bassmaster Elite Series angler] Kevin Short as the international sales rep for both brands.
Kevin retired from the Elite Series at the end of this season.
9. NH: Great story about person with Asperger's.
Works at Bass Pro Shops, love bass fishing and "knows the location of the 40,000 items for sale in the fishing department." Asperger's is the "Rain Man" condition.
10. OK: 99-year-old man still fishing.
Wouldn't you be doing that too?
11. Vote for Fishing for Life.
Help 'em take more kids and vets fishing!

Ice Fishing
1. Pre-ice auger tune-up tips.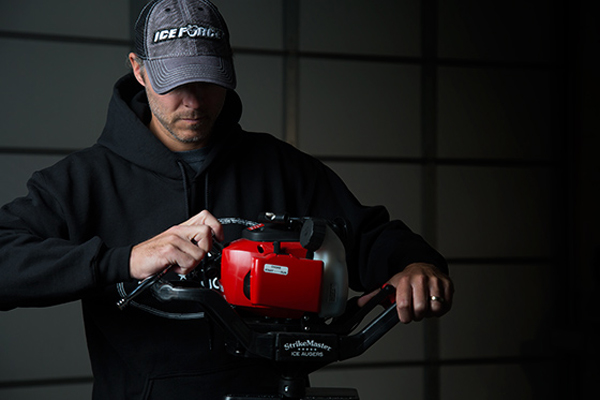 2. Awesome auger discounts at Reed's.
Get their free ice catalog right here.

3. Save on Clam Power Edge augers.
Plus check out Clam's Ice Auger Conversion Kit = #BackSaver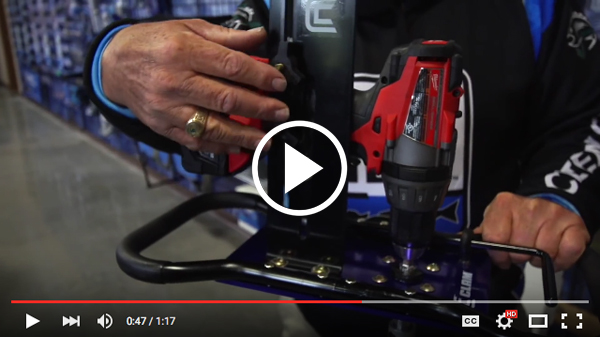 Events
1. SD: Dakota Ice Institute Nov 6­-7.
2. MN: Hardwater Expo in Blaine Nov 20­-22.
3. MN: Reed's Ice Classic Nov 27-­29.
Fishing Reports
> Great fishing continues on the big lake with a jig and emerald shiner the go-to presentation. Gold with chartreuse or orange and bubble gum are hot colors. Stinger hook helpful for light biters.
> Big numbers of fish north of Lighthouse Gap in 21-25′. Anglers also finding walleyes in front of Morris Point, Zippel Bay and near Twin Islands. Evening hours showing results in shallower water in gaps, Zippel Rock and Long Point area.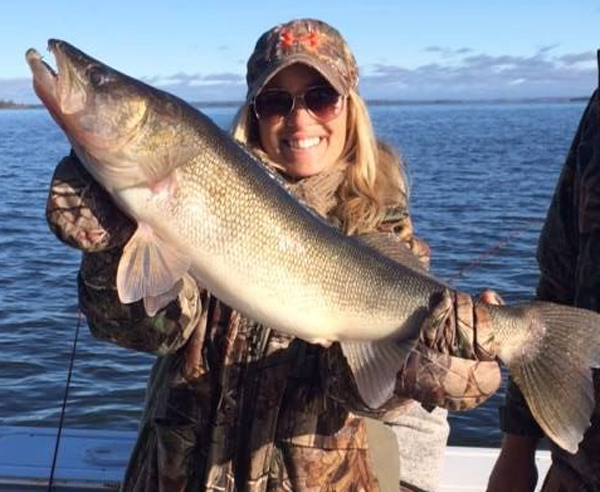 > Rainy River: The strong run of walleyes has not yet happened. Some fish being caught, but not in big numbers. Mornings and evenings are best. Colder weather should help bite. Try 16-18′ jigging or drifting during windier days. Orange, and gold mixed with a bright color, are the ticket tipped with minnow.
> NW Angle: Hot walleye action in 15-26′ jigging near Oak Island, Rabbit Ears, Hay Island and NW Point east of Garden Island. On the ON side, areas with current adjacent to deep holes best. Walleye and crappie bite excellent.
2. Big chubs = GIANT fall 'eyes.
Hard to find in bait shops, Vexilar's Corey Studer catches his own: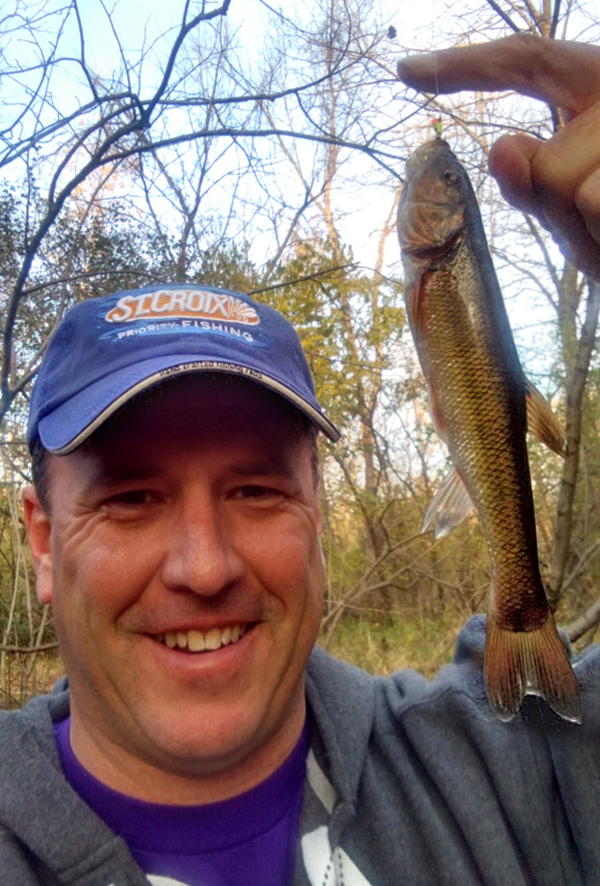 ---

---
Sign up a friend!
If you're forwarding Target Walleye/Ice to a friend or friends or would like your buddies to get these emails, just
send us
their email addresses and we'll take care of it! We of course will not sell the addresses, use them for spam, etc.
---

---
---
How to catch walleye right now.
Al Lindner:
> Most of the lakes in the area where I live have turned over, and water temperatures are pretty uniform. There's no more suspended fish or bait. They have both pushed down and are heavy on structure. This is happening shallow, deep and in-between.
> Depending on the body of water, I'm catching big walleyes in 4-10′. if it's a good walleye lake, there's always some shallow no matter what time of the year it is.
> I'm catching some in mid-range depths (10-20′). In a lot of our lakes, the fish are already down in 20-40′ and in some cases even deeper. They are bunched up really heavy and feeding like crazy. Focus in on hard-to-soft bottom transitions into deep water.
> My first choice is typically a Jigging Rap. My next option would be a live bait jig and a minnow (preferably a redtail chub) or vertical-jigging a jig and a minnow. Those are the three go-to presentations when you're tight on deep water structure.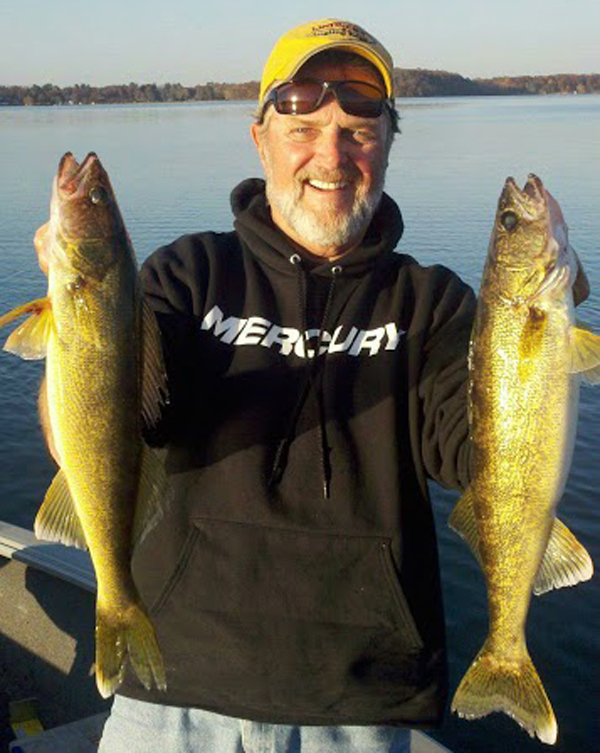 Quote of the Day
…a great day walleye fishing will not require a tank of gas to get to the lake.
This should be the goal of every state!
---
---
You ready for ice?
Have you checked this stuff out yet?

---
About Target Walleye
Target Walleye
brings you the BEST walleye and ice fishing news, pics, tips and events year-round, and is brought to you by Al & Ron Lindner, Jim Kalkofen and other walleye nuts like you!
---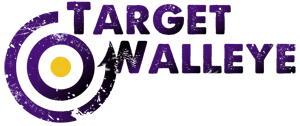 TargetWalleye.com | Rapala.com | IceForce.com