If you're receiving this Target Walleye/Ice email — covering the best of walleye fishing during open water and the best of ice fishing during hard water — for the first time, a friend probably signed you up! Target Walleye/Ice is brought to you by Al and Ron Lindner, Jim Kalkofen and other walleye and ice fishing nuts like you.

Today's Top 5


Carly Rush with a massive Columbia River 'eye that taped out at 33.5″ (whoa!). Even better: She got it on video, put it back where she found it: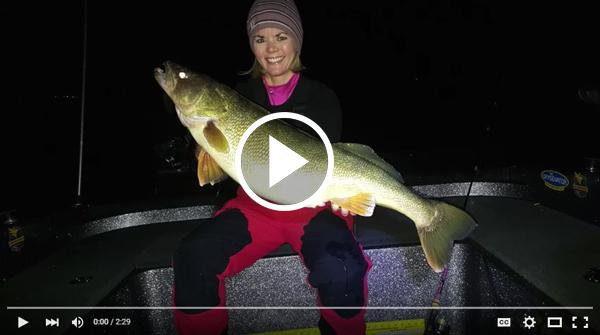 Caught vertical jigging a Glass Minnow Jig from Kit's Tackle in 30-35 ft. Carly said they were using 6′ 3″ medium-action rods to really make that jig pop — had to be moving it fast to get bit!
Another Columbia River giant…while the fisheries power that be out there want to get rid of all walleyes….

Biggest ice saugeye ever?
30.5 inch, 12-lb Red River walrus! Josh H. caught her on a jig/minnow in 43 ft — came through suspended at 26 ft and chased his bait all the way up to 10 ft before hitting: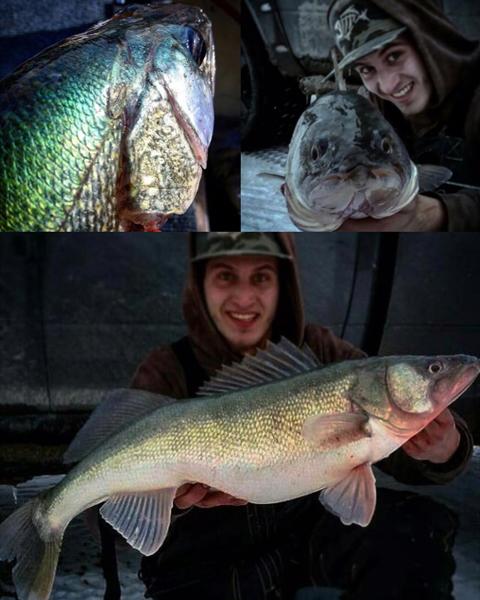 Kevin B.'s 11-lb Little Bay de Noc'er. 32″, inhaled a large sucker minnow on a tip-up — set 3.5 ft off bottom in 30 ft. That a big chunk out of its second dorsal fin?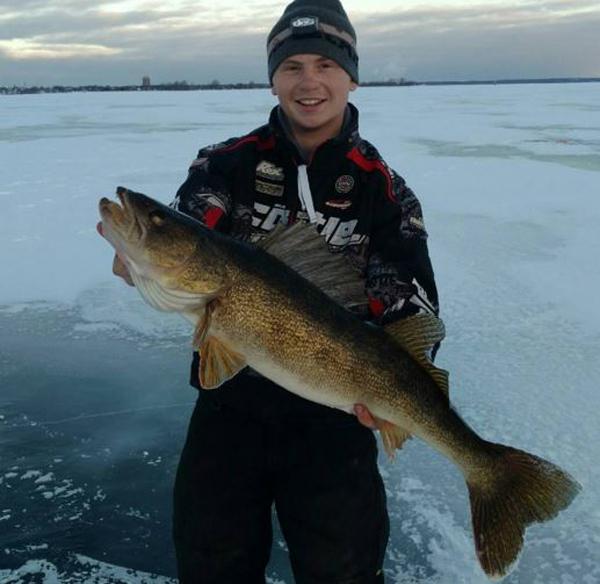 We know zip about this fish, but had to include it!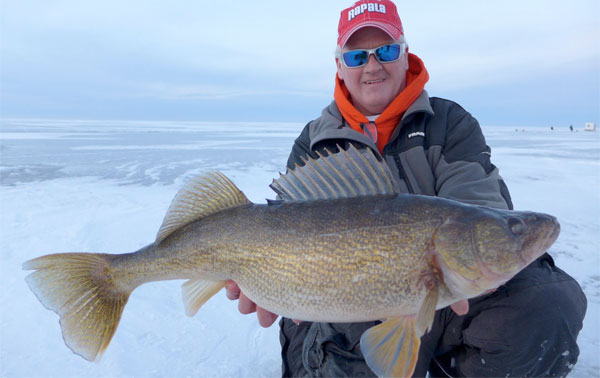 Easy, effective spoon hack.
Try it this weekend, from guide Brad Hawthorne:
> "I found pretty early on that by adding just one more split ring between the existing split ring and hook on most spoons, I could dramatically increase the number of fish I'd convert on my flasher when 'eyes were heavily keying in on bait. The action was just incredible, and the freedom that extra split ring gives the business end of your lure and bait are well worth the price of admission. This is a go-to for lethargic fish."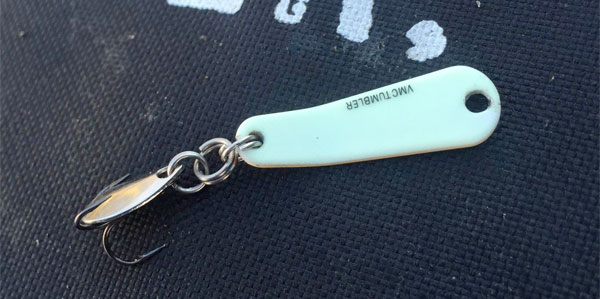 > With stamped metal spoons that flutter or wobble on the drop, the effect can be even more impressive. "Most of these spoon types have a bend in them, creating that wiggle. Add another split ring to these baits, and you can still get that motion, but dropping on a tighter line causes the same bait to coast off past the edges of the hole, gliding like a manta ray and enticing fish that aren't directly below you. Just multiply the extra couple of feet you cover off to the sides by the number of holes you cut in a day, and you're really getting at more fish in the same water."

Canadian version of 'Titanic.'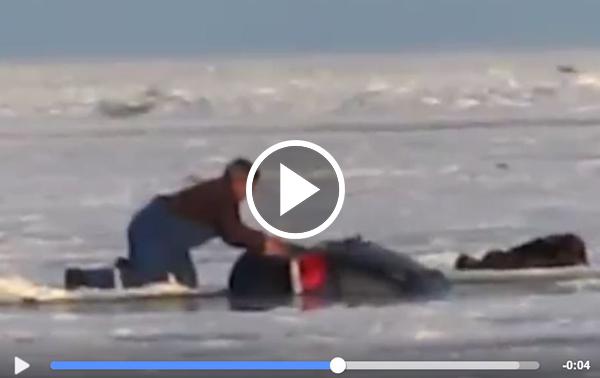 Never let go! lol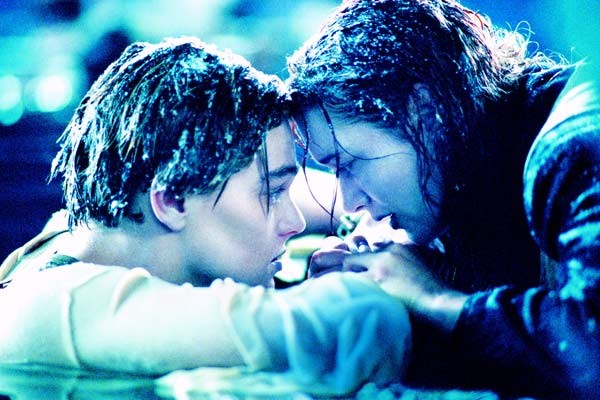 We do NOT recommend holding onto your vehicle if it's sinking! #physics
---

Ice Fishing

1. MN: World's largest ice fishing contest tomorrow!
Gull Lake near Nisswa, MN. Drone footage from last year's event: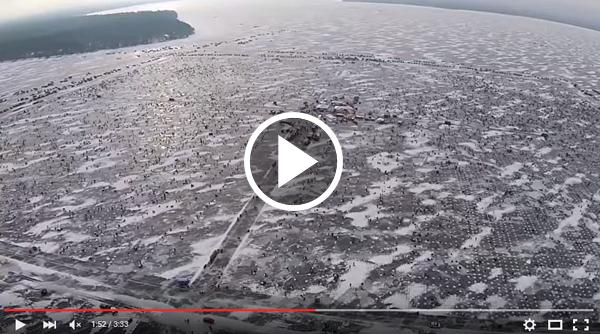 2. Spoon fishing with Tony Roach.
He says the bite's still on on Mille Lacs.
3. MN: IDO hits Cass Lake.

VMC Tumbler Spoon was key.
4. Midwinter larvae hatch can slow fishing…
…just like a bad hatch can slow down fishing in the summer.
5. Packers WR Jeff Janis catches ice time.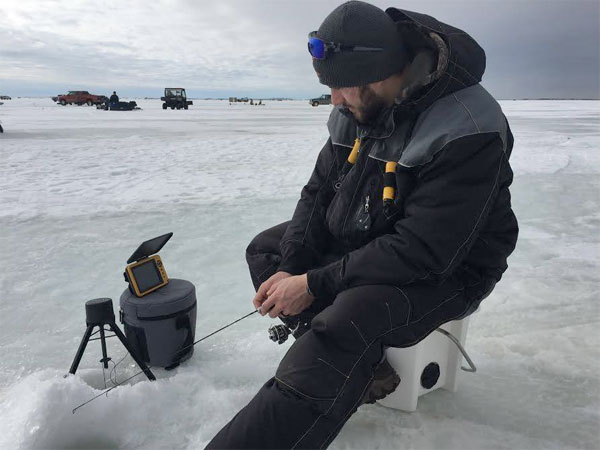 Surprised he's not in short sleeves….
Make sure you note the special code for Target Walleye/Ice subscribers!

News
1. MN: Challenges to Minnesota's walleye fisheries (video).
Half the state has virtually no natural walleye reproduction. Wow.
2. Doctor Sonar Walleye School dates.
3. Meet Ed Klepacki and Jim Miller…
…the dynamic walleye duo that won the Cabela's NTC event.
4. Free Rapala fishing game app!
Try not to get too addicted!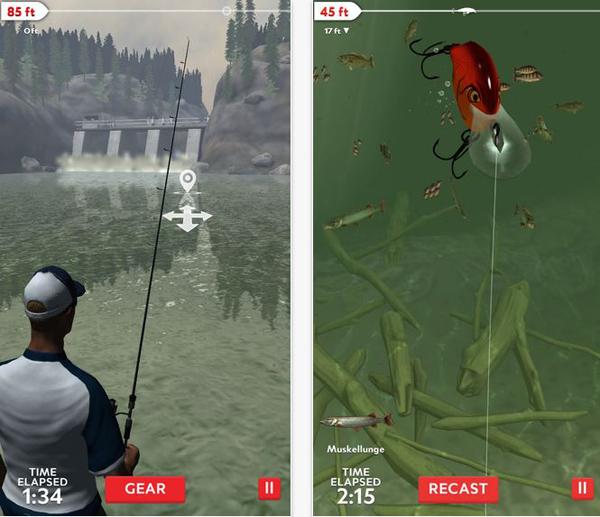 5. Weather reporter smacked in face by flying fish.
We're thinking it's fake….
---

---
Fishing/Ice Reports
1. MN: Lake of the Woods.
> Ice roads are letting half-ton pickups pulling 20′ houses on the lake. 3/4-ton pickups are being let out with pors. Contact your resort for more specific information. Ice averages 15-19″. Fishing in 25-35′. Some larger walleye being caught in 10-15′. Glow orange and pink are hot colors with a 1-2 punch of jigging and deadstick. More walleyes starting to be caught on south shore with saugers. Lots of good eaters.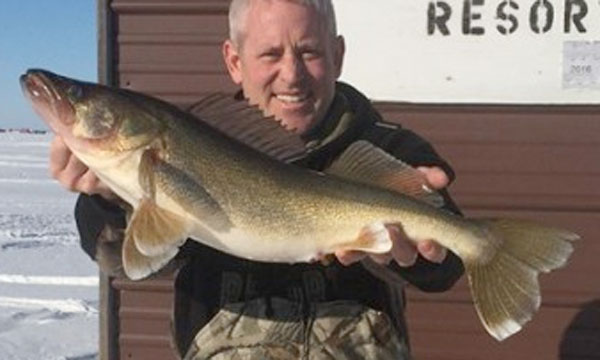 > The Rainy River is iced over and being fished in spots but mainly by locals who know the ice. Decent night bite in 16′ with sturgeon and eelpout mixed in with walleye. For safety, work through resorts.
> Up at the NW Angle, fishing is picking up each and every day. Ice is 23″ where resorts like to fish on the Minnesota side and 15″ on the Ontario side. Finding walleyes on or near reefs around 26′ and saugers in the mud around 32′. Jumbo perch, monster pike, and a few eelpout in the mix. Large crappies are being caught around the 33′ mark with snowmobiles and guides on the Ontario side.
The 'Next Bite' boys are in town filming a piece, word is they are on 'em: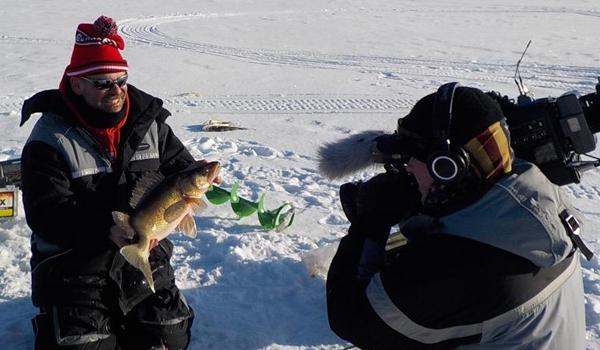 > Larger perch holding tight to the tree lines/brush in 13-15 ft. Spoons tipped with wax worms worked very slow. Most hits come from just holding the bait still. Also finding fish cruising the 25-32 ft flats. Stay mobile.
> Walleyes can be found on the tops of old roadbeds, road ditches, and small humps in 4-10 ft. Tipping rattling spoons, such as the Clam Rattlin' Blade Spoon, with minnow heads seemed to make these walleyes go crazy. Overall, the bite was great!
---
Sign up another ice-head!
If you're forwarding Target Walleye/Ice to a friend who loves to ice- and/or walleye-fish or want your fishing buddies to get these emails, just
send us
their email addresses and we'll take care of it! (We won't sell the addresses, use them for spam, etc.)


---

Sounds like an Ace card in a bicycle tire.
– Nick Cox mid-battle with a line-peelin' sturgeon on a 21-fish night: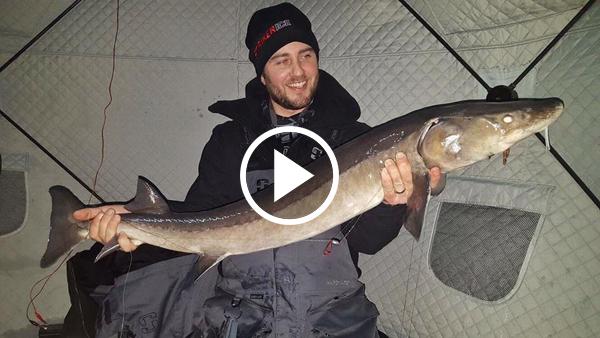 You know you're in the right spot when your Marcum LX-7 (in chart mode) is loaded to the gills like this: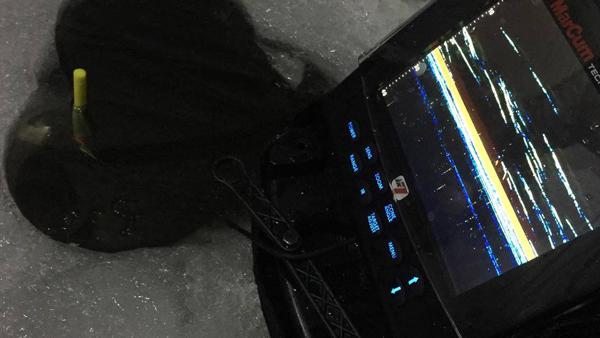 Shot of the Day
This pic is awesome! Spenser S. was chasing Lakers over 90 ft when he snared this snarly water wolf — imagine the torque behind that 20-lber's bite: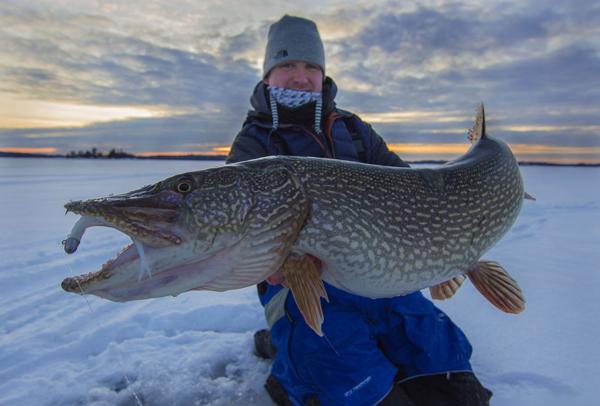 ---
Let's go ice!
Check this stuff out!
---
About Target Walleye
Target Walleye
brings you the BEST walleye and ice fishing news, pics, tips and events year-round, and is brought to you by Al & Ron Lindner, Jim Kalkofen and other walleye nuts like you!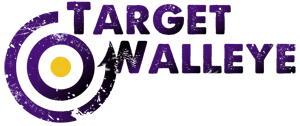 TargetWalleye.com | Rapala.com | IceForce.com