If you're receiving this Target Walleye/Ice email — covering the best of walleye fishing during open water and the best of ice fishing during hard water — for the first time, a friend probably signed you up! Target Walleye/Ice is brought to you by Al and Ron Lindner, Jim Kalkofen and other walleye and ice fishing nuts like you.

Today's Top 5

Check out this slabosaurus Eric W. brought topside! She went 16.75″ and weighed 2 lbs 14.2 oz, caught on a Clam Blade Spoon: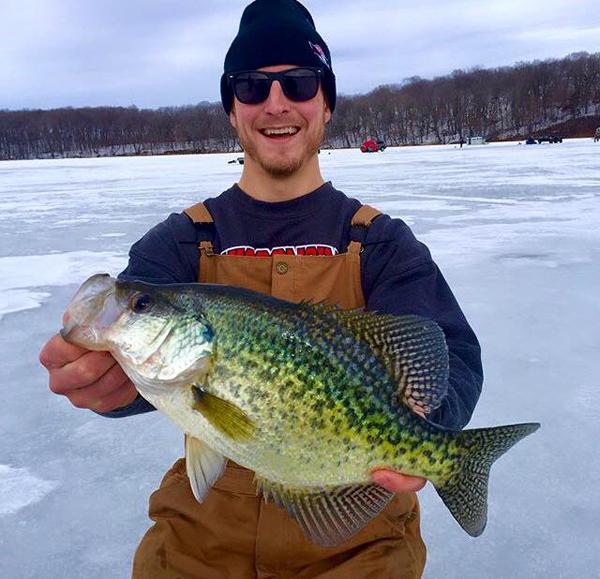 #MinnesotaGrown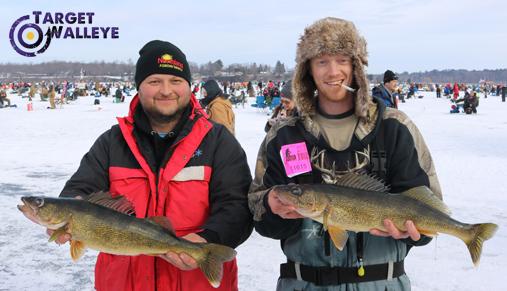 A 5.33-lb walleye got Dan Volbert (Chaska, MN) a new GMC Truck — not bad! 9,000+ anglers traveled from all over the world for a crack at $150k in prizes, all proceeds donated to local charities.
The drone footage is incredible: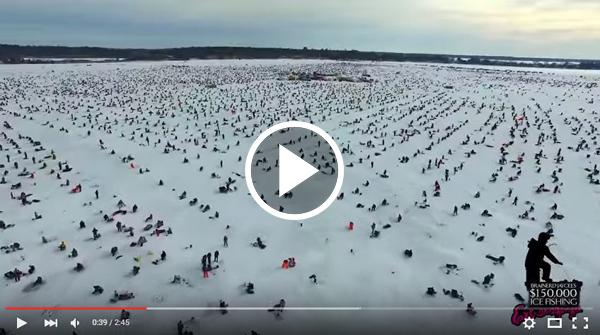 Here's what that many StrikeMaster augers look like: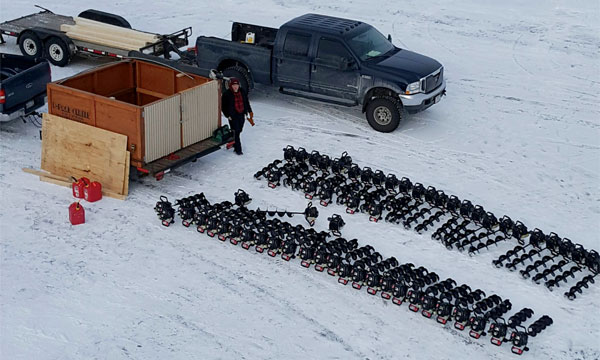 One way to get your drowned ATV back…
We love these shots. This time it was on Lake Nippising's (ON) Callander Bay, by Blake M.: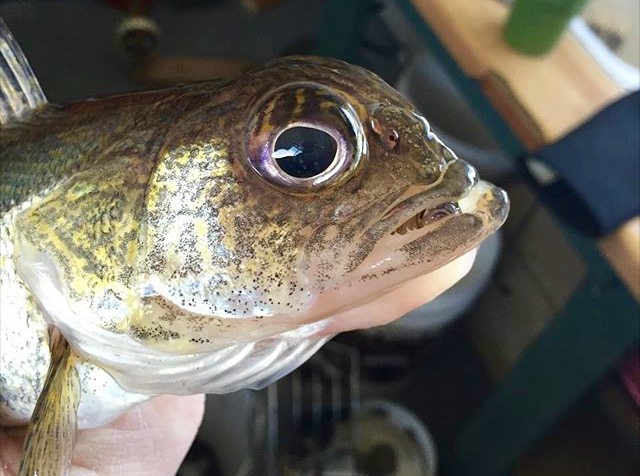 ---

Ice Fishing
1. MN: WI team wins NAIFC Mille Lacs tourney.
2. MB: Dozens rescued off Winnipeg due to blizzard.
3. MN: Students find missing ice angler alive.
Good to hear.
4. WI: Free car wash at Lake Geneva.
Uh-oh. Funniest line in the post comments:
> "This is what happens when you're from Wisconsin."
We love WI folks but that's funny!
5. MN: Lake of the Woods fishing update.
…for everyone's safety.
7. IDing fish on the flasher BEFORE you catch 'em.
8. Jason Mitchell talks giant pike.
9. SK: Free winter fishing weekend, Feb. 13-15.
10. MI: Officers honored with Lifesaving Award…
…for rescuing a pair of Belle Island visitors.
_____
Make sure you note the special code for Target Walleye/Ice subscribers!

News
1. MN: DNR proposes $3.5m field station…
…on shores of Mille Lacs to more closely manage and study the troubled Mille Lacs 'eye fishery. Guess it couldn't hurt?
2. MI: New leader in Shiver on the River competition.
This 10.2-lb Saginaw River walleye pushed Bob L to the top. The competition originally began as an ice fishing tourney but many anglers switched to boat as ice conditions deteriorated: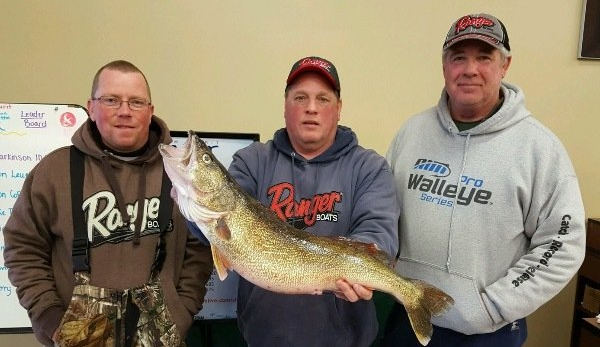 3. WI: Walleye trolling legalized on Rock River.
Yes!
4. KS walleye population thriving.
5. KY: Catch walleye/sauger from the bank now.
6. Minn Kota Ulterra wins best commercial of the year.
It is pretty darn cool: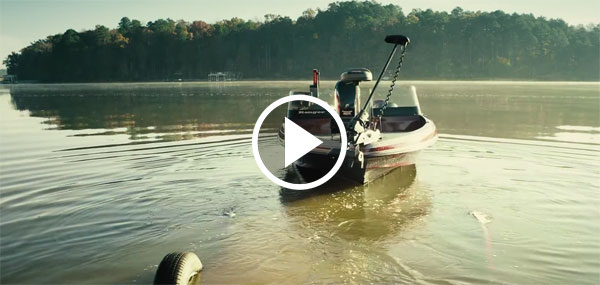 Bass pro Brandon Palaniuk offering over $7K in prizes, with lots of Rapala, Storm and VMC stuff!
---

---

'Eye Candy
This belly-draggin' perch was one of several that slurped up an Ultra Light Rippin' Rap: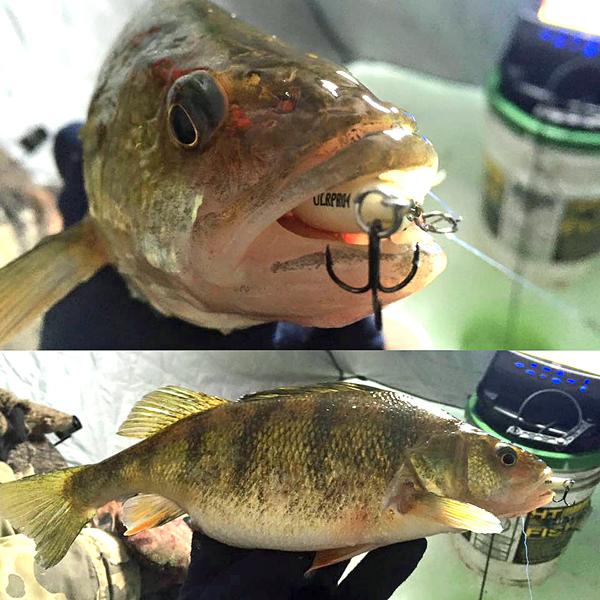 How to catch ice whitefish.
Guide JJ Malvitz has been slaying whiteys on Green Bay, so we figured we'd give him a ring and get the scoop. If you enjoy a tough fight and a tasty fish, you'll love fishing for whitefish, especially if you're around Green Bay where there's a ton of whitefish.
> When you're looking for Green Bay whitefish, you need to be on the lookout for deep breaks with a depth change of at least 20 feet. Some of the areas where you'll catch fish are as deep as 80 feet. Finding current and good depth is important.
> Whitefish relate to the bottom and JJ likes to target them with a dropper rig. Start with a braided mainline — no-stretch line is very important when you're fishing in 80 feet. Tie on a 6-ft fluorocarbon leader connected by a double uni knot. Whitefish have excellent eyesight and Green Bay is very clear, so it's imperative that you're using an invisible line like fluorocarbon down by the bait.
> Thread a #6 octopus hook on the fluorocarbon leader, letting it float on the line. Below that tie a small swivel followed by 12″ of fluorocarbon and a a small Jigging Rap, a Buck-Shot Rattle Spoon or a Swedish Pimple. The lure is just to maintain bottom contact — 90% of the bites will come on the top hook.
> Tip the octopus hook with wax worms or an artificial bait like a Trigger X Mustache Worm. Artificial baits are nice because wax worms will tear off when you miss a fish and it takes a while to re-bait a hook when you're fishing in 80 feet.
> Touch bottom with the the dropper bait (spoon), and let your line slack so the single hook can fall to the bottom. Follow that up with a very subtle wiggle upwards to get that top hook to move up off the bottom. When a whitefish bites, you won't feel a defined tap like you will with a walleye, you'll just feel the weight of the fish. Once you feel that weight, set the hook.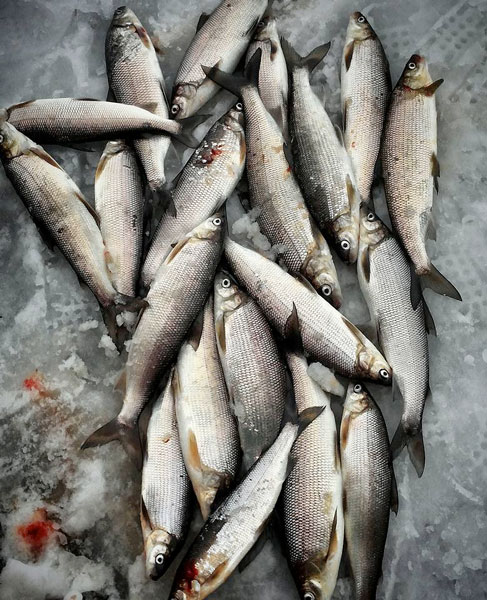 ---

---
---
---
---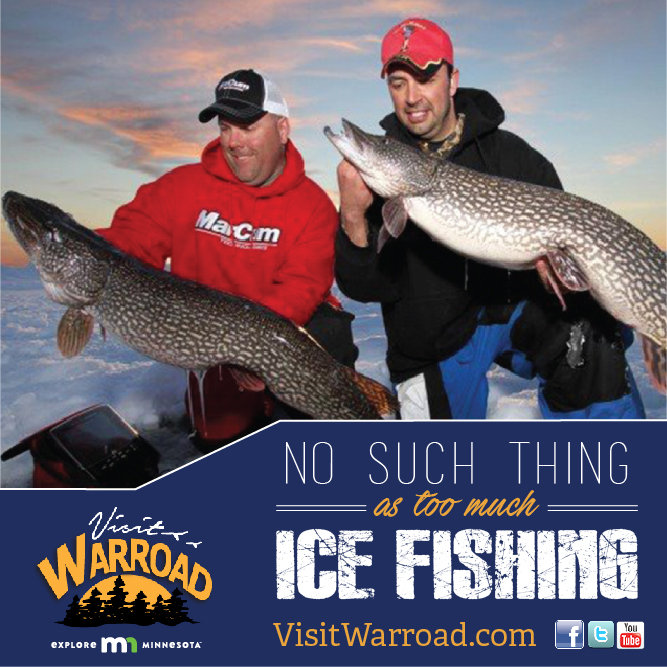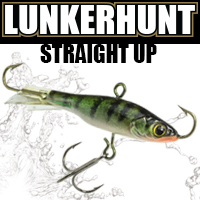 ---
About Target Walleye
Target Walleye
brings you the BEST walleye and ice fishing news, pics, tips and events year-round, and is brought to you by Al & Ron Lindner, Jim Kalkofen and other walleye nuts like you!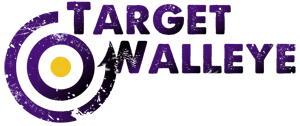 TargetWalleye.com | Rapala.com | IceForce.com