If you're receiving this Target Walleye/Ice email — covering the best of walleye fishing during open water and the best of ice fishing during hard water — for the first time, a friend probably signed you up! Target Walleye/Ice is brought to you by Al and Ron Lindner, Jim Kalkofen and other walleye and ice fishing nuts like you.

Today's Top 4


Rock melons of the week!
Mar Mac Lodge fishing guide John Ross with a 12-lb (30″) chub chaser. We ran a video of a 32-incher he caught last year on the same day…in the same spot! Mind-blown: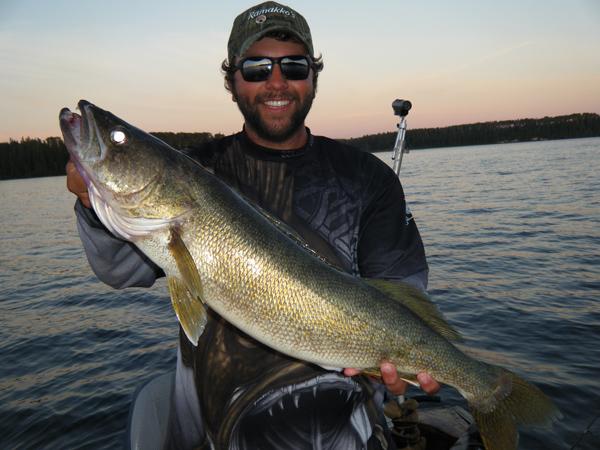 Dustin Garthus bottom-bounced this 12-lb 10-oz (33″) set of shoulders into his boat while fishing the South Saskatchewan River. HUGE: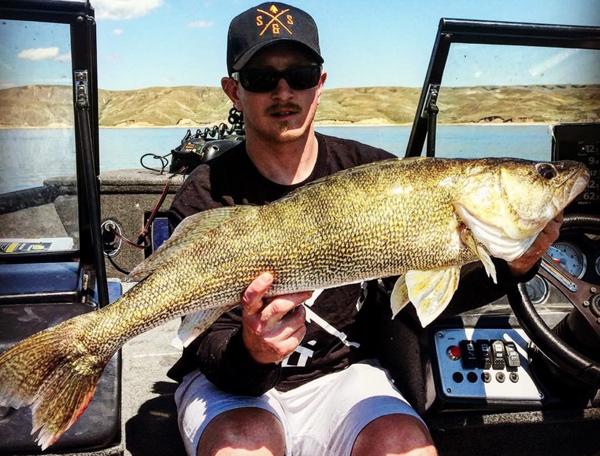 Manny Milas (Uncut Angling roadie) is on the Tobin Lake, SK gold. He's catching 'em on hand-tied spinner-rigs using the #3 Baitfish-Image Blades from Northland Tackle — fishing in about 20′: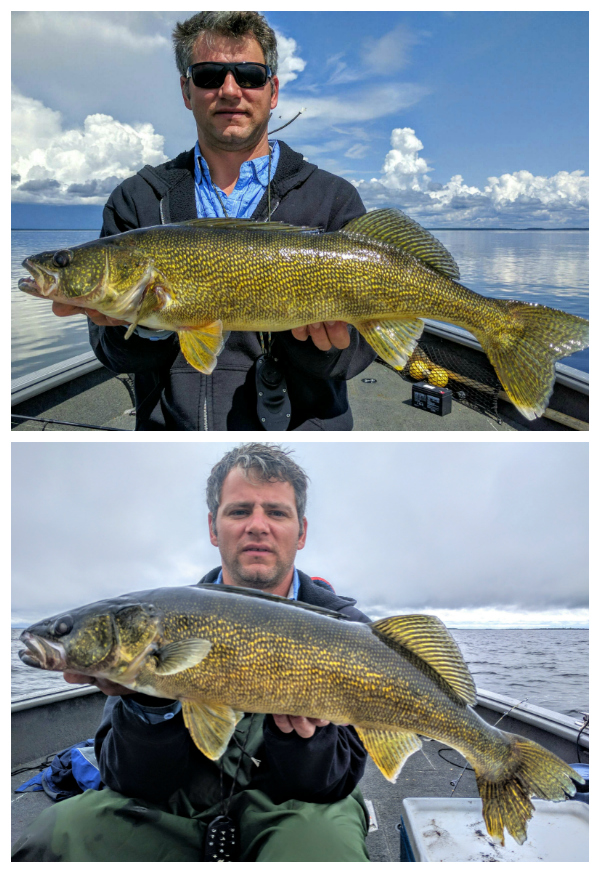 Dude rocks that touch-of-gray look…the Patrick Dempsey of walleye fishing (lol just kidding Manny!):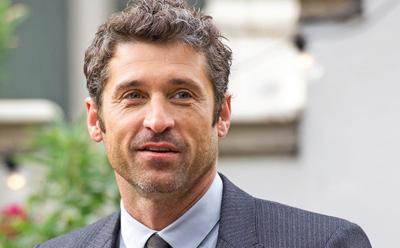 Candace caught (and released!) this solid 27″ rock melon in northern WI. Anyone else's fishing partner give 'em that same salty look when they're getting out-fished??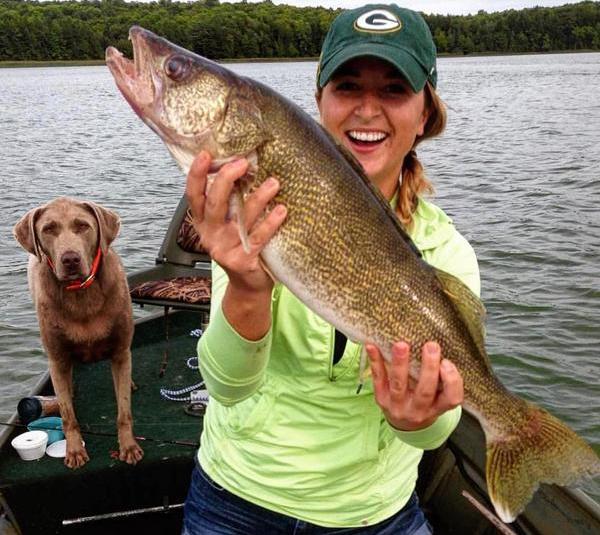 [Vikes fans, insert Packers joke here.]

Mammoth zander (cousinish to the walleye) caught by Johnny Kindt somewhere in Belgium. Once we figure out exactly where that somewhere is, we're booking a ticket: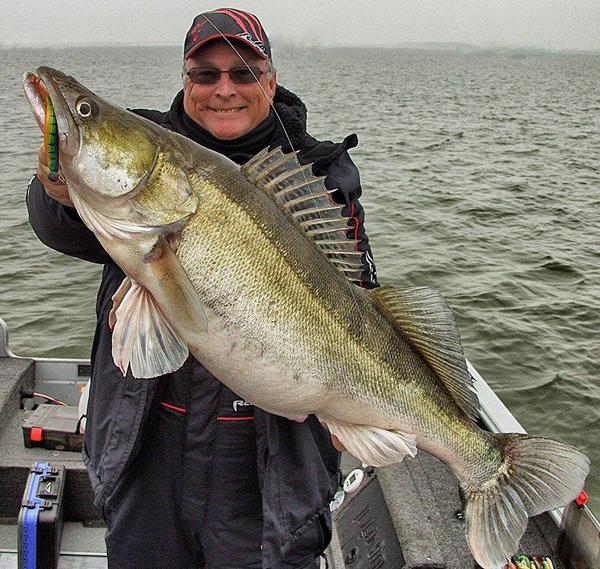 Looks like they munch the perch pattern over there too….
Seen a couple wallygators that big in northern MN — bonus points if you can name the lake:

Getting walleyes out of the weeds.
Might be the 'dog days' of summer, but walleyes can still be caught during the middle of the day. You just have to get 'em out of the weeds. The Technological Angler goes over step-by-step of what to look for on your graph, and how to fish 'em: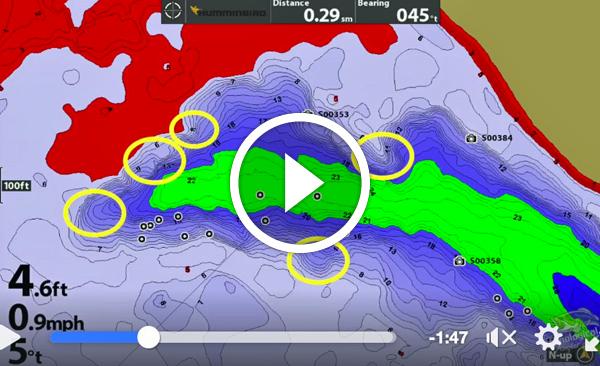 Lots of great info on Dr. Jason Halfen's website: www.thetechnologicalangler.com.

We aren't the only ones that like the taste of walleye: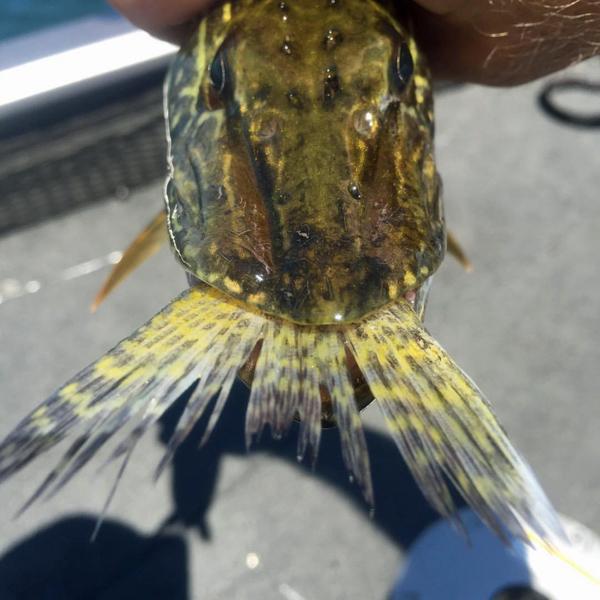 > Ray Welle: "Found this little pike floating yesterday. He was still alive so I tried pulling the walleye out but I couldn't get it. Looks like he bit off more than he could chew! I would say the northern was 22″ and the walleye looked to be about 12-13." #GimmeThat

News
1. WI: 'Bago locals crush AIM Championship.
Josh Wiesner and Brad Schrauth's 47.63 lbs spanked the 2nd-place team by over 20 lbs [!!] to take home the $8K: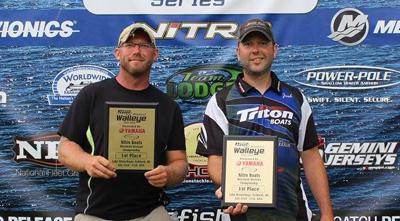 > "We used roundball jigs and a half-crawler — very simple, crazy simple. And it was a slow presentation with 1/16- to 3/16-oz jigs. It couldn't be fast. The shallower we went, the lighter the jig we used to maintain contact with the bottom, and if it was too aggressive of a presentation they wouldn't bite."
You can get the full scoop on how they won here.
2. MT: Graupmann/DeMarsico win Tiber Rez tourney.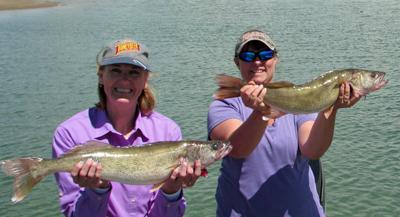 Jennifer Macko Graupmann and Julie DeMarsico won the Walleyes Unlimited gals-only tournament on Tiber Reservoir for the 2nd year in a row. Their 16.7-lb bag also included 1st and 2nd big fish of the tourney. Whoa! Great job ladies…. #PlaquesFerDayz
3. MT: New water supply proposed for Fort Peck Hatchery.
Production has dropped at the 10-yo facility thanks to a deteriorating filtration system.
Here's an aerial view of the hatchery back in '05. Quite the operation: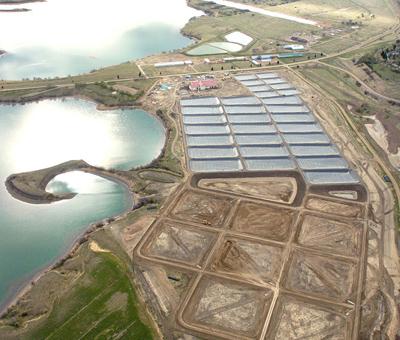 4. MN: Muskies to be stocked in Gull Lake Chain.
Some walleye anglers are having a tiffy 'bout it. Some of the best walleye lakes in the country have muskies in 'em….
5. DOC SONAR: Interpreting your side imaging.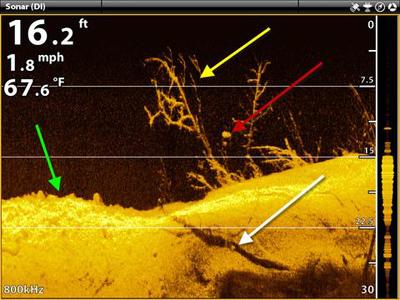 Sometimes it's tough to tell what you're looking at — the DOC help breaks it down with pics.
6. Tommy Skarlis on the new HD Aqua-Vu (video).
Crazy cool. Lets you view your lure while trolling. More info to come.
7. MN: Zeebz found in 2 new lakes.
Lake Osakis and East Spirit Lake.
8. Minn Kota Ulterra goes bluetooth.
9. T-H Marine acquires Tonka Customs.
Their 4th acquisition in 3 years. #Momentum
Not in the U.S….
Events
Fishing Reports
> "Fish are active. Downrigging with crankbaits, jig-fishing and drifting spinners (gold, silver and white) are all producing fish on the main lake in 28-32′. Garden Island and 9-12 miles off of Pine Island are holding fish. Many great fish in the 18" range and some trophies mixed in as well.
> "Some walleyes are being caught near the mouth of the Rainy River and into Four Mile Bay thanks to the slightly improved water clarity. A jig-minnow remains the best option though some anglers are using a bottom-bouncer paired with a stickbait.
> "Up at the NW Angle, the mud between Little Oak and Oak Island has been producing good numbers of saugers and walleyes in 24-30′. Work the offshore reefs and humps using spinners and bottom-bouncers with crawlers, or crankbaits, as the majority of fish have moved off the larger islands onto the mid-lake structure. Top colors are gold, pink and orange."
More info on the wheres and how-tos in this recent article.
> Brian Brosdahl: "Dawg days of summer but still catching a few nice ones on Lake of the Woods out of Warroad, MN. Northland Puppet Minnows, crawlers and leeches are all producing fish for us. Helps when the winds blows."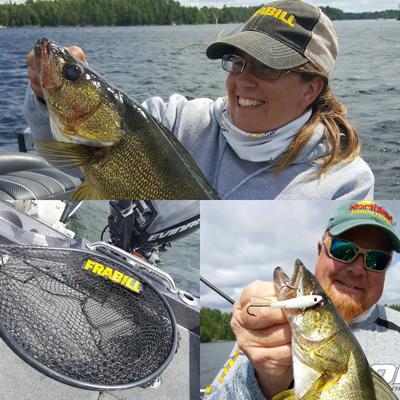 > "This last week saw the best bite in years for most anglers fishing the Devils Lake system — personally it may be the best bite I have seen in the last 5 years of guiding here. Main lake structure has begun to come alive with hungry eyes as our weed beds begin to die out.
> "While weed lines are still producing to a degree, our thick beds of curly leaf pondweed are now turning brown having reached maturity. As these weeds decompose, they give off carbon dioxide (instead of oxygen) causing forage and predator fish leave.
> "Finding good beds of live coontail and native milfoil will continue to yield walleyes as these weeds do take longer to mature.
> "Bottom-bouncers and spinners continue to be the preferred presentation, although trolling crankbaits with leadcore or braid has taken good fish also. Casting is taking some shallow fish especially on windy days."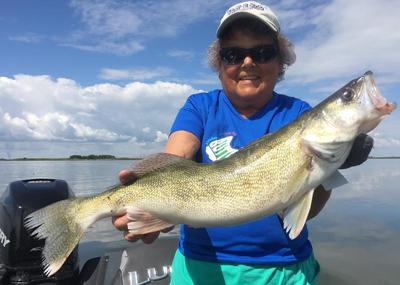 > "A spinner and crawler are triggering walleyes in 14-18′ on West Goose Flats and in Portage Bay, and there's some evening crankbait action in 9-15′.
Rapala Jigging Raps
are producing walleyes on the humps in Walker Bay as well."
> "Green Bay walleyes have once again started eating and they're hungry! We've had excellent catches this past week with many trophy-caliber walleyes caught and released.
> "Crawler harnesses with 1-oz in-line weights have been my favorite. Big Eye custom blades with purple/chart/white combos work on cloudy days and plain gold/silver/copper deep-cut blades work on sunny days. Trolling at 1.1-1.5 mph over 20-30′ with just 20-35′ of line behind
Off Shore Tackle planer boards
has been best.
> "Trolling big crankbaits at 2.0 mph has also been effective — targeting depths of 20-30′ while allowing the baits to reach depths of 12-18′ — looking for suspended walleyes. Once you find the fish, rip-jig #6 and #7
Rapala Rippin' Raps
for some hand-to-hand combat."
Great places to catch 'em
Sign up another walleye-head!
If you're forwarding Target Walleye/Ice to a friend who loves to walleye-fish or want your fishing buddies to get these emails, just
send us
their email addresses and we'll take care of it! (We won't sell the addresses, use them for spam, etc.)

Tip of the Day
Sure there's a ton of different pre-tied rigs on the market, but there's just something special about tying up your own the night before a trip. Here spinner-nut Travis Sorokie talks about the components he uses to put more 'eyes in the boat. Full write-up here, few excerpts below:
> "I'll typically tie my 2-hook spinner rigs between 6-7′ in length. If I'm fishing over weeds/rocks or shallower than about 15′, I will shorten the leader length to 3.5-5′.
> "I prefer to use #6 and #8 Daiichi Red Octopus-style hooks. If I want to add a little more color to my spinner rig, I'll switch to a Gamakatsu colored hook in the same sizes.
> "For my beads, I'll use the 4- to 5-mm sizes in various colors. This is where I really like to experiment with color combinations, as I feel it makes a difference. I love the various pearls and glow beads that are on the market.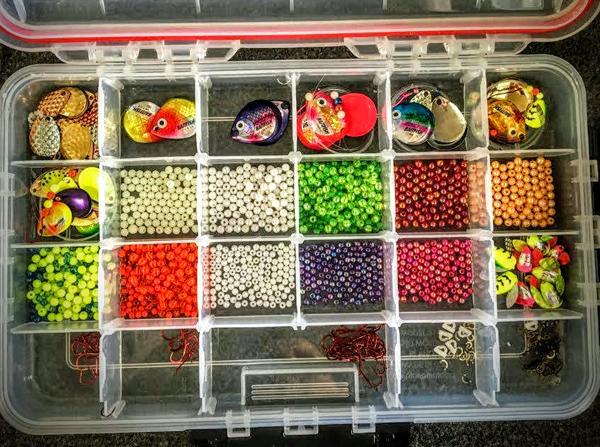 > "A general rule in selecting your weight is 1 oz for every 10′. I try to fish as vertical as possible when trolling spinner-rigs, so I tend to use 2- to 3-oz
Slick-Sticks
the majority of the time. The key is to not have the sinker drag on the bottom — you use the weight to contact the bottom and hold above it.
> "Spinner rigs can be fished anywhere from around 0.7-2.5 mph. If you're around 1.3-1.7 mph, you will have success. Remember when doing any form of trolling…it's better to be too high, than too low — and It's better too fast, than too slow."

Quote of the Day
The 30″ walleye makes people pretty much lose their mind.

– MN fishing guide Chris Granrud talkin' 'bout WALLEYE FEVER on the last episode of The Outdoor Report — a cool new TV show whose last episode was 100% dedicated to gravel lizards. Check it out here.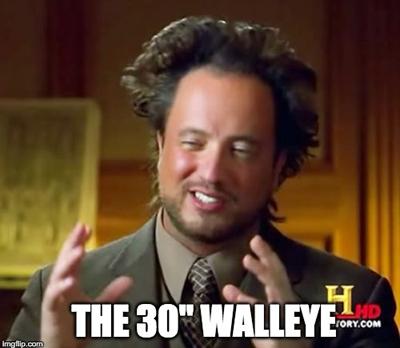 Check this stuff out!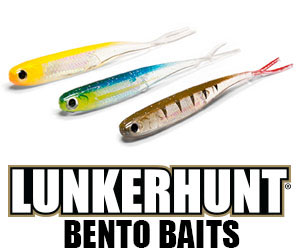 About Target Walleye
Target Walleye/Ice
brings you the BEST walleye and ice fishing news, pics, tips and events year-round, and is brought to you by Al & Ron Lindner, Jim Kalkofen and other walleye nuts like you!

TargetWalleye.com | Rapala.com | IceForce.com