Hahaha! Awesome word and graphic talking about the possible early close of the Mille Lacs walleye season: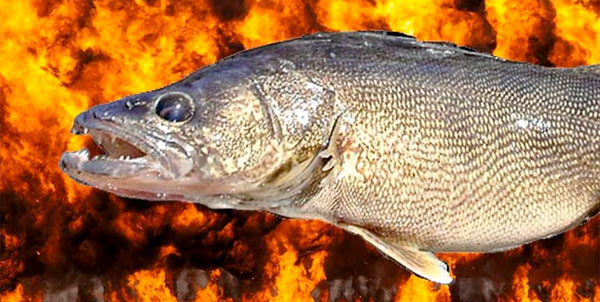 Gord Pyzer:
> …walleye are cold-blooded animals, so the only way they can regulate their body temperature and stay comfor is to inhabit the zone of water that is most conducive to their well liking. And the zone in which they feel most contented, at ease and well-off [is] between 64 F and 67 F.
> Depending on your geographic location, the size of the lake, its average depth and water clarity, you may find this optimal temperature zone as shallow as 15 to 20 feet, or as deep as 30 to 40 feet. Regardless, when you find structure and cover in the favorable section of the lake and / or water column, it is usually lights out for walleye.
How you can tell if it's too hot for walleye:



Maybe the quickest fishing tip ever.
Posted on Facebook by Joel Nelson:
> Late summer means small rivers and big fish on #4
Shad Raps
!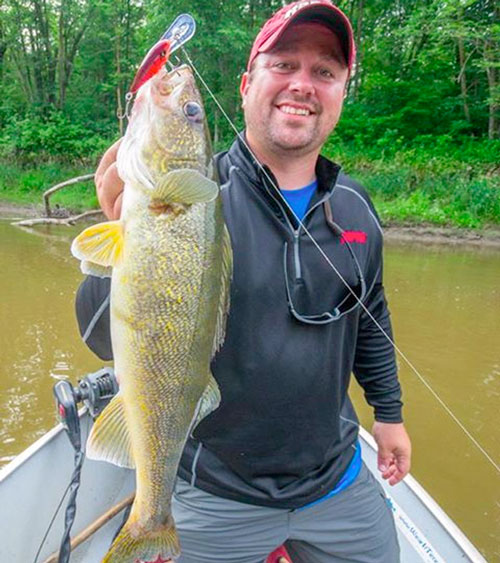 How do you think this fish got this way? Let us know here on Facebook.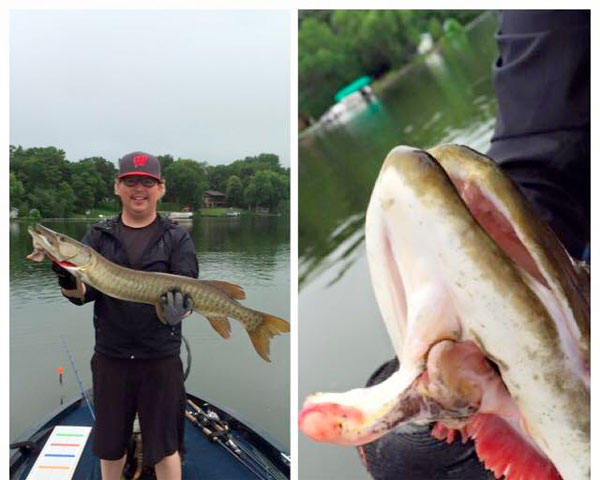 News
1. ND: F-M Walleyes inducted into ND HOF.
> F-M Walleyes Unlimited became the first organization to ever receive induction into the North Dakota Fishing Hall of Fame.
2. Erie: Chart of walleye length to age.
A 30-incher is 15 years old.
3. NY: Bass pro catches 9-lber.
Bass pro Shaw Grigsby caught this 9-lber while pre-fishing for the Bassmaster Elite on the St. Lawrence River, probably with a dropshot: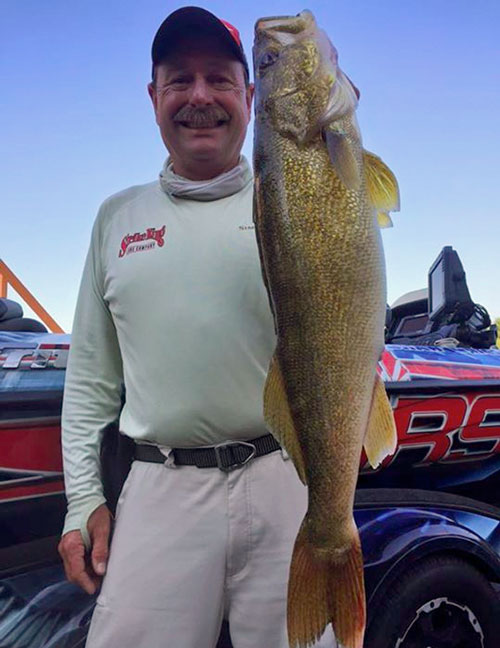 4. MN: Lake of the Woods report.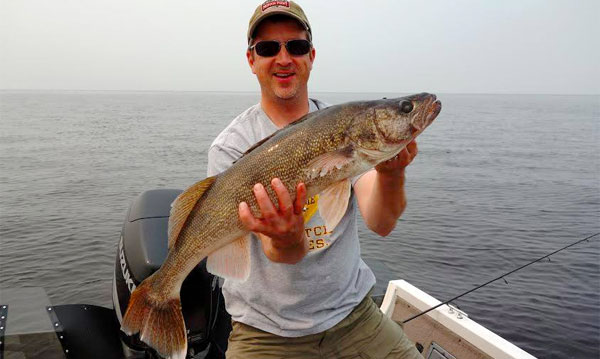 > Bite continues to be good. Walleyes, saugers and some jumbo perch are being caught anchored up jigging with frozen shiners, drifting with spinners/crawlers and trolling crankbaits. Try Long Point area and around reefs in 28-33′. Lots of walleyes still being caught around and north of Garden Island pulling spinners.
> On Big Traverse, trust your electronics. Find fish on graph and fish them. If calm, jig or pull cranks. If a breeze, drift with spinners.
> Rainy River: Sturgeon are being caught. Try upriver east of Frontier. Deep pockets still best, anchoring shallow and presenting bait in deeper hole. Use a 5/0 circle hook with a gob of crawlers and 3-4 oz no roll sinker in 20 feet. Walleye fishing best during afternoon and evening hours in 16-19 feet with a jig and minnow. Try around the airport, International Bridge and Hattie's Hole.
> NW Angle: Muskie fishing in its heyday! Groups are getting 2-3 muskies per day. Crankbaits and spinnerbaits during the day, and bucktails and topwaters in the morning and evening. Most fish have moved to the rock reefs with a few fish still back in the weedy bays.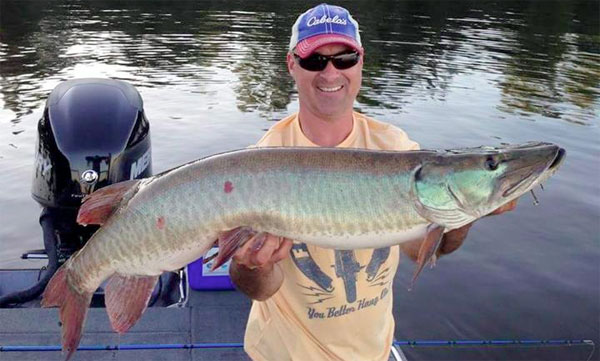 > Water temp is 74 degrees, the warmest it will get. With the warm, steady weather fishing is great.
RIP fishing brother.
7. MN: Vermilion club gets $286k for boat inspections.
> In more recent years, the club has led the fight to head off the introduction of aquatic invasive species into the lake and they have been remarkably effective.
Some of our faves: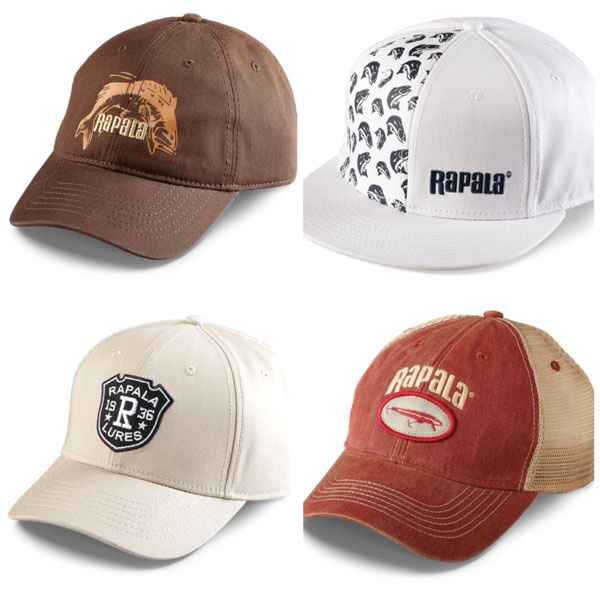 9. New Triton 206 Fishunter for walleye.
10. WI: Great Lakes spotted muskies ready for release.
11. ON: 2 grass carp found in pond.
Uh-oh.
26″, Paul Roper, Newcastle Reservoir, June 15. C&R record, beat previous by 1 inch.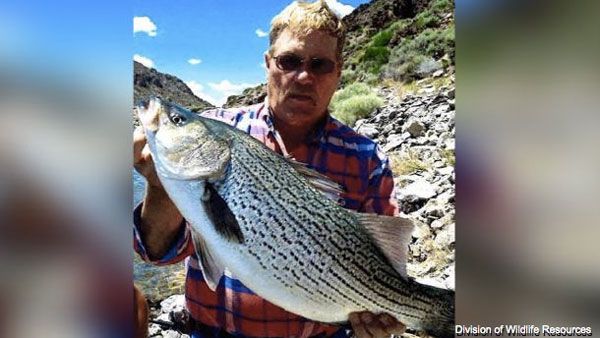 13. New Frabill BRO ice shelters.
14. DC: Bipartisan bill to stop fishery closures.
Saltwater, but some people think it's just matter of time before the antis/uninformed start in freshwater.
_____
Click here to enter and win! And please forward the link!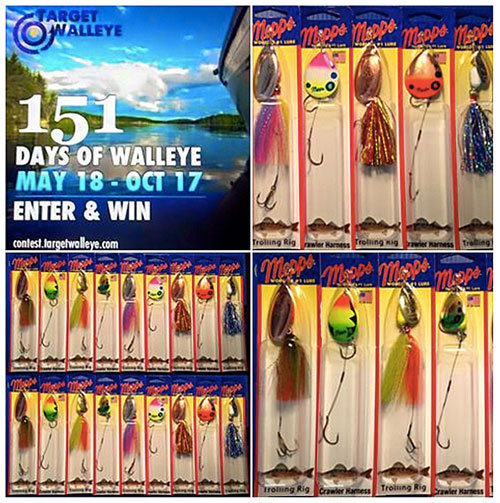 Events
Silos on Canyon Ferry. Good cause, fish it if you can.
Signup deadline is TODAY.
Aug. 14-15, Saginaw Bay.
---

> Most of the time the fish are relating to weeds, particularly cabbage and coontail. I prefer to fish cabbage as it is much easier to move your presentation just outside of the weed line….
> I abandon the typical "Lindy" sinker when fishing weeds and instead use a cone-shaped sinker which is often used for bass fishing. This sinker slides though the weeds without fouling on them and can save you a lot of aggravation.
> During the heat of August, I tend to use night crawlers much more than leeches. Walleyes seem to prefer that too. Once the insect hatches start going off, it seems the crawler will beat the leech most days. If panfish are driving me crazy and stealing all my crawlers, I'll switch to leeches which are a lot tougher….
> Before snelling the hook, I slide on a bead of about 6mm. It could be fluorescent orange, chartreuse, green or white. Some days one works better than the other…. I've fished a lot of live bait situations where the bead made a tremendous difference….
> I also carry fluorescent orange and chartreuse yarn, the same stuff steelhead anglers use. I usually divide the yarn in half because it is pretty thick and cut off a piece about 3 inches long. Next I attach it to the snell right at the eye of the hook with a simple overhand knot. Then I trim the ends down to about a quarter inch long. It provides a bigger target than a bead, acting almost like a spinner but you can go a lot slower.
> Another tip is to pinch off the tail of your crawler, removing about one third of its length. I'm not sure why; some think it puts more scent in the water, but it will definitely make a difference most days.
> If your hook is picking up moss or other gunk, go to a floating rig so the hook doesn't drag over the bottom. Floating jig heads work well and add a dash of color (hotspot) ahead of the worm.
---

---
What I see is a bunch of guys that sit down after the tournament, have a beer and share information.
– Brock Dufrain of the South Dakota Elite Walleye Series talking about the competitors. Also said:
> "If there are any issues with poor sports or large ego, the other anglers will weed them out. They are there to fish, not cause problems"
Sounds like a good trail to fish!
Shot of the Day
Woo-hoo! Awesome shot from folks fishing out of Woodland Resort on Devils Lake: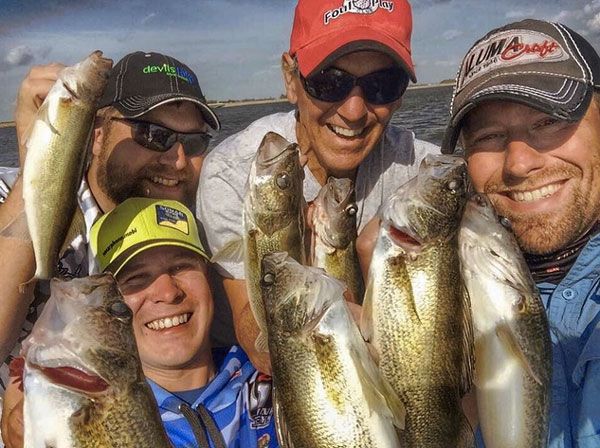 ---
Gotta check this stuff out!

---
About Target Walleye
Target Walleye
brings you the BEST walleye and ice fishing news, pics, tips and events year-round, and is brought to you by Al & Ron Lindner, Jim Kalkofen and other walleye nuts like you!
---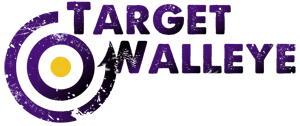 TargetWalleye.com | Rapala.com | IceForce.com