Today's Top 5
For shore-bound anglers, or maybe folks who want to make things more interesting in the boat: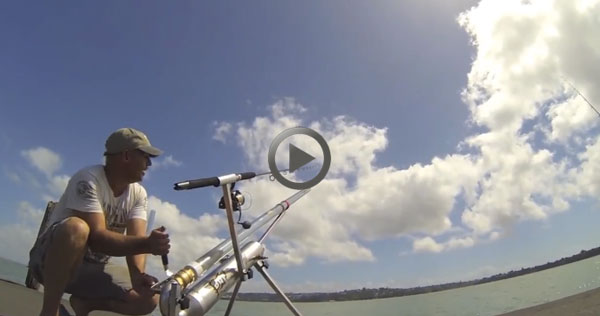 That's 8-year-old Reid Grothe at the Mississippi River, MN AIM tourney, had his dad Ross along to drive the boat. Okay, Ross did a little more than that — they won with 36.65 lbs.
In the video, Ross says they were fishing feeder creeks that dump into the main river, and were pitching 1/4-oz VMC Moon Eye jigs tipped with leeches and nightcrawlers.
You can listen to how other winners and high-finishers have fished on the AIM Facebook page.

More shots to inspire envy:
Devils Lake beaut — from the graph looks like a few nice ones still down there!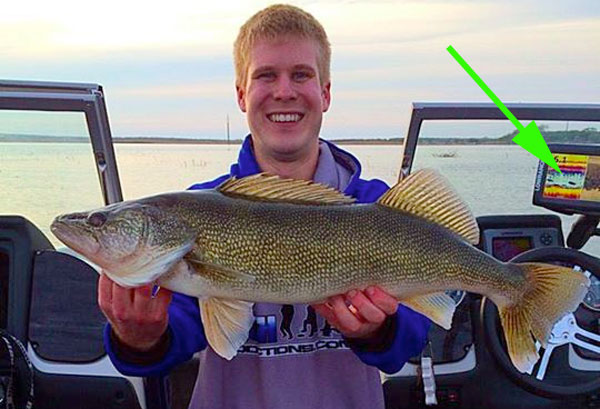 Greenbacks aren't just for ice season: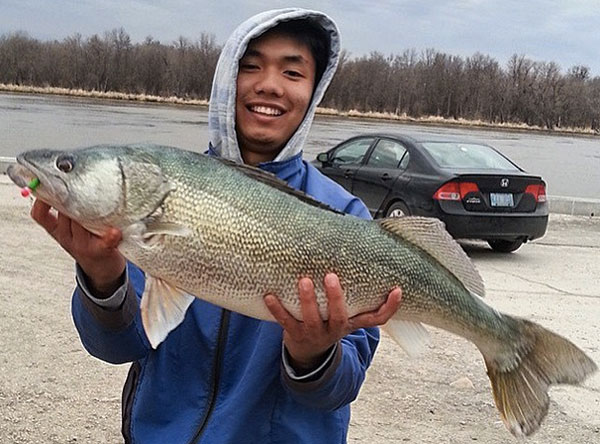 28-incher from Georgian Bay, ON, caught on a Rapala Husky Jerk: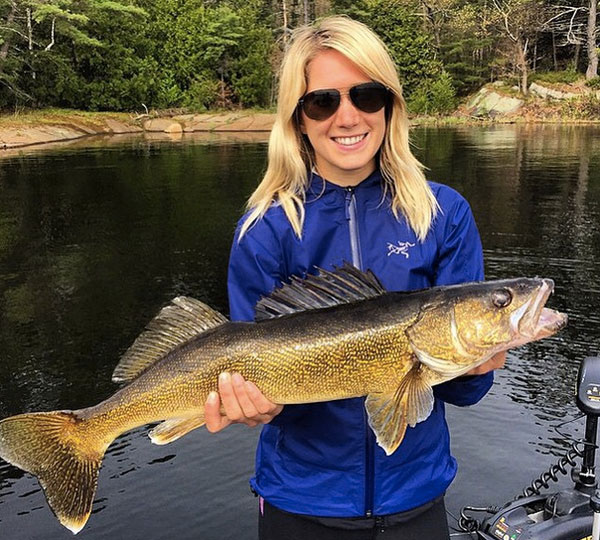 Eewwwwwwwwww: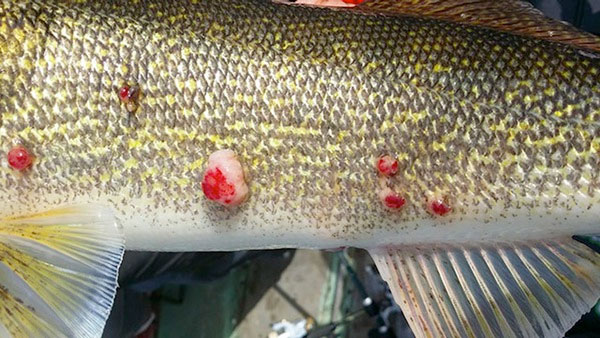 > "Lymphocystis. Caused by a virus. Most prevalent when walleyes are grouped, as in the spring spawning run. Also more prevalent for some reason in colder water."
> "…more common in sexually mature adults. Infections have been observed throughout the year but occur at a higher rate in early spring, during the walleye's spawning season. Walleyes congregate on their spawning grounds, and the virus spreads from fish to fish through physical contact or water transmission." Sounds like a walleye STD to me.
We're all like: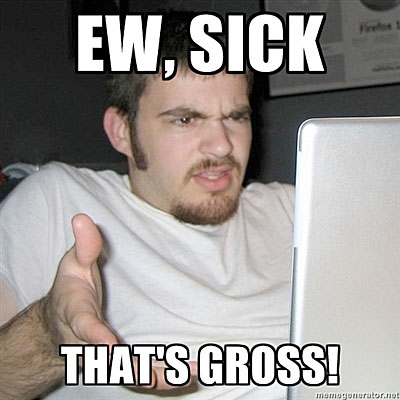 We're giving away a pack of VMC jigs for the first 50 days, more after that. Sign up at http://contest.targetwalleye.com. Tell your fishing buds!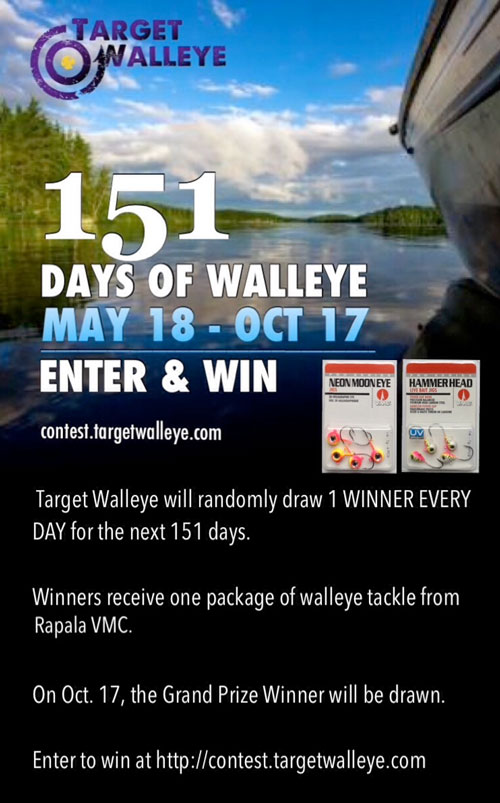 ---

News
1. NY: No fish pics out of season…
…but here's the state DEC posing with a white sturgeon (ruhroh):
2. WI: Green Bay AWWS winners.
Lynn Niklasch and Mark Kumorkiewicz jigged up 41.6 lbs of Green Bay walleyes in the AWWS Nitro Boats Open Wisconsin Division Green Bay tournament this weekend.
3. IA: Clear Lake derby won with 25.33.
4. NY: Couple wins Oneida tournament.
Bill and Linda Greczn, 5 for 15.46 lbs, been fishing derbies together for 14 years!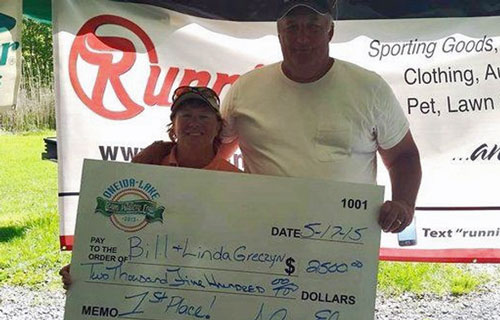 5. MI: DNR wants more liberal regs on Saginaw Bay.
Would change from 5 fish 15 inches or bigger to one of the these:
> 8 fish 13 inches or bigger
> 10 fish 13 inches or bigger
They also want to CUT yellow perch limits from 50 down to 25.
6. New stuff coming from Otter.
> Otter has quite a few new releases coming in 2015. They're releasing a new "skin" material called Thermal-Tec. They will be releasing a line of hub-style houses and they will be adding a new light-weight one man called the Hideout. All flip over houses will be full thermal.
7. MN: IDO hits walleye opener on Leech Lake.
9. 'Nother Northland giveaway.
11. In-Fish Top 10 Midwest 'eye fisheries.
Do you agree?
12. NY: New NY white sucker record.
5 lb 8 oz sucka!
13. AR: Bass Cat's Ron Pierce turns 80.
Bass Cat also owns Yar-Craft, both sold this year to Correct Craft.
Events

---
---
Great tip, worth a full read:
> From previous experiences at this location, we were certain the arcs on the screen were walleye. We just couldn't make them bite. Crawlers, leeches and shiners had all been ignored.
> …opted to try one more strategy. We put our finesse rods away and pulled out a couple of long rods rigged with bottom bouncers and slow death rigs. After we each threaded on a half crawler, we lined up to make a speed trolling run.
> I hadn't gone 30 yards before Simkins was fighting a fish. The vicious strike nearly jerked the rod out of his hands. A short distance later, it was my turn….
> In our first pass over these very negative fish, we boated more than a dozen walleye. These were the same fish we had worked for an hour with standard presentations and could not scare up one single tap.
> …use of a longer rod (7 to 9 feet), baitcasting reel and bottom bouncers. The longer rod…keeps the lines away from the boat and allows for more flexibility to keep out of the path of the motor. I usually troll forward for this style of fishing. The long rod works well for absorbing hard hits from the fish.
> I really like the slow death hook and spinner…I use both smile blades and standard spinners. I tip this set-up with crawlers, threaded on minnows, or PowerBait.
> At times, I have even used shallow running crankbaits with impressive success.
---

Walleye is the king of Minnesota, so a lot of walleye management does occur.
Shot of the Day
Tough to say whether this is a prettier shot of the fish or the crankbait — a Storm Arashi, built for bass but obviously works on 'eyes too: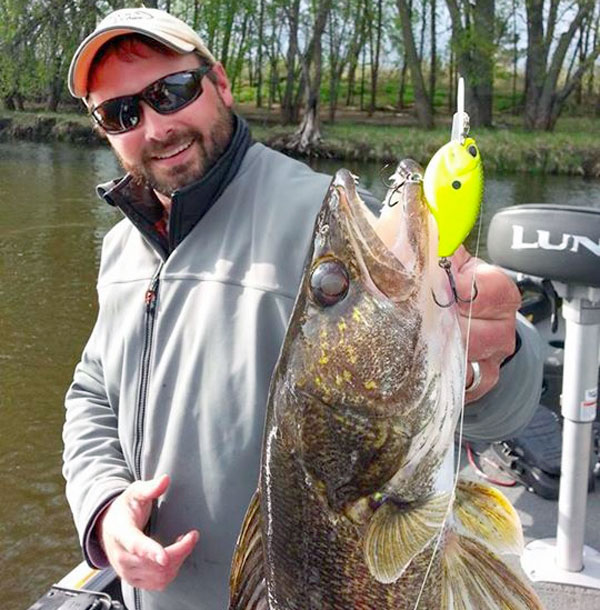 ---
Gotta check this stuff out!

---
About Target Walleye
Target Walleye
brings you the BEST walleye and ice fishing news, pics, tips and events year-round, and is brought to you by Al & Ron Lindner, Jim Kalkofen and other walleye nuts like you!
---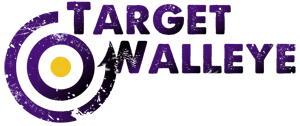 TargetWalleye.com | Rapala.com | IceForce.com