If you're receiving this Target Walleye/Ice email — covering the best of walleye fishing during open water and the best of ice fishing during hard water — for the first time, a friend probably signed you up! Target Walleye/Ice is brought to you by Al and Ron Lindner, Jim Kalkofen and other walleye and ice fishing nuts like you.


Today's Top 5


32×18″ rock melon caught fishing out of MB's Wekusko Falls Lodge. Word is they got an even-bigger one the next day!
Another 32″ gravel pig, this one caught by Doug Amundsen in MontanYA! Released to grow even biggerer: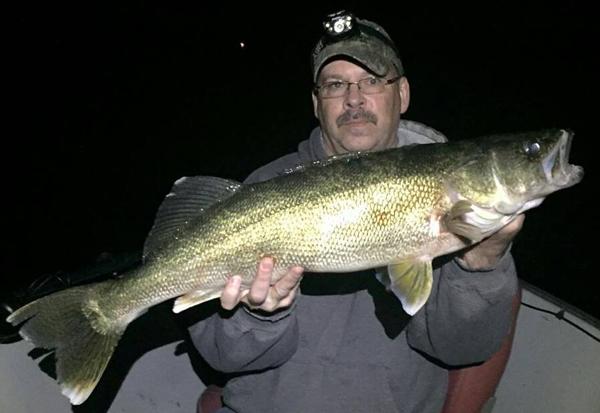 Stephen M. cracked this scale-stretcher on a Rapala Tail Dancer fishing a crazy-steep break. She was suspended over 100′ just 15′ from a rock wall: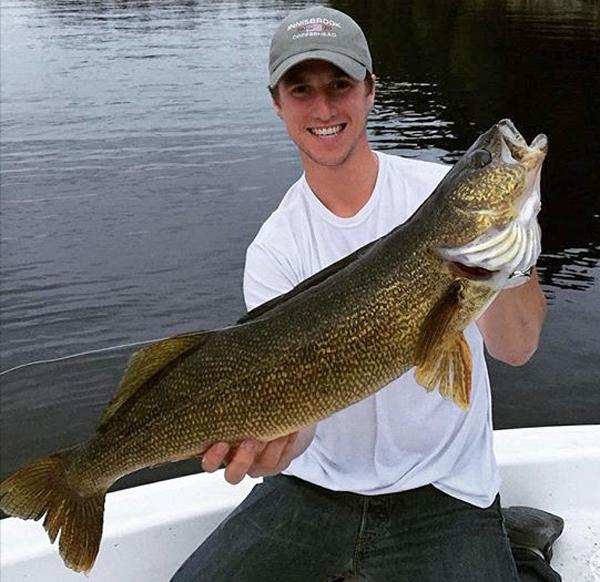 Jack's 28″ MN hawg slurped up a crawler dragged behind a Lindy rig: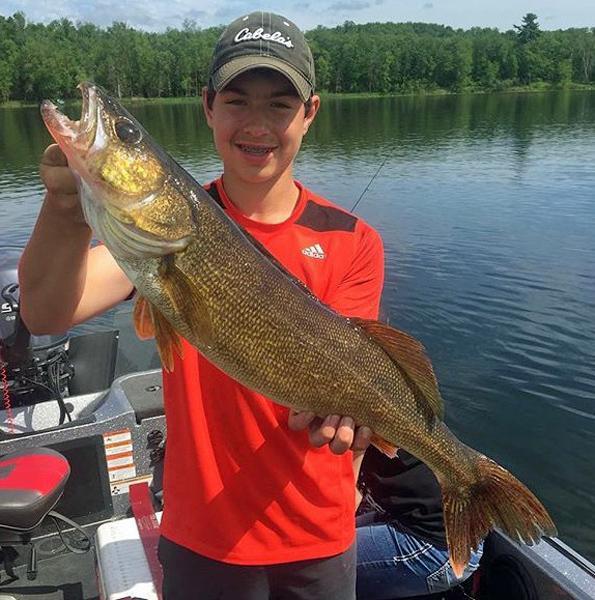 Joe Okada was leading after day 1 of the NWT event on Green Bay, bagged 5 lizzies for 38.66 lbs. Seriously impressive considering it was a struggle for most: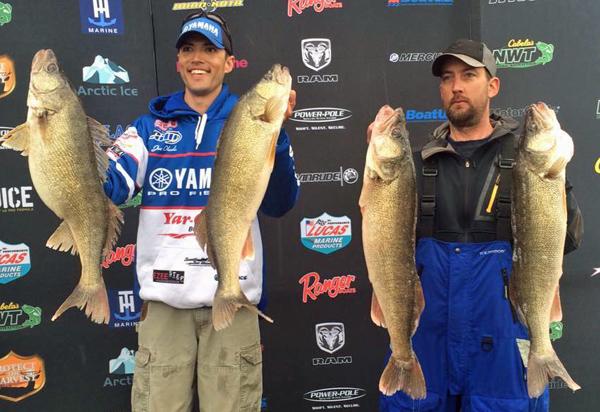 Word is alewives are preppin' to spawn, so there's a ton of bait for 'eyes to gorge themselves on — tough to contend with the giant pods of fish candy like this: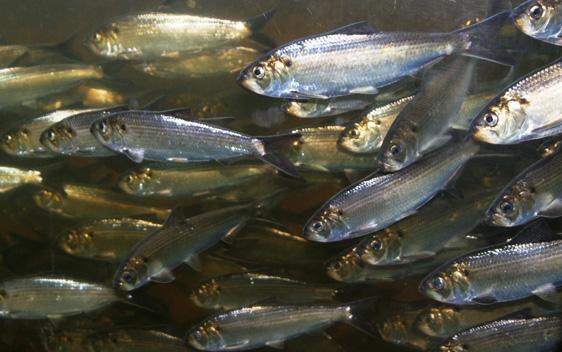 More than $400K up for grabs (can you imagine??) so expect this one to be a shootout. Check the live weigh-in here.


Target Walleye's Jim Edlund got with Gary this week to pick his brain on what's working right now. Full article on TargetWalleye.com but here's a sneak peek:
> You see those big clouds of bugs on your graph and sometimes walleyes will come up 25-30′ to hit a crawler, like on Winnie or Mille Lacs. There's a lot of ways you can catch walleyes during a hatch.
> In the old days we used to use 16-18′ cane poles for dipping walleyes out of the cabbage. You take a shiner or leech and drop it into the openings between the cabbage clumps.
> Always start on the windward side of the structure. That's typically where the walleyes will be. Also, find the area with the sharpest drop. Those two things are critical.
And this line about Mille Lacs:
> I don't know where the DNR is putting their test nets, but it's not anywhere near where I'm fishing, I can tell you that.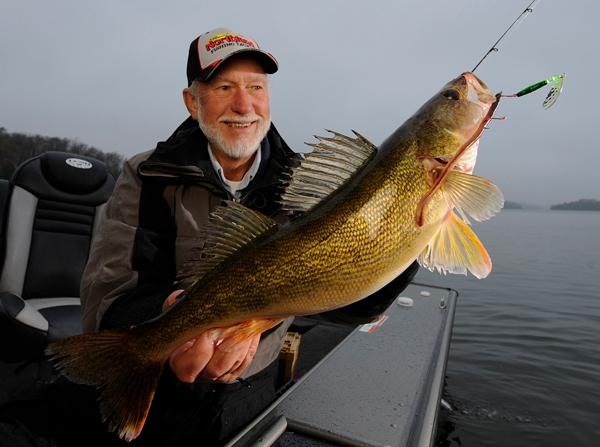 Grandpa's shore-lunch trick.
From Cap'n Chris Granrud:
> "When preparing shore lunch, throw a wooden match in the oil — when it browns the oil will be at the perfect temperature to fry your fish."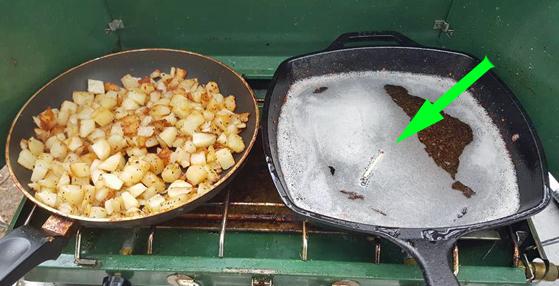 How cool is that?

That takes dedication and a serious set of quads:
Here he is a few years from now when he's fishing the NWT:
News
1. SD: Oahe, Waubay to kick out next state record.
> "Trends from other states seem to point to [more records being broken], with 16% of all walleye records being broken during the last decade."
SoDak is known for #s of 'eyes, but not necessarily REALLY big ones — these 2 lakes have that big fish potential to grow 'em. Georgine Chytka has held the current record of 16-02 for 14 years, fish caught in the Fort Randall Tailwaters.
2. ND: 40th Annual Walleye Tournament.
Happening right now on Devils Lake. Perfect timing, the bite is HOT.
> "If a watercraft passes through an inspection station with standing water and the boat is known to have been in AIS-infected water in the past 30 days, the watercraft will be subject to decontamination by AIS staff.
> "… A vessel may be locked to a trailer to prevent launching until adequate time for drying has passed."
!!!!
4. IN: Shriner Lake stocking proposal.
> "The walleyes will measure 6-8″ long and will be skimmed from a stocking of 6,690 walleyes at Sylvan Lake in Noble County." #Sharing
5. Tip: Catching midday walleyes with Bro.
6. Canadian authorities still hostile on St. Lawrence?
Who cares, we have more and bigger fish on our side! lol
7. Pure Fishing might be for sale soon?
Huge parent company of Pure Fishing (Berkley, Fenwick, Abu, etc) will be selling some stuff, hasn't said if the fishing brands will be included or not.
8. How to get bugs off your Talons.
Quick, easy, nontoxic, biodegradable — we use it a ton, on our trucks too: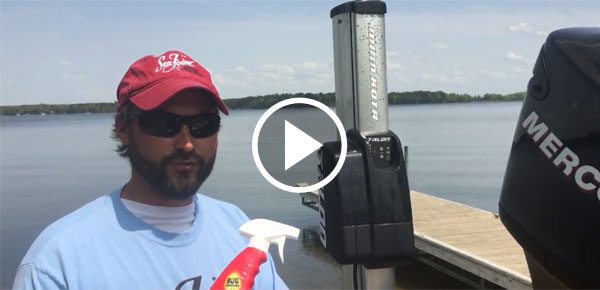 9. New folding kayak!?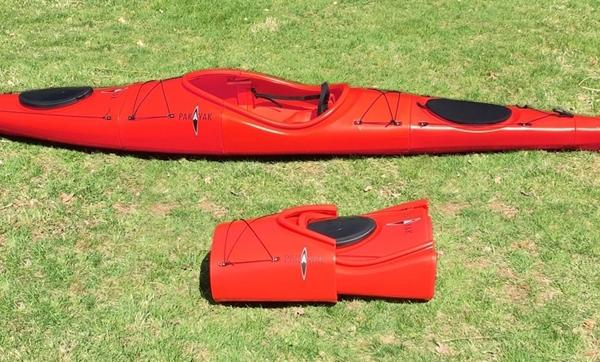 #BackwaterWalleyes
10. ICAST will be biggest yet?
ICAST = the fishing biz trade show. We'll be there getting you the inside scoop on all the new trinkets.
11. Last day to enter Devils Lake $3,100 giveaway is TOMORROW!
Called the Coolest Cooler contest, but WAY more than that! Full prize list and how to enter here or click this banner:


_____
Did you enter to win this Northland Tackle stuff yet?
Have a shot at winning all this stuff from Northland Tackle! Just click on the pic, enter your email addy and then share the link you get for more chances to win. Good luck!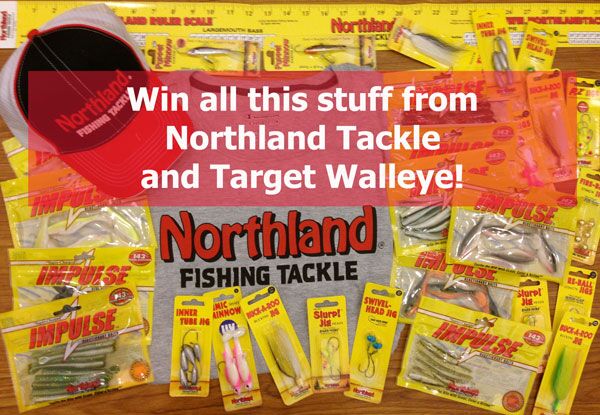 Fishing Reports
> Fishing has been up and down this week with the large amount of bait in the system (shiners, crayfish, bug hatch). You need to have the whole arsenal ready to go.
> Go for the reaction bite first. Trolling #5 or #7
Rapala Shad Raps
on feeding flats and windblown shorelines. Also, trolling spinners at 1.2-1.6 mph with larger Colorado blades or a slow-death hook to mimic mayfly.
> Once you find the fish, slow down with a jumbo leech or blown-up crawler on a Lindy rig at 0.4-0.7 mph to put it in front of their face and entice them to bite.
> The fishing started shallow and as the water warmed each day the best fish went even shallower. 2-4′ were our best numbers as the walleyes hit crankbaits like northern pike. Between the pike and walleyes we caught and released, quite a number of shad raps were utterly destroyed. Color did not matter.
> Pulling spinners tipped with a crawler or leech in 8-17′ on the south shore/islands has been productive. Jigging with a minnow on the reefs in 15-30′ is also producing walleyes. Gold and silver have been the fishiest colors.
> On the Rainy River, the fishing slowed temporarily with all the rain — though some fish are still being caught near the mouth of the river and into Four Mile Bay. A jig and minnow remains best option for catching walleyes.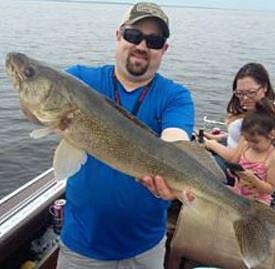 Great places to catch 'em
Sign up another walleye-head!
If you're forwarding Target Walleye/Ice to a friend who loves to walleye-fish or want your fishing buddies to get these emails, just
send us
their email addresses and we'll take care of it! (We won't sell the addresses, use them for spam, etc.)

Tip of the Day

Catching short-biters on spinner rigs.
Big bug hatches are happening right now, which means it's spinner season baby! Connecting with these bug-stuffed fish can be frustrating. We met up with Joel Nelson yesterday on Mille Lacs to find out how he boosts his hookup ratio:
> If fish are really scattered, you'll want to run crankbaits. If you find 'em in big ol' monkey piles, then why not just sit on them with a Jigging Rap? Spinners are the perfect application for the in-between when there's scattered pods of fish along an isolated stretch.
> On a good spinner bite I'll experiment with the hookset, but I usually try to hit them right away. It's not like a Lindy rig where you want to give them much time to eat it– bottom-bouncers have a lot of extra hardware for the fish to feel and want to drop.
> If you're catching fish on the tail hook only, then they're likely following it for a long time and just nipping at it. Same thing goes if you're missing a lot of fish. You need to cut that tag end! Sure you can pinch it, but why not just nip it with your superline scissors and you're good to go?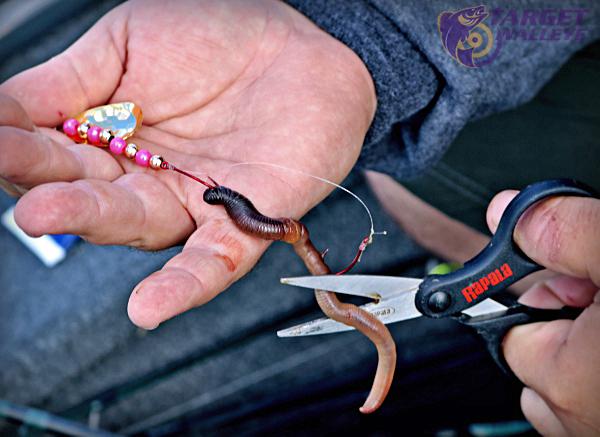 > If you're still having a tough time, then settle down with that hookset. Instead of wrenching on 'em, simply dip back to give them some line and do a slow power-sweep to let the rod load up. You can even leave it in the rod holder to let them hang themselves.
More deets on spinner rig fishin' coming, just didn't want you to miss any more fish over the weekend….

Quote of the Day
…on your drive to the cabin, you pull over to get gas and enjoy a burger and cup of coffee at a highway pit stop.
– Gord Pyzer describing how walleyes transition from spring locations out to their summer ones. Scattered and on their own time.
Check this stuff out!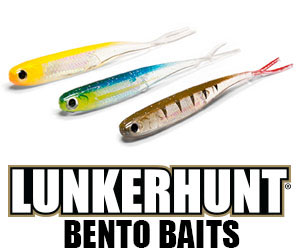 About Target Walleye
Target Walleye/Ice
brings you the BEST walleye and ice fishing news, pics, tips and events year-round, and is brought to you by Al & Ron Lindner, Jim Kalkofen and other walleye nuts like you!

TargetWalleye.com | Rapala.com | IceForce.com