Today's Top 5
It's round so you can apparently use any knot you want, only 20-lb for now: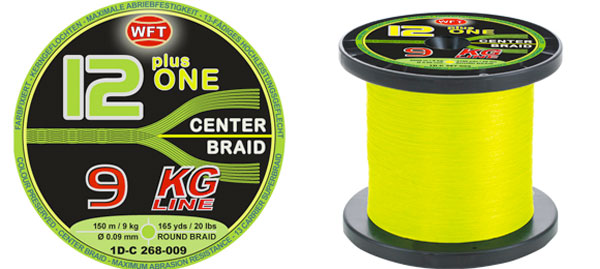 > A new braid going on sale later this year is believed to be the first of its kind in the world.
> …from World Fishing Tackle in Germany (WFT) is the 12+1 Braid, so called because the 13th carrier is threaded through the hollow core of the braid. …threading a single, fine carrier into the hole that exists in the of the braid.
> This firms up the inner core and maintains roundness, even under pressure. It also overcomes the problem of the large bore in a 12-carrier soaking up water, creating spray and impairing casting….
> …currently being manufactured in one diameter of 0.09mm (9kg/20lb breaking strain)….although bigger diameters can be produced if there is a demand.
> "We wanted to satisfy ourselves that there would be advantages over an 8-carrier braid, otherwise there was no point in doing it. In fact, it exceeds all the performance characteristics of an 8-carrier braid. The 13th carrier makes it stronger and more durable, giving the line an amazingly long life due to maximum abrasion resistance.
> "It has better roundness than 8-carrier braid, which means a better line lay on the spool and longer, more accurate casting. The slightly undulating nature of the line's surface also makes it incredibly good for knotting. You can use any knot you want."
You may not know that Germany is a hotbed for line technology too, almost like Japan.

Not really footballs — more like sides of beef.
Chase E. on Green Bay: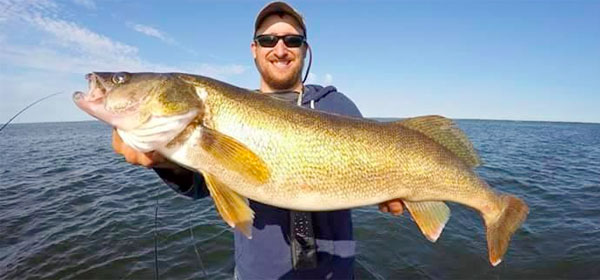 Not sure where this was caught, but photo from Lesia G.: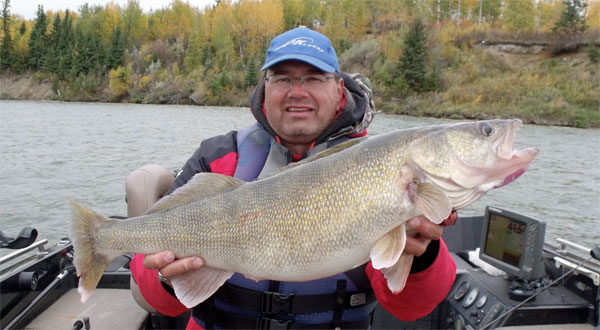 10-lb Devils Lake 'eye caught in NWT practice by Roy Vivian:
Or releasing them?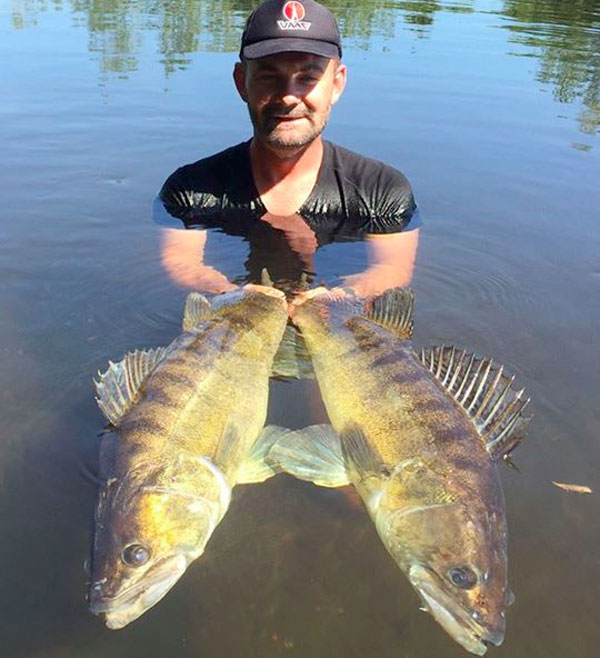 This is a cool mailbox: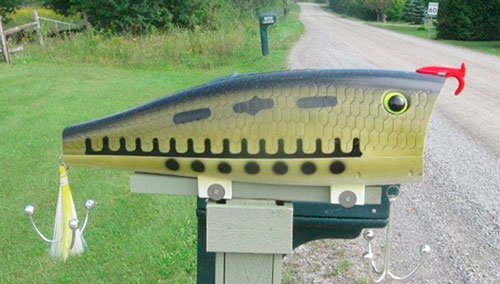 But this one is awesome: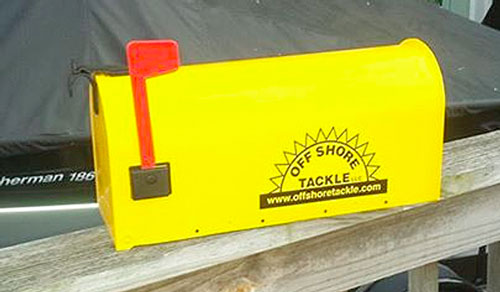 WANT!!!

News
1. Check this out from Humminbird!
New for the 2016 ice season, Humminbird's ICE HELIX 5 SONAR/GPS:
> …delivers three technologies in one unit. The high-speed LCD eliminates guesswork with a digital read-out showing your exact depth. Precision GPS helps you find and return to productive spots, while optional Humminbird LakeMaster charts give you more detail than any other map on ice.
> Now add a 5-inch diagonal, 480V x 800H HD display with 1500 nit brightness for eye-popping, crystal-clear images for easy viewing, even in harsh sunlight so common to the bright winter environment.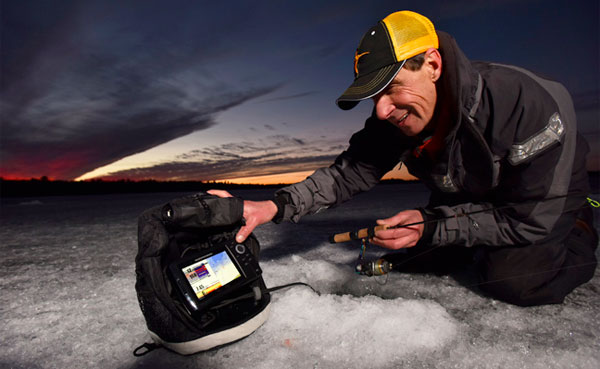 WANT!!!!
2. Giant Mille Lacs walleye netted.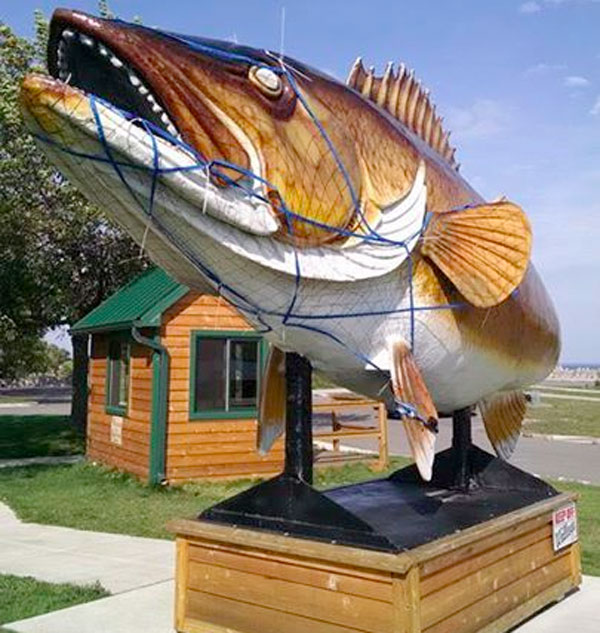 Maybe netting IS the problem?
Maybe they'll replace that walleye…with a smallmouth??
Apr 21-22: Lake Erie – Sandusky, OH
May 26-27: Lake Winnebago – Oshkosh, WI
Jun 23-24: Bays de Noc – Escanaba, MI
Jul 27-29 – Lake Oahe – Mobridge, SD
4. MN: Man catches huge muskie.
Lake Hiawatha, 9-lb line, fish was 35-40 lbs.
5. WI: Wausau stocked with muskies.
6. Side imaging solves old missing person case.
Hey!
Do you want all your walleye-fishing buds to get Target Walleye? Just email us the email addys for your friends or fishing club and we'll take care of it! (We'll never send spam or anything else crazy….)
_____
Click here to enter and win! And please forward the link!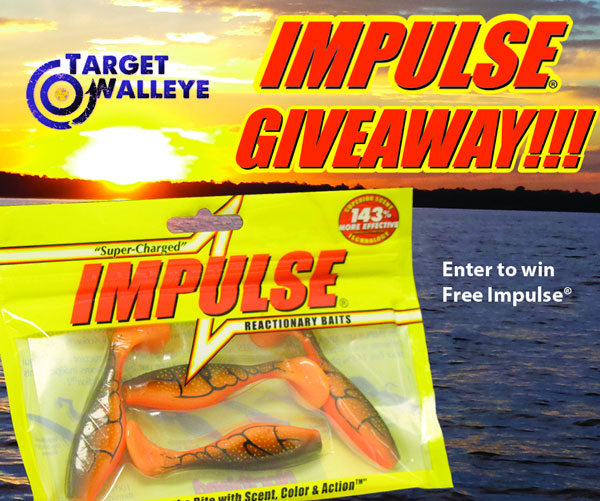 Events
Today and tomorrow on Devils Lake.
Tomorrow in Spring Valley. THANK YOU veterans!
Gull Lake on 10/3. $10K payout to 1st.
---

'Eye Candy
Not a walleye but one of the most beautiful tiger muskies we've ever seen: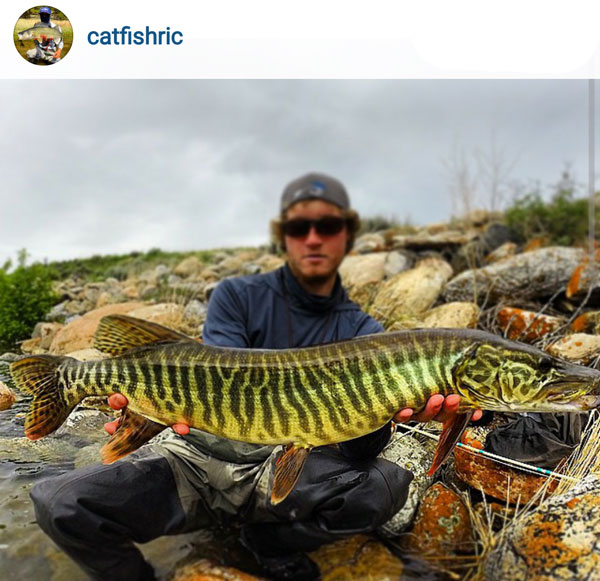 Understanding the fall turnover.
Ron Lindner:
> Many natural lakes and some reservoirs in the upper portion of North America experience what is called a 'temperature thermocline' during the summer months.
> Simply put, a body of water stratifies into different gradient layers of temperature stacked one on top of each other, much like a cake. The warm water is on top, the cold or cooler water is on the bottom, and there is an intermediate layer(s) somewhere in-between that separates them.
> These bodies of water experience a sort of homogenization when the top layers of water become the same temp as the bottom layers and they begin to mix.
> In the upper portion of North America, this "turnover" typically begins to happen somewhere at the beginning of September and is usually complete sometime during what is called the "Harvest Moon" (approximately Sept 28).
During this period, lakes and reservoirs will cool from the warmest they've been all year, to temperatures that mirror the chilly water below the thermocline. When this occurs fish like walleye will follow baitfish into the newly opened depths, while others may move very shallow.

---

Quote of the Day
In my opinion, those people are just snobs who do all they can to emulate the likes of those sponsor-shirted boys with three first names.
– Guy talking about how bass fishermen don't like live bait.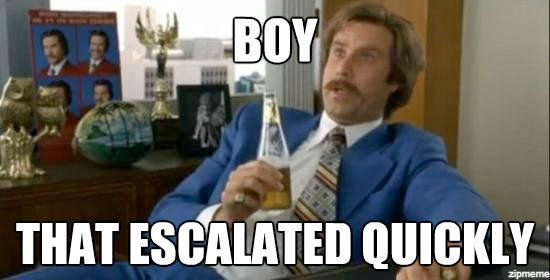 ---
Shot of the Day
Pro bass fisherman Keith Combs gave this unanticipated catch a dental exam — we think he was scared….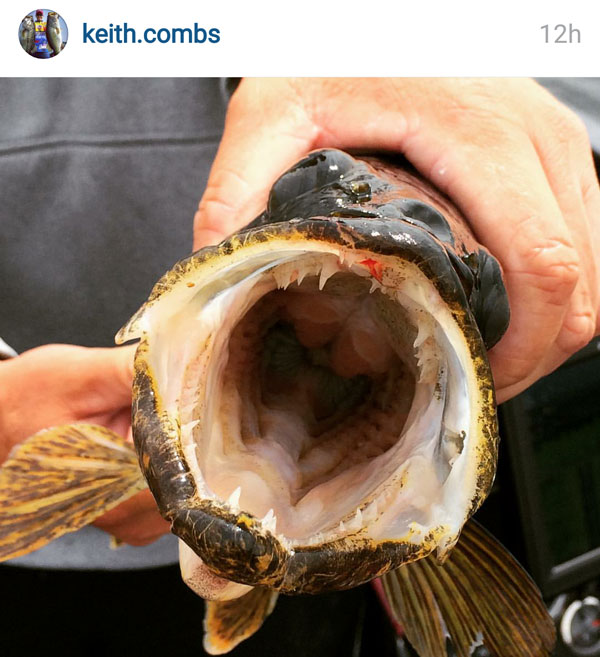 ---
Have you checked this stuff out yet?

---
About Target Walleye
Target Walleye
brings you the BEST walleye and ice fishing news, pics, tips and events year-round, and is brought to you by Al & Ron Lindner, Jim Kalkofen and other walleye nuts like you!
---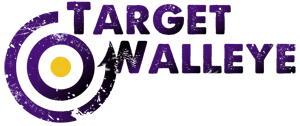 TargetWalleye.com | Rapala.com | IceForce.com