Fishing Reports

> Our ice remains 24-30″ and a very active bite continues in 29-33′ on glow pink/red or chartreuse jigging spoons. Northern pike have started staging near spawning areas and are active. #GameTime
> The Rainy River is open from Birchdale to the east. Shore ice remains and a few anglers have already started pushing boats over the ice [!!]. We'll be reporting open-water progress at the
Rainy River page
of our website.
TW reader Craig "gets to fish too much" Buck said they caught and released 50+ walleye and sauger each day during their trip…this double came while deadsticking a minnow on one rod, and jigging a Rapala Slab Rap with the other: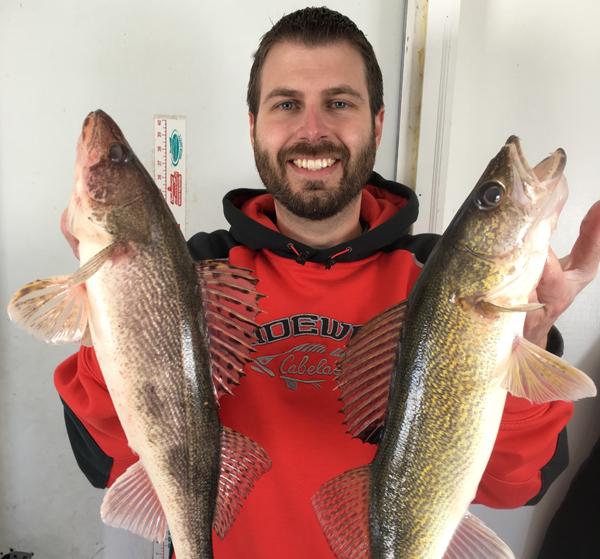 One of the few places left to still have "GREAT ice." Just gotta keep on the move in search of active fish.
Craig "gets to fish/travel too much" Buck [see above photo] stuck this Devils Laker on a 1/16-oz super-glo redfish Buck-Shot Rattle Spoon: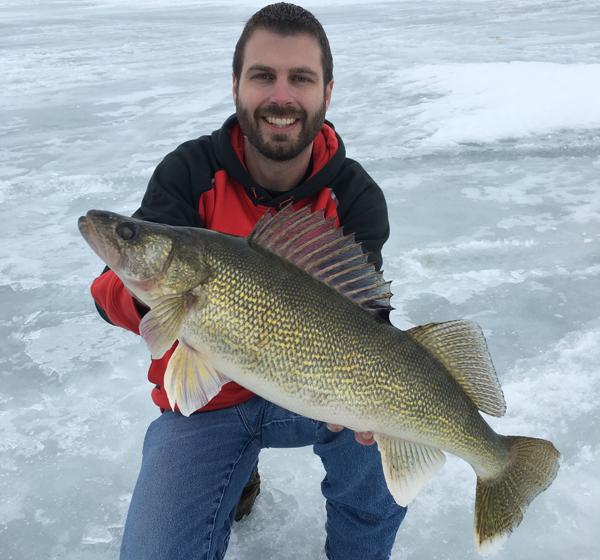 Tip of the Day
> In my river experience, 90% of the big fish are caught in 10′ or less. I'll pull Dubuque rigs in 6-15′, but I prefer to pitch plastics in shallow water.
> You've gotta get out of the fast current. The big fish aren't there. Don't be scared to cast into the wood and sticks. Walleyes feel safe there — they'll even spawn in there. Boggles my mind that you have guys in $50k boats who cringe at losing a bait. Burn through jigs if you have to.
With water temps of 40 degrees through 50 degrees — he's pitching a B FISH N Tackle Ringworm to find fish, then sizing up to a Moxi on a 3/16-oz H20 Precision Jig Head.
> Beefier-profile plastics like the Moxi just do better on big fish this time of year. Stick to fluorescents and the occasional dark pattern for dirty water, and natural colors like oystershell for clear water.
> It kind of depends on the day, but I usually cast upstream and lift the jig off bottom, reel in slack, and keep the line tight as the current sweeps the jig. Then repeat when the jig hits bottom or lightly shake the rod tip as I reel in slow.