If you're receiving this Target Walleye/Ice email — covering the best of walleye fishing during open water and the best of ice fishing during hard water — for the first time, a friend probably signed you up! Target Walleye/Ice is brought to you by Al and Ron Lindner, Jim Kalkofen and other walleye and ice fishing nuts like you.

Today's Top 5


What looks like a zander caught on Sturgeon Bay. Not really a zander, but close! Spenser S. popped this 30 on a blade bait. Generous hold, but you can't hide big: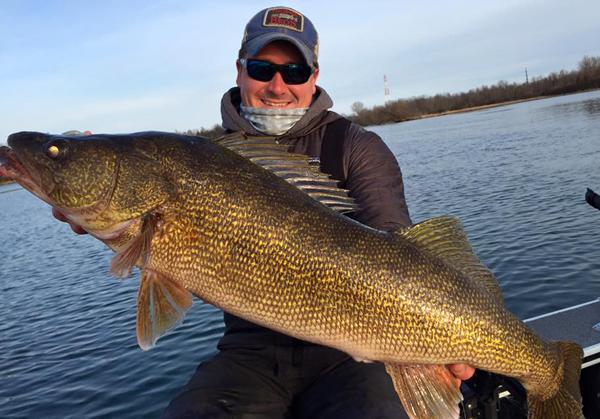 Wally mammoth was released — check out the video of the battle royale: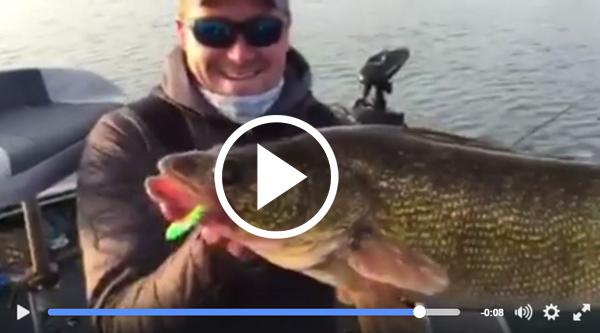 Paul Nolan has been getting his clients on a great night bite on Green Bay. Check out this horse — another generous hold but still…wow: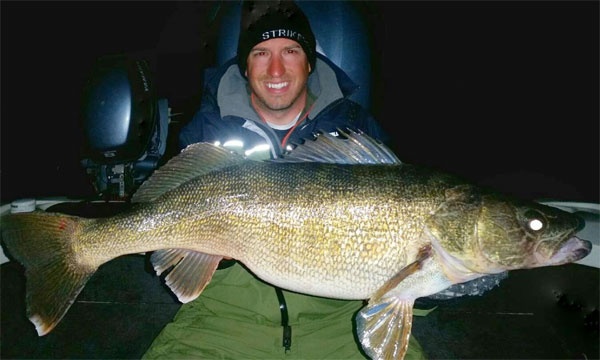 Detroit River guide Mark Pieniozek put his client Brad Gohr on his personal best rock melon — 31.75″ and 11 lbs. Caught it on a white 1-oz jig with a blue soft-plastic minnow in 27′: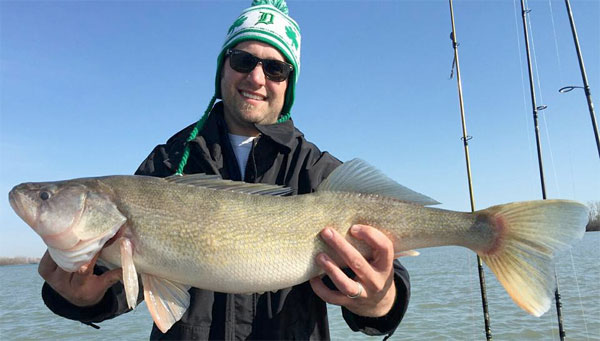 29.5″ of Erie eggy bulbousness caught around the Erie NWT: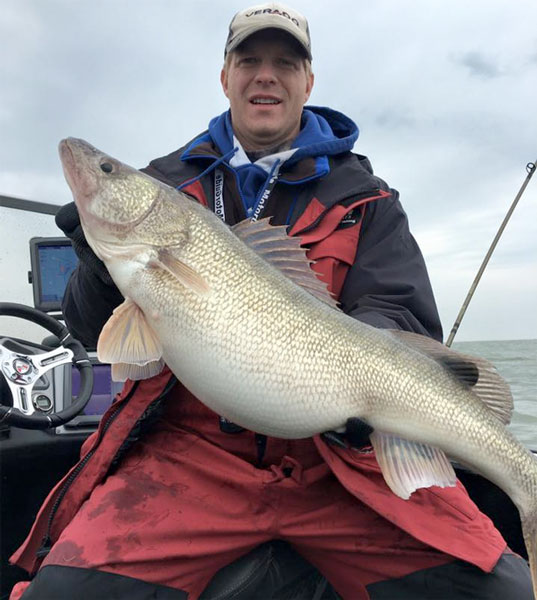 Jake V. snap-jigged a Rapala Rippin' Rap (Helsinki shad) on Sturgeon Bay: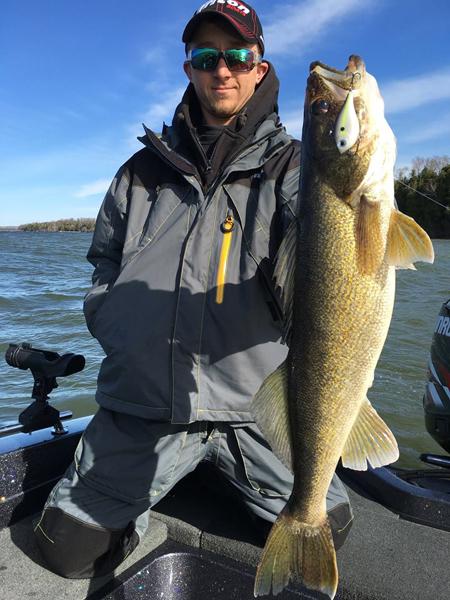 Paul Delaney got this one with a Rippin' Rap too (green tiger UV) — that walleye smiling??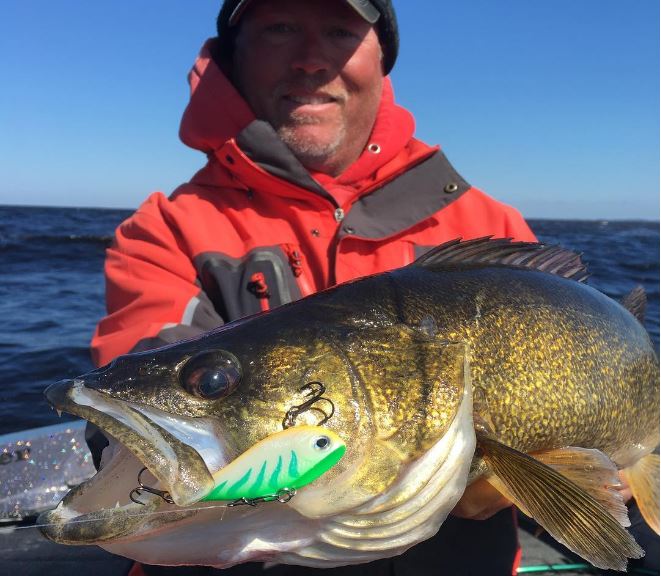 Keenan's 'netting pocket.'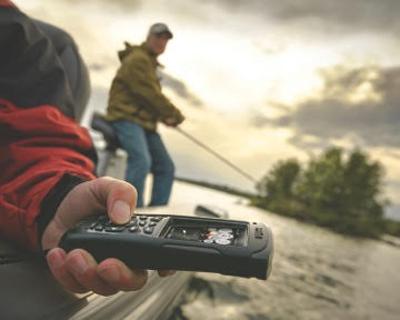 You oughta heard by now that Tom Keenan won the NWT on Erie (congrats!). Since we already told you how he caught 'em, how about how he nets 'em:
> "I had 40 fish on during the tournament and boated every one of them. The key is keeping my i-Pilot remote right next to me at all times. Not around my neck, but on the rod locker. This allows me to turn the boat into the fish, which swings the back of the boat away from the fish and creates what I call a 'netting pocket.'
> "If the fish comes into the starboard side, I'll turn into the starboard side. In big 3- to 5-ft waves it becomes even more critical. As the fish gets close I'll also shut off the
Terrova
for the last 10-15 seconds of the fight so when the walleye first breaks the surface my co-angler can net it. Definitely beats unnecessarily dragging fish around."
Very cool. #pro

Skarlis sets the hook with…his outboard.
Ever heard of a 250-hp hookset? More proof that Tommy Skarlis breaks the mold of a traditional wally guy: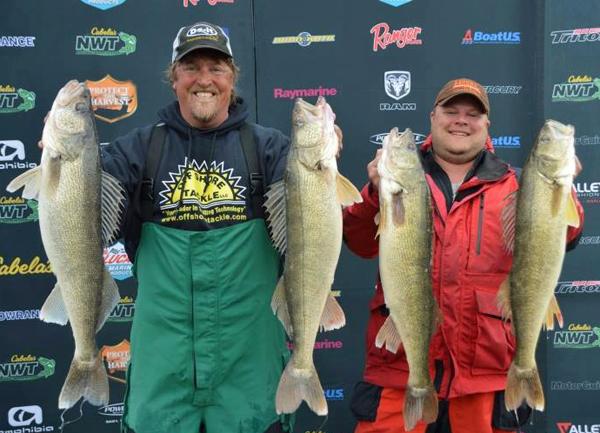 > "Running Bandit, Reef Runner and Husky Jerks fairly slow = 1.4mph. Key was getting the Off Shores as far from the boat as possible with baits 15 to 25 ft below the surface…purple/char bellies and brown/orange bellies when overcast, chrome/metallic when sunny.
> "Driving like a drunken sailor [take your word for it Tommy!] triggered strikes by stalling and starting the presentation…lost fish until we started firing up the Big Evinrude Gen2 (250HO) and getting up to 6 mph to set the hook!!! Kick it down as soon as you see the Off Shore go back — then keep it there for 5-10 seconds — then back down to 1.4 to fight the fish."
Final step is to wash it all down with some celebratory sushi — looks like Tommy's a little hungry:


Improve your towing fuel economy.
Here's why "baitfish check in, but they don't check out:"
Great shot. Weird how they can come off our lures sometimes….
---

News
1. MN: Mille Lacs relief included in House bill.
> "…authorizes property tax abatements for qualifying businesses, and refunds the state general levy on commercial/industrial and seasonal resort property in the 14 cities and towns surrounding the lake."
2. Lake Erie: Walleye creel limits unchanged.
> "This year's assessment showed that both yellow perch and walleye populations remain at maintenance levels…based on this, the creel limits are being held at the 2015 limits."
3. MN: Fond du Lac Band nets take minimal 'eyes.
Lake Vermillion.
4. MN: Walleye hatchery footage (video).
Summary: Lots of walleye…lol.
5. Of course walleyes can have candy for breakfast.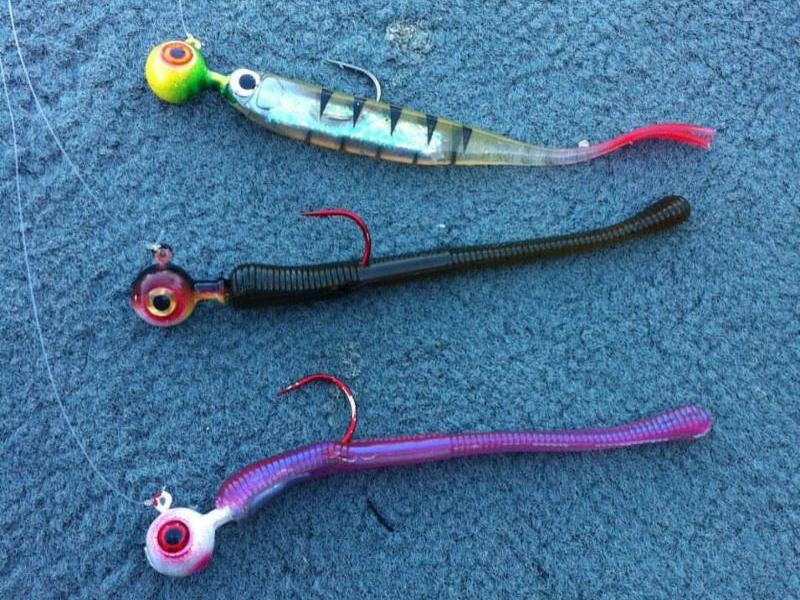 Lunkerhunt Bento Minnow and Limit Worm. #TastyTreats
6. More info on Toyota Bonus Bucks.
> Only national tow-vehicle program that pays you to fish. You simply have to be the highest-finishing eligible Bonus Bucks participant in your tournament to win.
7. Senate passes energy bill to benefit sportsmen.
Provides increased access to our public lands and waters, improving fish and wildlife management, and protecting the use of traditional fishing tackle. Thanks!
9. TWI survey could win you free lures!
Please take the Target Walleye/Ice survey! Only takes a few minutes to tell us about you and what you want to see more/less of in Target Walleye — mostly ice-fishing questions this time. One person who takes it will be randomly chosen to get some fishing lures. Your answers will be very helpful. Click here to get there, thank you!
---
---
Fishing Reports
> On the Rainy River, sturgeon fishing dropped off slightly from the previous week due to rain and cold but anglers still pulled a pile of dinosaurs from the depths. The most popular sturgeon rig is a 3-5 ounce no roll sinker, 18″ lead and 5/0 circle hook loaded with crawlers, frozen shiners, or frozen ciscos.
> Pike fishing was decent with some reports of big fish in the bays. Big pike over 40″ are traditional in Four Mile Bay, Bostic Bay and Zippel Bay which have open water. Using a large bobber with a frozen cisco just off or on bottom worked best as the fish are somewhat lethargic still.
Still some spots open for this weekend's pike tourney at Zippel Bay: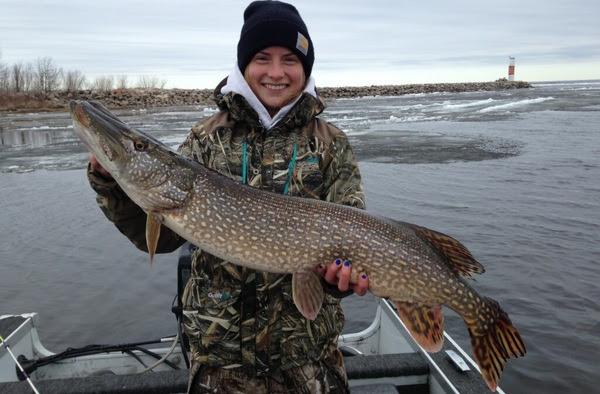 Rules, entries and details for the 20th annual Ice-Out Trophy Pike tournament can be found at zippelbay.com.
> Some fish have spawned, some are spawning, and others will be very soon. …northerns and walleyes in the shallow back bays casting cranks and jig/plastic combos. Look for the shallow bite to continue to get better with warmer water temps!
> Current areas such as culverts and bridges can be very good this time of year. Other areas to try include the Sheyenne River where the action has been steady.
Walleye season is open 365 days a year on Devils Lake. #Stout

---
Bro: Getting on post-spawners.
> "Male walleyes will linger near the spawning sites, and females will slip out into 4-12′. Some will slide farther down the break, but they'll still move up mornings and evening to feed."
> Bro says his favorite post-spawn spots combine slight contour changes and vegetation. "By far, the best spots will be those with new-growth cabbage, coontail, sand grass, etc."
> He prefers cabbage weeds, which draw a buffet of bait – perch, shiners, crayfish, darters and more. "May through July I'm watching my Side Imaging for scattered areas of emerging cabbage weeds, which may be nothing more than foot-wide isolated clumps of inch-tall stuff, but hold food.
"I just love pitching spinnerbaits over new weed growth. Most anglers think they're just a bass or pike bait, but — especially on prairie lakes — they're deadly and I can cover new waters fast."
---

Post-spawn male walleyes behave like teenage boys who have been coerced into taking a buddy's fat sister to the high school prom: After the dance they can hardly wait to collect on the promised beer and pizza reward….
– Opening to Ted Peck's recent post-spawn walleye article. Gotta hand it to him for originality! Maybe something in Ted's past he needs to work on…lol.
---
---
---
Great stuff!
More great stuff!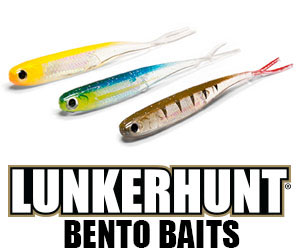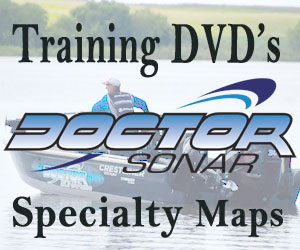 Target Walleye/Ice
brings you the BEST walleye and ice fishing news, pics, tips and events year-round, and is brought to you by Al & Ron Lindner, Jim Kalkofen and other walleye nuts like you!

TargetWalleye.com | Rapala.com | IceForce.com