If you're receiving this Target Walleye/Ice email — covering the best of walleye fishing during open water and the best of ice fishing during hard water — for the first time, a friend probably signed you up! Target Walleye/Ice is brought to you by Al and Ron Lindner, Jim Kalkofen and other walleye and ice fishing nuts like you.

Today's Top 5


What happens when you put a greenback in blue light? It still looks big and green! Here's Ben U. with a 13-lber (29″) from Lake Winnipeg, MB: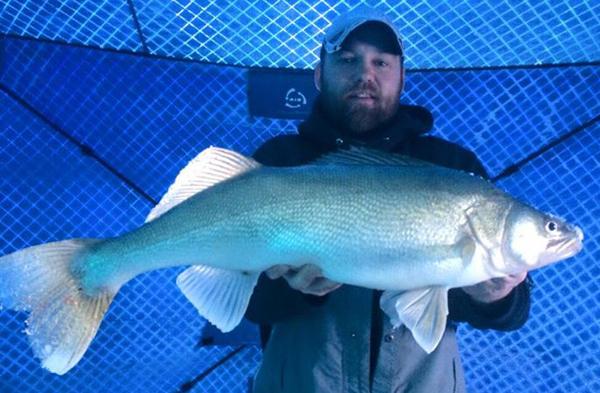 Brenden K. and crew also spanked a bunch on Winnipeg: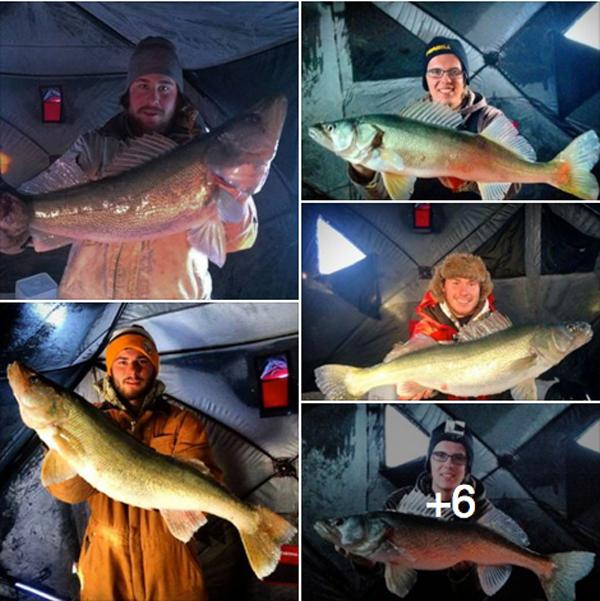 Andy W. and flag-spotters with a stout SK slough shark: #FlagsUp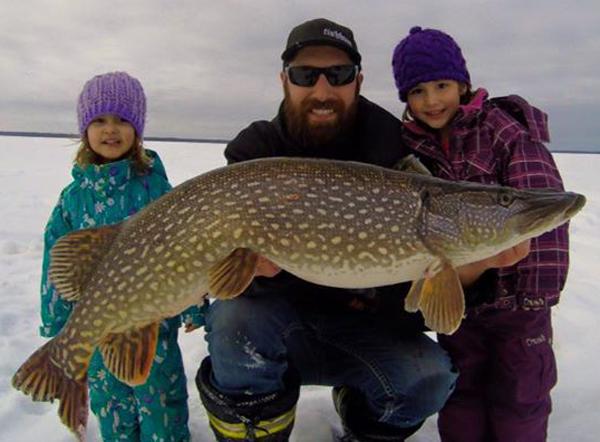 Incoming! Trav T with a monster laker caught on a Lunkerhunt Magic Bean: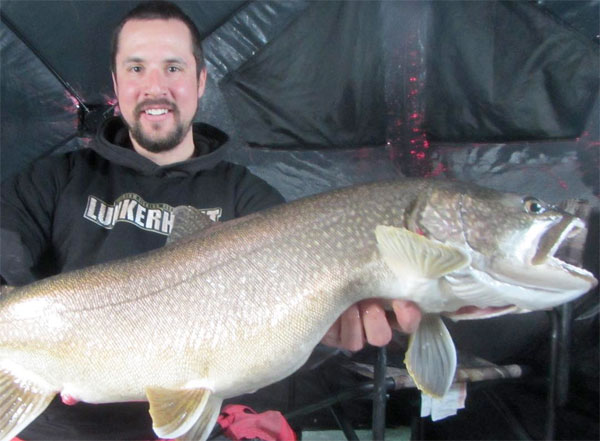 South Korean ice fishing: Just like here?
Annual event happens there every January. Looks normal…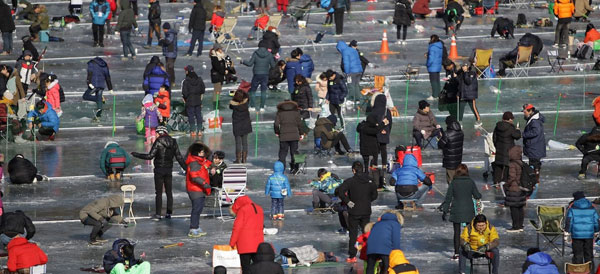 …though doesn't look like they've discovered Humminbird or Aqua-Vu yet: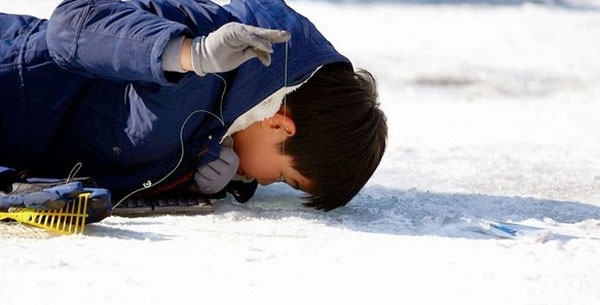 Then there's this — not real sure what's going on, but bet the water's cold!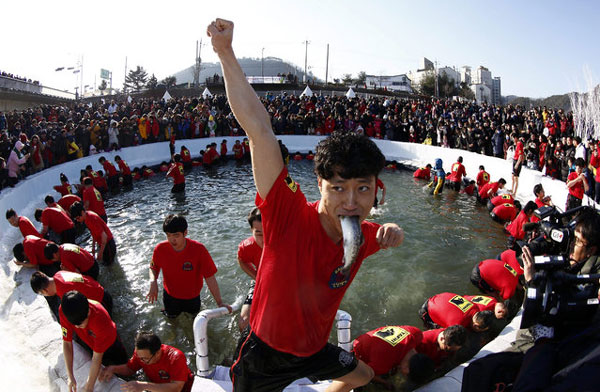 Think you know how? Maybe not:
> Although Jigging Raps are simple to use, "guys fish it wrong all the time," says Tom Neustrom, a Freshwater Fishing Hall of Fame guide. Mistakes include lifting it too high and moving it too much.
> "With all winter baits, you have to stop the bait sometimes — don't constantly move it, especially when the fish comes in and he's looking at that thing and you see him on your flasher. You gotta stop that bait and let it sit there right in front of him and shake it. And then stop it. They can't stand that."
> Don't raise your Jigging Rap too far above the fish, Neustrom says. "They want something that's right in front of them." He and Ice Force pro Joel Nelson both usually tip Jigging Rap belly trebles with minnow heads.
> Always tie a Jigging Rap to a leader line attached to your main line by a barrel swivel. "Otherwise, its going to twist your line." Three feet is a good leader length.
> Nelson notes that Jigging Raps "cover a lot of real estate. They can swim off to the sides and cover some ground, while behaving very naturally in helping to corral circling fish."

Guess the onions, capers and egg yolk are optional: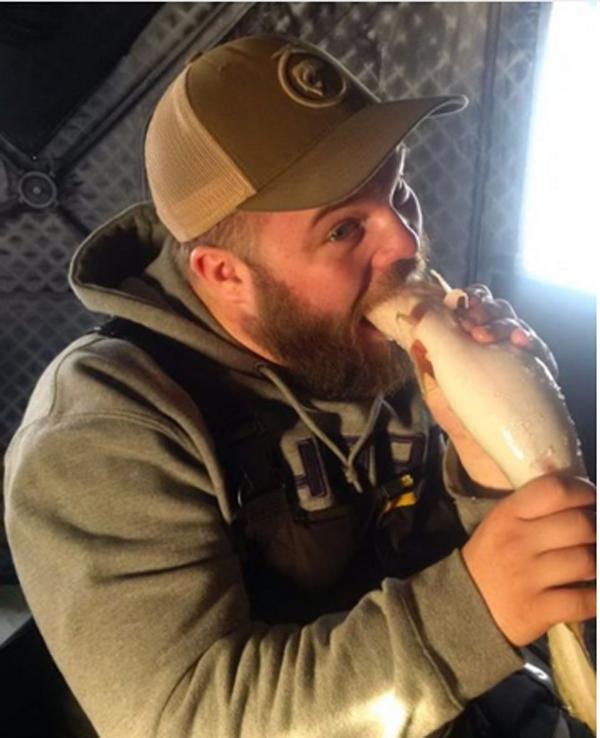 That's Shaun P. and a Winnipeg walleye. Sort of reminds us of a dude who lost his ring: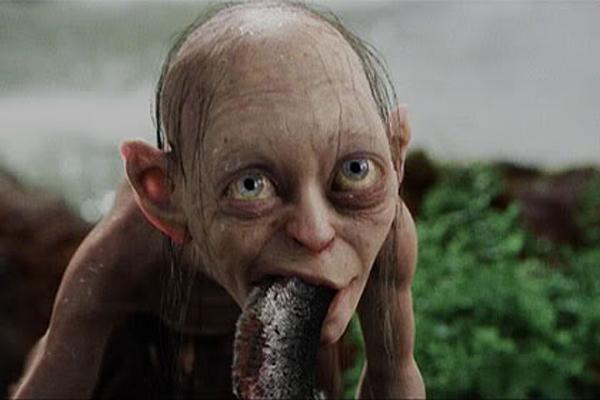 ---

Ice Fishing

1. ND: Devils Lake tourney is a go!
Always a blast and lots of BIG prizes —
watch the vid
.
2. ON: Anglers fish Guelph Lake despite ban.
3. NY, VT: Warmth hurting Champlain ice fishing.
4. NY: Two new ice fishing regs.
5. NE: Dave Genz talks heyday of giant 'gills.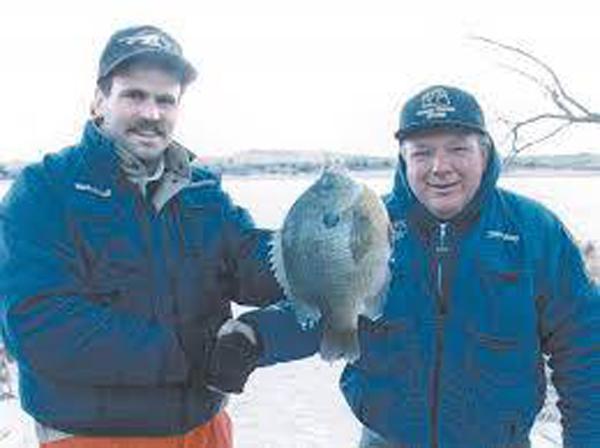 > I made the trip out to NE a couple of times, during one of them outdoor writer Mark Strand joined us. This is a picture of his 2-lb 8-oz bluegill — it was his first drop of the day.
6. How to find (and catch) more winter perch.
7. Will HydroWave Ice Mini be a game-changer?
Calls in fish by emitting soundwaves into the water that mimic baitfish activity. We will be testing this soon and report back.
9. Device saves fish caught deep from dying.
Gord Pyzer says the 'RokLees' is the best conservation tool he has come across in the past 30 years.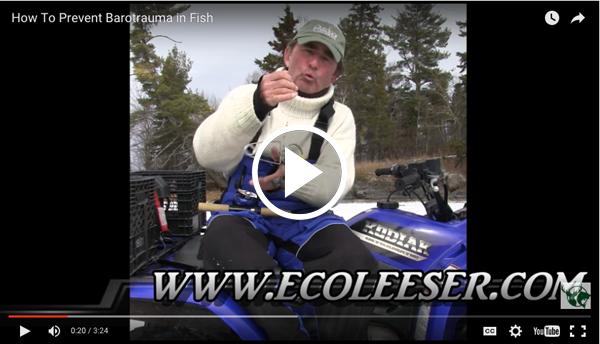 10. New Frabill Citadel por has rod storage in bench seat.
11. When fish attack Aqua-Vu cams.
Smaller optics = less spooked fish. Fish brains say Aqua-Vu = food.
SD perch are mean! And cousin Walter attacks everything in sight.
12. Ice fishing marriage proposal.
Spoiler alert: She said yes. Congrats!
_____
Make sure you note the special code for Target Walleye/Ice subscribers!

News
1. MN: Maple Lake contest cancelled.
2. MN: Man lights fish house on fire.
After he noticed it was sinking.
3. NWT announces BoatU.S. contingency program.
4. What the new VMC Gliding Jig looks like underwater.
Weedline walleyes are already requesting seconds.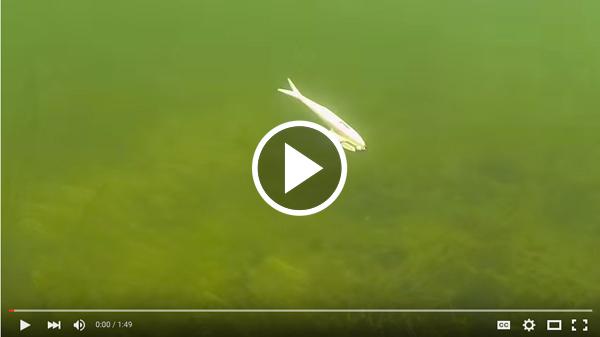 5. Off-season spinner prep with Ross Robertson.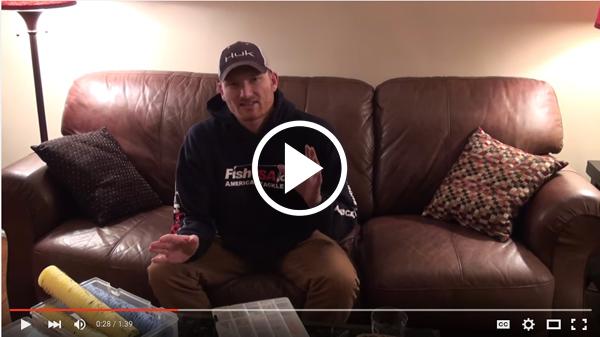 New e-book talks about what it really takes to pay the bills as a fishing promoter. Co-author is our own Jim Kalkofen.
8. VMC: Toughest terminal tackle.
9. Aqua-Vu and walleye pro Doc Samson join forces.

Line of the Day
…the crappy bite there has slowed considerably.
Wait — it was crappy and has gotten worse?? lol #autocorrect
---

---
Fishing/Ice Reports
1. MN: Lake of the Woods.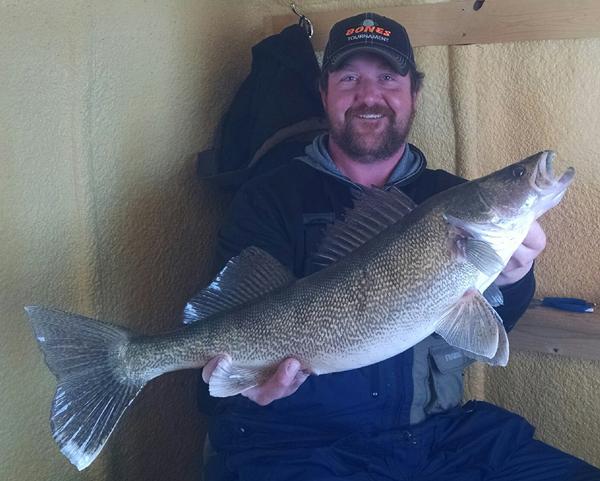 > Ice fishing remained steady throughout the weekend here on The Walleye Capital of the World. Ice roads are allowing midsize vehicles or 16′ wheelhouses pulled by UTVs onto the lake. 11-15″ of ice on average with a few reports of 18-20″ but with patches of 8″ ice. As always, stay on marked resort trails.
> Best fishing in 24-34′ with smaller presentations. Lures with rattles or a plain hook and glow colors best. Walleyes and saugers with a few monsters mixed in. Best bite continues to be between 9 am and noon.
> The Rainy River is iced over but not safe overall. For safety, work through resorts. Some locals out on ice but they know exact conditions. Safety first. Most anglers fishing the lake.
> NW Angle: Good fishing continues. Snowmobile trails to south end of lake and to Kenora are open. Ice roads to island resorts marked and open. Resorts are finding fish. Steady bite with limits in 23-29′ for walleyes and 30-34′ for saugers. Jumbo perch, pike, and eelpout in with walleye and sauger mix. Slab crappies being caught on ON side.
Tough to beat a bonus 52″ LOTW 'ski: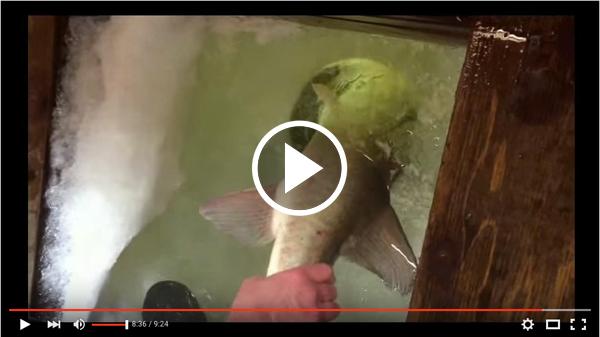 From TW's own Jim Kalkofen — ever seen perch fatter than that??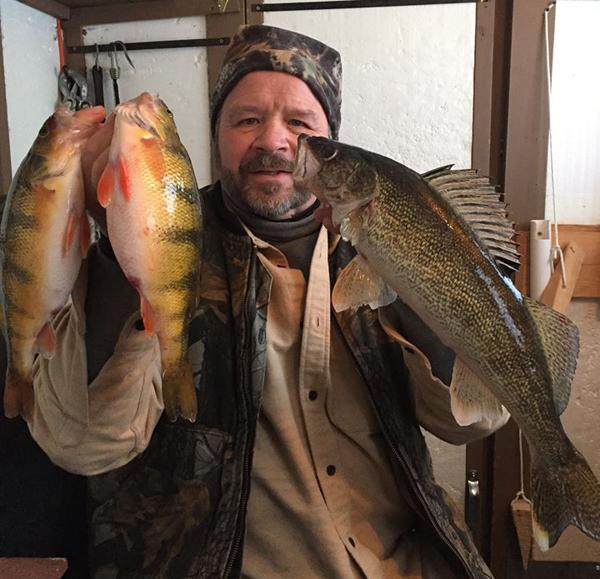 > Best is smallest Jigging Rap with minnow head. Jigged a few times, then let it swim around. Most hits when it was nearly still. Biggest perch on smallest Northland Buckshot spoon with two wax worms. 20′ deep.
Here's Mandy U. and a brace of Devils Lake gold. Northland Buckshot spoon with minnow head in 6′ on a newly-opened part of the main lake (18″ ice).

3. WI: Green/Sturgeon Bay, Door County.
Big walleye and whitefish bite begins. Here's Dale Stroschein of Sand Bay Resort: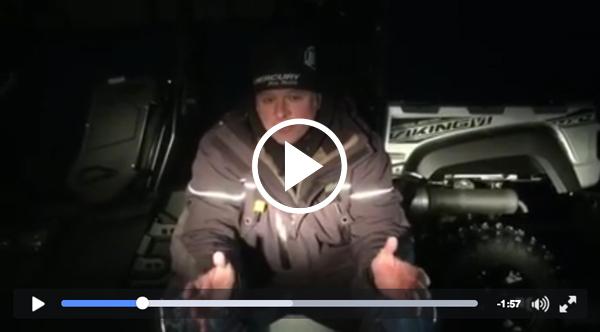 ---
Sign up another ice-head!
If you're forwarding Target Walleye/Ice to a friend who loves to ice- and/or walleye-fish or want your fishing buddies to get these emails, just
send us
their email addresses and we'll take care of it! (We won't sell the addresses, use them for spam, etc.)
---

---
---
---

---
Quote of the Day

…anglers armed with fillet knives are pulling egg sacs out of fish…and throwing them away. You're wasting little orbs of fishy goodness.
– Dave Orrick talks about how right now is the best time of year to harvest fish eggs, and that making caviar is surprisingly simple.
---
Shot of the Day
Jurassic Cornhusker bull 'gill. Notice the loop knot? Yep.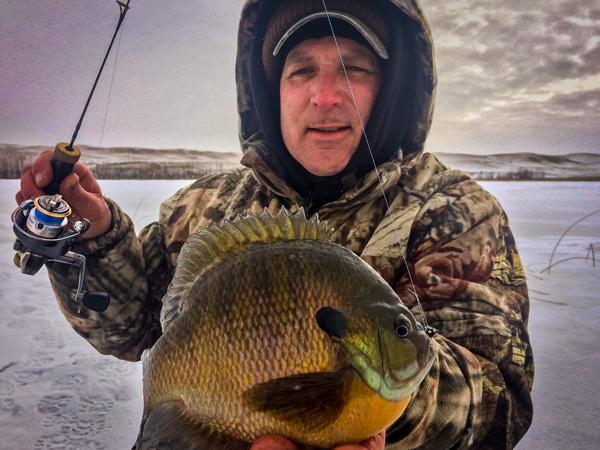 ---
Let's go ice!
Check this stuff out!
---
About Target Walleye
Target Walleye
brings you the BEST walleye and ice fishing news, pics, tips and events year-round, and is brought to you by Al & Ron Lindner, Jim Kalkofen and other walleye nuts like you!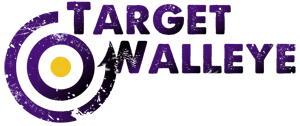 TargetWalleye.com | Rapala.com | IceForce.com