If you're receiving this Target Walleye/Ice email — covering the best of walleye fishing during open water and the best of ice fishing during hard water — for the first time, a friend probably signed you up! Target Walleye/Ice is brought to you by Al and Ron Lindner, Jim Kalkofen and other walleye and ice fishing nuts like you.

Today's Top 5


Gravel toads of the week!
Andrea Chaney fooled this mammoth rock melon trolling a crawler harness on Lake St. Clair, MI. Must've been those lucky shades: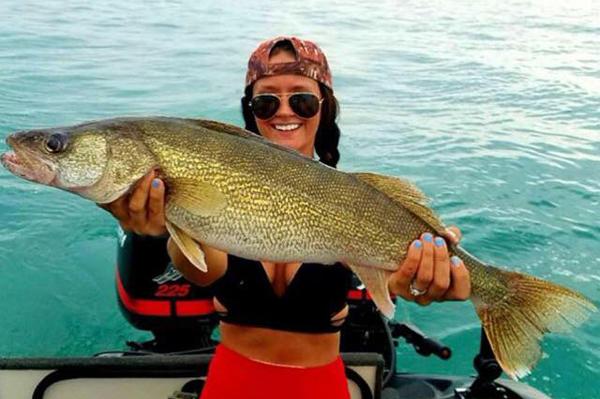 Jarek Wujkowski cracked this 31.5″ (!) walligator while rigging a leech in 17-28′ along sand-to-rock transitions on Lake Vermillion, MN:
Check out Austin Tintes' 29-karat golden nugget from the Warroad area of Lake of the Woods. Caught pulling a Northland Fishing Tackle Baitfish Spinner Rig (gold shiner) in 32′ just off the edge of a reef:
ON fishing guide John Ross got in on the action with this shoal-buster that lunchboxed a Rapala Jigging Rap (white) in 25 ft: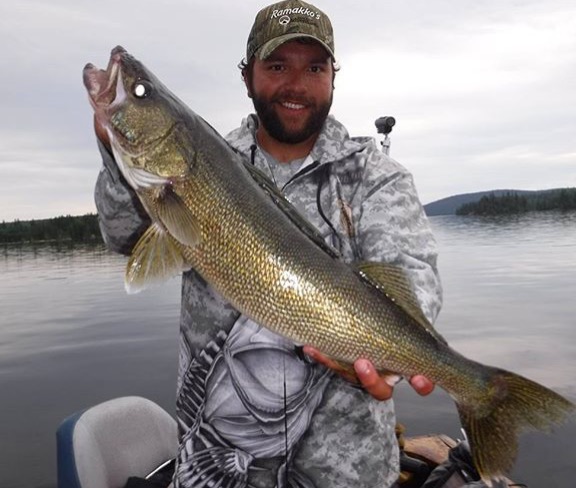 How-to tell if 'eyes are feeding or getting fed on.
The walleye on the left was chowing down on adult leeches — while on the right, parasite leeches were dining on the walleye:
> Al: "When you come across that [sight to the left], that's how you know you're fishing in the right spot."
How's Al know? 'Cuz he dropped a Rapala Jigging Rap on that fish's head, and even with a mouthful of muck, it ate. Had about 50-ish friends with him too.

Where walleyes go when you release 'em.
A University of Regina research team is working to answer that by studying post-tourney movements of walleye/sauger in SK this summer:
> "We will be watching fish as they are brought into weigh stations, and selecting 15-20 fish to be tagged. In general, we will be picking fish that are fit enough to carry a tag [which EACH cost $400+] while also covering a certain size range.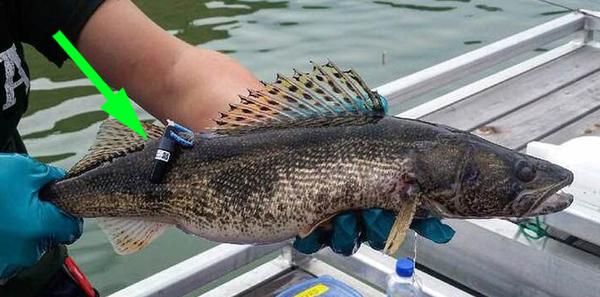 > "Immediately after each tournament we will begin tracking the tagged fish, and will continue tracking them for 7 days. We record daily GPS locations, which allows us to reconstruct a movement pattern for each fish post-tournament release.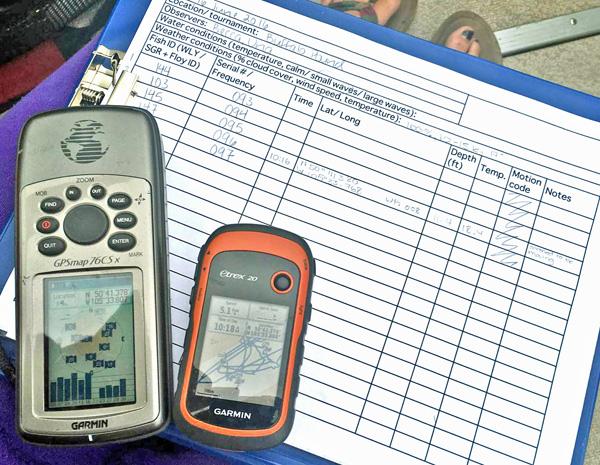 > "We then use this movement data to determine how far each fish moved, how long it took them to recover, how fast they moved (km/day), whether they returned to capture locations, and whether there is evidence for survival vs. mortality."
The transmitter is attached with a dissolvable stitch that lets it fall off in 3-4 weeks. #FindersKeepers

Fisher-man's best friend.
If you didn't know…dogs can be trained to do their business off the back of the boat: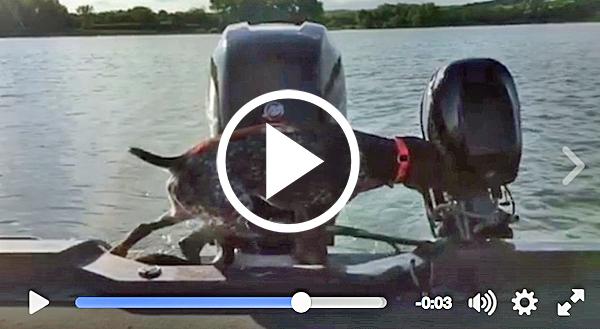 Isn't that awesome? Doesn't matter what breed you own, Brian Bashore's boat-trained-walleye-fishing-machine of a dog makes the rest of ours look like this: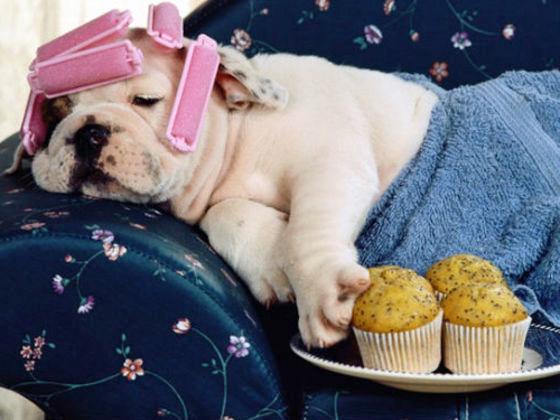 That's Ross Robertson talking. More:
> "When you guide and make your living fishing, you will run into nasty weather, people and fishing if you do it enough. Sometimes you need a reminder why you wouldn't have it any other way."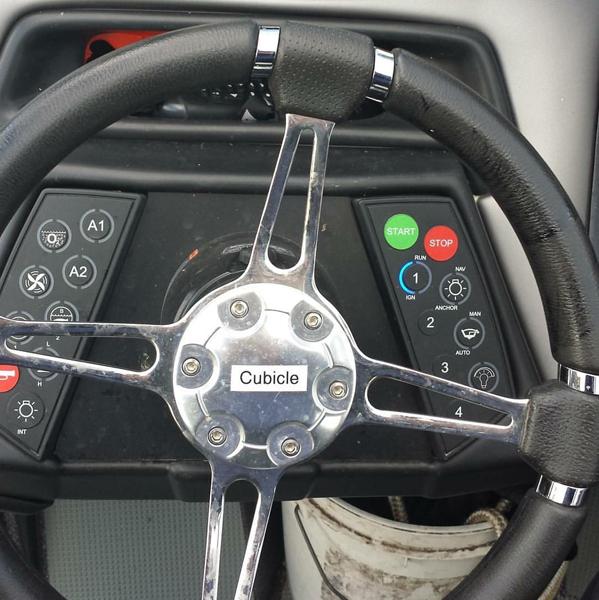 Nice cube Ross! We'd take nasty weather over nasty people any day….

News
1: ON: Bennett/Howard win Kenora Walleye Open.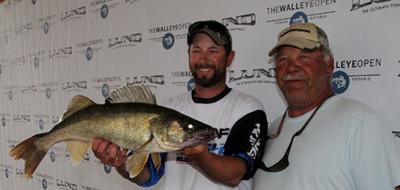 Dave Bennett's and Dean Howard put together a 2-day bag totalling 27-lbs to win $32K. They've been fishing bass tourneys for years and decided it was time to switch gears. Worth it!
2. ON: Mercury with a side of walleye.
> "Today, one meal of walleye from Clay Lake contains up to 150x the safe dose of mercury recommended by the U.S. E.P.A."
Here's the new weigh-bags the tourney guys are using up there: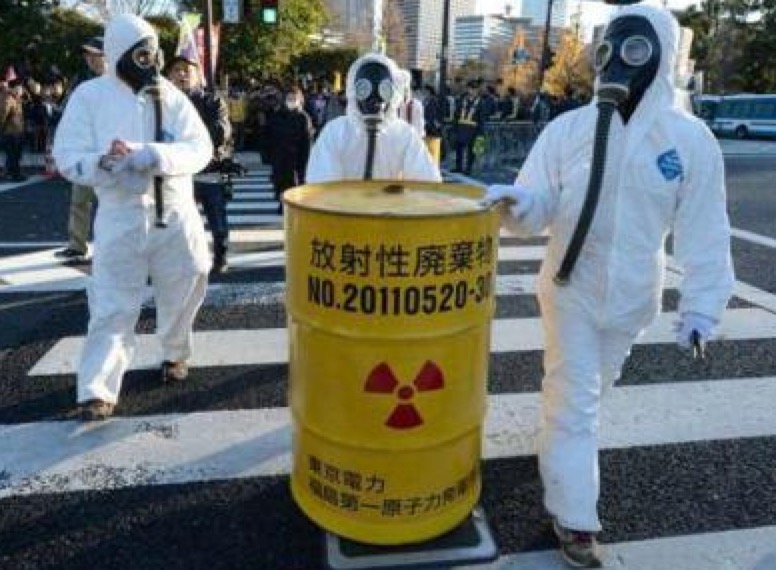 3. MI to keep stocking lower St. Joe River…
…despite strong natural reproduction numbers. 50% of fish captured in fisheries surveys were wild.
4. MN: New invasives quiz for license renewal.
5. LEER coupons for fishermen/women.
Save $$$ on a new LEER top before it's too late! Click here.
6. Dick's buying up Sports Authority.
7. Boat engine damage from ethanol increasing.
I'm sure Henry Ford was like, "We need more corn in our fuel!"
8. New stuff: Wireless kill switch.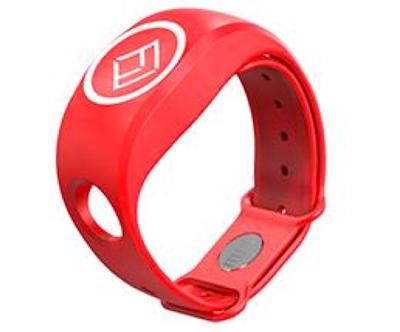 Is this what it takes to make you wear one?
9. New stuff: Minn Kota trolling motor.
Sounds like a it's a cable drive/wireless hybrid. #Dibs:

10. Uncut Angling: Using walleyes for bait.
Okay not really, but kind of. Here's how Cari "was a Wiebe" Bentham landed her first slot fish of day 2 at the Kenora Walleye Open — with some baggage: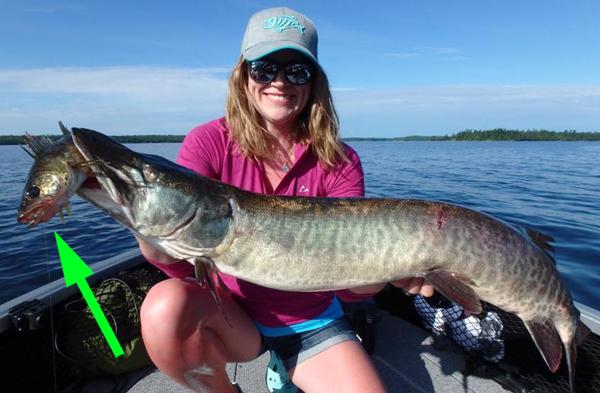 Events

1. ND: AIM on Devils Lake event, July 10.
Learn why fish do what they do.
Fishing Reports
> Pulling spinners in 10-19′ or a jig/minnow on reefs in 15-30′ are producing excellent fishing. Schools of fish in the middle of the lake in 28-32′ are being targeted by jiggers and crankbaiters alike. Gold and silver have been strong.
> Some walleyes are also being caught using a jig/minnow near the mouth of the Rainy River and into Four Mile Bay. The water clarity has greatly improved from previous weeks.
> Up at the NW Angle, resorts and guides are finding walleyes jigging (gold, pink and orange) in 24-30′ around deep water humps, points and rockpiles. On the MN side, Little Oak, Crowduck and the south side of Oak Island are all producing nice walleyes.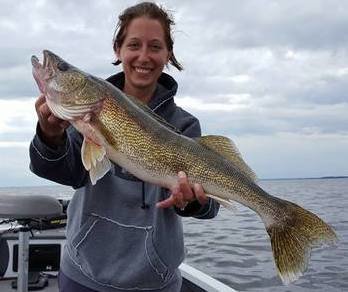 > Walleye fishing has entered summer patterns and has ranged from good to excellent. This past week has seen limits of 15-21″ eater walleyes being the norm with a good number of larger walleyes being caught and released.
> Spinners and bouncers baited with leeches, crawlers or Gulp! have resulted in good catches of walleye. Trolling crankbaits and casting windblown shorelines continues to produce when conditions warrant.
> Water temps have been in the low 70s which creates a completely different bite. The crayfish molting period has started and been going for awhile. We are advanced in our year, this is more of an August bite going on right now.
> Bottom-bouncers with a crawler harness trolled at 1.2-1.3 mph. Also don't be afraid to try jigs and plastics like the Northland Impulse Paddle Shad in brown crawdad.
> Walleye fishing remains steady to excellent in lower Green Bay with limits of walleyes most days. Our best luck has been 6-10′ with many short walleyes (12-14″) and sorting through to find legal walleyes (15″+).
> In Sturgeon Bay and north we have been working islands, shoreline breaks and also seeing a few big walleyes showing up on mid-lake structure. Long casts with #6 and #7
Rapala Rippin' Raps
in mostly natural colors (ultra clear water).
Great places to catch 'em
Sign up another walleye-head!
If you're forwarding Target Walleye/Ice to a friend who loves to walleye-fish or want your fishing buddies to get these emails, just
send us
their email addresses and we'll take care of it! (We won't sell the addresses, use them for spam, etc.)


Quote of the Day
…fishing is still popular because it's an inexpensive sport since all you really need is a fishing rod and some tackle.
– AMA Sportsmen Association president Rodney Ferriss explaining why he thinks walleye fishing is so huge in SW Ontario. Inexpensive?? Riiiiiiiiight lol.
Check this stuff out!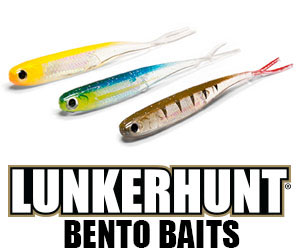 About Target Walleye
Target Walleye/Ice
brings you the BEST walleye and ice fishing news, pics, tips and events year-round, and is brought to you by Al & Ron Lindner, Jim Kalkofen and other walleye nuts like you!

TargetWalleye.com | Rapala.com | IceForce.com