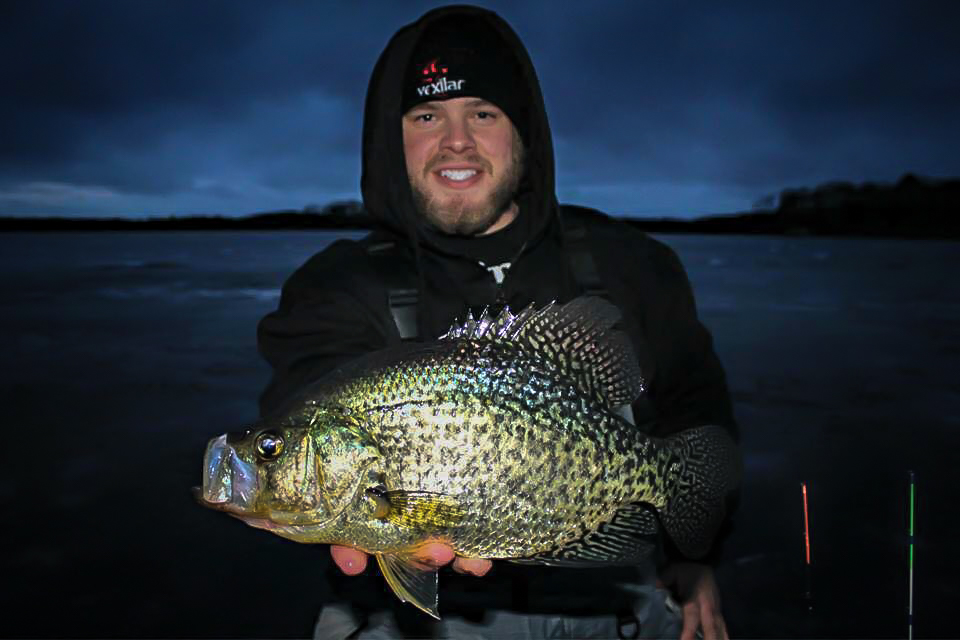 There's no one specific line type that's perfect for all situations — each has its own time and place depending on how you're fishing. Here's a few things to consider the next time you're spooling up for hardwater panfish.
The versatility of mono

If I was heading to a lake I had never fished before — and could only bring one rod — I'd grab one that's spooled up with 3-lb Sufix Ice Magic monofilament. Mono is lo-vis, has less memory than fluorocarbon (less coiling) and offers just the right amount of stretch to help keep fish pinned.
That slight stretch is going to act as a shock absorber to the fish's thrashing head. At the end of the day you'll have less torn-out hooks and put more fish topside. Even better…mono is the cheapest option out there.
For most situations you're going to want to run a clear, invisible line. One exception to that rule is for a technique called 'tightlining.' The key component to this technique is running a highly-visible line (neon orange or hi-vis gold) and detecting the bites by watching the coils in your line as you pound the jig.
Finesse 'em in with fluoro

If fish are finicky or just straight up smart, I'll reach for my rod rigged up with 100% fluorocarbon. Fluoro is going to be more 'invisible' than mono, making it one heck of a weapon in ultra-clear water, or when targeting heavily-pressured fish.
Sufix InvisiLine Ice Fluorocarbon also sinks 4 times faster than mono, which allows you to get those tiny ice jigs back down the hole more quickly when there's a hot school waiting below.
The downfall to fluoro is that it needs to be replaced more often. The added memory means it's going to get 'the coils' more quickly on the tiny spools of micro ice reels. You can make it more affordable by filling the spool with cheap 'backing' or old line, then put on just enough fluoro (say 50′ or 60′) to be able to fish for the day.
Braided line in ridiculously deep water

Personally, I think braided line is overrated in the panfish world. Don't get me wrong: I love it for a ton of different applications, but hardwater panfish just isn't one of them. The obvious disadvantage is that it's much more visible to the fish.
Also, braid is not your friend if you're someone that likes to hole-hop outside the shack — it's going to freeze up far more often since it absorbs moisture.
Sure you have a little better feel thanks to the no-stretch qualities, but that also means you're more likely to set the hook too early and/or rip the bait from the fish's mouth. Unless you're fishing ridiculously deep water, say 30', 40', or 50', leave the super lines at home.
Which knot is best?
I use the Palomar Knot about 90% of the time and have never had any issues. It's simple and cold-finger friendly! More importantly: It's crazy strong and doesn't slip. For sure a must-have knot in your arsenal.

That being said, there are certain tungsten ice jigs that seem to work better with a Loop Knot. One of my favorites is called (I believe) the Double Surgeon Knot. This gives the jig a little more range of motion for swinging, and can help it to sit a bit more horizontally. I like the loop to be shorter than the diagram shows — short enough that the hook can't swing up to get caught in the loop and foul itself. Sounds easier than it really is, but practice makes perfect.