Guess what day it is!
If you're receiving this Target Walleye/Ice email — covering the best of walleye fishing during open water and the best of ice fishing during hard water — for the first time, a friend probably signed you up! Target Walleye/Ice is brought to you by Al and Ron Lindner, Jim Kalkofen and other walleye and ice fishing nuts like you.

Today's Top 5


Bill would require cane poles on Mille Lacs!!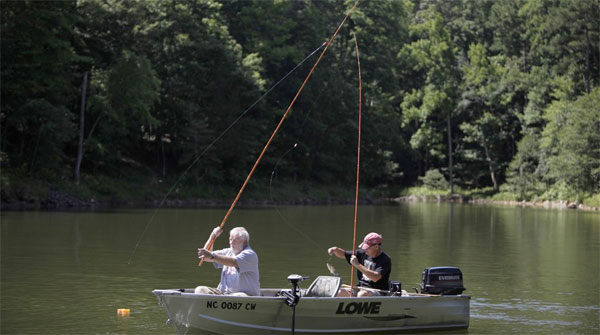 Just when you thought things couldn't get any nuttier on Mille Lacs, cane poles might be be required fishing tools…instead of conventional rods and reels. Here's the silver lining…sort of: The Bill would only require it for 2 months of the year — so far:
> If passed, bill HF7203 would require anyone fishing for walleyes on Mille Lacs to use a traditional bamboo cane pole rigged with no more than 24 ft of line — in an effort to reduce the heavy fishing pressure that the deeper mud flats typically receive during the months of July and August.
HF7203 was approved and sent to the House floor. If you do not support this bill, let your representative know! Otherwise it'll look like this out there this summer: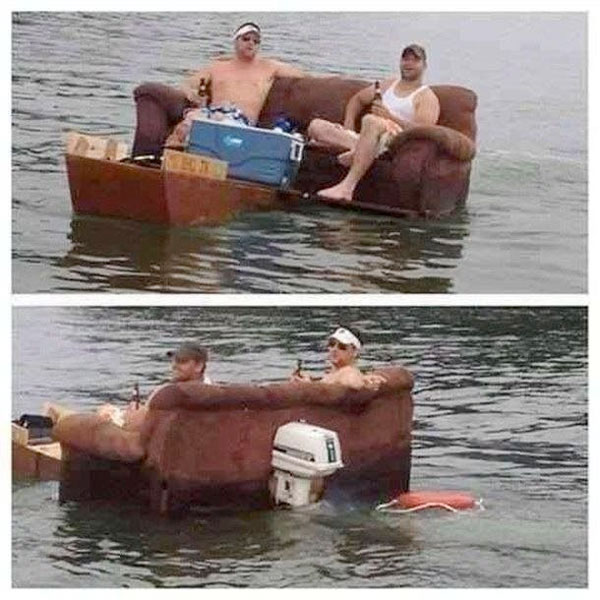 World record walleye caught??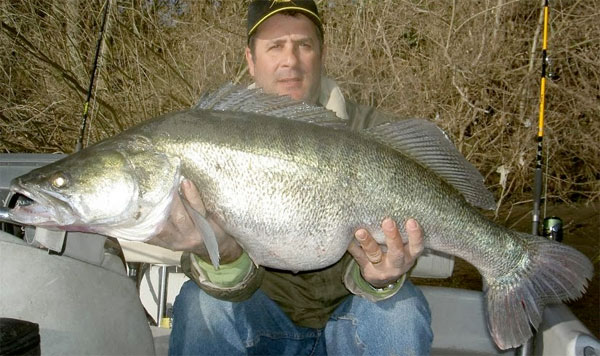 Do you think it's a record? Chuck Roast caught it on the Riviere des Ha Ha, QC, said it weighed 25 lbs, caught "drowning a dog," he said: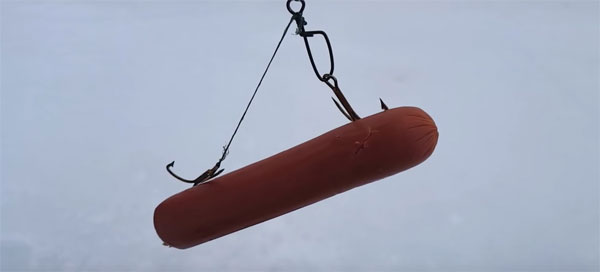 11-lb Rainy River walleye.
Chris Granrud has the big girls of the north dialed in — as evident by this 11-lb gator: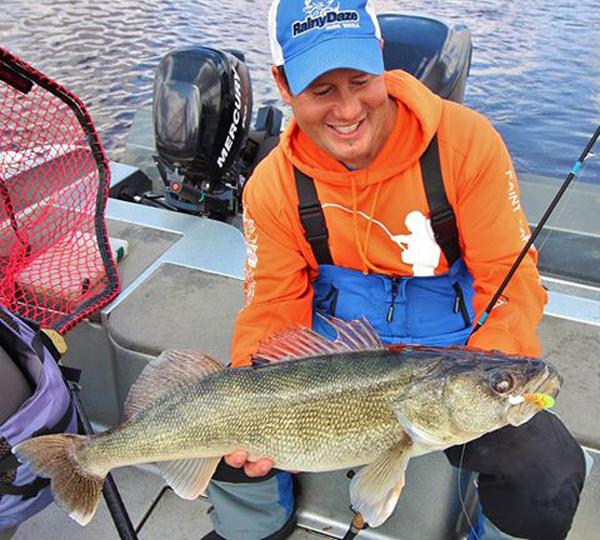 Chris gave us the inside scoop on the current conditions of the Rainy River where it dumps into Lake of the Woods:
The clarity has gone from mud to chocolate milk (better!) and is about 20″ right now thanks to a slowly decreasing flow. Water temps have mildly bumped up to 36 degrees and beginning to pull more fish in from the big lake.
Everybody he's watching is overworking the snot out of a plastic tail right now. Everyone gets to the river and wants to be a hero — instead of slowing their roll, forgetting water temps have barely hit liquid-making numbers.
Chris is currently boating 15-20 fish per day, not crazy but quality is for sure there. Fishing 15′ and slowwww-rolling a 3/8-oz jig and BfishN tackle Pulse-R combo — the paddle tail adds vibration while keeping a slow presentation.
Breaking news: The 'Forks' finally broke loose (for real this time). Chris expects a 2-3 degree uptick in water temps that "could turn things into an all-out pig roast on the river."
Check out the video of his 30-incher here: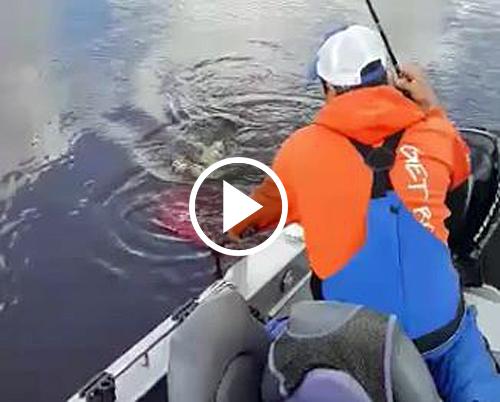 Gravel lizards of the week.
Mike Jones proves you can be a walleye fisherman AND live in IN. Caught pitching a 1/8-oz VMC Hot Skirt jig/paddle tail in 4-ft on a small river that feeds into the Upper Wabash River:
Here's an entire smorgasbord of lizards — all caught fishin' with Nolan Koepp on Gold Green Bay:

Jason Rylander wrapped up his hardwater season with a donk! Lake Winnipeg using a Slender Spoon: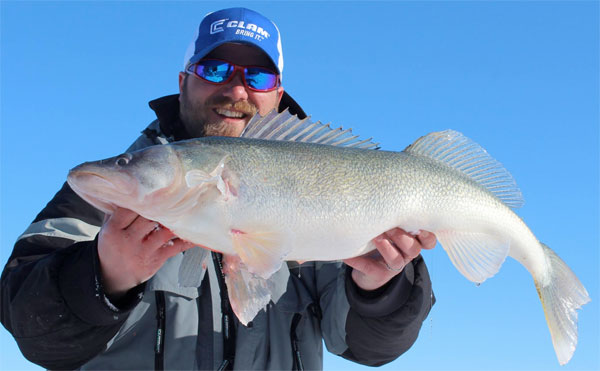 …trailer not included: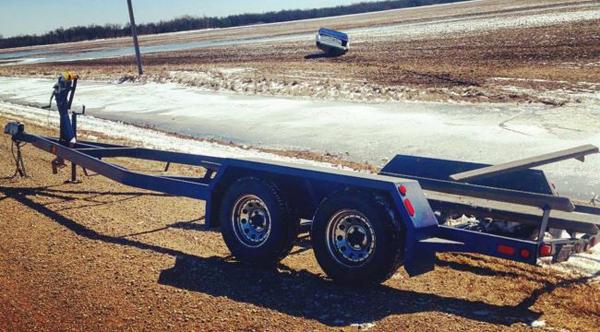 #Ouch
---

---

News
1. MN: Lawmakers seeking to protect Mille Lacs.
Don't think it's ever good when politicians get involved with fisheries management…or anything for that matter.
2. MB: Lake Winnipeg fishery in decline?
Anglers are worried about the lake — one biologist even alleged that Big Windy is "one of the worst-managed freshwater fisheries in the world." Looks like the Winnipegonians and the Mille Lacsonites are going to need to duke it out over that title.
3. Perry Good makes Fishing Hall of Fame.
Only pro to qualify for every Professional Walleye Trail Championship — that's 18 years in a row of excellence — fishing across North America against the top walleye anglers in the world. Congrats Perry!
4. WI: Winnebago a walleye factory.
5. Lake Erie sunset walleyes (video).
Where else would you rather be RIGHT now?!
6. Using down imaging to interpret sonar better.
Doc Sonar explains how/why down imaging reveals what's what: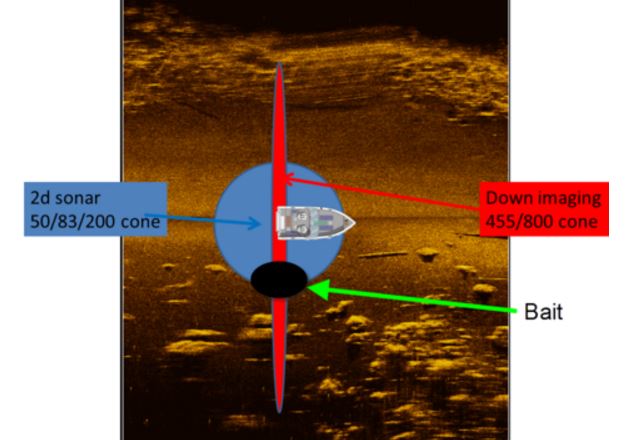 7. MN: Top 10 reasons to book a charter on LOTW.
Fish!!
8. How to choose between an 8′ vs 12′ Minn Kota Talon (video).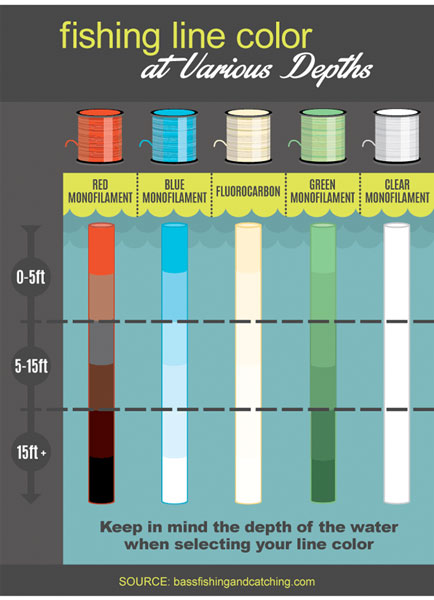 10. Lindy Rig changed walleye world.
Millions sold — even more walleyes caught on 'em. Invented by the Lindners of Target Walleye!
11. How NOT to wrap-up your ice-fishing season (video).
---
Fishing Reports
1. MN: Lake of the Woods.
> While the majority of the main lake is working on losing it's deteriorating ice, the Rainy River is open and clearing up. The walleye and pike bite is picking up nicely. The go-to is a jig and minnow or jig and plastic. Wheeler's Point, Timber Mill, Vidas, Frontier, Birchdale, and Franz Jevne landings are all accessible by all boats. Open water reaches into 4 Mile Bay and into the main basin past the Lighthouse Gap.
> Sturgeon fishing is strong and has really picked up. Good numbers of fish being caught in 4 Mile Bay and upriver. Use a 3-5 oz no-roll sinker and a sturgeon rig loaded with crawlers.
Updated river info, sturgeon fishing info and boat access map here.

Ever get to the retailer and stare at all those pretty shapes, color, and brands, wondering which one you're going to try this year? Eenie, meenie, minee…NO! Stop. We can do much better than randomly stringing up whatever has the most convincing packaging — don't skimp on the most direct link between you and the fish.
Nano braid: Early season is about pitching shallow, and has the potential for long casts. Sufix Nano is superior in situations where you need to get small baits a good ways from the boat, like light jigs in wind.
Superline/braids: I'm a big fan of the sensitivity and low stretch of these line types, so I fish them on the bulk of my rods. Jig-fishing, live-bait rigging and even bottom-bouncing can be improved with these lines. I prefer heavier 10- to 20-lb test because braids can, in smaller diameters, be too small to effectively cast hard baits and even jigs without tangling or wind-knots.
Fluorocarbon: If you fish braid for walleyes, fluoro leader material should always be handy. In most applications, I'll have a 3-6′ fluoro leader tied off of my 832 with an albright special or uni-to-uni.
Mono: I've always got at least 1 or 2 mono rods in the boat, typically with hi-viz coloring, and I reserve them for fishing jigs in current or for crankbaits if I'm having hookup issues. Mono doesn't cut the water like braid and provides more lift to jigs in moving-water situations — this translates to smooth and contiguous bait movements rather than sharp "bop, drop, and plop" jigging movements.
Leadcore: 832 Advanced Leadcore dives deeper, is thinner, and is more sensitive than standard leadcore, so it gets the nod from me. At a 7 foot dive per color vs. 5 foot per color, the Advanced means less line out to get to the desired depth.
Try one spool of something new each year, and mix it into the rotation. If you find yourself picking up that rod more often and enjoying everything about the line, you've got a winner.
---

---

Quote of the Day

It wasn't long ago local anglers believed walleye wouldn't chase a lure in cold water, much like the old MN myth that walleye lose their teeth in summer and won't bite.
– Line about all the trophy walleye pics from Erie being splashed around social media. Despite popular belief, cold water isn't anything to be afraid of.
---
Great ice stuff!
More great stuff!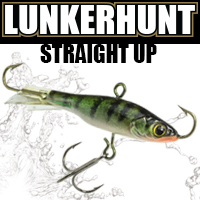 ---
About Target Walleye
Target Walleye
brings you the BEST walleye and ice fishing news, pics, tips and events year-round, and is brought to you by Al & Ron Lindner, Jim Kalkofen and other walleye nuts like you!

TargetWalleye.com | Rapala.com | IceForce.com