If you're receiving this Target Walleye/Ice email — covering the best of walleye fishing during open water and the best of ice fishing during hard water — for the first time, a friend probably signed you up! Target Walleye/Ice is brought to you by Al and Ron Lindner, Jim Kalkofen and other walleye and ice fishing nuts like you.

Today's Top 5


Is this the biggest walleye of the year?
Paolo Celebre cracked this 16.4-lb (33″) Simcoe egg cannon after it inhaled his top-secret jerkbait:
Wouldn't say what bait, but we're guessing his Lunkerhunt hat may be a clue? Here's how it went down:
> "The walleye hit so hard I thought it was either a massive smallmouth or a big lake trout…didn't expect it to be a walleye that size just on how it was fighting…it was actually taking line. The fight was close to 5-6 mins. I didn't wanna crank it in too hard and snap the line, so I took my time.
> "When it got about 15′ from the boat, the sun hit it and my friend Ono and I still thought it was a laker…we both freaked out once we noticed it was a walleye. The net wasn't even close to fitting the whole fish in it, but we managed to get it in the boat and the classic high five happened."
Betcha that was the high-five heard 'round the world: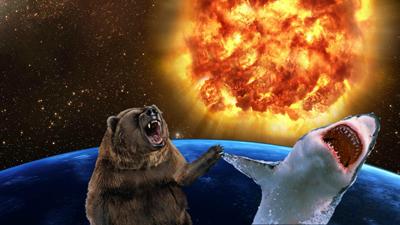 After a few pics and measurements, they released her to get even bigger — if you can imagine that?! Congrats on the fish of ten lifetimes, man!

How to store crankbaits snag-free.
If it's how Alex Keszler does it, it's worth watching — guy is one heck of a tinkerer! Here's how he uses the "Kesz jar idea" and some rubber-bands to store a whole pile of cranks…without tangling: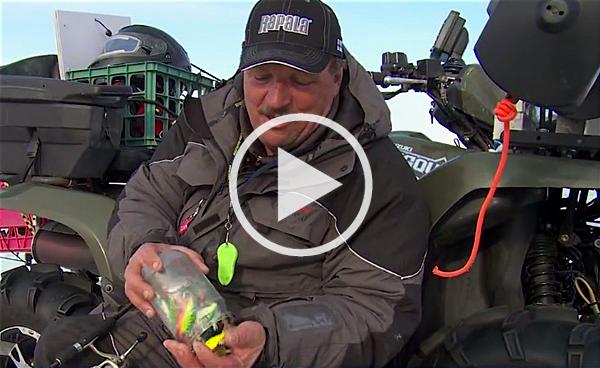 Get the creamy peanut butter so you don't chip the paint off those crankbaits lol.

Ice-fishing search baits.
It's easy to cover water from the boat, but what about when you're on the ice? Multi-species magician Joel Nelson has a ton of great info on using ice "search baits" in his full article right here, but there's a few excerpts below:
> Fishing fast with flashy baits isn't a new technique, but far less people are taking advantage of it. Drop-down wheelhouses and comfy shelters are becoming the norm, making it too easy to stay put.
> I'm a fan of both styles of fishing, but it seems that a generation bred on Dave Genz's style of mobility has given way to some more stationary means of fishing. No matter what method you prefer, search baits for ice make sense.
> By drilling holes and fishing aggressively with 'search baits' you can cover nearly the same amount of water as you can from the boat. If you're not seeing fish you need to be moving to find them.
> I classify search baits loosely, but include any lure that dives quickly, gives off good vibration, and is visually appealing from distance. While you're covering ground above the ice, the bait is actively calling fish in under the ice from far outside the cone-angle of your sonar.
Some of Joel's favorite search baits (top to bottom) are the Rapala Rippin' Rap, Jigging Rap and the Slab Rap. All of which come in both walleye and panfish sizes: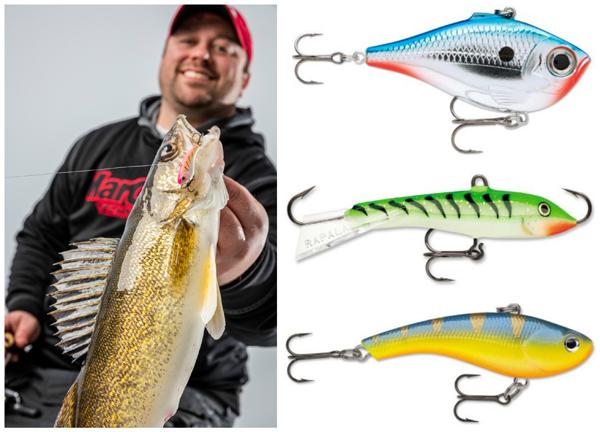 > In many states, we're also lucky to be able to use multiple lines, so search baits don't actually need to catch the fish, they just need to draw them in.
> Start higher in the water column than you'd think, giving fish 'room' to show up below the bait on your sonar. If you jig that aggressively in the strike zone, you'll see far fewer fish on-screen and catch even less.
> Once the mere flicker of a mark indicates a fish towards the outside edge of your sonar's cone angle, your whole approach needs to slow down to make a non-finesse bait look more subtle than its design.
> A rocking motion, when possible for horizontal style lures, usually seals the deal as fish approach but are hesitant. Think of the No. 2 pencil trick, where you hold it in the middle between thumb and forefinger, waving it up and down until it appears to be made of rubber.
Guy knows his stuff. Here's a 12-lb 5-oz rock melon he cracked while pumping a #5 Rapala Jigging Rap (chrome blue) 5′ off bottom #YesPlease: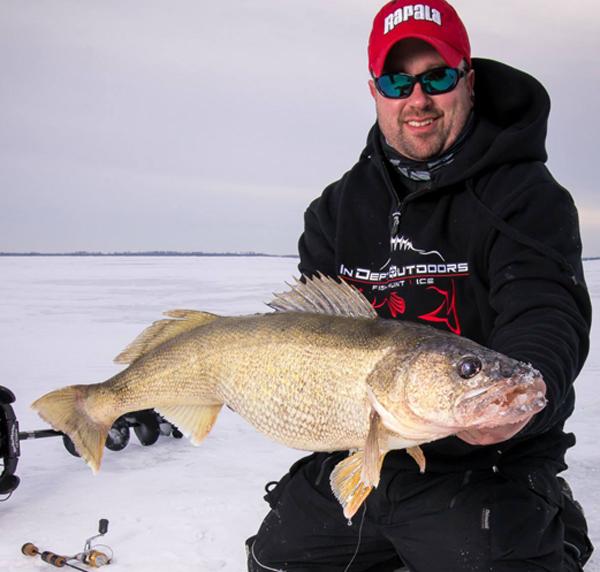 How badly do you have the ice-fishing itch?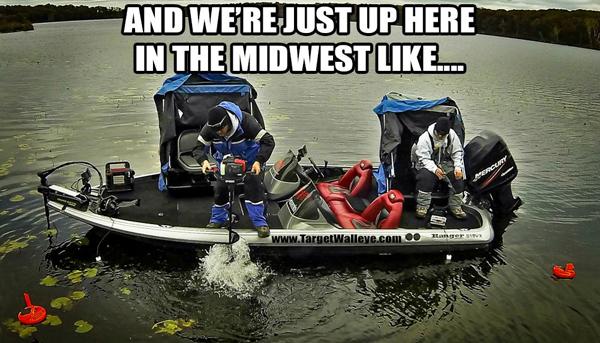 That's Target Walleye's Brett McComas dang near kissin' the fiberglass with that StrikeMaster Lazer Mag. #EasyKiller

House votes to count outdoor economy as part of U.S. GDP.
This is just finally becoming a thing? The outdoor industry (fishing, hunting, boating, etc) has created an estimated 6 million jobs and $646 billion in economic activity…. DUH it should be included!
If you don't know, GDP (gross domestic product) is one of the "primary indicators used to gauge the health of a country's economy. It represents the total dollar value of all goods and services produced over a specific time period."
Did they just finally realize we don't all still fish with homemade bamboo rods and a can of corn while rockin' our straw hats?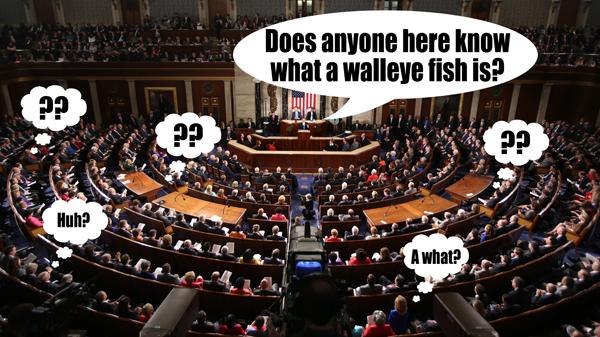 News
1. Randy Amenrud passes away at age 76.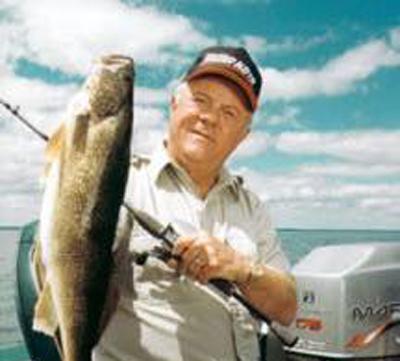 Sad news as we've learned of the passing of fishing pro David "Randy" Amenrud over the weekend. He was a walking talking wealth of fishing knowledge and a friend. Our thoughts and prayers are with the Amenrud family.
2. MN: Upper Red Lake ice regs.
Can keep 3 walleye with one over 17 inches: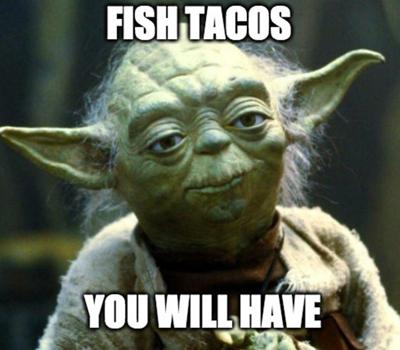 3. MN: Mille Lacs band walleye stocking program.
They stocked more than 45,000 walleye into area lakes.
> "The fish ranged from 3″ to 6.5″ and were hatched by the Mille Lacs Band this spring from walleye eggs/milt taken from fish that had been speared by members of the Mille Lacs and Fond du Lac Bands this spring."
4. Next generation Humminbird Helix units.
Too many upgrades to list, but here's a few: MEGA Side and Down Imaging, Bluetooth, and AutoChart Live now has bottom hardness and vegetation mapping. Can't wait to try this out:

5. MN: Clam's Dave Hanson CFO of the year.
Dave Hanson was recently recognized as CFO of the Year by the Minneapolis/St. Paul Business Journal. Congrats man! Now get back to work lol.
6. New StrikeMaster 10″ Lithium Lazer.
Awesome electric hole cannon. Plus get a free hoodie when you buy any SM power auger from FishUSA #Dibs.
Those of you that will be changing blades out, instead of buying new this season, should check this out — here's how Brad Hawthorne keeps those phalanges intact: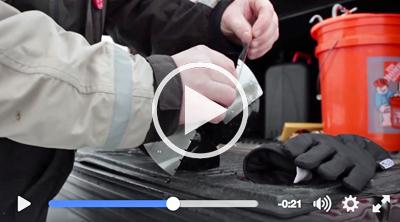 Better safe than bleeding.
7. New Stroschein 1350 ice shelter.
Comes with fish slime on it already, right Dale?!
8. How sweet are these custom-painted Beaver Dams.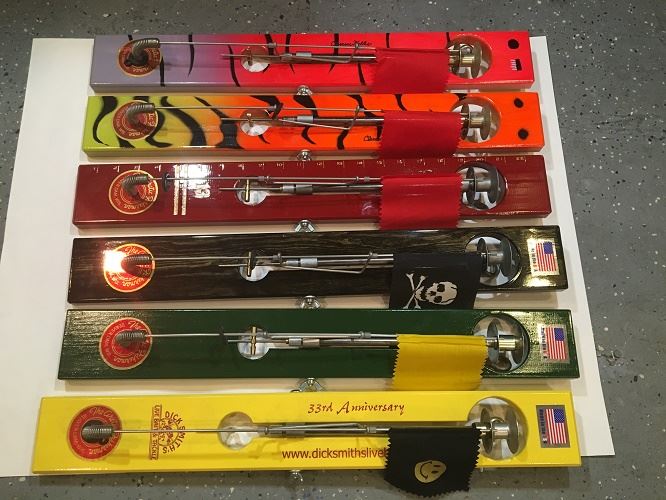 Wouldn't let a buddy borrow those ones lol! FishUSA has the original Beaver Dam Tip-Ups right here — maybe they outta get a few custom-painted ones in the works next….
9. Sonar vs. underwater cameras.
Some info for those of you deciding which to buy this season.
If money's no object, gitcha a unit that does it all like the Marcum RT-9. We literally mean does it ALL — thing even has an app to let you make movies on it. For sure would help pass the time if the fishies weren't cooperating: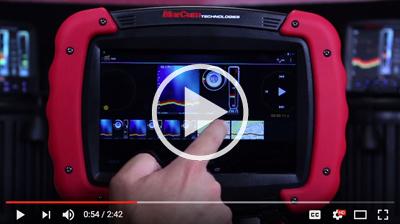 10. Interesting Bass Pro Shops deets from NY Post article.
> …boasts gross profit margins of 50%, according to a confidential presentation to lenders that was part of last month's $5.5 billion purchase of rival Cabela's.
While Bass Pro Shops' margin doesn't quite twinkle as brightly as the 62% level posted by Tiffany in the most recent quarter, it is better than two tech favorites: Apple (38%) and Alibaba (30%).
> Privately held Bass Pro rang up revenue of $3.4 billion in the 12 months ended Sept. 30, according to the presentation — compared with $4.2 billion for…Cabela's over the same period.
> Bass Pro is expecting its profit to expand by nearly 10%, or $108 million, after merging with its slightly larger rival, mostly by pumping up the already plump margins, it said.
> Bass Pro said 45 percent of Bass Pro customers also shop at Cabela's….
And just in case you think it's a done deal as is:
> The merger of 182 stores is expected to get a tough antitrust review from federal regulators, sources said. Last year, they blocked the Staples-Office Depot deal, and forced Dollar Tree and Family Dollar to sell more than 300 stores before a merger could proceed.
11. New glow LIVETARGET Golden Shiner colors.
Finally! Here's a peek at a few of 'em thanks to walleye-nut Chad Maloy: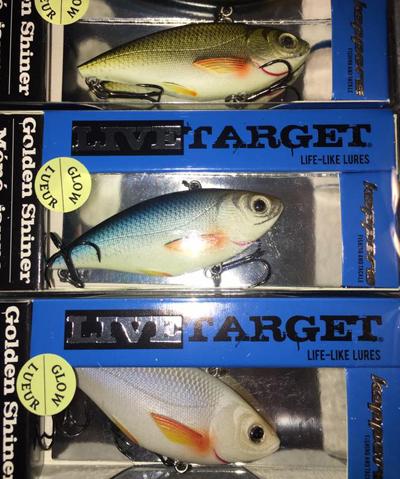 12. Tricking out your permie shack.
We had a chance to check out the Catch Cover multi-flex accessories and boy are they slick. Lets you mount your Aqua-Vu, rod holders, rattle reels, GoPro, and whatever else you want on the walls of your permie shack, while still being removable and interchangeable: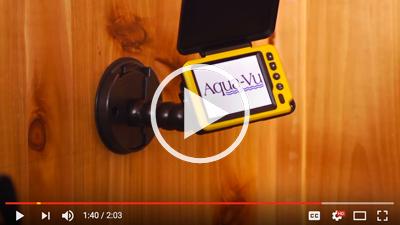 13. ICAST booth space selling fast.
Fishing biz trade show in Orlando. We'll be there reporting all the new walleye/ice stuff for 2018. Here was some of our favorite new stuff from the show this summer.

Events
This weekend! Kicks off the ice show season around here.
Great places to catch 'em
Sign up another fish-head!
If you're forwarding Target Walleye/Ice to a friend who loves to walleye-fish or want your fishing buddies to get these emails, just
send us
their email addresses and we'll take care of it! (We won't sell the addresses, use them for spam, etc.)

Spoiler alert – STOP pumping the rod like you're deep-sea fishing: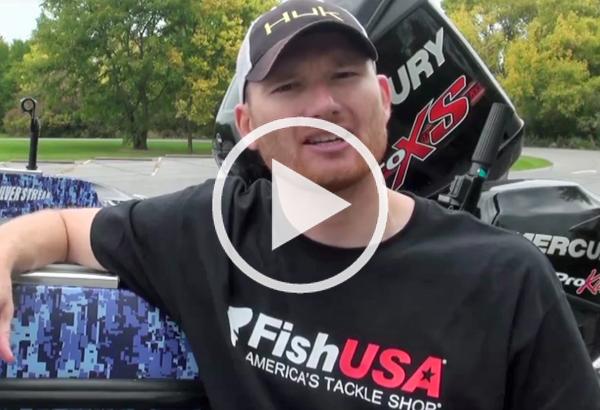 Today's 'Eye Candy
Tanya Regush caught this perky wood prowler using a Northland Tackle Swivel-Head Jig and minnow on the river at Tobin. Great shot: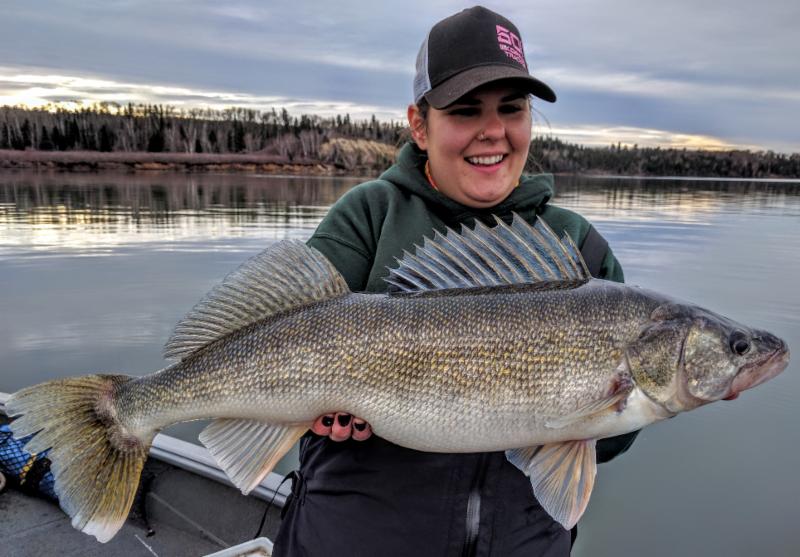 Check this stuff out!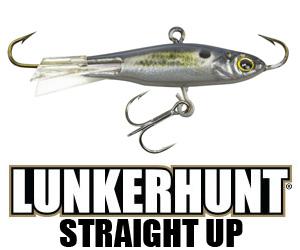 About Target Walleye
Target Walleye/Ice
brings you the BEST walleye and ice fishing news, pics, tips and events year-round, and is brought to you by Al & Ron Lindner, Jim Kalkofen and other walleye nuts like you!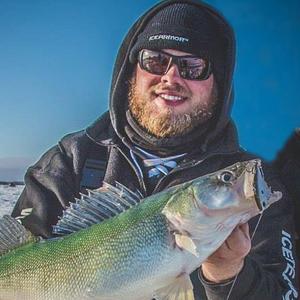 Brett McComas
is the main man for Target Walleye/Ice. He was plucked out of Brainerd, MN after years of wondering how in the heck people break into the fishing biz. He's in it now, but still can't answer that question. Brett is one of those guys who quit sports in high school because they were interfering with his fishing time…. Get him at
brett@targetwalleye.com

TargetWalleye.com | Rapala.com | IceForce.com