If you're receiving this Target Walleye/Ice email — covering the best of walleye fishing during open water and the best of ice fishing during hard water — for the first time, a friend probably signed you up! Target Walleye/Ice is brought to you by Al and Ron Lindner, Jim Kalkofen and other walleye and ice fishing nuts like you.

Today's Top 5


Here are the top ice-fishing destinations for 2016-2017!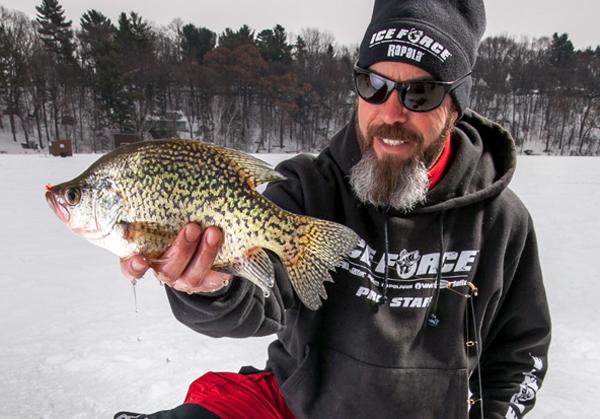 How did we come up with a list of the top ice-fishing destinations for the 2016-17 hardwater season? We reached out to hundreds of the top ice-fishing pros from across North America, used our own experience, and took your suggestions into consideration.
You can check out the full list by clicking right here to see if your favorite lake made it (and why they made it), but here's a peek at the top 10:
2. Lake of the Woods, MN/ON
3. Devils Lake, ND
4. Lake Erie, OH/PA/ON
5. Glacial Lakes, SD
6. Lake Michigan, WI/IL
7. Upper Red Lake, MN
8. Lake Gogebic, MI
9. Fort Peck Reservoir, MT
10. Leech Lake, MN
Anytime you rank anything, folks get a little "passionate" (lol). So of course you might feel your favorite lake should be higher on the list, or just be on the list. Well, we're doing this again next season so make sure you leave a comment on the list at TargetWalleye.com — fire away!

First fish iced in the lower 48?
While you were mowing your yard, Iceaholic Craig Oyler found fishable ice…in October! And he's nowhere near Santa. Word is he headed west (from SoDak) across three states (CO, WY, ID???) to be able to sneak out on a high-elevation trout lake stuck between snow-capped mountains: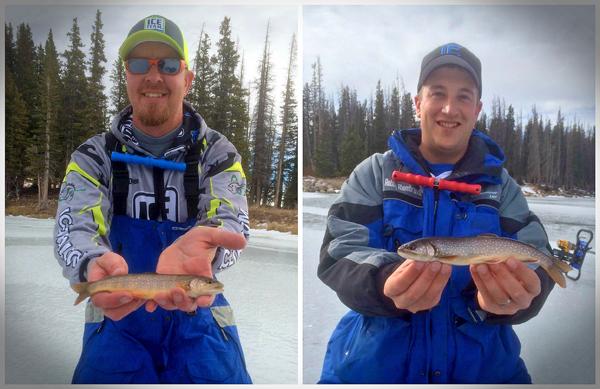 Nicely done! Sure they only caught 8-10″ trout, but they could've caught nothing but a cold and we'd be pacing the shorelines back home with jealousy.
> Craig: "I've been working with Scott Brauer of
Maki Plastics
designing a trout-specific bait. Today I got to test the 'Craigi' out and it worked flawlessly!! No you can't see what it looks like yet…."
If Craig won't show you, we will. Here's a sneak peek at the "Craigi" — see if you can guess which one: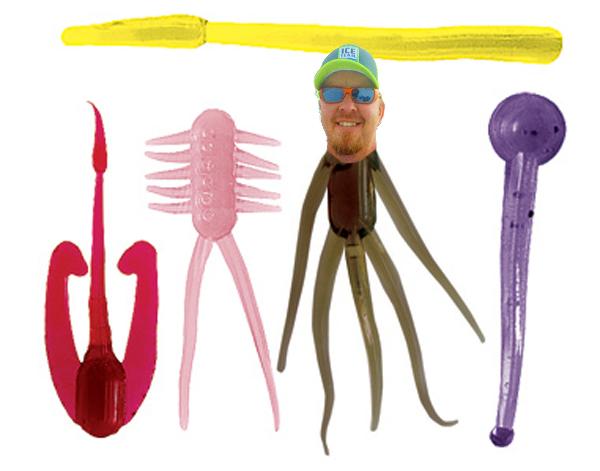 100 inches of muskies netted!
Not walleye related, but definitely one of those holy-smokes moments that everyone deserves to see. A chunk of the Lindner clan snuck over to western MN to chase giant fall muskies, and that's exactly what they got…at the same time…in the same net: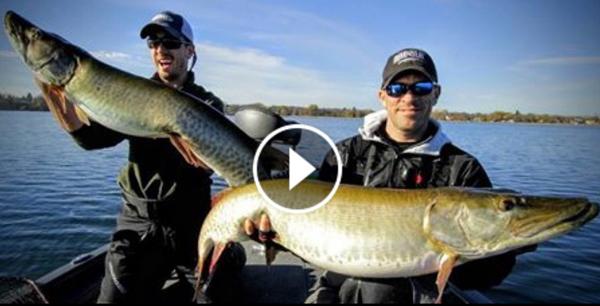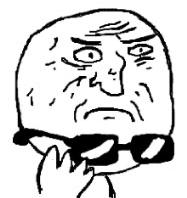 You never know what's going to happen when there's a Lindner in the boat. #Pandemonium

Catch more fall walleyes with this simple jig tweak.
A jig and minnow is like the meat and potatoes of fall walleye fishing, but there are ways to dress 'em up a bit more. Here's an easy tweak Scott Brewer does to offer a slightly different look for finicky or pressured fish: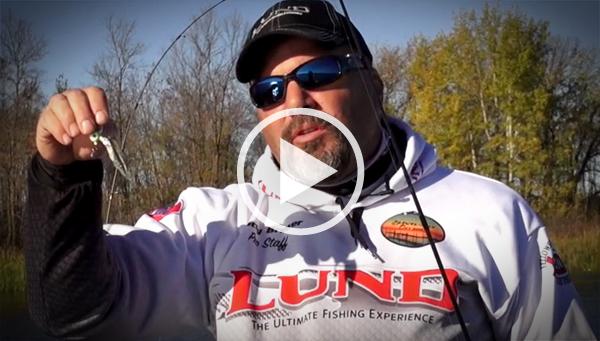 Cheap, easy and usually gets more bites. You can make your own by adding a small split-ring + swivel + blade combo to the stinger hook "trailer hitch" of your existing Fire-Ball Jigs, or you can stock up on an already-made version like the Fire-Ball Spin Jig from Northland Tackle:
Sometimes arts-and-crafts pays off in the fishing world — here's Scotty with a pair of thick-shouldered greenbacks that fell for the spin-jig mod:
Won't be long and he'll be fishing in that Eskimo instead of just wearing it! #YesPlease

How to tell if someone is born to be a walleye fisherman.
Congratulations, it's a walleye:
What a cutie! He's going to come out of the womb with a full set of hair teeth.



News
1. Testing the new Frabill I-Float Suit.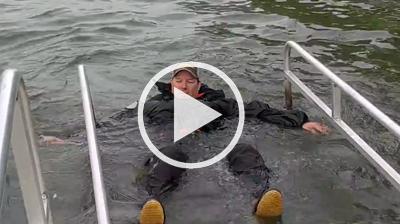 USCG certified flotation-assisting suit that'll keep you floating if you break through the ice. Check 'em out on FishUSA. #SafetyFirst
2. New Marcum software update.
For Marcum LX-6, LX-6s and LX-7. Pretty nice to be able to get a new graph…without having to buy a new graph:
> "We made adjustments to our sonar gain curve that improve both shallow-water and deep-water performance. Now you're able to see your bait in less than 10′ much easier than before, and with less screen interference when fishing deep."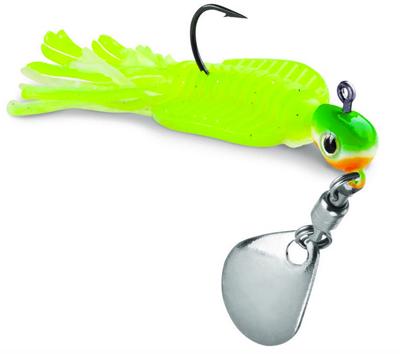 Looks like a killer bait for working in-and-out of cabbage weeds or clipping the tops of rocks. FishUSA already has 'em in stock.
In revenue. Say they stuffed more money into marketing to basically break-even. Now Mystery Tackle Box is getting into direct e-commerce:
> The Catch Co. will produce its own line of fishing lures, some made with standard molds and others created in partnership with top lure designers. Gordon declined to share the designers' names. He said the company's direct-to-consumer model helps keep prices down.
So…it will be competing against the folks whose baits it helps market?
5. How Northland Fishing Tackle started out.
By a couple of bass-heads! Cool story.
6. Marine companies write E15 letter to congress.
> "Time after time, data shows that the American public is unaware of E15 and its harmful effects on small engines. More needs to be done to protect consumers from damaging engines by accidentally using fuels that have ethanol concentrations of 15% of higher."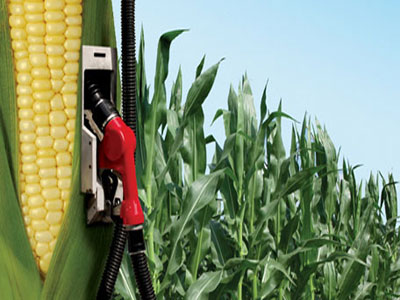 Does anyone in Congress own a boat or lawn mower or what?
7. Doctor Sonar: Humminbird Helix tutorial DVD.
REALLY learn how to use 'em, instead of just pressin' buttons.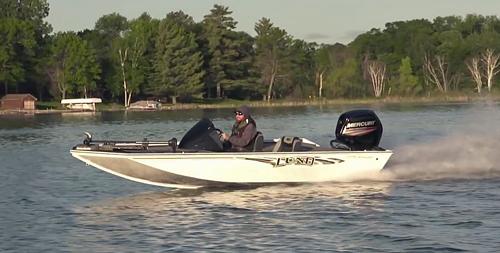 They're going after bass-heads since they already make the perfect walleye boats.
9. NH: Lets Go Fishing seeks instructors…
…to teach ice fishing, fly fishing or basic fishing to youth and adults.
10. How the IRS looks at your fishing career (video).
Whether it's a hobby or livelihood. This 30 minute vid has some great info on how the IRS looks at your situation: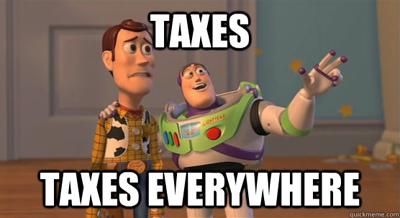 11. Speaking of getting paid to fish.
Here's a newish e-book that talks about what it really takes to pay the bills as a fishing promoter. Co-author is Target Walleye's Jim Kalkofen: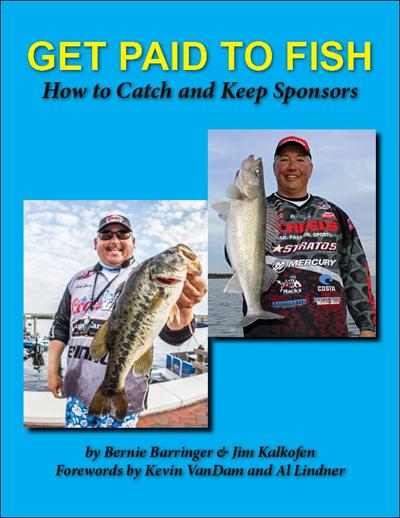 Great places to catch 'em
Sign up another fish-head!
If you're forwarding Target Walleye/Ice to a friend who loves to walleye-fish or want your fishing buddies to get these emails, just
send us
their email addresses and we'll take care of it! (We won't sell the addresses, use them for spam, etc.)

> "The key to catching fish in the fall on rivers is the same as always — you've got to keep moving and looking until you find 'em. Sand flats, wing dams, mid-river holes, and current breaks all hold fish. Keep moving around until you find the areas that have the most biters.
> "Slurp Jigs tipped with a 3- or 4-inch Impulse Smelt Minnow or a 3-inch Swim'N Grub will be productive much of the time. Plastics such as Impulse are usually a very good choice, but there will be days when the fish show a preference to minnows. This is when you want to tie on a
Fire-Ball Jig
and team it with a minnow. If the fish won't eat that, find another area to fish.
> "When they are in the deeper areas, it works well to hover directly over them and hold the bait right in their face. These fish don't want to chase a bait, but if it is wiggling right in front of their nose, they're going to eat it.
> "There are times when you'll see a flurry of activity early or late in the day, but much of the time the best bite will be from mid-morning to mid-afternoon."

Today's 'Eye Candy
Merp the walleye has a kid! (Or nephew?) The more the merrier: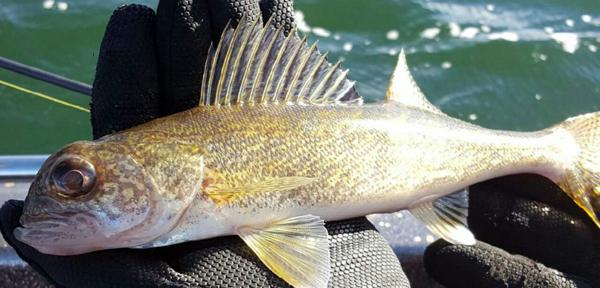 Check this stuff out!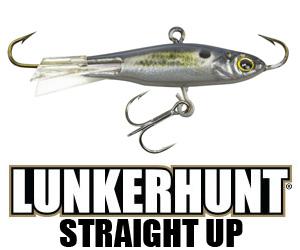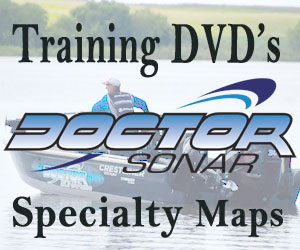 About Target Walleye
Target Walleye/Ice
brings you the BEST walleye and ice fishing news, pics, tips and events year-round, and is brought to you by Al & Ron Lindner, Jim Kalkofen and other walleye nuts like you!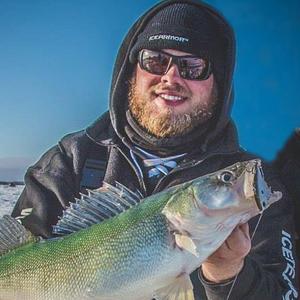 Brett McComas
is the main man for Target Walleye/Ice. He was plucked out of Brainerd, MN after years of wondering how in the heck people break into the fishing biz. He's in it now, but still can't answer that question. Brett is one of those guys who quit sports in high school because they were interfering with his fishing time…. Get him at
brett@targetwalleye.com

TargetWalleye.com | Rapala.com | IceForce.com